Being told to "take a hike" was once a popular way of telling someone to get lost or go away. Now, it's a prescription for a healthy life.
Since last fall, University of Virginia students have been embracing a new opportunity to explore nature's beneficial effects on health and well-being. Faculty within UVA's Department of Student Health and Wellness partnered with the School of Education and Human Development to offer a new course, "Engaging With Nature for Health and Well-being," through the lifetime physical activity program directed by education professor Diane Whaley.
"When Student Health and Wellness approached me about this course, I was really excited to further expand our offerings to students – especially with a focus on outdoor activity and the role of nature," said Whaley, the director of UVA's Lifetime Physical Activity Program. "This class is so consistent with our mission of fostering a lifelong commitment to physical activity and health."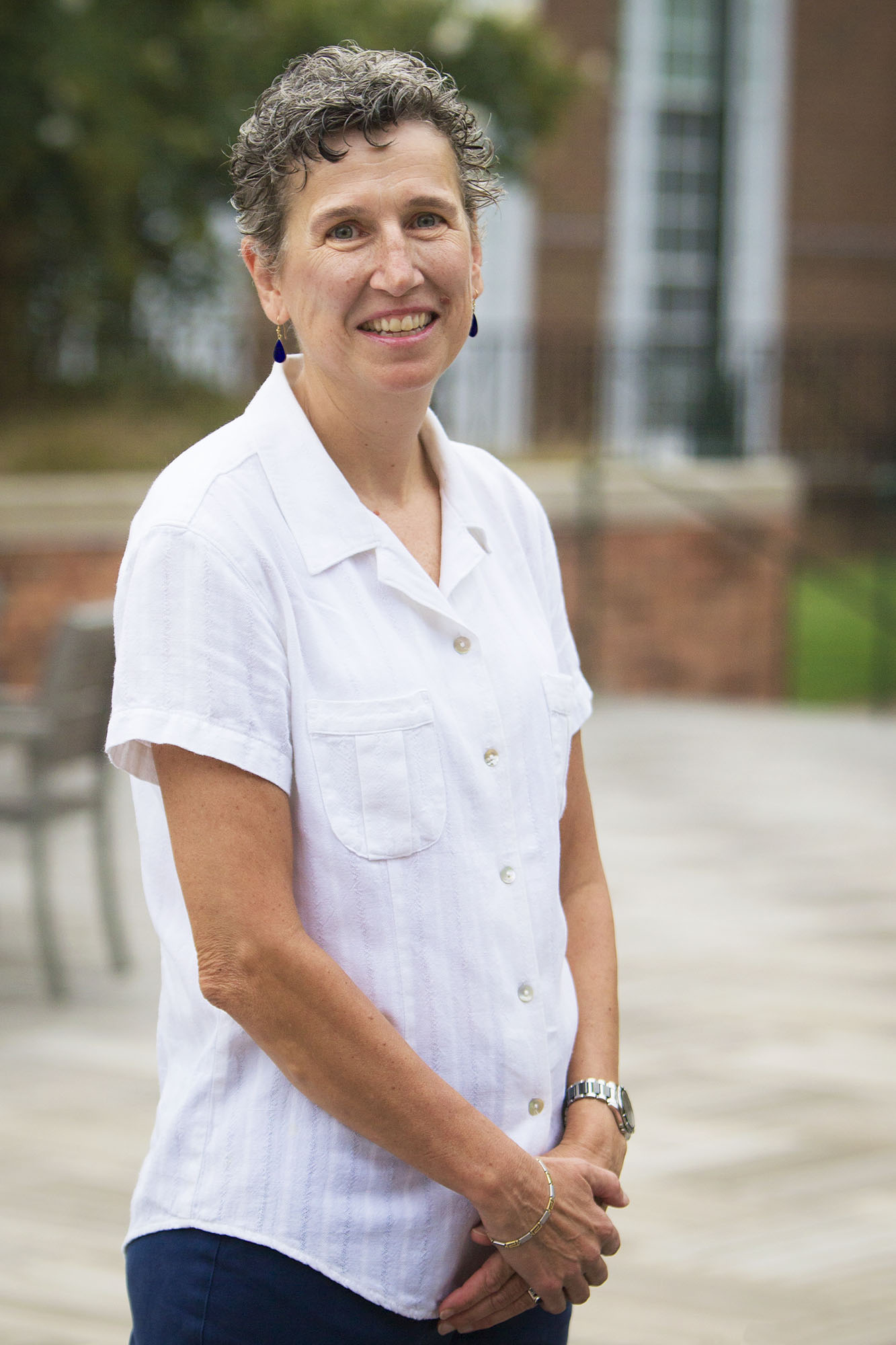 The Lifetime Physical Activity program is led by education professor Diane Whaley. (Photo by Sanjay Suchak, University Communications)
Numerous studies have demonstrated that spending time in nature enhances both physical and mental well-being. Particularly during the pandemic, nature has become an essential refuge that affords one of the few "safe" options for recreation. According to the American Public Health Association, spending time in nature during a pandemic also boosts mental health.
"Engaging With Nature," a one-credit, pass/fail course, seeks to provide students with practical skills for incorporating nature experiences into their regular health habits. The course teaches that the first step in building a new habit is creating space and time for the new activity. The beauty of this instruction is that it works to build time into the student's regular weekly schedule.
The class meets once a week for 2½ hours, always in a new setting. Those settings are close enough to Grounds that students can access them easily, even given short timeframes. Students are also provided with options for more extended nature experiences outside of class time.
Throughout the course, course participants learn about the many ways in which nature positively influences health and well-being. Student Health and Wellness Dr. Jessica Simmons, director of medical services; Executive Director Dr. Christopher Holstege; Dr. Meredith Hayden, associate executive director; and staff psychologist Jeff Jennings of Counseling and Psychological Services, each bring a unique lens to the students' learning experience. Classes include discussions of the health benefits of engaging nature (such as the concept of "forest bathing"), demystifying the outdoors, planning appropriately for a safe wilderness engagement, exploring nature in the local community and discussing the history of the region and current nature conservation efforts.
After a successful fall experience with students, the course quickly filled for the spring semester. While students vary in their reasons for signing up for the class, nearly all of them note that being outside and together with a group of fellow students provided a key reason for taking the course. Students wear masks and practice physical distancing while reveling in spending time in a natural setting and being able to form new friendships and bonds with classmates. 
"I signed up for the nature course because I was looking for a way to get outside and meet new people," second-year student Avery Schuster said. "I like to be outdoors, but it's nice to have something that forces me to go outside. Also, I thought this class would be great for my overall mental and physical health. 
"This course has been a really great experience. I've gotten to explore places in Charlottesville I didn't know existed, make new friends and improve my hiking and outdoor skills. I have loved having a certain time in my week to go outside with friends and I would highly recommend this class to anyone."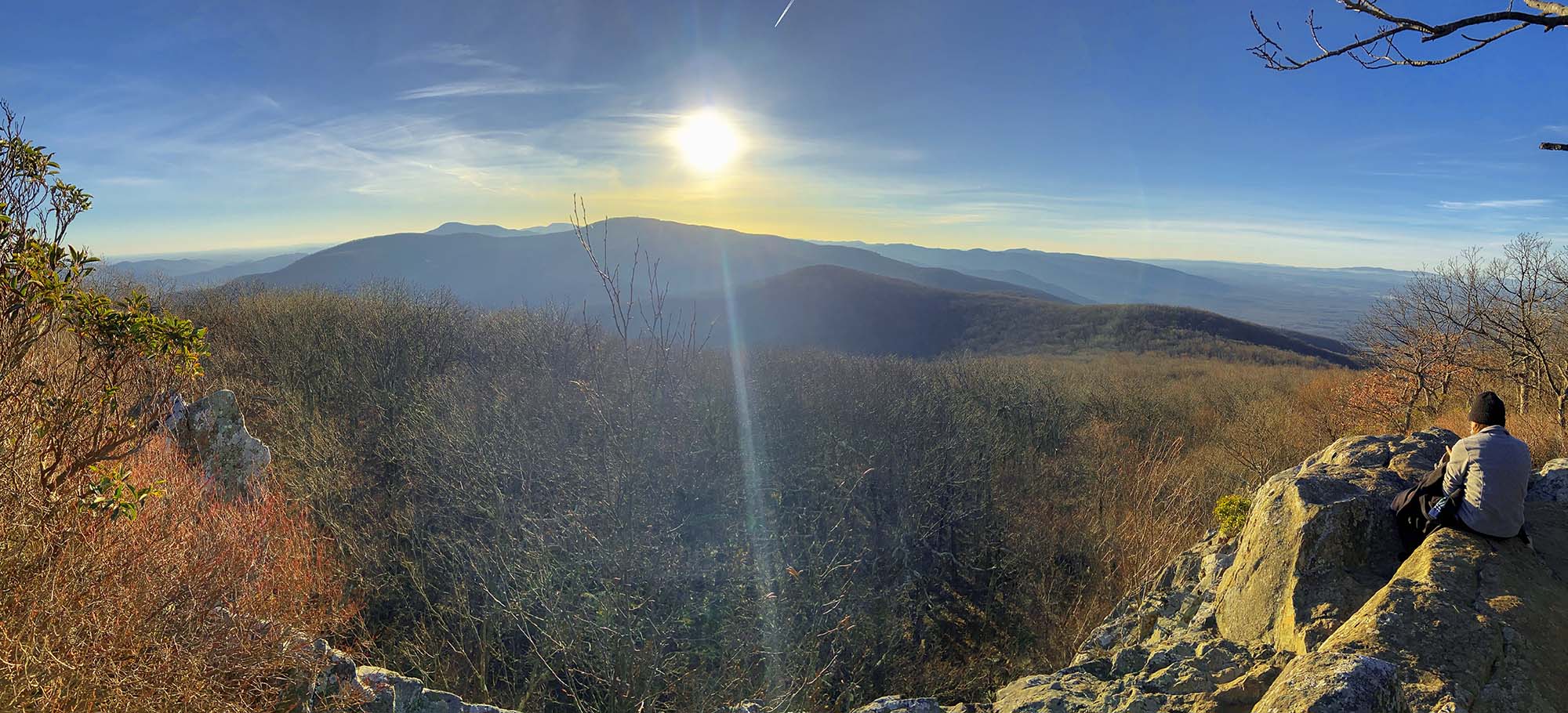 The sun rises over the Blue Ridge Mountains with Humpback Rock in the foreground. (UVA Student Health and Wellness Center photo)
Fourth-year student Annie Parnell agreed. "After having spent most of my spring and summer sitting around in quarantine, the nature course seemed like a golden opportunity for me to leave my living room and get outside," she said. "I think one of the biggest benefits of this course for me was the opportunity it provided me to get away from the crazy goings-on around me and reconnect with nature. It made such a difference for me to have a block of time set aside each week where I was outside, often with no service – so often, I'd wanted to use my unstructured/weekend time to hike more, but having that baked into my schedule via the class was a game-changer for me."
With the new Student Health and Wellness building opening this fall, teams will continue to expand offerings to students for engaging with nature.
"UVA is often cited as one of the top universities for students who enjoy outdoor activities due to its proximity to the mountains and with Shenandoah National Park just 30 minutes away," Holstege said. "We want to give students the confidence and tools they need for accessing the amazing natural settings that are right outside our door." 
The health and wellness team plans to offer additional sessions of the new course and will also offer weekend excursions. 
Article Information
April 19, 2021
/content/prescription-health-take-hike