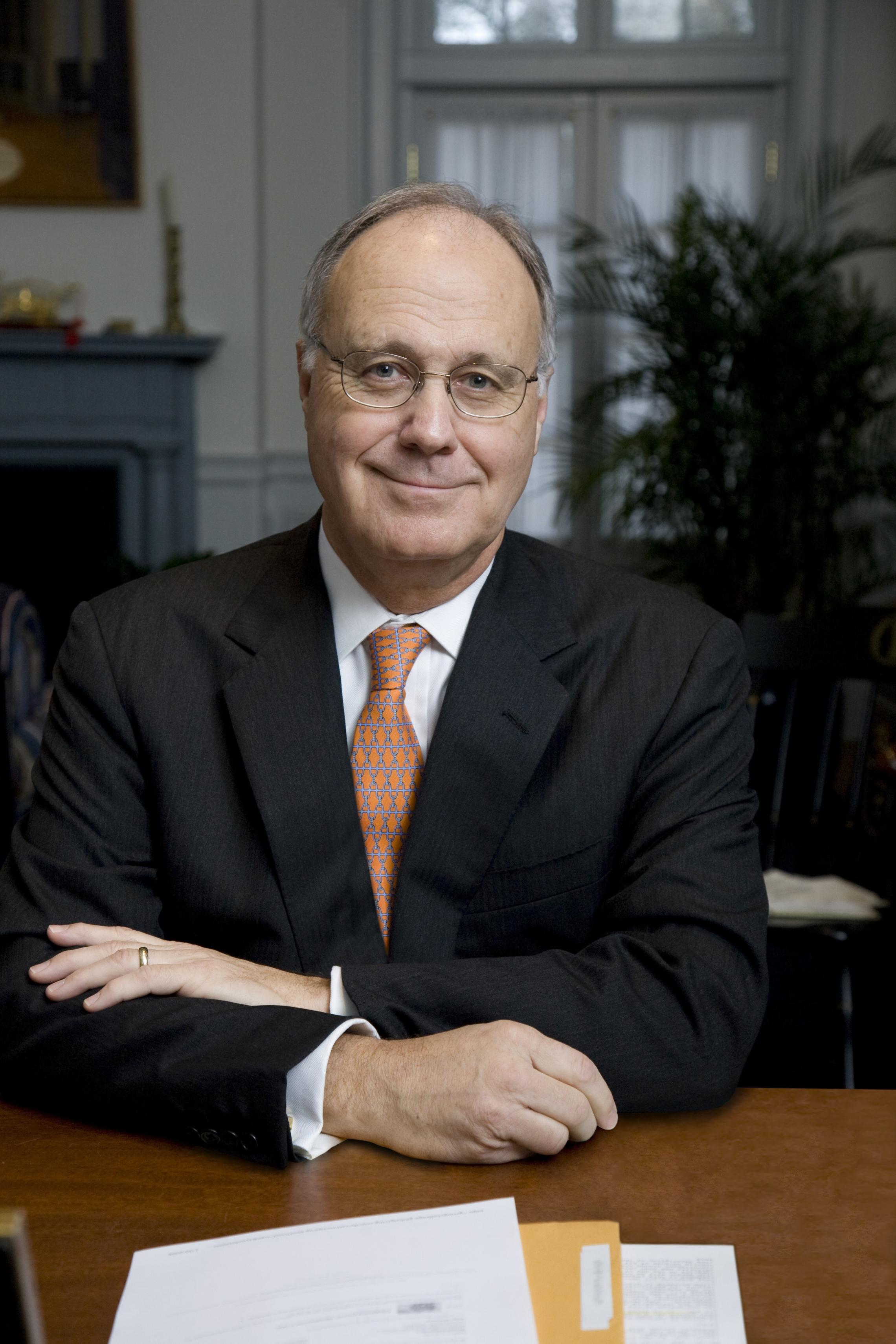 March 19, 2010 — President John T. Casteen III, who will step down as University of Virginia president Aug. 1 at the conclusion of his 20th year, will give the commencement address at U.Va.'s 181st Final Exercises on May 23. He will speak on the Lawn following the traditional academic procession, which begins at 10 a.m.
The Public Occasions Subcommittee of the Commencement and Convocations Committee, which comprises students and faculty, usually forwards a list of 10 nominations from which Casteen selects the commencement speaker.
"This year we sent one name," said Alexander G. "Sandy" Gilliam, chairman of the committee and University historian. "The committee was unanimous in its choice of President Casteen as the one and only nomination."
Casteen arrived at the University in 1961, as a 17-year-old, first-year student and the first member of his Tidewater Virginia family to attend college. He went on to earn three degrees in English from the University. Having developed an interest in medieval literature and poetry, he wrote his 200-page Ph.D. dissertation on the heroic Anglo-Saxon epic poem, "Andreas."
He returned to U.Va. to become its dean of admission in 1975 and again as its seventh president in 1990. He taught English at both U.Va. and the University of California at Berkeley, published an award-winning short-story collection in 1981, served as Virginia's secretary of education from 1982 to 1985, and was president of the University of Connecticut from 1985 to 1990.
At 66, Casteen is among the nation's longest-serving college presidents. He has been an outspoken advocate on issues that were often controversial, including increasing the number of students who are women, minorities and of low socioeconomic backgrounds. In 2003, he worked with the Board of Visitors to create AccessUVa, the University's groundbreaking – and extraordinarily successful – full-need financial aid program.
During his tenure, he led two of the most ambitious fundraising campaigns in all of American higher education. His vision regarding the financial future of higher education in Virginia – and his aggressive steps to protect the University – helped solidify its financial future and relieve its dependence on what continues to be erratic state support. He will remain active in the University's current $3 billion campaign.
Casteen has overseen a major restructuring of the University's administrative and governance structures, significant improvements in academic programs, the creation of a new school – the Frank Batten School of Leadership and Public Policy – and major expansions of physical facilities.
Upon leaving the presidency, he will be named President Emeritus and a University Professor. Still regarded as an authority on medieval literature, Casteen will return to the faculty following sabbatic leave.
— By Marian Anderfuren