University of Virginia President Jim Ryan today announced new initiatives to update and contextualize the University's historic landscape with commemorative markers, portraits and photographs, and new digital tours.
"These additions to our landscape and our tours will help us celebrate agents of change, highlight important parts of our landscape, and tell a more complete story about our university and those who have shaped it," Ryan said. "These projects will also highlight one constant that links our present to our past: change."
These projects stem from the Advisory Committee on the Future of the Historic Landscape at UVA, co-chaired by President Emeritus John T. Casteen III and history professor Claudrena Harold, which reported its findings in April 2018. A second committee, the Change Agent Commemoration Advisory Committee, chaired by University Architect Alice Raucher, used that report to develop specific suggestions about subjects or sites for recognition and contextualization.
The resulting projects, which Ryan announced Thursday in an email to the University community, include a series of portraits recognizing men and women who have broken barriers and sparked change throughout UVA's history; new markers commemorating important moments and providing context for existing but unmarked places on Grounds; and new digital tours of Grounds telling a more complete history.
Changes will begin to take place this semester, but this will be an ongoing project, as the University continues to work to identify and highlight additional important moments of the University's history.
Portraits, Photographs Recognizing Change Agents
The University will commission and curate a series of portraits, both painted and photographic, recognizing student leaders, faculty, and staff members and administrators who have broken down racial, gender, and social barriers at UVA, and worked to make the University more inclusive and welcoming.
The first portrait, a painting of civil rights leader and beloved UVA history professor Julian Bond by second-year student Sophia Kedzierski, has already been completed and will be installed this semester at Bond House, the student residence named in his honor. Bond, a longtime civil rights leader and co-founder of the Student Nonviolent Coordinating Committee in the 1960s, taught at UVA for 20 years. More than 5,000 students took his popular "History of the Civil Rights Movement" seminar.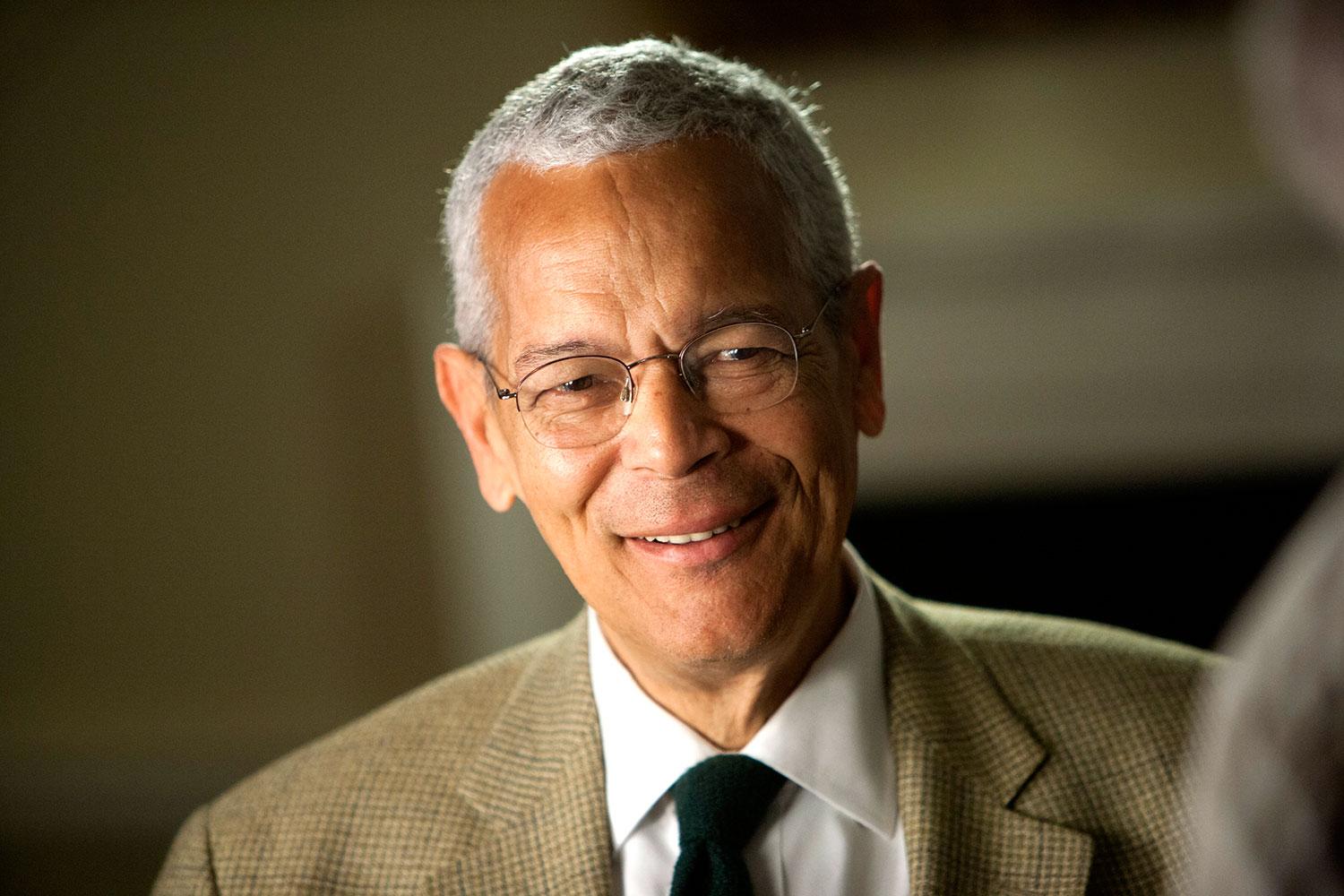 The late civil rights icon Julian Bond taught at UVA from 1992 to 2012. (Contributed photo)
Additional portraits will highlight, among others, Pennsylvania state Rep. James Roebuck, UVA's first African American Student Council president; the late anthropology professor Karenne Wood, a lifelong advocate for Native Americans; George Keith Martin, the first African American rector of the University; and Teresa Sullivan, UVA's first female president.
Others will feature current faculty and staff members, including UVA professor Rita Dove, Pulitzer Prize winner and U.S. poet laureate from 1993 to 1995, and Kathy McGruder, a cashier in Newcomb Dining Hall known for brightening students' days with her kind, exuberant greetings.
These portraits, which will be displayed in prominent locations across Grounds, are examples of an ongoing series, with other portraits still being planned or developed.
New Commemorative Markers
The University will also create a series of markers commemorating important moments and places in UVA history that are not currently marked on Grounds.
For example, a new marker near Peabody Hall will tell the story of Virginia Scott, who, as a high school senior in 1968, joined three other students to sue the University in federal court for admittance to the College of Arts & Sciences. Scott's case, taken up by School of Law alumnus John Lowe, forced the University to accept full coeducation. Beginning in 1970, 450 women were admitted to the College, followed by 550 in 1971.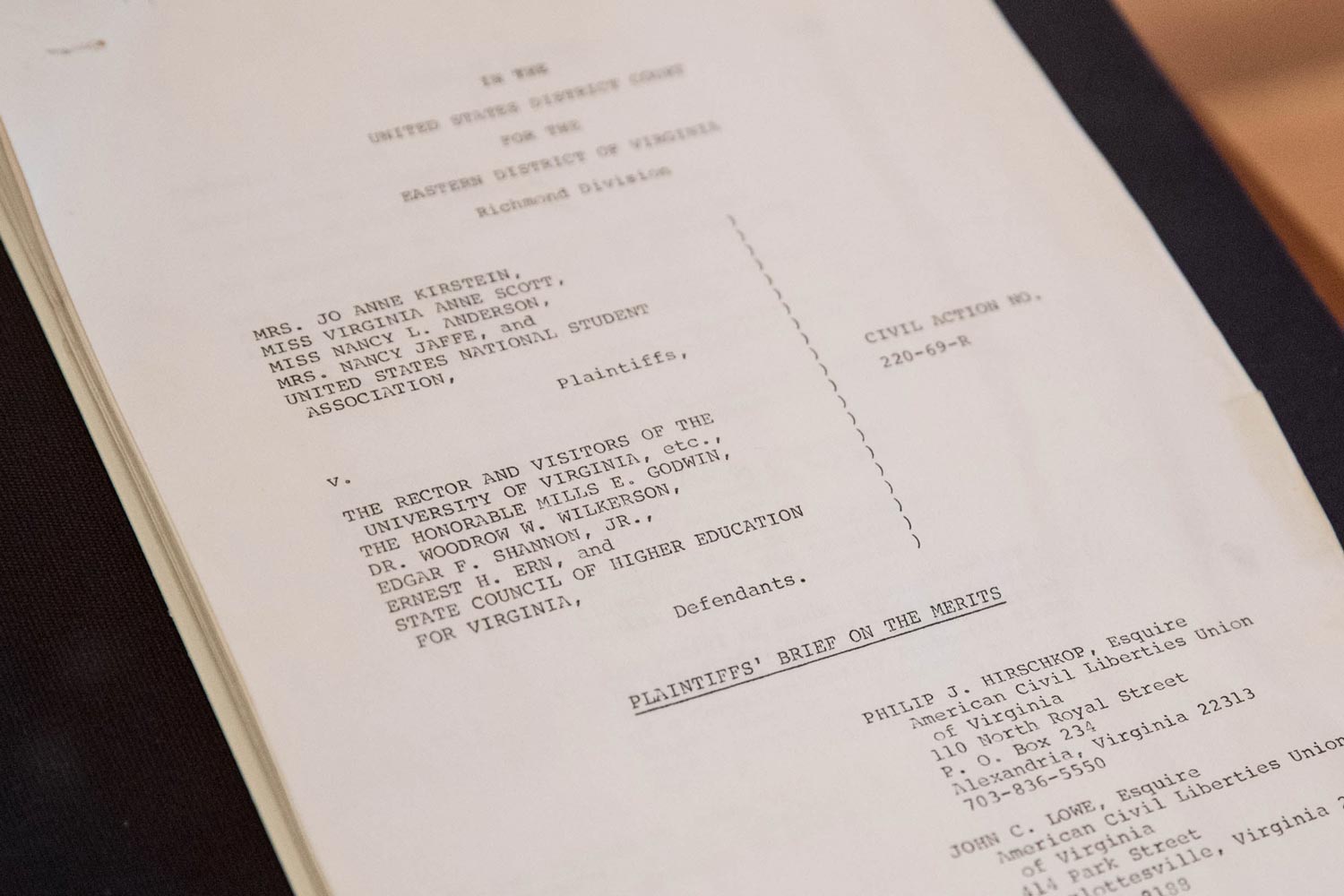 A copy of lawsuit filed by John Lowe was part of "The University of Virginia in 100 Objects" exhibition on display during UVA's bicentennial celebrations. (Photo by Sanjay Suchak, University Communications)
Another marker near the Rotunda will commemorate the "Coat and Tie Rebellion" on Feb. 16, 1969, when students staged an anti-war and pro-civil rights demonstration intended to show widespread support from the student body. Hundreds rallied in coats and ties, a nod to traditional dress code, and presented 11 demands to then-President Edgar Shannon, calling for an increase in black student enrollment, an African American dean of admissions, a black studies program, and union efforts for University workers. The demonstration helped to build momentum around efforts to make UVA a more welcoming place for students of all backgrounds.
On McCormick Road, a marker will note the "Black Bus Stop," which for decades served as a meaningful gathering spot for UVA's African American students, especially when other spaces on Grounds felt less welcoming.
These are just a few examples of what will become an ongoing effort to add markers around Grounds that more fully tell the University's story.
New Digital Tours
Two new digital tours of Grounds will complement existing tours by adding new context around UVA's historic landscape, and allowing users to take a deeper dive into the University's history.
The tours, including a Memorial to Enslaved Laborers Walking Tour and a UVA Grounds Walking Tour, will be available on the "Walking Tours of UVA Grounds" app hosted by the University Library.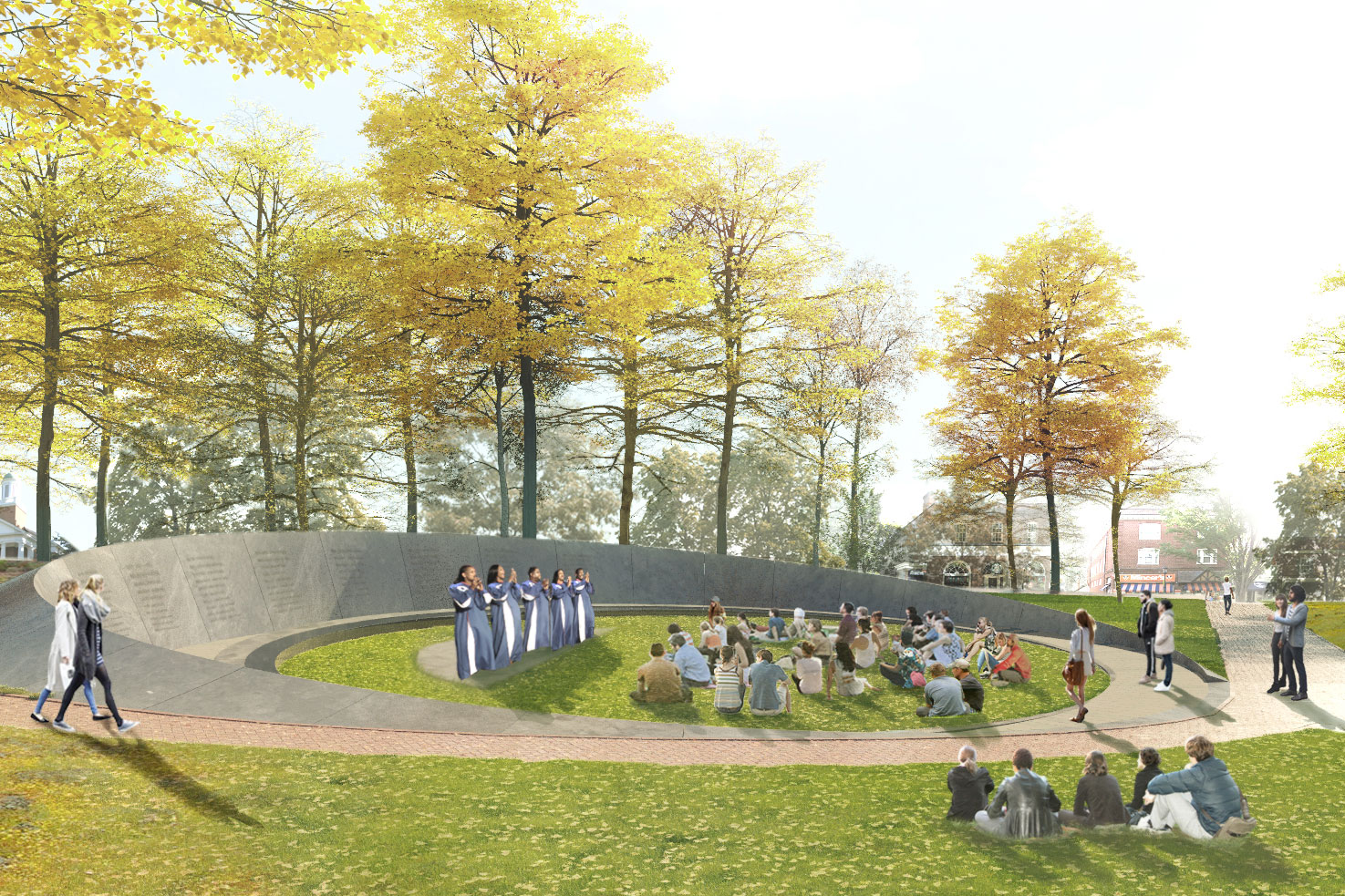 The Memorial to Enslaved Laborers, located east of the Rotunda near Brooks Hall, is currently under construction, with a public dedication ceremony scheduled for April 11. (Image courtesy Höweler+Yoon)
Both tours are being produced as a collaboration between the University Library and students in assistant dean and history professor Kirt von Daacke's course, "The Aftermath of Slavery at UVA and in Virginia." Von Daacke co-chaired both the President's Commission on Slavery and the University and the President's Commission on the University in the Age of Segregation, which have provided crucial research and information for these new projects.
Along with von Daacke and Ashley Schmidt, program officer for the President's Commission on the University in the Age of Segregation, students will work in teams to develop stops for the tour focusing on the years after 1865.
"The commission has already been doing research for over a year now, focusing on building a set of documents the students can access online," von Daacke said. "We are really looking forward to rolling up our sleeves and working with students in understanding and interpreting these materials in pursuit of creating a public-facing tour."
The tours are in development now and will be added this semester. The Memorial to Enslaved Laborers tour, which provides history and context for UVA's newest memorial, will debut April 11 after a formal dedication ceremony that day.
Article Information
January 30, 2020
/content/president-ryan-announces-additions-uvas-historic-landscape