Wednesday was back-to-school day for James E. Ryan, who embarked on his first day as the ninth president of the University of Virginia.
Since UVA's Board of Visitors announced his selection in September, Ryan worked behind the scenes to prepare to succeed President Emerita Teresa A. Sullivan, who ended her eight-year term as UVA's first female president Tuesday.
On Wednesday, Ryan stepped into the spotlight.
"Since my appointment was announced last September, I have had conversations with students, faculty, staff, alumni and members of the Charlottesville community about their hopes and aspirations for the future," he wrote in an opening-day email to the University community. "And I plan to spend the next several months meeting and hearing from as many people as I can as we work to refine a vision for the next decade of UVA."
To make that happen, Ryan launched "Ours to Shape," an initiative that invites community input on questions about three thematic areas that define the University: community, discovery and service.
His listening tour began in earnest Wednesday morning in the Rotunda's Dome Room with the swearing in of Tommye Sutton as assistant vice president and chief of police.
UVA Today photographer Sanjay Suchak was there as Ryan, a UVA School of Law alumnus and former dean of Harvard University's Graduate School of Education, began settling into his new role.
8:59 a.m.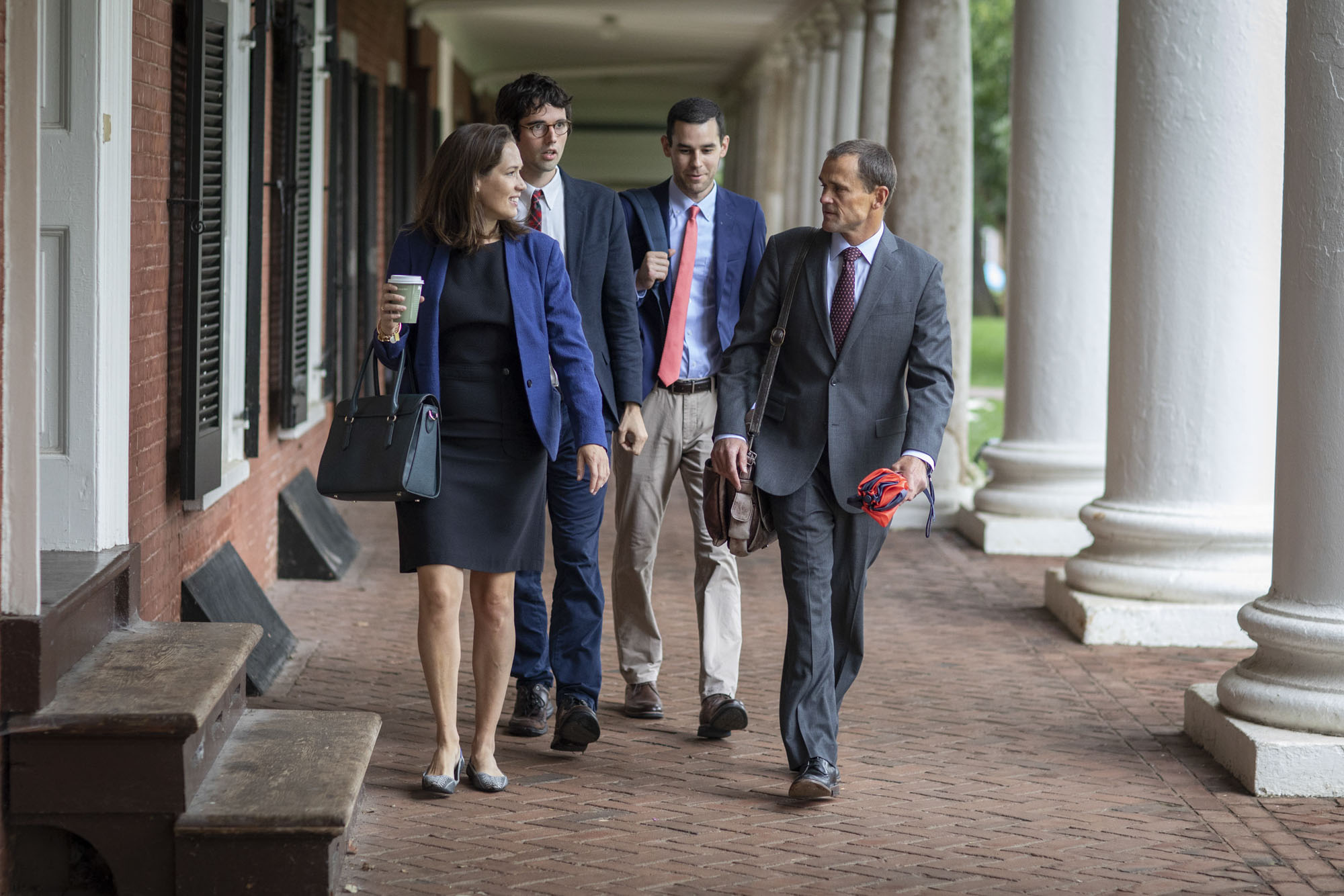 Ryan started his day clutching an umbrella as he walked from his East Lawn residence, Pavilion VIII, to the Rotunda alongside several members of his staff. Ryan will live in the pavilion while UVA's official presidential residence, Carr's Hill, undergoes long-planned renovations, projected to be completed next summer.
9:02 a.m.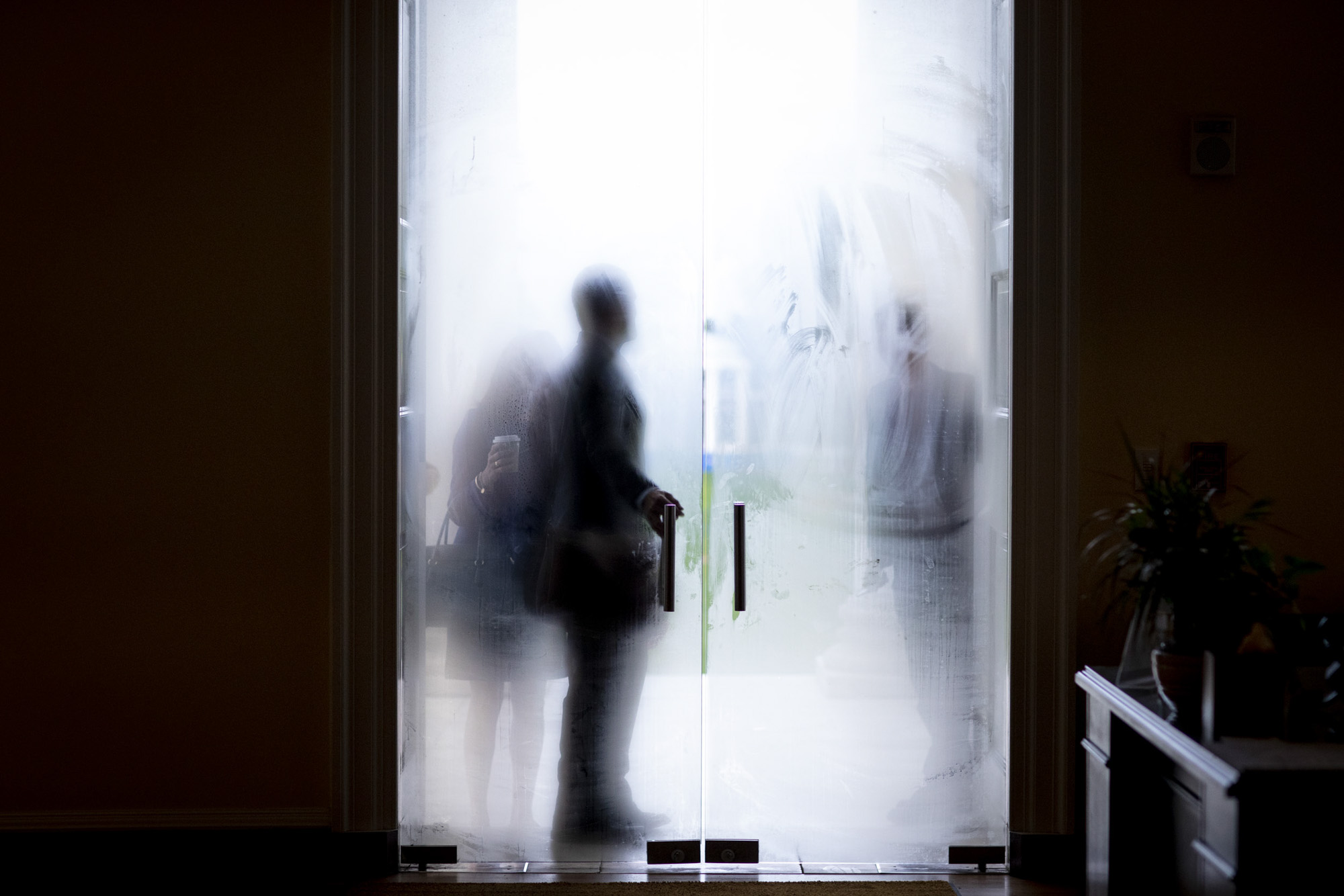 Wednesday began as a typical, muggy Virginia morning in August, as Ryan pulled open a door to enter the Rotunda.
9:25 a.m.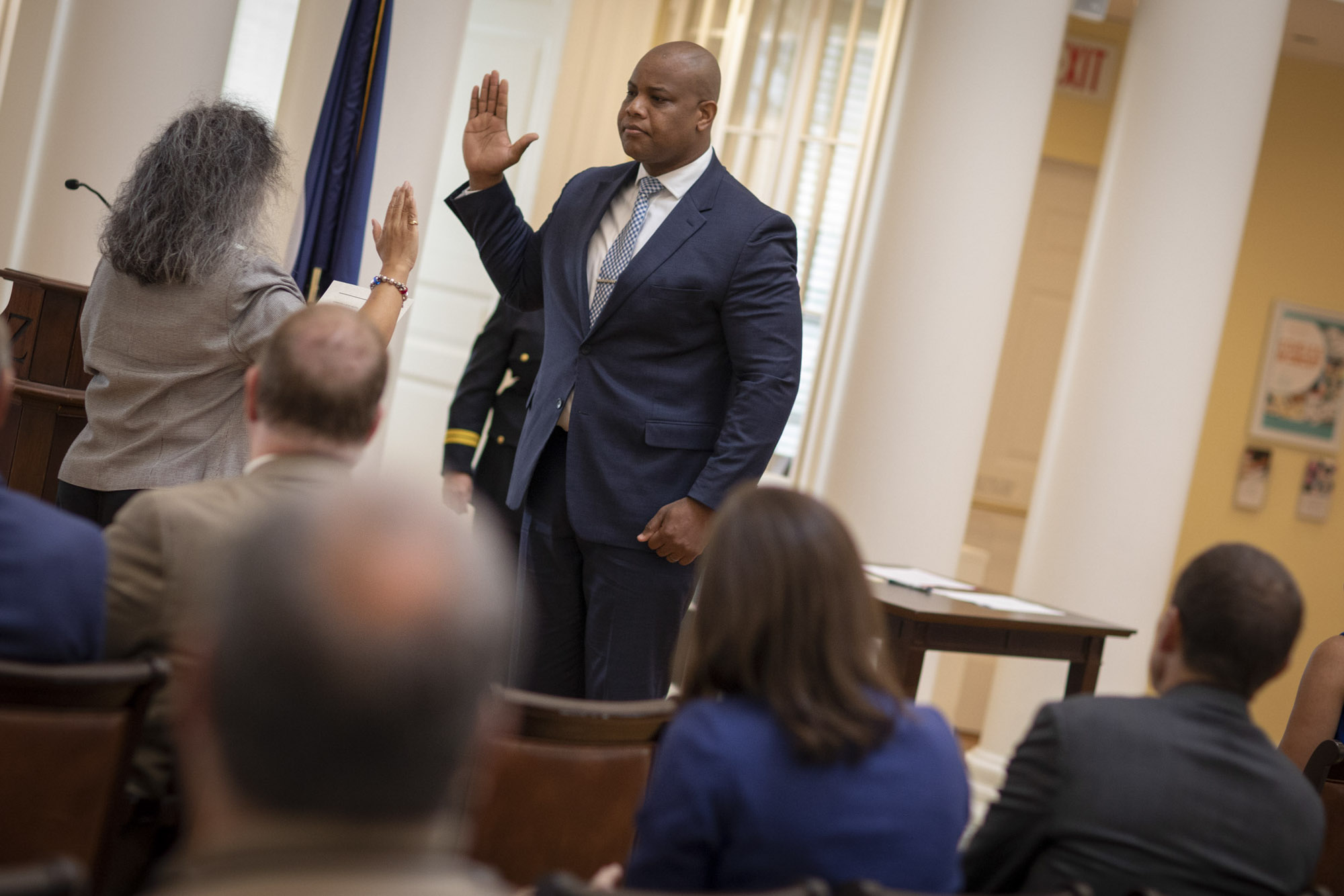 As his first official order of business, Ryan witnessed the swearing in of UVA's new chief of police, Tommye Sutton. Ryan himself will be formally inaugurated on Oct. 19.
9:40 a.m.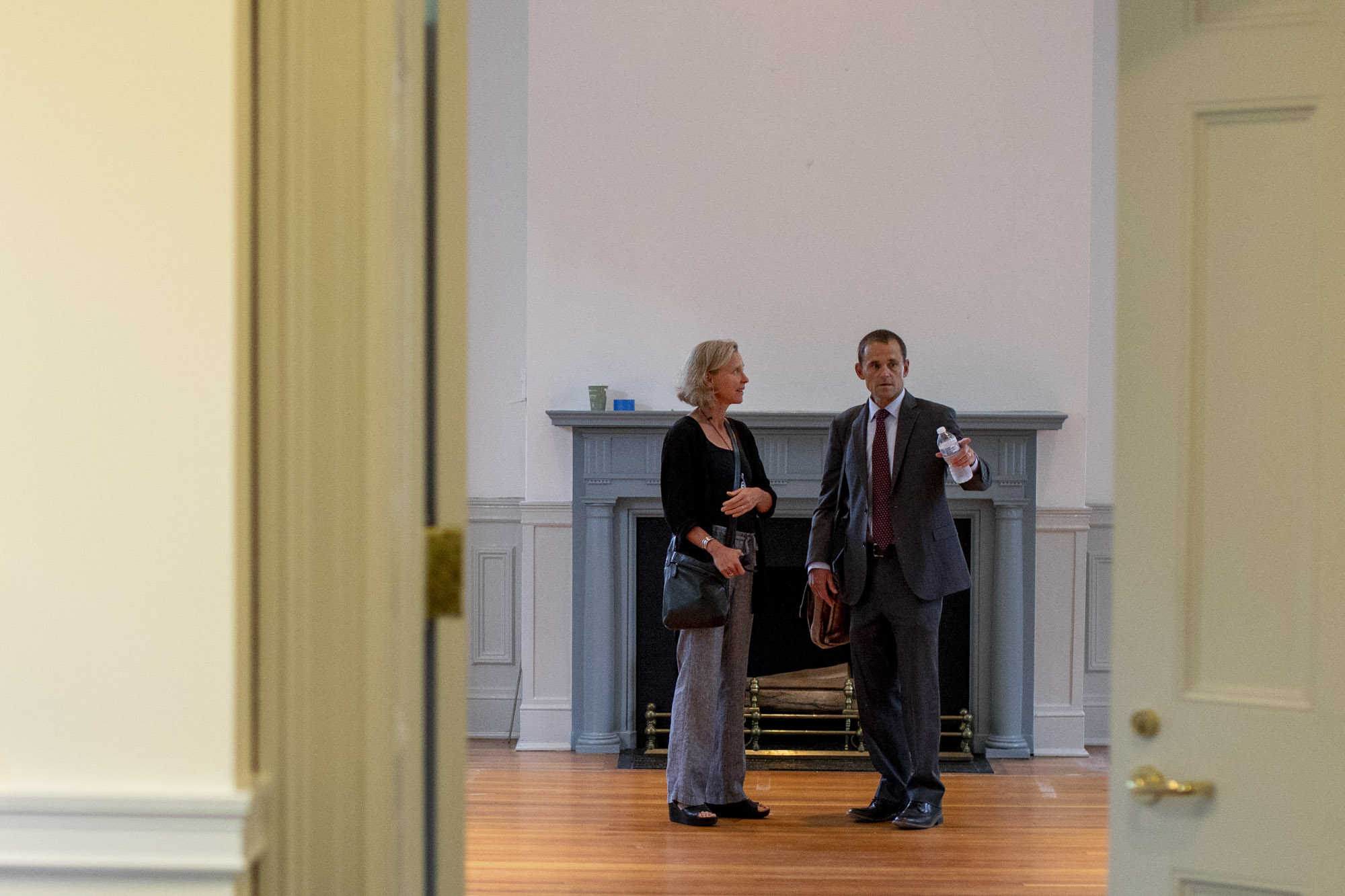 Ryan and his wife Katie visit his new office in Madison Hall. A moving truck waited in the parking lot, filled with furniture, rugs, books and artwork to be moved into the west wing of the building, which sits on University Avenue, across the street from the Rotunda.
9:48 a.m.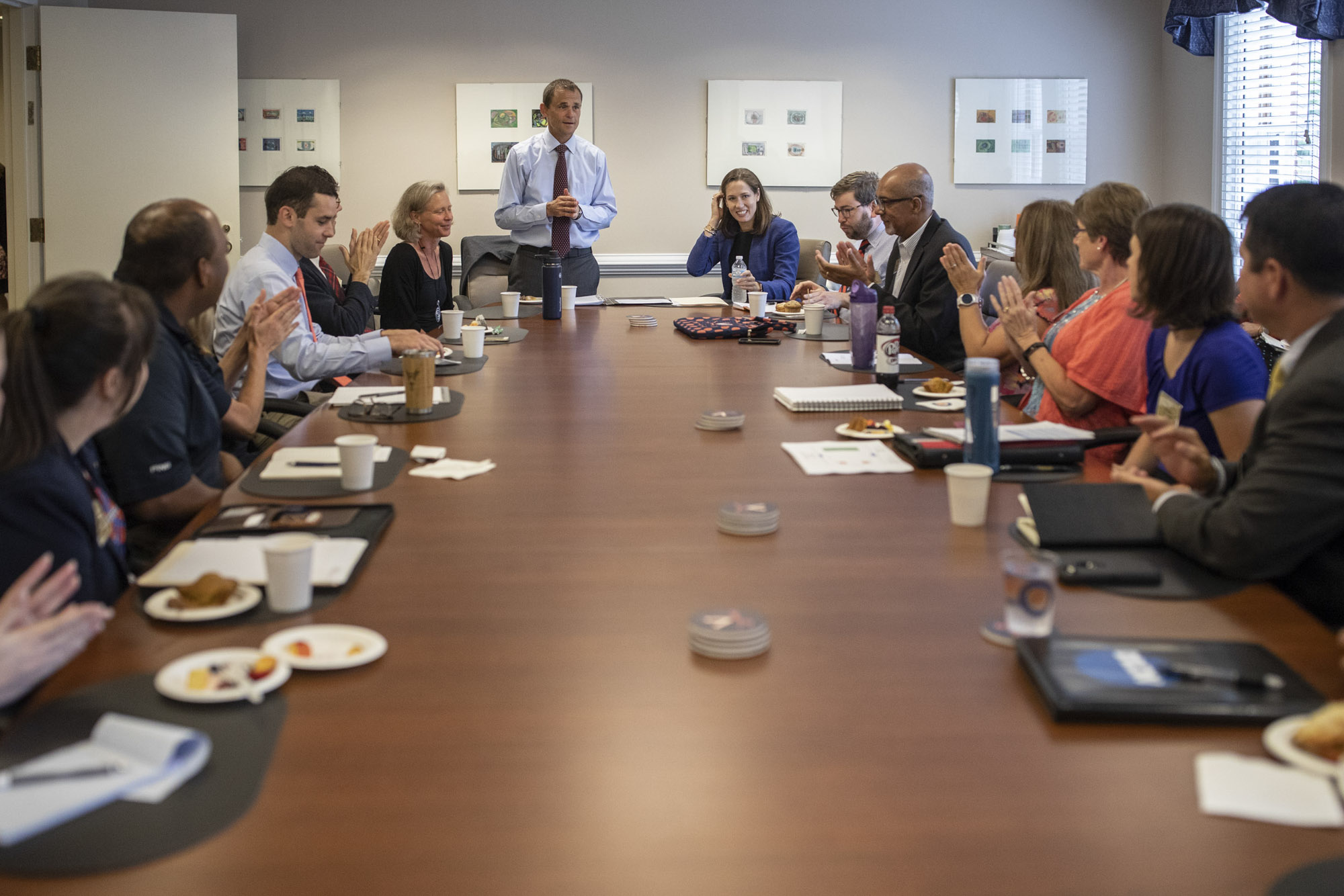 Ryan holds his first all-staff meeting in the President's Conference Room in Madison Hall.
12:03 p.m.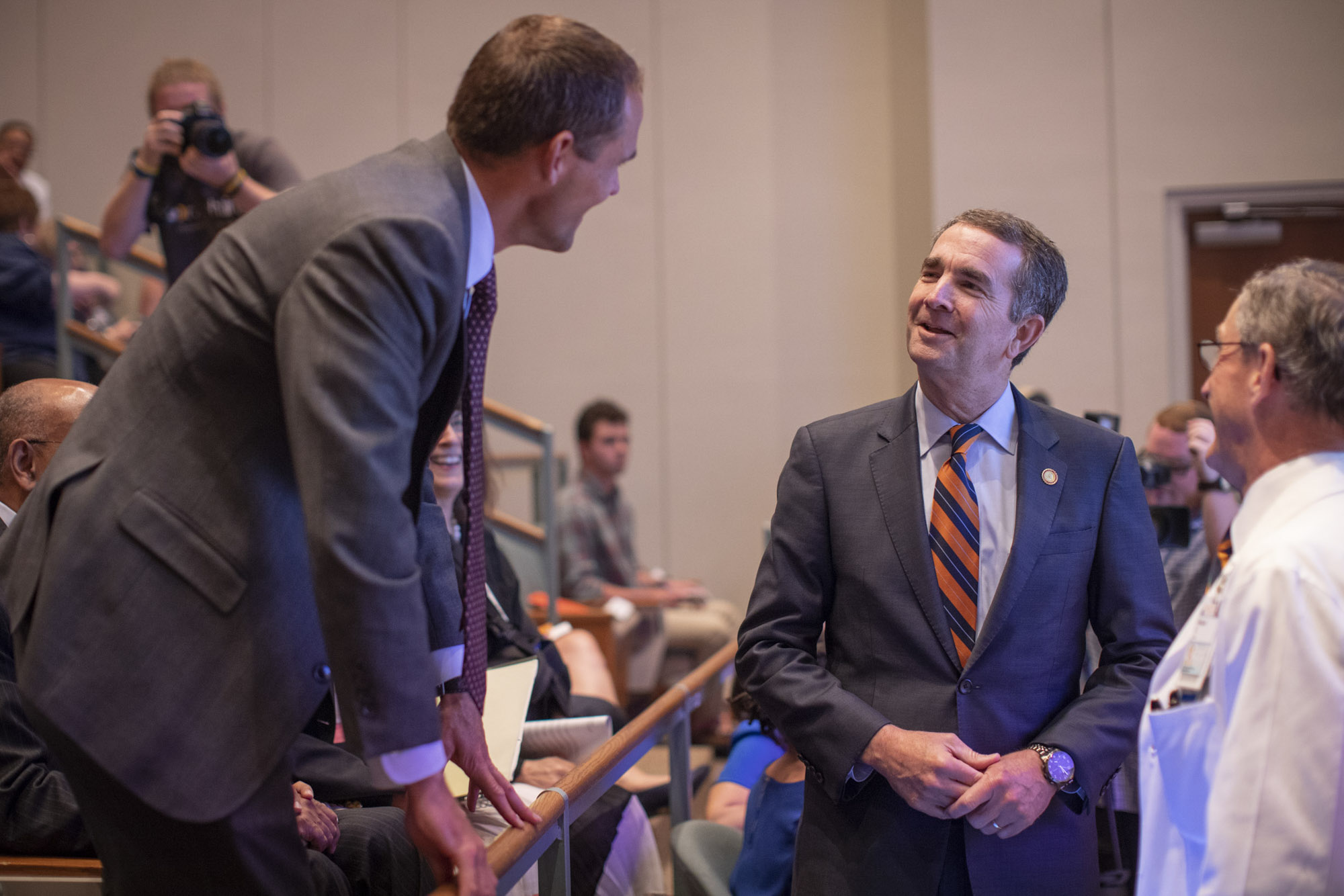 In the afternoon, Ryan went to the School of Medicine's Pinn Hall auditorium, where Virginia Gov. Ralph Northam, a pediatric neurologist by training, held a medical discussion with Ryan Hall of Clifton Forge, who suffered athletic injuries in high school and became addicted to opioids. Northam is holding such periodic appearances at medical schools around the state.
12:28 p.m.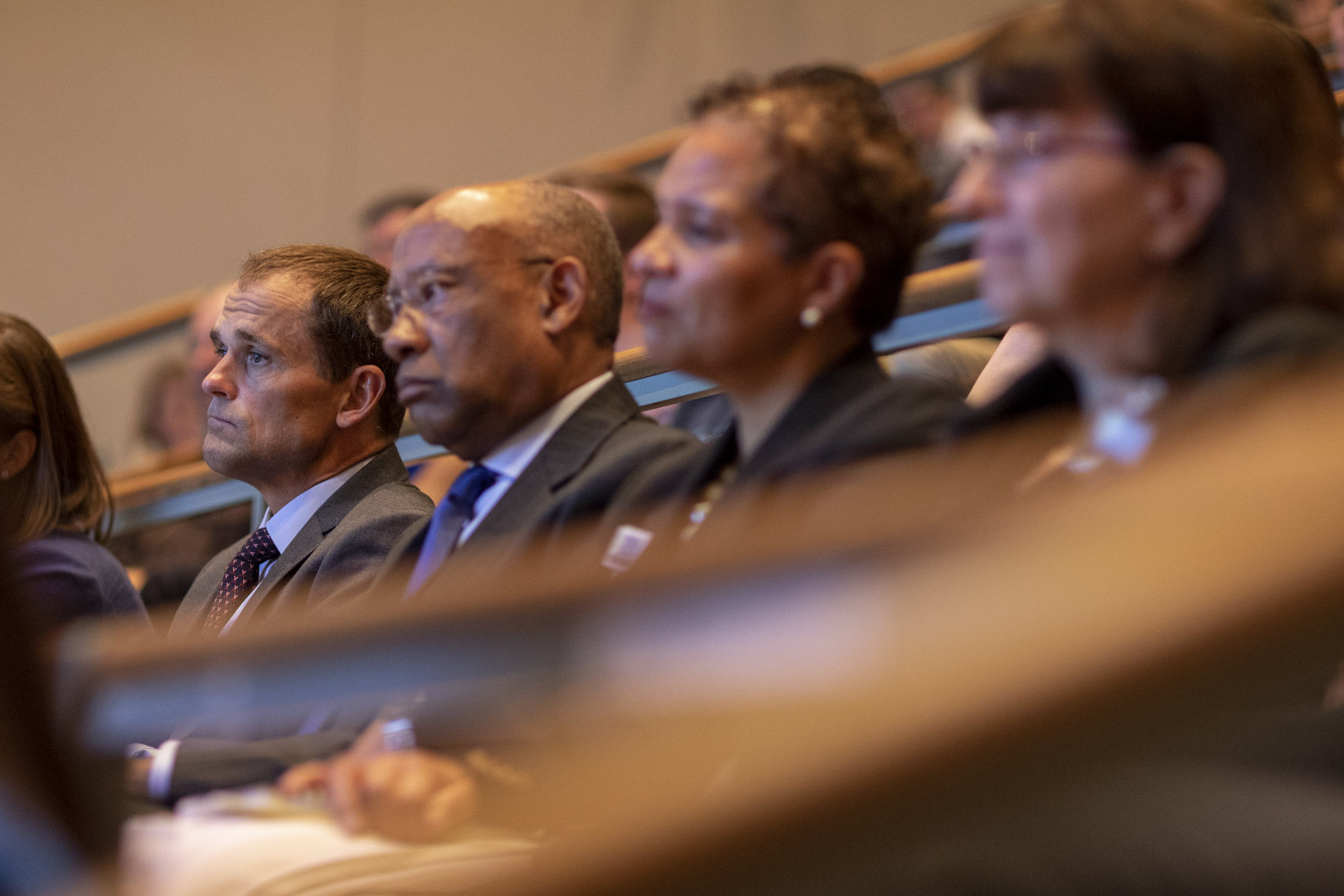 Ryan, alongside the dean of the School of Medicine, David Wilkes, and Pamela Sutton-Wallace, CEO of the Health System, listened intently as Hall described the injuries that led to his addiction.
2:20 p.m.
Ryan returned to the Rotunda to hold his first news conference as president. He told assembled reporters he planned to engage with the University community for several months in order to craft a 10-year vision for UVA. He praised Sullivan for leaving the University in such a good state by focusing on such things such as faculty excellence, affordability and accessibility.
3:14 p.m.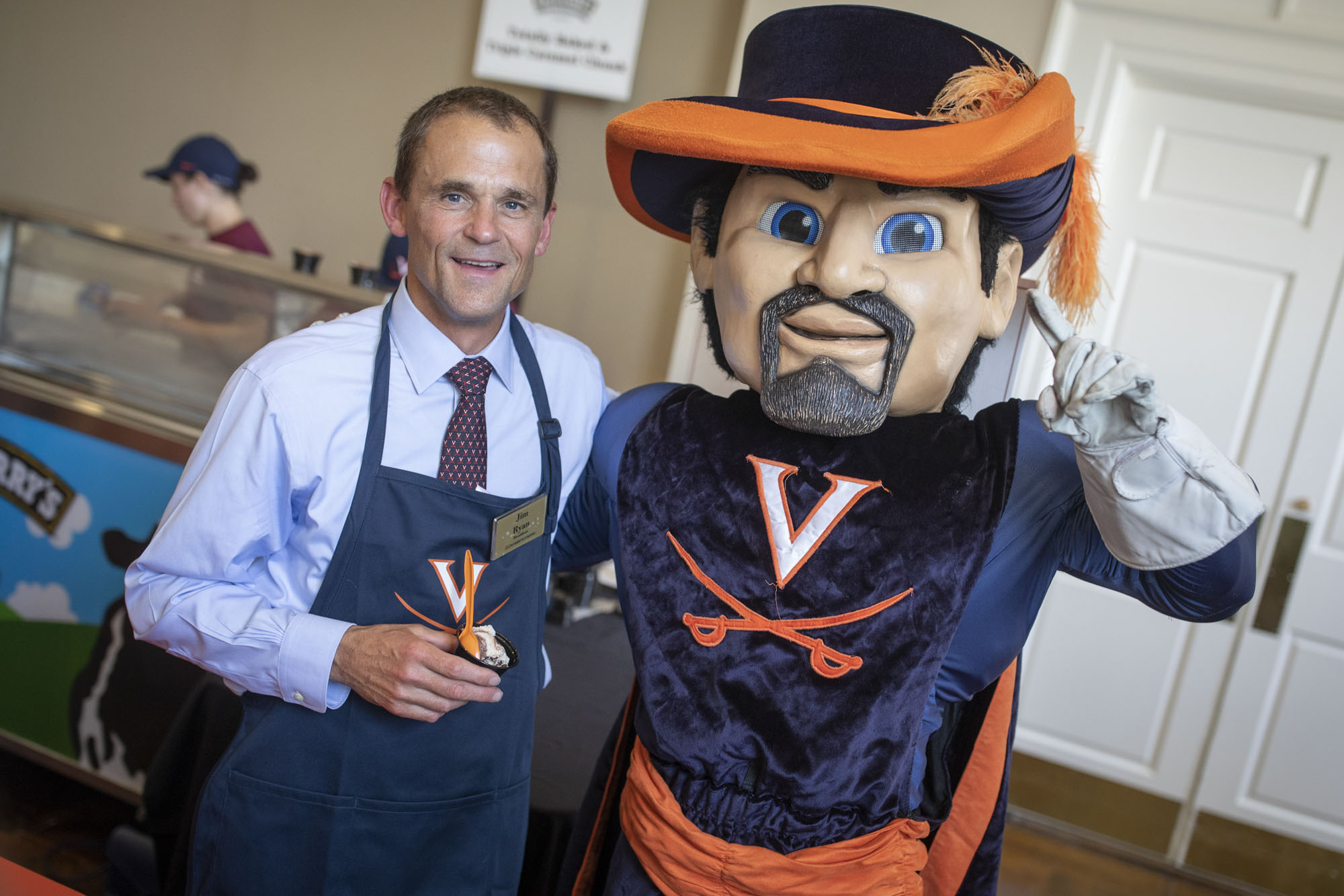 Ryan continued his listening tour Wednesday afternoon at an ice cream social for the University community, held in the Newcomb Hall Ballroom. Cav Man even made an appearance, posing with Ryan as Motown music played and rounds of cornhole were contested.
4:51 p.m.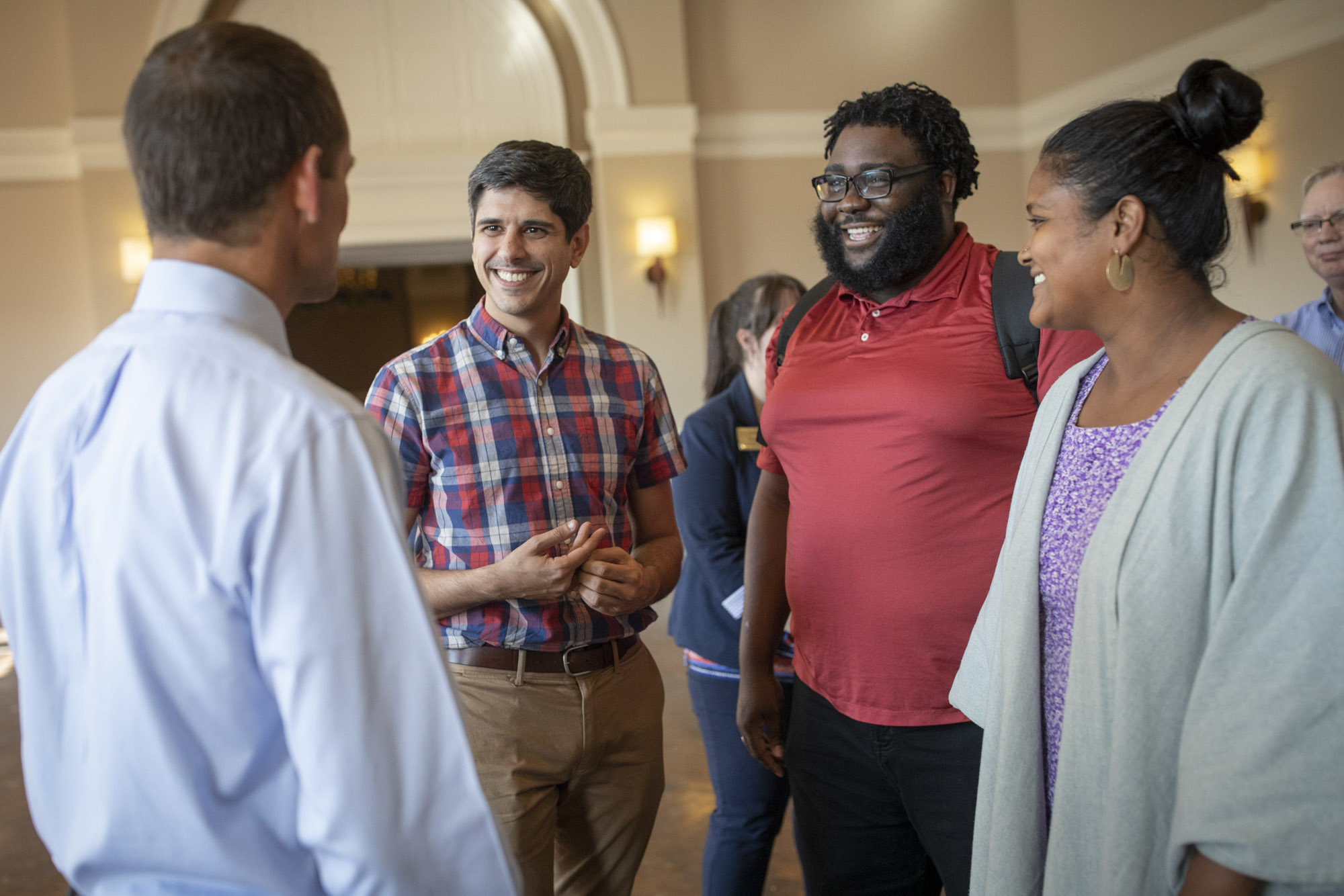 The social was an opportunity for President Ryan to meet with and hear from members of the UVA community.
5:20 p.m.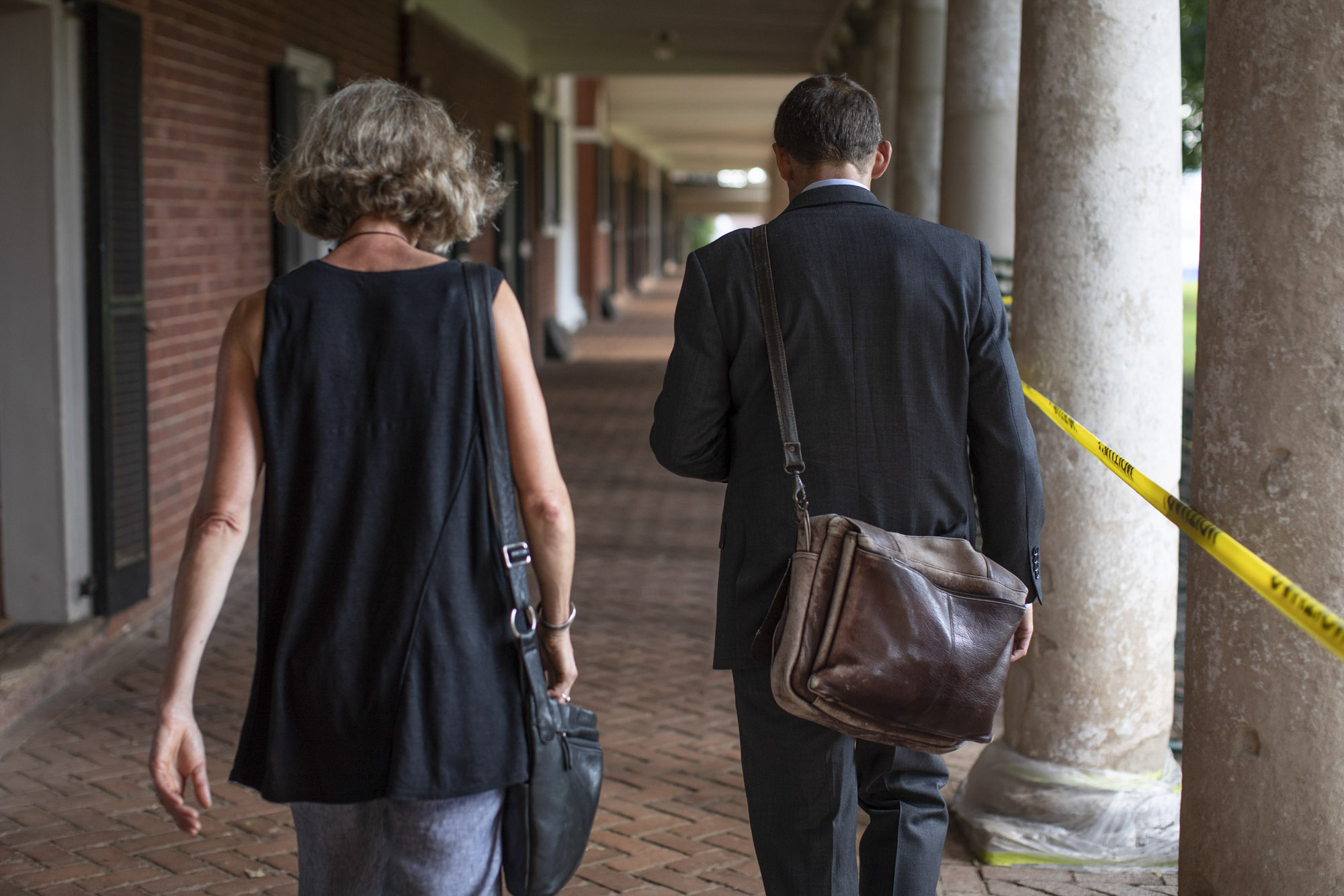 President Ryan and his wife make their way back to Pavilion VIII, Ryan's home for the next year. Katie will return to Cambridge to see her two youngest children through their upcoming school years. She and her husband will move into Carr's Hill next summer.
5:21 p.m.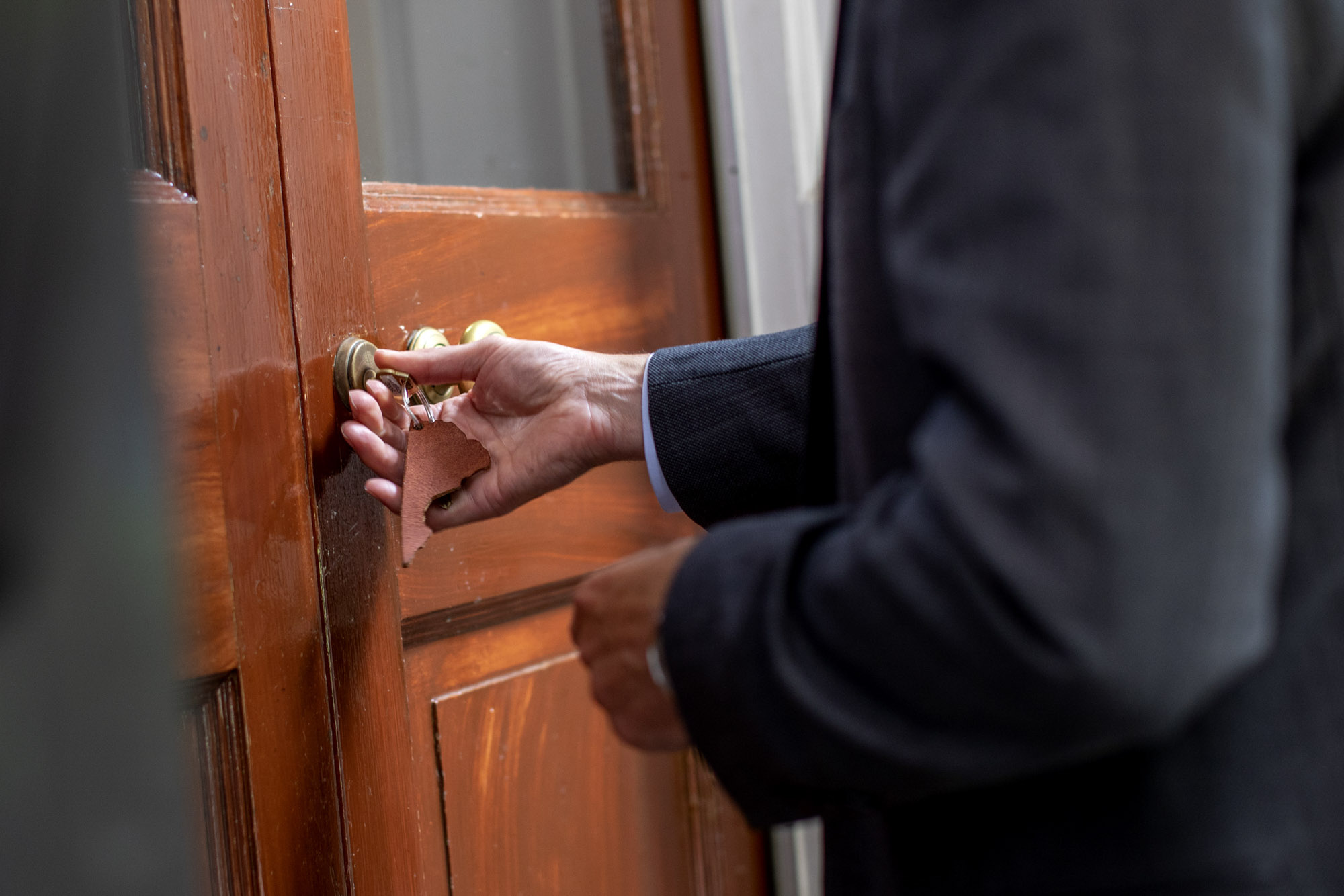 Ryan's official schedule on Wednesday ended right where it began, at the door to Pavilion VIII.
Article Information
August 1, 2018
/content/president-ryans-first-day-office-told-through-photos