A University of Virginia historian's book helped inspire a conference and exhibit on philanthropy at the Smithsonian Institution's National Museum of American History in Washington.
"Philanthropy in America: A History," a 2012 book written by Olivier Zunz, a Commonwealth Professor in UVA's Corcoran Department of History, was a catalyst for the exhibit, "The Power of Giving: Philanthropy's Impact on American Life," which opened Dec. 1 and will be a permanent exhibit.
The program for the conference – also held Dec. 1 – included a historical overview of philanthropy, a look at current philanthropic practices and some predictions about where philanthropy is going from Microsoft founder Bill Gates and Premal Shah, president of Kiva Microfunds, a crowd-sourced small-loan lender.
Curators and organizers relied heavily upon Zunz's book in pulling together both the exhibit and the seminar, said Anna Karvellas, philanthropy initiative program manager at the museum.
"We had wanted to do this for a long time," she said. "'Philanthropy in America' helped inspire the exhibit."
At the conference, Zunz participated in a panel discussion on "Real And Permanent Good: Examining a Century of American Philanthropy," alongside Warren Buffet, chair of the investment house Berkshire Hathaway; philanthropist and co-founder of the Carlyle Group David Rubenstein; and philanthropist David Rockefeller Jr.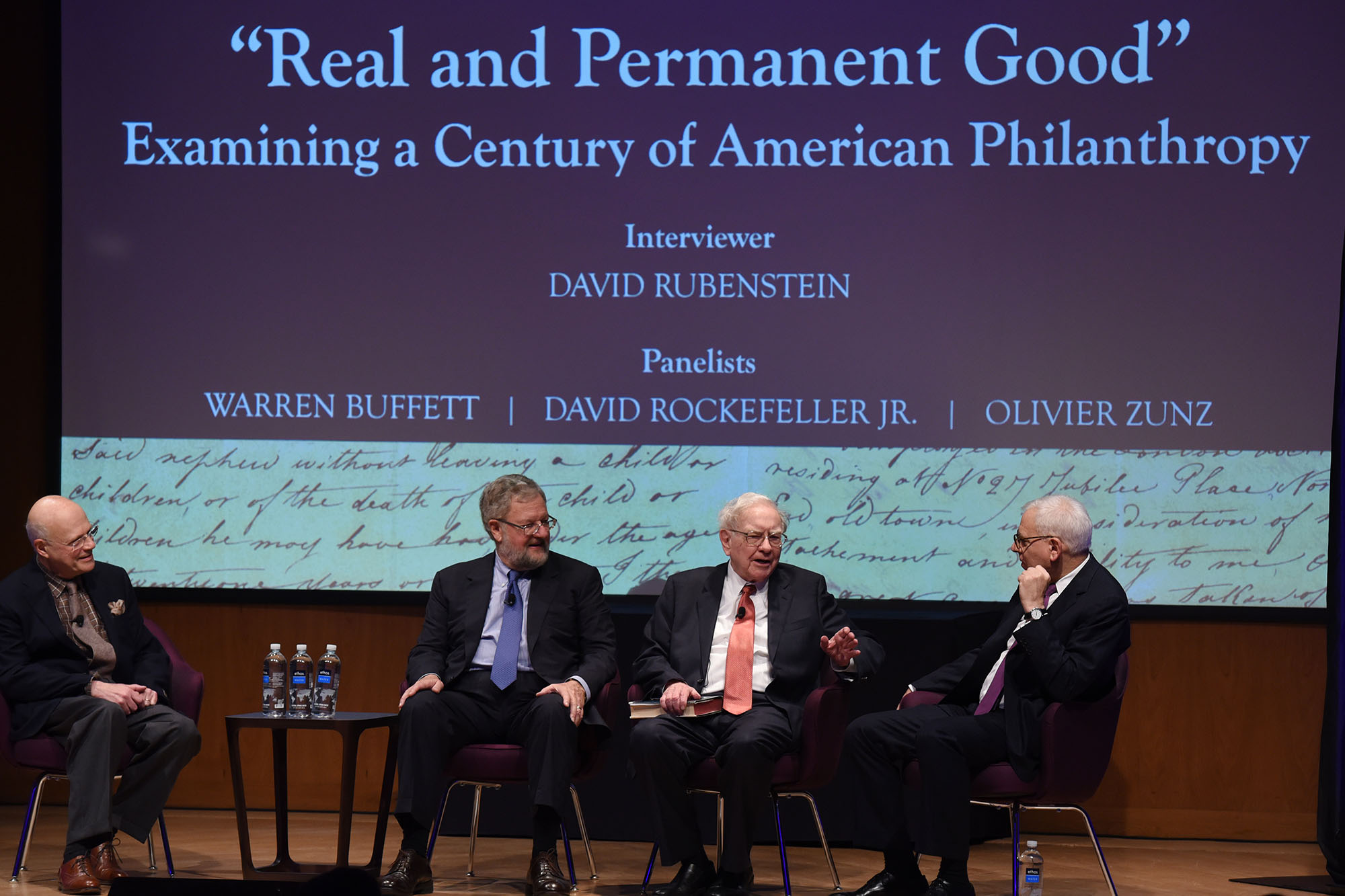 "Based on Olivier Zunz' reputation and having read a lot of his work, we decided he would be a perfect fit on the panel," Karvellas said.
Zunz' book tells the story of giving in America from the latter part of the 19th century to modern times, examining not only the philanthropy of the wealthy, but also that of the masses, as large numbers of people give small amounts of money targeted at specific causes. He also examines the relationship between philanthropy and politics, the professionalism of fundraising and the creation of the non-profit sector.
In his book, Zunz details how philanthropy played a role in funding early examples of "big science." Private money created universities devoted to science (as distinguished from those founded by religious institutions) and programs devoted to eradicating specific diseases, such as tuberculosis. Wealthy Americans also built scores of libraries, museums and hospitals across the country, often working with local organizations, and continued to donate to existing institutions.
Much of that private investment in public life stemmed from an expansion of wealth in the second half of the 19th century and the early 20th century. In the two generations following the Civil War, an unprecedented number of Americans became rich. In the 1870s, the U.S. had about 100 millionaires. By 1892, the figure was 4,000 millionaires, and by 1916, more than 40,000. John D. Rockefeller Sr. and Henry Ford were billionaires. With these immense fortunes, giving moved beyond mere charity; their philanthropic power was used to shape the fortunes of mankind.
"The philanthropic projects were acts of generosity and hubris on a scale never before entertained," Zunz wrote. "The new rich felt free to both envision and fashion the common good, and they did so."
Zunz said he enjoyed being on the Smithsonian panel, and that he found Warren Buffet "modest" and Bill and Melinda Gates "very personable."
On the day of the Smithsonian exhibit's opening, Mark Zuckerberg, founder and CEO of Facebook, set up a limited liability company intended to give away most of his fortune during his lifetime.
"Zuckerberg has not created a foundation but rather an LLC, which is not tax-exempt," Zunz said. "Historically, a tax deduction has brought together the many institutions of philanthropy in a vast nonprofit sector. But when you have a tax deduction, you cannot openly engage in political advocacy, so most foundations play it safe and tend to label their activities educational.
"Zuckerberg appears to want maximum flexibility when he disburses his funds. His announcement has generated a large debate on the definition and purpose of the nonprofit sector."
Melinda Machado, director of the Office of Communications & Marketing for the National Museum of American History, said this year's exhibit deals with the Gilded Age, considered to be from 1880 to the early 1900s – and also the beginning of major organized philanthropy. Future displays will highlight different topics.
"We will be changing topics in the area of philanthropy," she said. "This year, we had the preview, which focused on the Gilded Age, and with letters from today of people who had taken the 'Giving Pledge,' a commitment from wealthy people to dedicate the bulk of their money to philanthropy."
The exhibit includes a bust of Andrew Carnegie, who funded libraries among other things, and a musical score from the Chicago Symphony, the recipient of private donations.
Machado said the philanthropy exhibit grew out of an exhibition on American enterprise curated by David Allison, called "Capitalism and the Common Good."
"The message is that giving has made an important impact on American society," Machado said, "the everyday giving in American society, the giving of time and talent as well as financial support."
Zunz, an adviser for the future exhibits, said he is not sure how the curators will translate the history of philanthropy into physical artifacts, but he is grateful that professional historians are being included in the process.
"This is an important field of history and I was glad that they came to me to ask me to be the historic adviser to the exhibit," he said. "Philanthropy is a big part of American history."
Zunz, who is currently working on a biography of French politician and political thinker Alexis de Tocqueville, said the field of philanthropy is increasingly blurring boundaries between educational, political, religious, secular, for-profit and not-for-profit activities, with many institutions engaging simultaneously in several of these fields. 
But it is hard to say where philanthropy is headed.
"A historian's job is to predict the past," he said. "You write a book and wonder how many people will read it and how it will get translated. I've never written for money, but to explore ideas and make a difference."
Article Information
December 17, 2015
/content/professors-research-inspires-smithsonian-exhibit