Find the latest information on the University's response to the coronavirus here.
Global pandemic or not, there's nothing like a good book.
And with social distancing taking place for the foreseeable future due to the coronavirus, many people are finding they have more time to indulge than usual.
But with so many great options, it can be tough to make selections.
UVA Today asked several members of the University community for their recommendations.
Larry Terry, executive director, Weldon Cooper Center for Public Service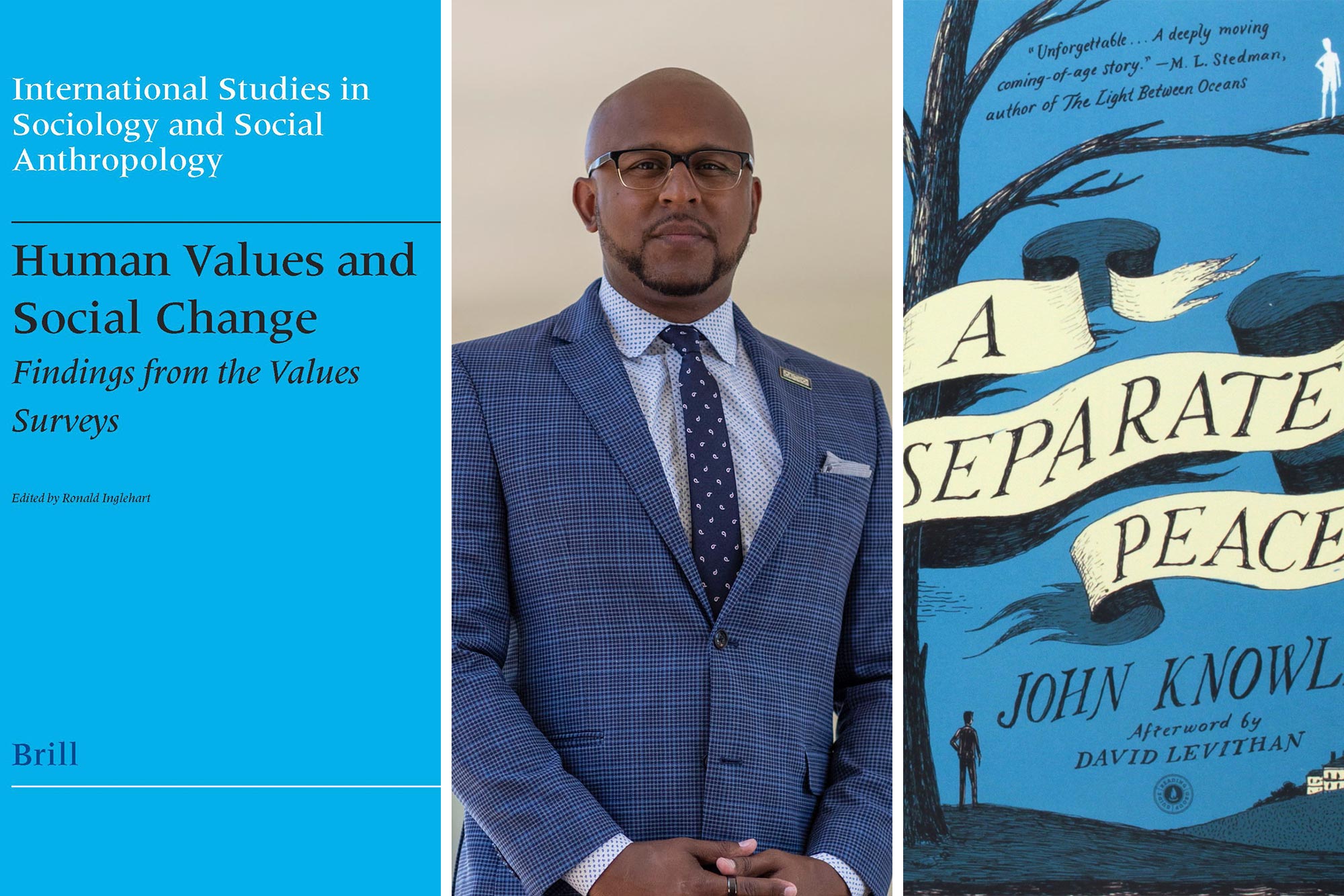 "If you looked at my kitchen table right now you would get the impression that I am reading 10-plus books, but that isn't necessarily the case; it has become my 'office' for the time being and is really a reflection of how my home life has merged with my professional life in a very short time. But there are two books that I am focusing on right now, with the first helping me gain perspective as I am writing my own manuscript on trust between communities and public institutions; and the second I am reading for fun, which I am trying to do more often.
"In 'Human Values and Social Change,' there is a chapter entitled 'Schools, values and social change' and in it the author Jaap Schouten states '… the alternative for the counterpart of poverty and possession is community. In communities we become rich; rich with friends, with neighbors, with colleagues, with brothers and sisters in whom we can trust if needs arise. Together people are strong to shape their own destiny.' I found this particularly profound, not only because it relates to much of my perspective on the power of community, but also because of the difficulties we are facing as a global community right now in this pandemic. I recently shared it with our team members in the Weldon Cooper Center in the hopes that it can provide some perspective on not only the importance of our work to support communities across the commonwealth, but one another as well as we continue to figure out how to navigate during these uncertain times.
"The second book is called 'A Separate Peace,' written by John Knowles, and I read it in high school; I can't remember which grade, but I know I really liked it and I want to find out why. I bought it not long ago at Blue Whale Books on the Downtown Mall, and with all of the streaming happening in my household right now, I am trying to avoid watching the movie before I get to the end. … I know there is some tragedy that takes place and a tree may be involved (spoiler alert)!"
Gabrielle Adams, assistant professor, Frank Batten School of Leadership and Public Policy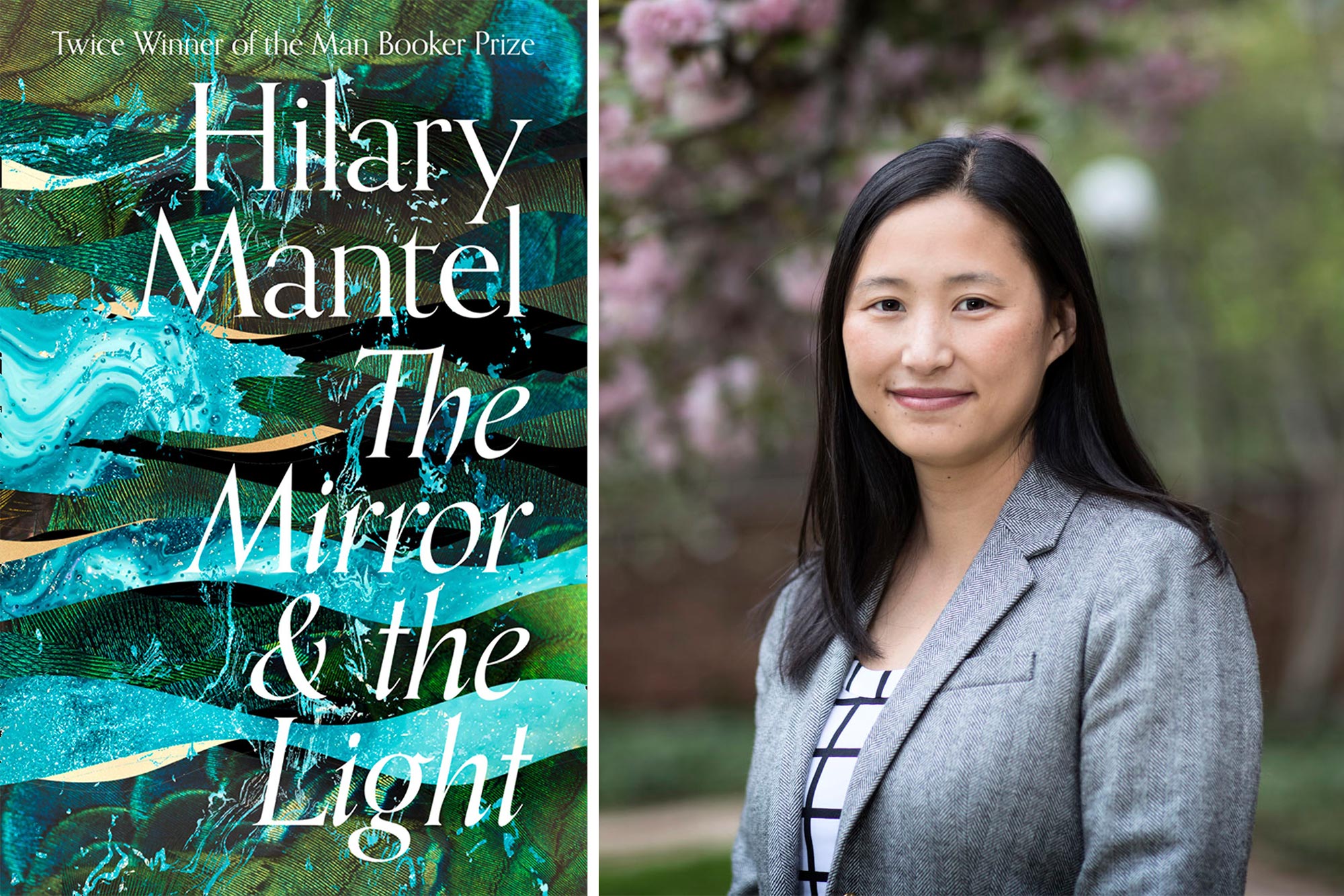 "Even though I don't have much downtime right now – my partner and I are navigating our jobs while parenting a 2-year old and a 3-month old – I read books on my phone during late-night feeding sessions.
"Right now, I'm reading, 'The Mirror and the Light,' which is the final book in Hilary Mantel's Thomas Cromwell trilogy. The series tells the story of Cromwell's rise to and fall from power, portraying him as politically savvy and incredibly unethical. The first two books in the series, 'Wolf Hall' and 'Bring Up the Bodies,' are about how Cromwell becomes King Henry VII's 'fixer'; as a social psychologist who studies leadership and interpersonal dynamics, I've long been interested in political organizations and unethical behavior.
"In the case of 'The Mirror and the Light,' I've been fascinated by the story of someone trying to navigate his loss of power. This final book describes the hubris and politicking that lead to Cromwell's fall from grace and ultimate beheading. At the start of the book, Cromwell has benefited from the king's favor and has received promotion after promotion, but it soon becomes clear that the same strategies that have led to Cromwell's rise will also result in his downfall. An added bonus is that the books have been turned into an award-winning miniseries, so your entertainment can be prolonged."
Andrej Petrovic, Professor of Classics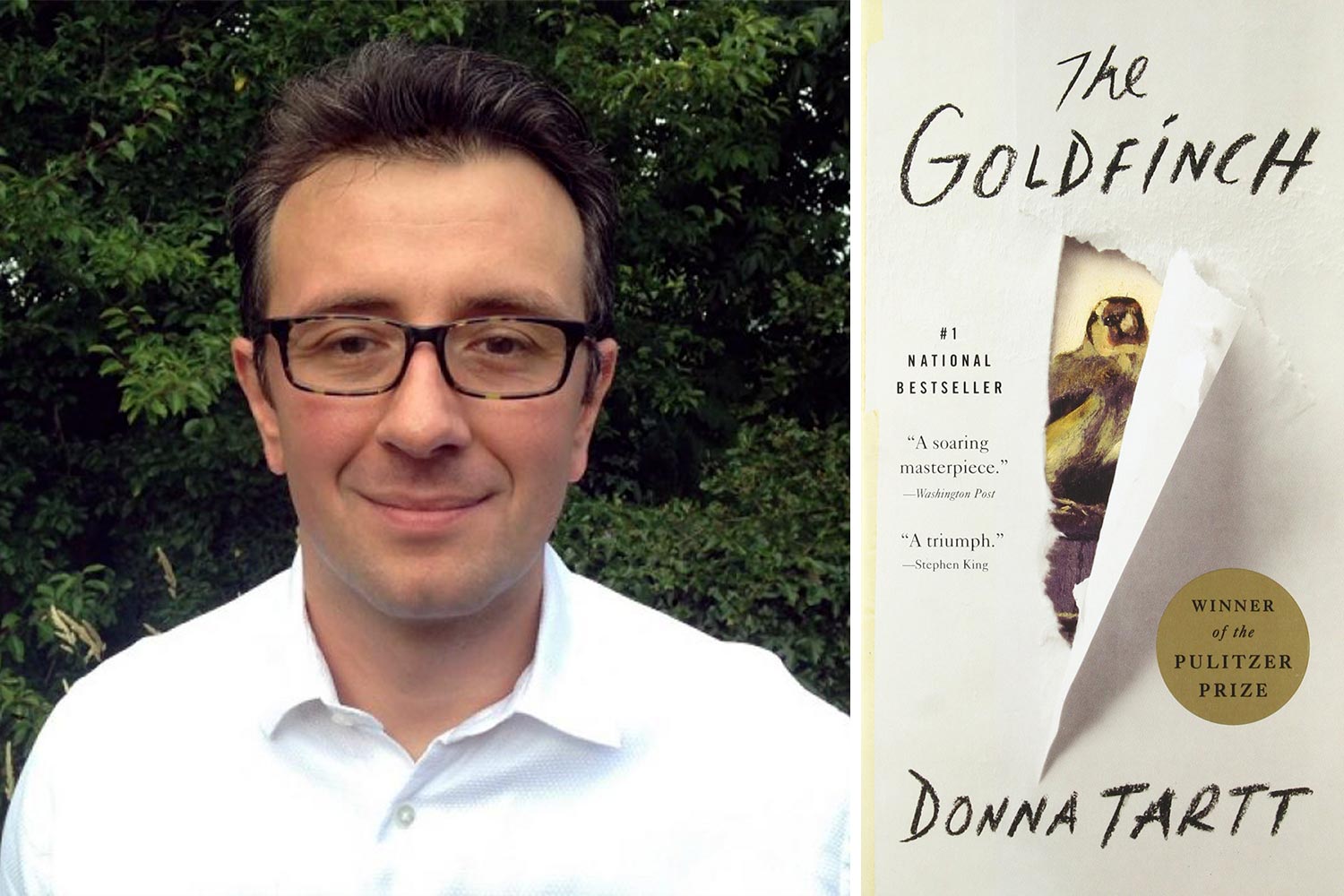 "One book that I found myself thinking about ever since I read it for the first time a few years ago is Donna Tartt's 'The Goldfinch.' I've been an admirer of Tartt's work since her debut, 'The Secret History,' an atmospheric thriller telling a goose-bumpy story of a crime in the Classics community at a small liberal arts college, and already that book had it all: mystery, myth, murder. But the real reason I fell in love with Tartt's books is her appreciation of the beauty in the world, and her style – I do not know many other writers who possess such a captivating and sparkling style paired with such a delicate sense for the narrative flow.
"In 'The Goldfinch,' Tartt tells a coming-of-age story revolving around a boy who, by fate's design, becomes entangled in the sneaky and scary world of art smugglers and shifty dealers of antiques. The novel explores the themes of boyhood, friendship, love and betrayal on more than 700 pages, but it's 700 pages of a page-turner, and you won't be bored for a second; the tension is often Raymond Chandler-esque as the action moves from New York, to Las Vegas, Amsterdam and further, and the reader meets a whole spectrum of colorful characters (my favorite by far is Boris, one of the most charismatic literary characters I've ever encountered). The plot of this novel was absolutely brilliant, but what I found particularly fascinating about it, was again its style: due to the context of the narrative, protagonists often deal with works of art, and the title of the novel mirrors one of the key objects driving the action, namely Carel Fabritius' painting of a goldfinch (but no spoilers!).
"Already on the first reading, it's clear how terrific Tartt is as a writer. Those who pick up this novel will want to pay attention to how her writing often reflects the style of the works of art one encounters in the story – Baroque paintings will be described in an elaborate, lacelike and luxuriant style, while technically demanding paintings will be described in a corresponding literary style and so on. Tartt's skill is truly extraordinary in this regard.
"Finally, a word of warning: I am aware that a year or two ago, a film adaptation came out. I haven't seen it, but this book would be extremely difficult to translate; most of the book's appeal lies in its intricate atmosphere and careful characterization."  
Sara O'Leary, head women's tennis coach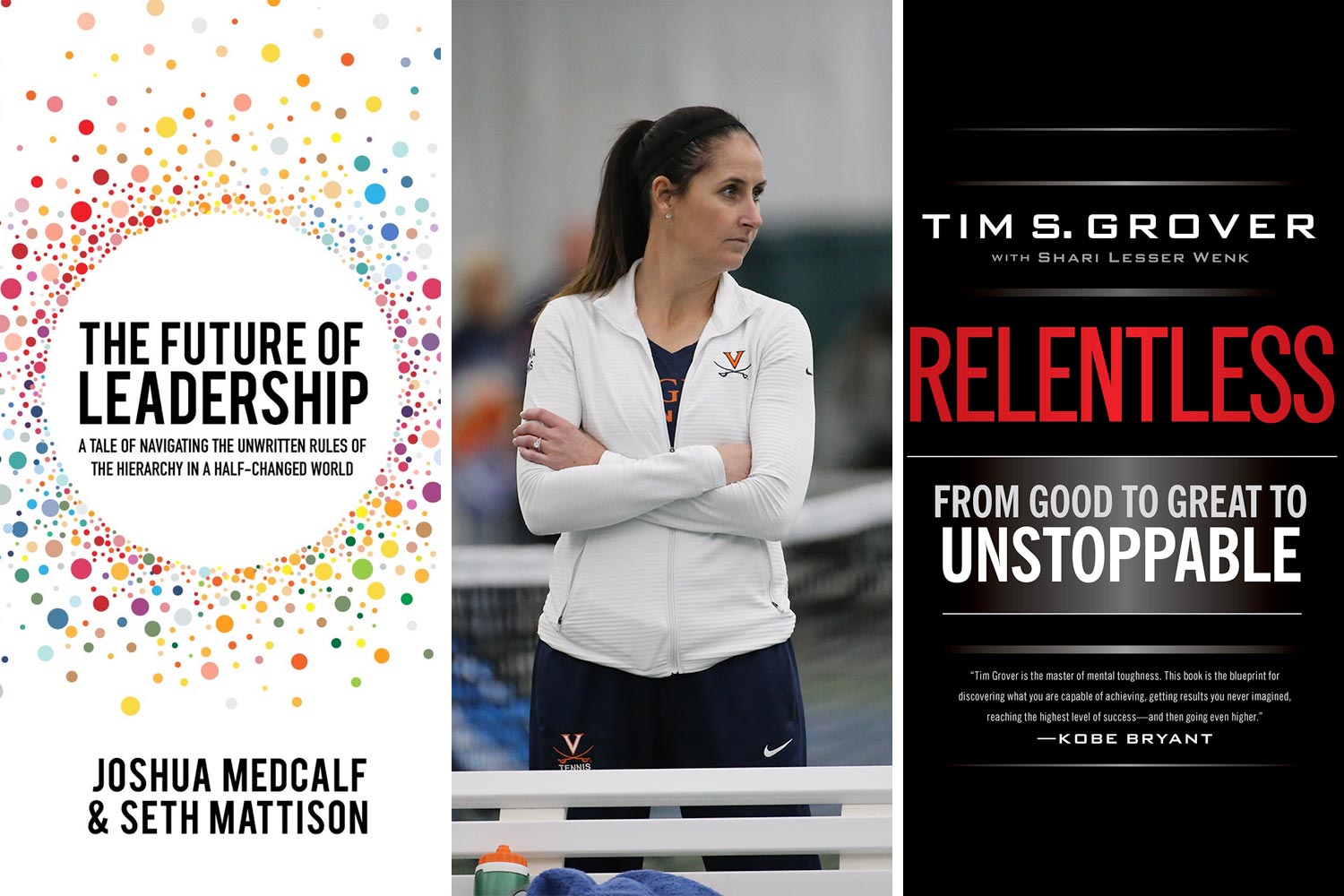 "A few weeks ago, I finished the book, 'The Future of Leadership,' by Joshua Medcalf and Seth Mattison. I've read another Joshua Medcalf book, 'Chop Wood, Carry Water,' on the recommendation of a fellow coach and loved it, which is why I chose to read this one. Through a story about the rise of a low-rung employee, Brian, to the top levels of management, and the transformation he undergoes throughout, the authors speak to the way leadership is changing in the current environment due to our easy access to technology, and our strong need to feel connected and heard. During his ascent, Brian's colleague, Caroline, told him, 'People care about what you share because they want to feel connected to the organization, to its mission, and to you. They want to know that you're a human being that they can relate to!' This was a big takeaway for me, as I see how true it is in the coaching world and in so many other aspects of my life.
"I am currently reading the book, 'Relentless,' by Tim Grover. Tim is a personal trainer and has worked with some of the best NBA players in the world, including Michael Jordan, Kobe Bryant and Dwyane Wade. I am only about halfway through the book, but he shares insight into the mindset of these phenomenal athletes and what separates them from their competitors. He gives real-life examples as to how these incredibly talented athletes push themselves to continue to get better and the continuous commitment it takes to become 'relentless' in your pursuit to become the best.
"I've got my copy of Bronco Mendenhall's book, 'Running Into The Wind,' next on my list!"
Larry Sabato, University Professor and director, Center for Politics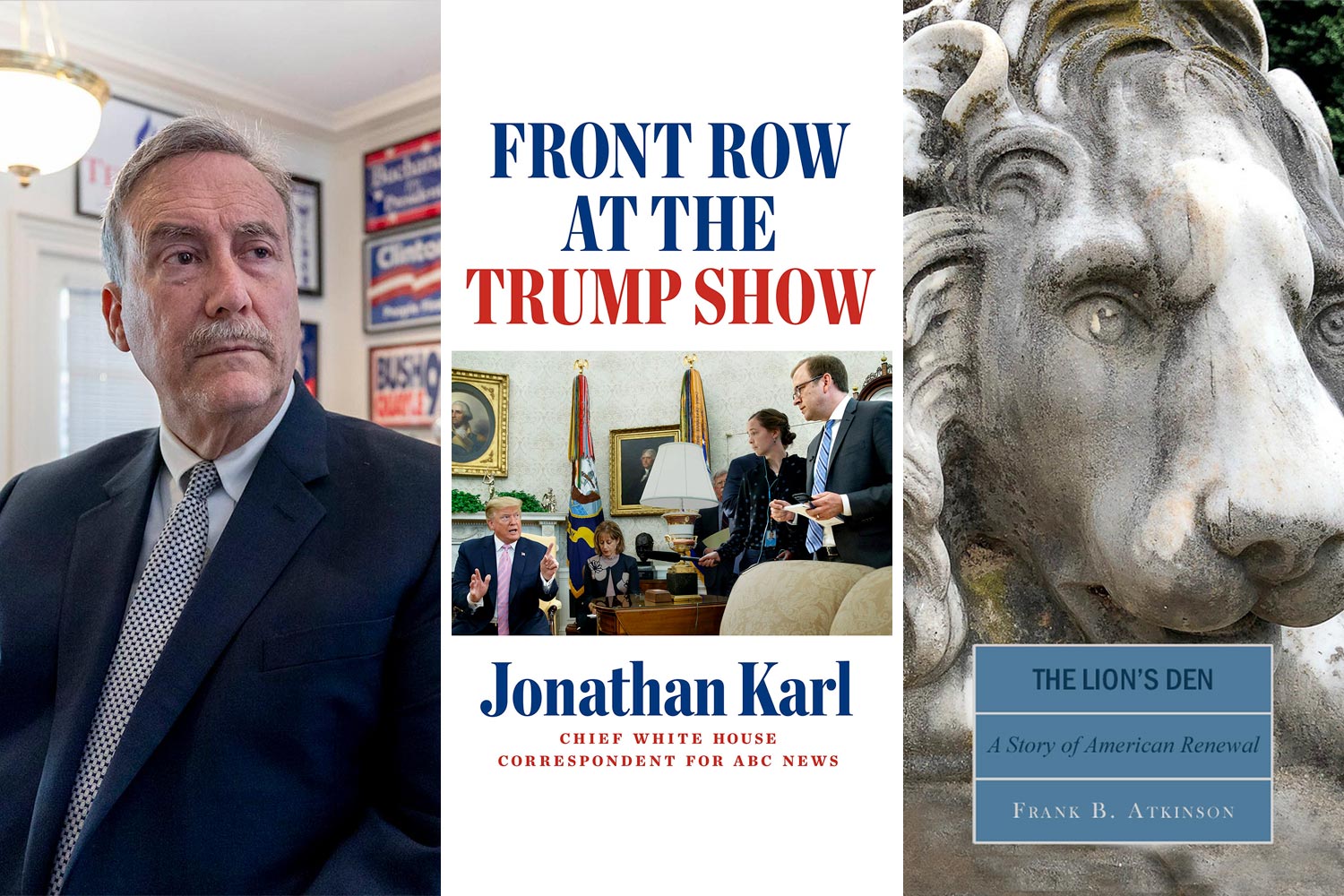 "I've recently read two very different political books, one nonfiction and the other fiction, that actually complement one another nicely.
"Jonathan Karl, chief White House correspondent for ABC News, has written 'Front Row at the Trump Show.' Karl met Trump before he was a politician, and he covered Trump from the earliest days of his presidential campaign right through to the present. Jon Karl, whose daughter is currently an undergraduate at the University, makes plenty of news from his perch in the White House press room, and he makes some in this volume. The book is chock-full of insider tidbits and savvy observations about this most unusual of all U.S. presidents. Of interest to UVA readers is a chapter on 'Charlottesville.' And you'll be fascinated by his account of the first meeting between President Obama and President-elect Trump two days after Trump's upset win.
"Frank Atkinson, a graduate of the University's School of Law and a former member of the Board of Visitors, provides yet another look at the seamy side of politics, but with a twist. The darker side of politics is on display in 'The Lion's Den: A Story of American Renewal,' but so are some selfless acts that don't draw as much attention, yet matter much more to history. Set in modern-day Virginia, this political thriller is the story of a group of friends who come of age working in politics and moving up the ladder. Soon they confront the age-old dilemma of power-seekers. Should they use their talents and status merely for selfish ends or try to do the right thing – even if it limits their success or ends their public career altogether. The storyline is creative and powerful – a mixing of 'Citizen Kane' and 'Mr. Smith Goes to Washington.' Oh, what wicked webs the characters weave! You'll be tut-tutting but hungrily devouring every page."  
Valerie Gregory, associate dean, Office of Undergraduate Admission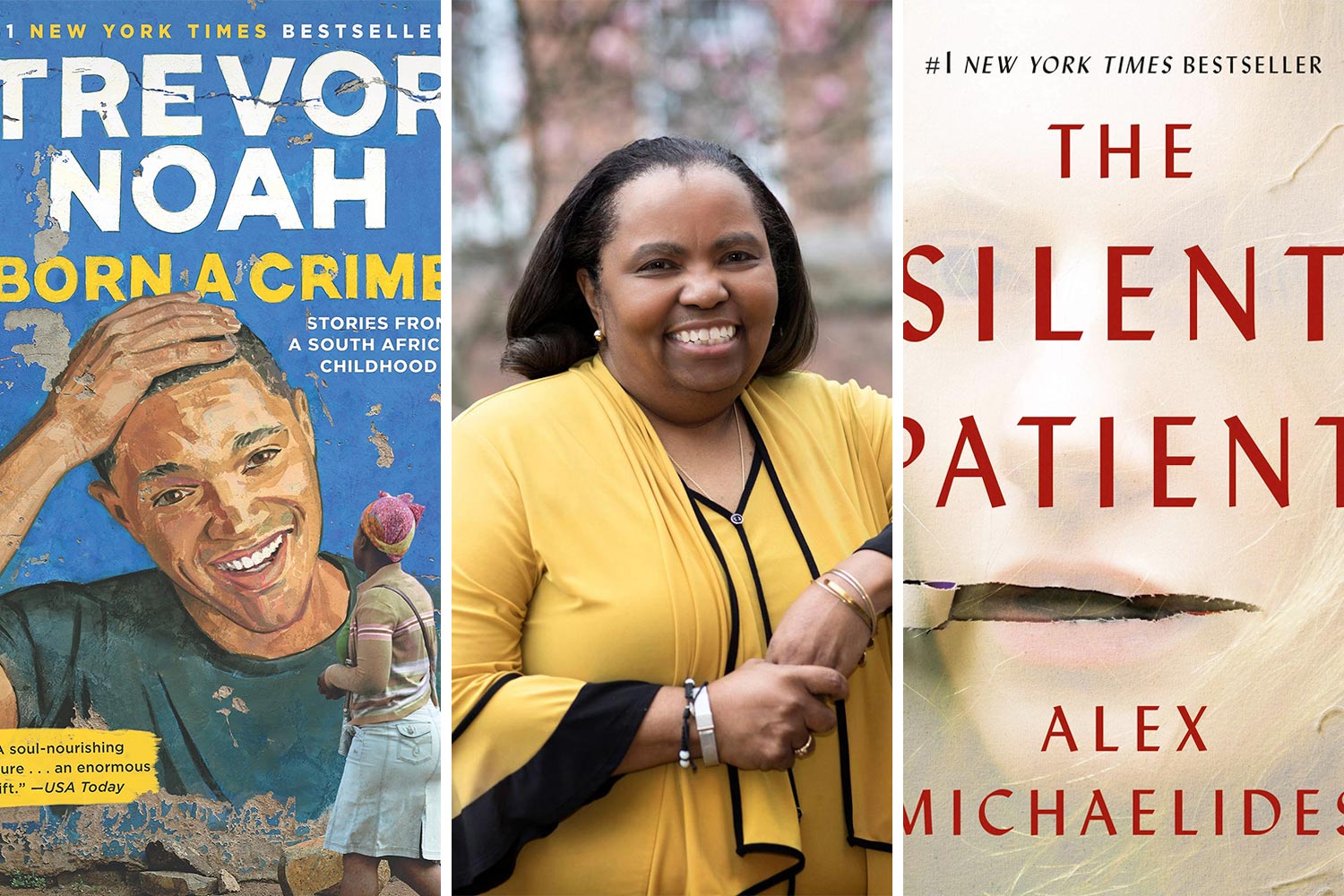 "I am not an avid reader, but I do come across every now and then a book or two that will lure me in. Right now, during these most unusual times after an intensive reading season in admission, I am reading Trevor Noah's "Born a Crime: Stories From a South African Childhood.' He is one of my favorites and has a way of telling his story of growing up in South Africa under apartheid in his usual way of bridging laughter, intellect and reality together, which seems like something we could use right now.
"Now my daughter, who is an avid reader, will insist that I read something and I will typically abide by her recommendations with a little arm-twisting. She likes crime thrillers and I do, too (typically on TV), but then we spend time together having great discussions on 'whodunit.' 'The Dancing Girls,' by M.M. Chouinard, is our latest conquest, which is about a woman detective (girl power!) looking into a case where the murdered victims in a small town are found posed in dance positions. We both are intrigued, given my daughter was once a trained ballerina and I, a typical dance mom, might be able to take some of our experiences to figure out 'who done it' before finishing it. This is the first of a series of books about detective Jo Fournier, and we look forward to her next mystery.  
"In closing, my daughter, who heard about this article, wanted to share her current read: 'The Silent Patient,' by Alex Michaelides, a thriller about a talented artist who murders her husband and then stops speaking entirely. I must say I am intrigued; no need for a lot of arm-twisting for this one, especially now during times with so much uncertainty and mystery. This, too, seems appropriate." 
Sean Martin, associate professor, Darden School of Business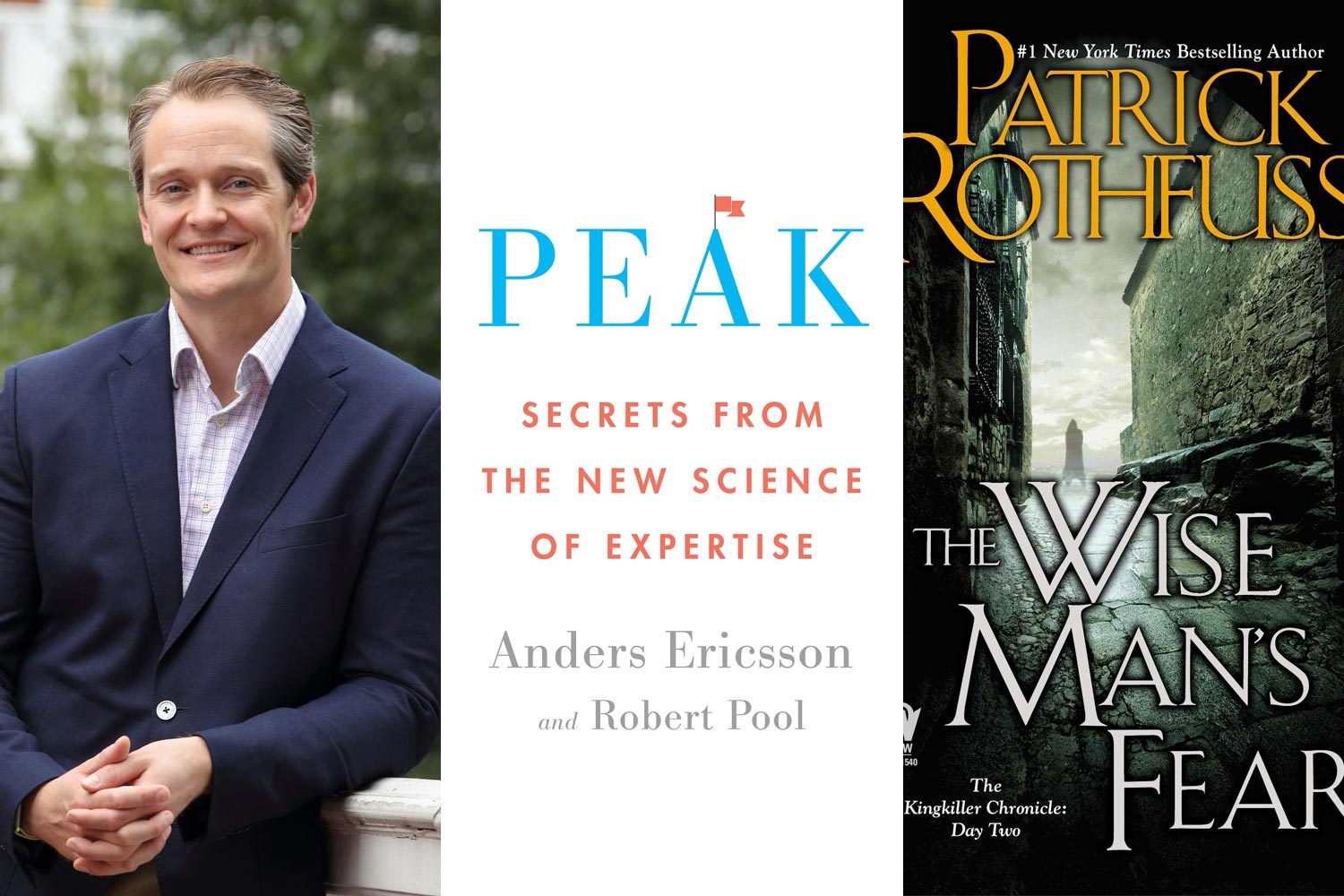 "During this time, I've been reading both fiction and non-fiction. On the non-fiction side, I recently finished, 'Peak: Secrets From the New Science of Expertise,' by Anders Ericsson and Robert Pool. It's a great encapsulation of the research investigating how people learn skills and develop them to a very high level. It's a good companion book to another book called 'Good Habits, Bad Habits: The Science of Making Positive Changes That Stick,' by Wendy Wood.
"During this time when our lives are disrupted, these two books provide some much-needed perspective about how we can try to structure our lives to develop the habits and skills we want to have in order to be the people we aspire to be.
"On the fiction side, I've been doing a lot of escapism into science fiction and fantasy. I recently completed the second book ('The Wise Man's Fear') in the Kingkiller Chronicles series by Patrick Rothfuss. It's a wonderful and complex story about a very compelling protagonist, and it brings in some of the best things that the genre has to offer – excitement, magical happenings, emotional arcs, good versus evil etc. It's a really great way to take your mind off stuff for a while.
"I've also been enjoying the Ta-Nehisi Coates takes on Captain America and the Black Panther. Those are super insightful commentaries involving interesting takes on iconic characters. It's a great time to be escaping though books of all kinds!"
Meredith Clark, assistant professor of media studies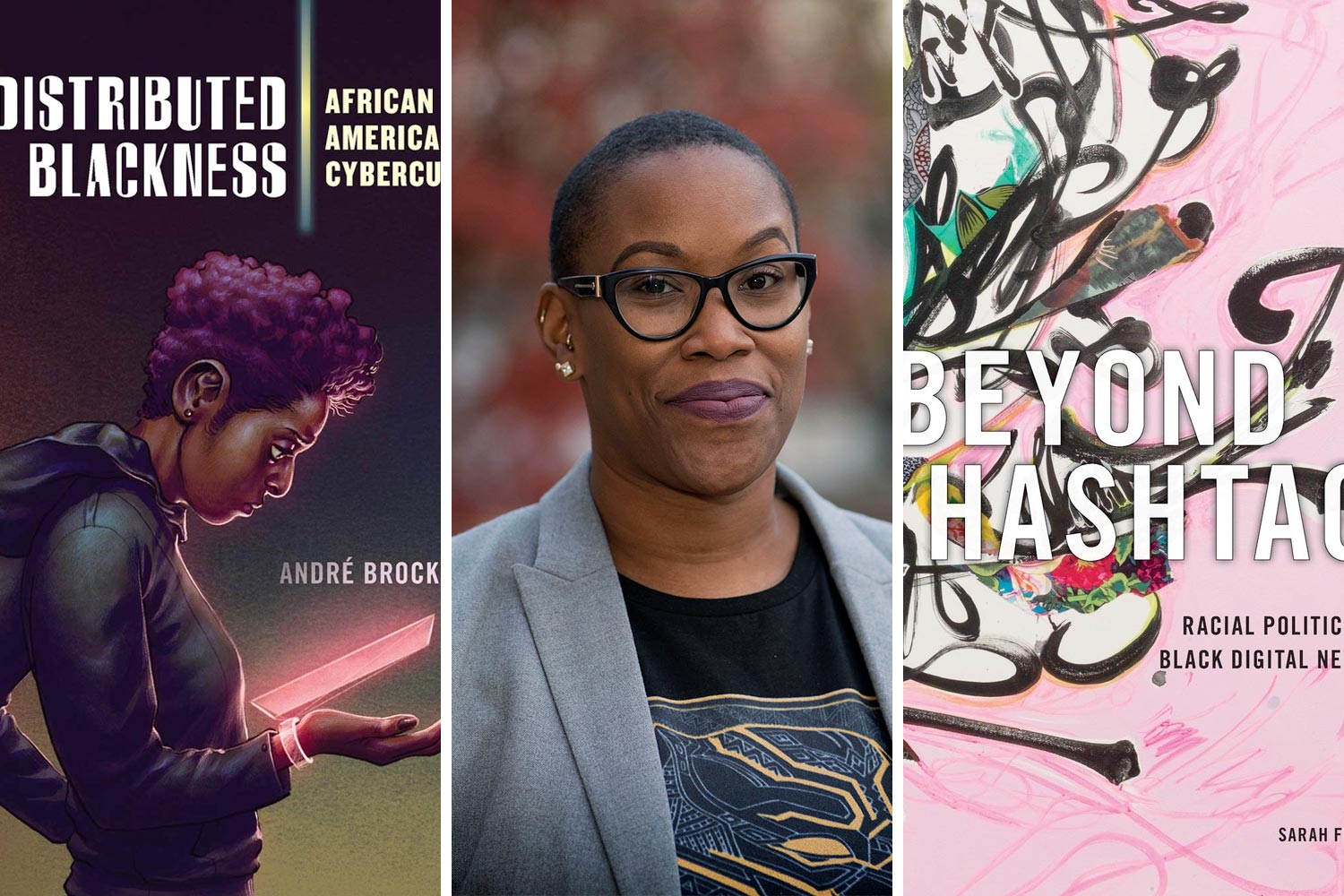 "I'm reading 'Distributed Blackness: African American Cybercultures' and 'Beyond Hashtags: Racial Politics and Black Digital Networks,' by André Brock Jr. and Sarah Florini, respectively, as a set of paired texts in the month of April. André and Sarah are two treasured colleagues whose work on black digital culture has been foundational to mine; these are their first books. I've used their articles in my black Twitter class for the last three years, and I'm looking forward to integrating more of their work in the course.
"I turned 40 on the second day of spring semester, and my husband bought me several books, including 'On Being 40(ish),' which includes essays from a few writers whose work I've followed for years, including the always-on-pitch Veronica Chambers. The big 4-0 kinda snuck up on me, but I'm welcoming this decade as I have every other, and look forward to learning more about the interior lives among women of a certain age. 
"One book I read a snippet of each day (and have made it more of a priority to do so in the last three or four years) is the Bible. I'm a preacher's kid, and the lessons in it still provide me with an anchor during chaotic times. I read one or two verses a day, and use them as a meditation throughout the day – with varying success, because I'm very human. 
"There's an emerging canon of works by and about black women in digital spaces that I'll be reading over the summer, including Feminista Jones' 'Reclaiming Our Space'; '#Hashtag Activism' by Sarah J. Jackson, Moya Bailey and Brooke Foucault Welle; and 'Hood Feminism' by Mikki Kendall. It's been inspiring to see what has come of years of conversation and study on Twitter, and I'm excited to see black women and nonbinary folks putting our stories into print."
Bronco Mendenhall, head football coach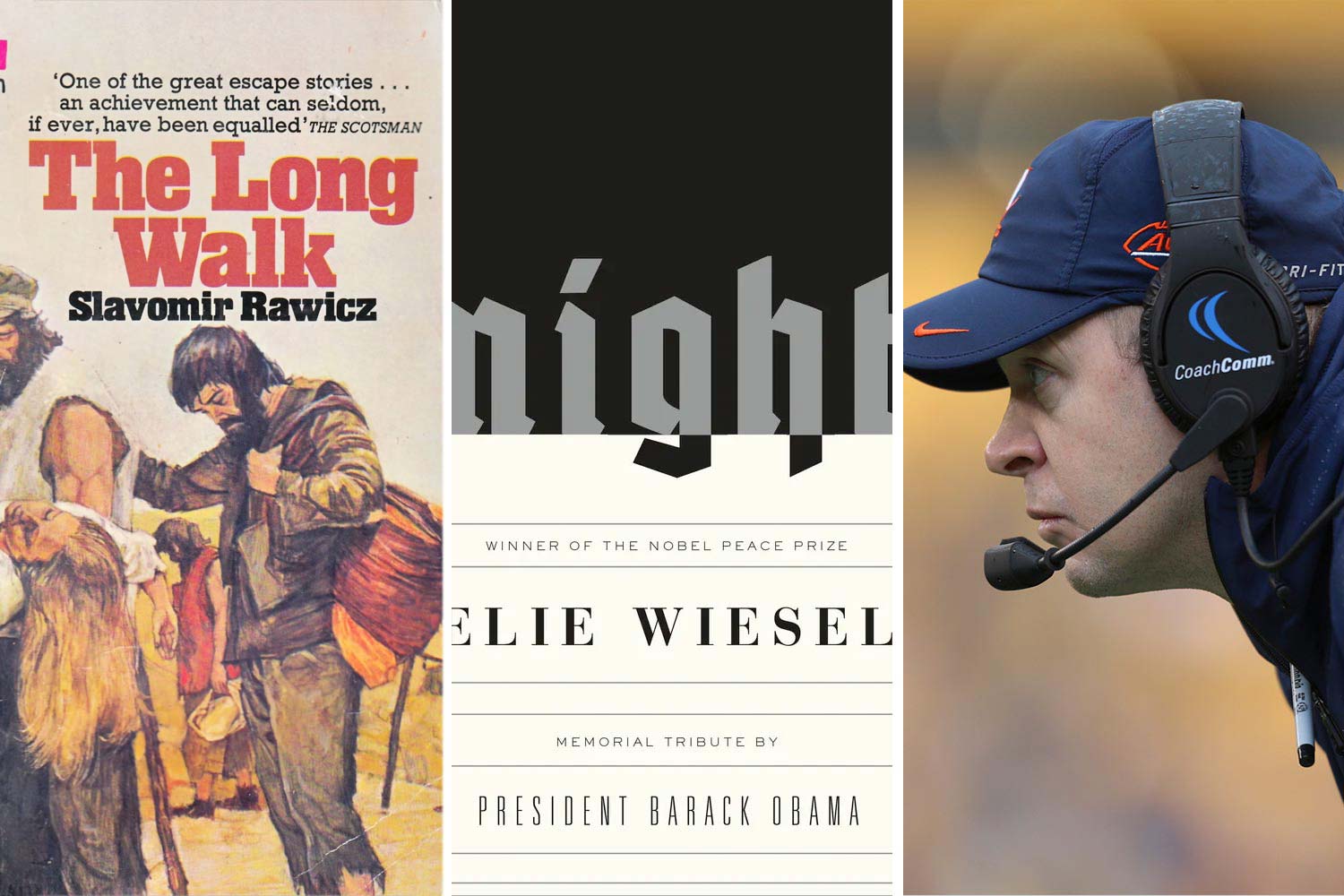 "I have a library at the office and one at home and have quite a few things going. I'm re-reading a book called 'The Long Walk' and another one called 'Night.' They both have to do with Auschwitz and some of the concentration camps and just significant life challenges that people over time have faced. I'm focused on the effects it had on them and how the very strongest survived.
"When I first went to Brigham Young University, I thought about this idea of creating resiliency in young people based on the work that Angela Duckworth had been doing for her book, "Grit," which is one of my favorites. We were seeing that resiliency needed to be a topic that needed to be addressed, so I helped design a course that was taught. The book used for that course is called 'Forged in Crisis' – so I'm re-reading that as well.
"But there's also a book I'm reading called 'The Last Cowboys'; one called 'Factfulness'; and another called 'Originals.' I have about 12 lined up and I'm just working my way through them."
Article Information
April 8, 2020
/content/prowl-good-book-these-folks-across-grounds-have-you-covered