This week, the American Cancer Society released some very welcome news: the cancer death rate in the U.S. dropped by 2.2% from 2016 to 2017, the largest single-year drop ever recorded.
The drop, which the report attributes to plummeting smoking rates as well as new screening and treatment methods, continues a decades-long trend, as cancer death rates have fallen by nearly 30% since 1991 – about 2.9 million fewer deaths.
Dr. Thomas Loughran, director of the University of Virginia Cancer Center, said UVA is in step with this national trend.
The UVA Cancer Center is one of 71 National Cancer Institute-designated treatment centers nationwide and ranked among the nation's top 50 cancer centers over each of the past four years (No. 26 last year). The center serves approximately 4 million people in Virginia and West Virginia.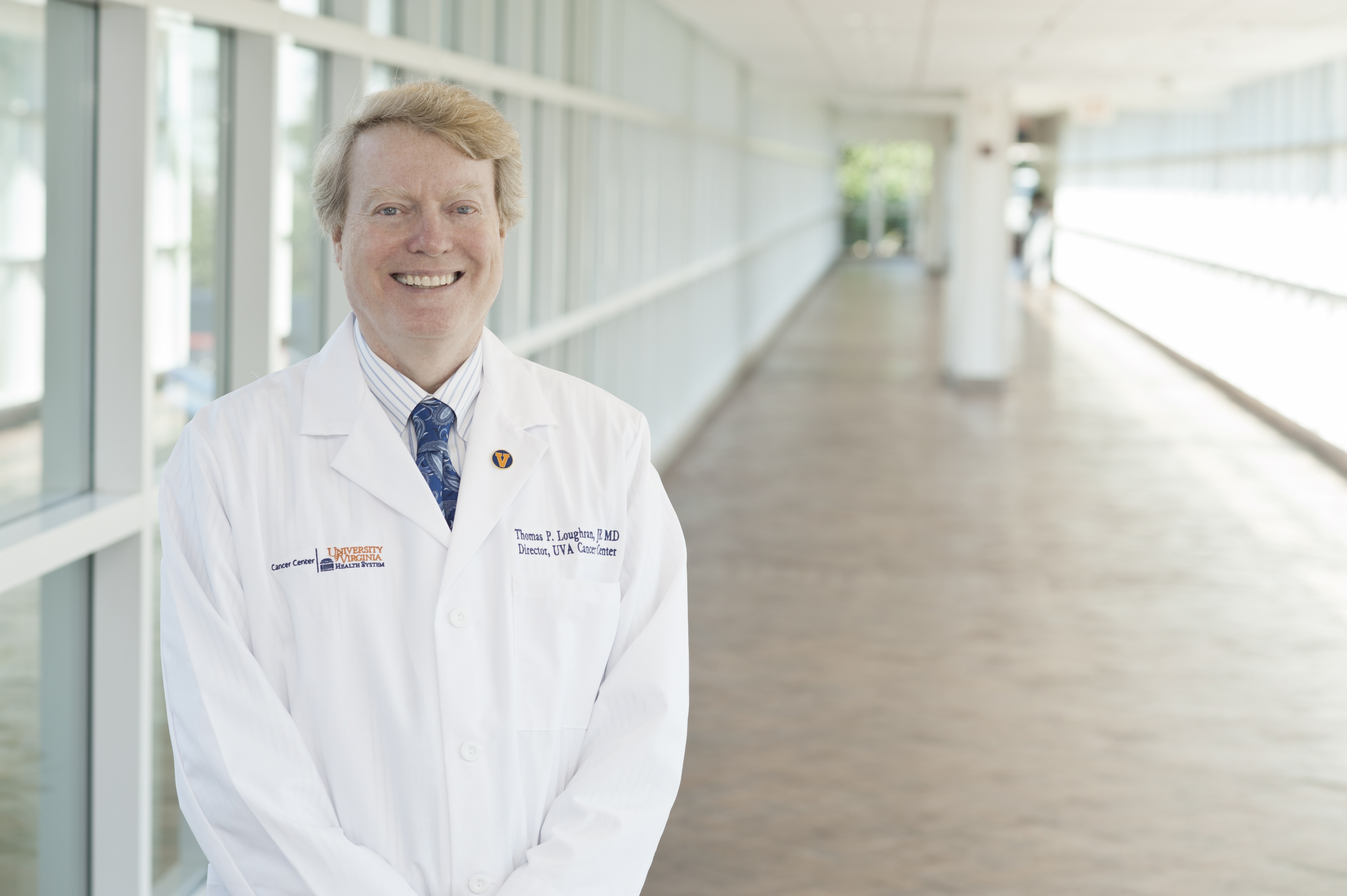 We spoke with Loughran about what he is seeing at UVA and beyond, new treatments and research helping to eradicate cancer, and where he sees cancer treatment in five years.
Q. Why have cancer death rates dropped so significantly?
A. As reports of this latest drop have said, a large part of the decline can be attributed to declining rates of lung cancer. The importance of preventing cancer – particularly behavioral interventions like stopping smoking – has become more prominent, and there have been remarkable declines in smoking across the United States.
This is a very important focus for us at UVA. We serve a large geographical area – 90 contiguous counties in Virginia and West Virginia, including rural Appalachia. Southwest Virginia in Appalachia still has high smoking rates, and as a result, high rates of lung cancer. Education, screening and tobacco cessation programs are critically important, especially in those areas.
Q. What advances in treatment have contributed to falling cancer death rates, nationally and at UVA?
A. Screening technology, especially for the more common cancers like lung, colorectal, prostate and breast cancer, has improved. The latest report probably doesn't fully reflect recent implementation of lung cancer screening using a low-dose CT scan, recommended for high risk individuals and especially those with a history of heavy smoking. That has only been around a few years, and its impact will likely show up in future reports.
The second big factor is the development of immunotherapy [cancer treatments that utilize and help the patient's immune system]. UVA has invested quite a lot of institutional resources in becoming a state-of-the-art immunotherapy center, and I am proud to say we are a leader in the field.
We have created a Cancer Therapeutics Program to support the development of new therapies. Dr. Craig Slingluff, who leads that program, is a surgical oncologist internationally famous for immunotherapy treatments for melanoma. To strengthen this program, we have recruited a cadre of leading physician scientists from across the country. Dr. Karen Ballen came here to lead our stem cell and bone marrow transplant program. Dr. Lawrence Lum, the scientific director of the transplant program, has developed a novel therapy using antibodies that bind to both T-cells [patient cells that can kill cancer cells] and tumor cells, forming a bridge between the two that helps the T-cells kill the cancer cells. Dr. Trey Lee is a leader in CAR-T cell therapy.
I could keep going; there are so many great people working on this. We also have a new Good Manufacturing Practice lab, supported by a grant from the commonwealth, that will help us grow and modify T-cells as needed and give them to patients under sterile conditions. That just opened and we are very excited about that program.
Q. What other areas of research have shown great promise?
A. Some of our work in nanotechnology is really unique and exciting. [Biomedical engineering professor] Mark Kester directs UVA's nanoSTAR Institute, which is working on delivering cancer therapies by nanotechnology – basically, engineering at a very small scale. For example, nanoliposomes – a sort of delivery system for cancer therapy – are actually smaller than individual cells and can therefore penetrate cancer cells and release treatment from inside those cells.
We are very excited about early phase trials testing this technology on solid tumors, and we also hope to use it to treat patients with acute leukemia over the next few years.
Q. Looking ahead, where do you see the next big gains coming from?
A. Immunotherapy has revolutionized cancer treatment, but why some patients respond well and some don't remains puzzling. I hope that we can begin to discover why some patients are reacting to these newer treatments differently than others. Once we figure out why some patients respond to immunotherapy, we can begin to make improvements that could benefit a larger percentage of patients with these deadly cancers.
CAR T Cell therapy – one method of immunotherapy – is very effective against leukemia, lymphoma and cancers of the blood, but not yet against solid tumors. Over the next five years, I hope we can determine how to deliver these T-cells to solid tumors – such as those found in lung, colorectal and other common cancers – again to make this advance more widely applicable to a larger number of patients.
Media Contact
Article Information
January 10, 2020
/content/qa-cancer-death-rates-are-falling-nationally-heres-whats-happening-uva