This weekend, two new student-written plays premiered on Grounds, part of a variety of events at the University of Virginia honoring African-American History Month. Not only were these plays never before seen, but they also were written and rehearsed less than 12 hours before the metaphorical curtain went up at 8 p.m. Saturday.
Paul Robeson Players' annual "12-Hour Play Project," during which UVA students write, direct, rehearse and perform a series of plays within a 12-hour span, made its return to UVA in a burst of energy and creativity. First created in 2016, the event brings the University community together every February to explore a different topic related to the African-American experience at UVA. The Paul Robeson Players group, which is open to all students, focuses on works exploring African and African-American history and culture and provides hands-on experience for student actors, playwrights, directors, producers, technicians and many others.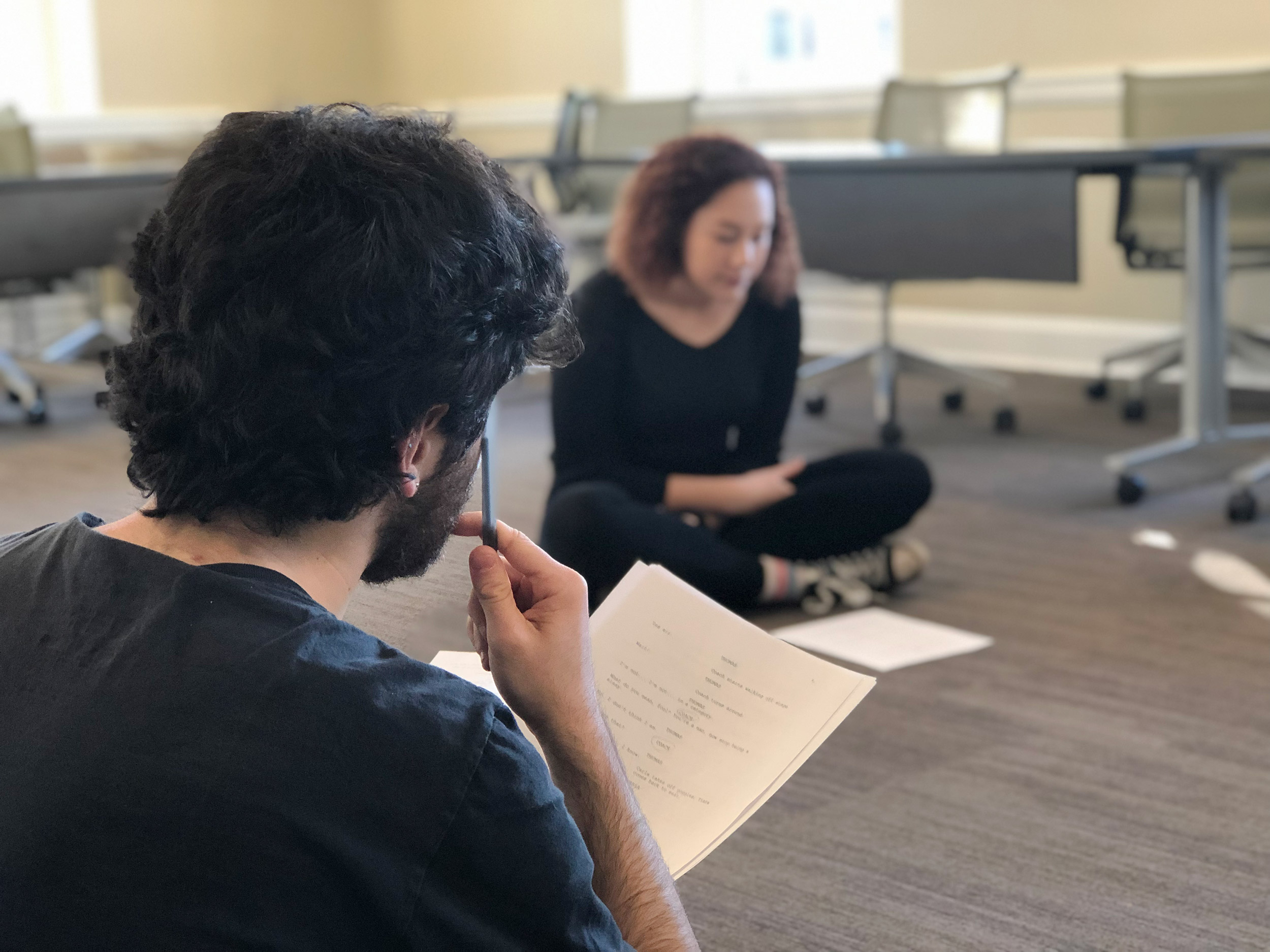 Student actors Nat Berelovich and Grace George rehearse their play, directed by JaRhonda Roberts. (Photo by Payton Moledor, University Communications)
This year theme was "*AFROFUTURISM*," and both dramatic offerings centered around the intersection of African Diaspora culture with technology.
We sat down with third year-student Kristen Barrett, the president of the Paul Robeson Players, to talk about her experience organizing this year's project.
Q. What is the 12-Hour Play Project?
A. It's high-stakes, it's high-stress, but it's also a lot of fun. We're throwing people – a lot of them who have never had theater experience – into the process of making a play in a very compressed amount of time. We're really empowering them, so by the time they get to the 8 p.m. performance, they are able to feel as though they can do theater in a short period of time.
Q.  What does this year's theme mean to you?
A. When we look at "Afrofuturism," it's talking about our dissatisfaction with society through the lens of race, what the implications could be in the future, and how we can look at futuristic components – such as emerging technologies – as a possibility to actually get to a post-racial society.
It's always something that's been very fascinating to me specifically. … What you usually see in Afrofuturism is a blend of both looking toward the future and contending with the past. You see a lot of Afrofuturist works that discuss things like slavery and the transatlantic slave trade, incorporating how it's with us even a century down the road. I think that's an interesting concept to think about: how we never really will get rid of that history, and imagining how that will be impacting us way down the road.
Q. What is your favorite part of this event every year? 
A. When [the casts] are presenting their plays to their friends at the end of the day. When they've explained to their friends that this has just been done in the past day and the actors and directors have only been looking at the script for five hours, it's so nice to see how proud they are of putting that together.
Q. How has being the president of Paul Robeson Players impacted your UVA experience? 
A. I have been involved with Paul Robeson Players since my first semester at UVA, and I think it was really important because before I came to UVA, I never had the opportunity to be in an acting space that was for black people and focused on the black experience. I think it really gave me an opportunity to discover what being black means to me, and what my personal identity is as a black woman, but also as Kristen Barrett. Being president of Paul Robeson Players has given me the opportunity to finish that journey. Now I'm able to really enact that, and help other people discover it for themselves.
Media Contact
Article Information
February 20, 2019
/content/qa-creating-two-plays-half-day-theater-troupe-explores-afrofuturism