James Bond sipping a martini.
Beyoncé dropping her latest album and creating an internet sensation.
A young hipster grabbing cold brew coffee from the corner shop or scouring the internet for the perfect pair of shoes.
All of these are examples of the power of "cool" – that indescribable mystique that holds so much cultural capital. Most people, and nearly every brand, want to be cool. But how do they get there?
University of Virginia Darden School of Business professor Lalin Anik can help.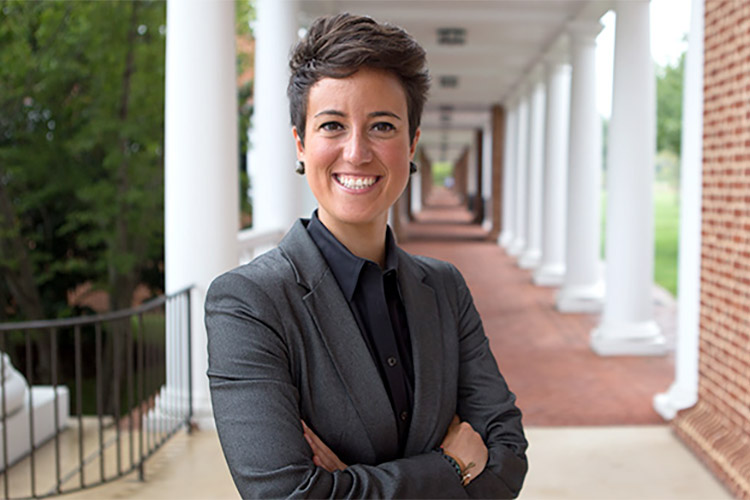 University of Virginia Darden School of Business professor Lalin Anik was curious about what, exactly, makes a product "cool."
Anik, whose research focuses on marketing and consumer behavior, wanted to understand more about what makes a product cool and how brands capitalize on that. Along with Darden graduate Johnny Miles and Ryan Hauser, an MBA candidate at the Yale School of Management, she authored an article, "A General Theory of Coolness," and a case study on the topic, both through Darden Business Publishing.
The case study, in fact, centers on Mr. Bond and a partnership with Heineken that swapped the superspy's signature martini for the Dutch beer in the 2012 franchise film, "Skyfall."
"James Bond could be seen as an archetype of cool," Anik said. "I was curious about how characters or brands like that create coolness, and if a partnership with Heineken – which does not really fit the Bond image – could change that."
The Heineken partnership does not appear to have hurt "Skyfall" too much. It hit more than $1 billion in global ticket sales and was one of the highest-grossing films in the history of Sony Pictures. But it gave Anik, Miles and Hauser plenty to think about.
Anik explains more below.
Q. What defines coolness?
A. We identified three traits that are indispensable to coolness: autonomy, authenticity and attitude. Autonomy, arguably the most important dimension of coolness, refers to a lack of conformity or conventionality – being seen as independent or rebellious. Authenticity is simply being seen as true to one's personality or, in the case of a brand, true to a mission or purpose. Attitude refers to that catch-22 of being cool without seeming as though you are trying to be cool. This is a challenging one for brands.
Finally, a fourth trait – association – is not essential to coolness, but it's certainly helpful. That refers to association with a particularly cool brand, place or person – such as a celebrity spokesperson.
Q. What are some pitfalls companies or brands might encounter when they are trying to be cool?
A. There are certain norms that consumers see as illegitimate, and breaking those norms can work in a company's favor. Breaking more legitimate norms, on the other hand, is less helpful.
Virgin Airlines is a good example of this. They broke away from the normally strict, businesslike tone of airline messaging by being animated and funny, while staying squarely within safety regulations and other norms that consumers are understandably concerned about.
In order to work, the product needs to be at least as functional as the mainstream norm. For example, spherical water bottles might seem cool, but they are impractical to hold and carry. We don't need our Q-tips, Band-Aids or table salt to be "cool" – we just need those products to function well.
Additionally, brands should avoid excessively threatening consumer identity. Products that diverge too much from the norm could be seen as too embarrassing or rebellious. Possible examples include Romphim, a company selling one-piece rompers for men; Redneck Boot Sandals, which combine flip flops and cowboy boots; or Topshop's clear plastic jeans. These types of cringe-worthy products that are wildly but unnecessarily creative remind us that not all marketing is good marketing.
Q. What are some examples of companies or brands that have managed to achieve and maintain coolness?
A. Adidas is one of those iconic brands that has all of the ingredients to maintain its cool over time. They are placing their stripes on world-class athletes while also instilling the consumer with nostalgia. Their Originals heritage line appeals to both Baby Boomers and vintage-loving hipsters.
There are other brands that are perceived to be cool because they operate in product and cultural categories that are appealing by nature, such as social media – i.e. Facebook and YouTube; technology – i.e. GoPro or Playstation; and athletics – i.e. Vans or Converse. The challenge these brands face is keeping up with ever-changing trends and fads while still being perceived as autonomous, authentic and having an attitude.
James Bond, of course, is an example of a franchise that is seen as perennially cool. Even the partnership with Heineken, which some derided, ultimately did not hurt Bond's brand, and provided a boost for Heineken, thanks to that fourth factor of coolness – association. 
Q. You cite Starbucks as one example in your article. What can Starbucks tell us about coolness?
A. It's important to understand that coolness can change. That's the tough thing about it for companies – it's ephemeral and dependent on new generations and on what is happening in the world.
When it started, Starbucks really taught people how to drink coffee and created this whole culture around the ritual of getting your morning coffee. Then, other brands jumped onto that bandwagon. Starbucks, once perceived as original, became mainstream. Now, it's cool not to buy Starbucks, and many people are choosing local or niche brands instead.
Q. What are some examples of brands that have failed in the pursuit of cool?
A. The clothing company Hollister Co. suffered from a failure of authenticity in 2005, when they had to pay damages to surfer Rob Havassy after using more than 300 knockoffs of his signed boards to decorate their stores. They were trying to claim the coolness of surfing culture, but were ultimately called out and criticized as deceitful and inauthentic.
More recently, Domino's "4 Realz" campaign, where numb3rs replaced l3tt3rs, Chevrolet's press release made up of emojis, and TXT Cellar Wines' wines with Gen Y-inspired names like "LOL!!! Reisling" are all examples of brands pandering to what they see as millennial language. These moves are often seen as forced or inauthentic, and millennials – who have grown up with the internet – are quick to spot this and reject it.
Media Contact
Article Information
September 27, 2017
/content/qa-darden-professors-guide-creating-cool