In the aftermath of Selection Sunday, roughly 500 people texted Cory Alexander for help with their NCAA Tournament picks.
The former University of Virginia basketball star and current ESPN broadcaster had some bad news for them. For the first time in five years, Alexander didn't fill out an NCAA bracket.
With his ESPN contract prohibiting him from working NCAA Tournament games – which are being broadcast by CBS, TNT, TBS and TruTV this year – Alexander has decided to take a more laid-back approach to what has typically been a hectic time.
"I want to be a part of March Madness as a fan," Alexander said, "and root for my alma mater."
Alexander, a Waynesboro native, starred at prep powerhouse Oak Hill Academy in Mouth of Wilson before arriving at UVA as a McDonald's High School All-American in 1991, perhaps the most ballyhooed recruit to choose UVA since Ralph Sampson in 1978.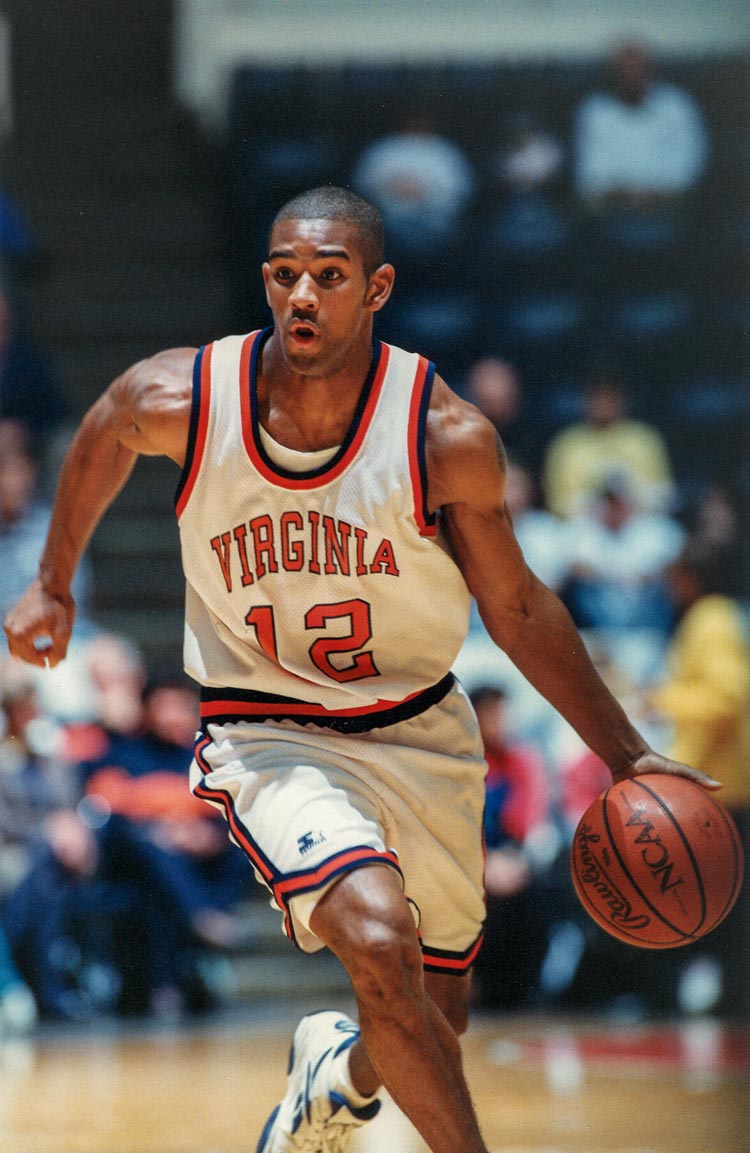 As a redshirt junior at Virginia in 1995, the 6-foot-1 guard was part of the Cavalier squad that made it to the NCAA Tournament's Elite Eight.
He went on to be selected by the San Antonio Spurs in the first round of the 1995 NBA draft. In the last 25 years, Alexander and Justin Anderson are the only UVA players to get picked in the first round.
These days, in addition to his broadcasting work, the 44-year-old Alexander runs Richmond-based Castles Real Estate, while also serving as an assistant coach at Oak Hill and running the Cory Alexander Basketball School in the summer.
On Friday night, Alexander is looking forward to watching top-seeded Virginia begin its tournament journey against University Maryland-Baltimore County.
For once, Alexander will be able to throw the objectivity that he prides himself on as a broadcaster out the window.
"I'm rooting for one team," Alexander said, "to win the national championship."
Q. Outside of your broadcasting work, you don't do interviews with newspapers and other media outlets. Why is that?
A. I get so many requests. It takes up a lot of time, and oftentimes you are misrepresented in print. Even on radio, a host tries to lead the questions in a different way to try and evoke certain responses. When you don't agree with those things, you're oftentimes considered controversial and combative. It's one of those things where you're allowing other people to put their own spin on your voice.
And I get paid for my opinions, so it wouldn't be fair to give them away for free.
Q. Why are you choosing to talk to us?
A. This is a UVA publication, and – as a member of the UVA Alumni Association's Board of Managers – I feel like people from UVA that are my family need to hear my side of what broadcasting is about.
Q. What did you study at UVA and what did you think you would go into after your basketball playing days were over?
A. I studied psychology and I always wanted to coach. I thought that I would be the head coach at the University of Virginia by the time I was 40 [laugh]. Coaching is actually the reason why I came back to UVA and got on the radio [in 2008]. It wasn't because I wanted to get involved in radio. It was because I wanted to join [former UVA coach] Dave Leitao's staff. Coaching is always what I thought I would do.
Q. So it's kind of ironic that you've gone into broadcasting, which wasn't your first choice.
A. It's funny because when [former UVA player and current assistant coach] Jason Williford was in his mid-20s, I would pick him up from the airport from wherever he was playing overseas. This is when I was in the NBA.
The last time he came home, as soon as he got in the car, he said he was done. I was like, "What do you mean?" He said he was done playing overseas and that he wanted to coach. He said he didn't want to wait too long to get into coaching because it's hard to get in when you're older.
I told him he was crazy and that he needed to keep playing until the wheels fall off, basically. But he was set on that he wanted to coach. That was the path that he followed.
For me, playing was always the thing that was most important. I wasn't necessarily trying to prepare for the future. People had told me, even when I was in college, that I would be good on TV because I was opinionated and well-spoken and all those things. But coaching is what my first choice would have been.
Jason and I were supposed to coach together. That was the plan.
Q. Do you kick yourself now at all that you didn't do what Jason did and get into coaching earlier?
A. No, not at all. There's a hierarchy in basketball. The best thing you can do in basketball is to make it your livelihood, your profession. I was fortunate that I had a 10-year professional career, and I would never trade that for anything. The second-best thing you can do is coach. And the third thing on that tier is to be a commentator – to talk about basketball.
What I do now is less stressful. At the end of the day, I don't win and lose games. I'm still very involved in basketball in so many different levels – TV is one, but I also coach at Oak Hill Academy and I work for Nike in the summer and get the chance to be involved with LeBron James, Kevin Durant and many of the best college and high school players. So when it comes to what I do now, it's great. I probably couldn't ask for a better job.
It's just that I've always had coaching in my heart. I don't know if that's something that will ever be extinguished through TV. But I would never leave TV and what I'm doing now unless it was absolutely the right situation to coach.
Q. Are you pretty proud of this second career in TV that you've carved out for yourself?
A. Yeah, I wasn't just a guy who stepped off the court and immediately had a six-figure job doing TV. I came to UVA and started doing radio and had an opportunity to go to Raycom with probably 10 other guys for a tryout. I was the guy that they picked. I did two games my first year. The next year was five games.
I've been able to achieve a certain level of success, but I think there is a much greater level still out there. I'm happy to have made it to this point, but I'm one of those people who never gets satisfied – even though I'm grateful and content for where I am.
Q. Given your love for the 'Hoos, what's the challenge like in terms of staying objective as a broadcaster – especially when you do a UVA game?
A. It's the toughest thing for me. I'm not the person who really gets bothered or upset by what fans think. I have my own opinions regarding fans [chuckle]. But when it's UVA fans, that's different because that's my family.
But I would never allow that to stop me from being honest and doing my job. I have to be objective at a time when they aren't. They only see through UVA goggles. I see through basketball goggles. It's the toughest thing for me because UVA fans want me to enhance UVA, but they don't consider the fact that there is another program playing in that game and that I have a responsibility to provide an objective approach. I don't work for UVA. I work for ESPN and Raycom Sports.
I get killed on Twitter by fans from all different schools. That part of it, I'm used to it, it doesn't bother me. But it does hit home more when it's UVA fans – especially when it's me being objective.
When I did radio for UVA, I didn't have to be objective. But now I'm the guy with the microphone who they are paying to give his opinion.
Q. What were your expectations for this year's Virginia team before the season started?
A. I knew they were going to be an NCAA Tournament team. Did I know they were going to be a top-four ACC team? No, I didn't. Did I know they were going to be the No. 1 team in the country? I had absolutely no idea. Anybody who said they did would be lying – even UVA fans [laughing].
I thought they would be in the five-, six-, seven-, eight-range [within the ACC] – similar to where they were last year.
One thing I've seen that is probably the biggest reason for success with this team is Kyle Guy and Ty Jerome aren't looking over their shoulders. With [former Virginia players] Marial Shayok and Darius Thompson gone, there was nobody else to put in when they made mistakes. That is a huge thing in basketball, to know that, "I'm the guy, it's sink or swim." And that normally gives you the confidence to swim.
In an interview at the ACC Tournament, Tony [Bennett] said they have an "uncommon chemistry" and I think that's exactly what it is. I think the team plays with a chip on their shoulder. I think they know that people don't give them the respect that they feel they deserve.
I've been the first one to say that this team is not the most talented team Tony has had, and I think they hear that and are out to prove how good they are. It's the same mantra that the Philadelphia Eagles took on when they beat the Patriots in the Super Bowl. Their level of communication and chemistry far exceeds any of those previous [UVA] teams. That's the reason why they're 31-2 and a favorite to win a national championship.
Q. How much pride are you taking in what the 'Hoos have been able to accomplish?
A. It's amazing. It is flat-out amazing. It's unreal what they've been able to do. I've thrown this out on the air – I can't remember in college basketball history a team that has been as dominant defensively as Virginia has been over the past six seasons.
When this thing started, fans were not coming out in droves to the ACC Tournament to support what was going on. People were not embracing the pace. I look at the culture now. ... Tony Bennett and his staff have built a powerhouse program. Those guys work their butts off. 
Q. You're on the record as saying that the NCAA Tournament selection committee didn't do UVA any favors with the draw. Why do you feel that way?
A. When you look at the teams in the pathway, Virginia will most likely have to see Kentucky or Arizona in the Sweet 16. Arizona was completely mis-seeded. When you win the Pac-12 and have the year that they had … that is not a 4 seed.
The biggest thing with the seeding is that I did not want to see Cincinnati. The reason is because they're just as tough as Virginia defensively. They're a junkyard-dog-type of team that doesn't have a problem grinding it out and playing a game in the 40s and 50s. For Virginia to make it to the Final Four – which I'm definitely still confident they're capable of doing – they'll have to go through either Arizona or Kentucky, and then Cincinnati – assuming the chalk holds up, which, in this NCAA Tournament, who has any idea if the chalk will hold up? But nothing has come easy for this team, so you probably wouldn't want it any other way. In my opinion, it probably provides more fuel to the fire.
Q. In the wake of the De'Andre Hunter injury news, your ESPN colleague Jeff Goodman tweeted something to the effect that Virginia now has no chance to win the tournament. What are your thoughts on how Hunter's absence will affect the 'Hoos?
A. It is a huge loss and it does lessen their chances, because he is a true difference-maker. In all honesty, they don't have a replacement for him. He's probably the one guy who they don't have another guy like him.
Now, does it take away all their chances? No. I expect to see Tony play a four-guard lineup with Devon [Hall] even playing at the 4 spot, which we saw at times last year when they had to go small. You would expect to see Mamadi [Diakite] play a much larger role, which he is more than capable of doing. But it does affect their chances.
I would never say that they couldn't win it. This team and what they've done this year – anybody would be ignorant to think that they still can't do it. When you can go to Louisville and are down four with 0.9 seconds and still find a way to win, you can never say that this team can't win. But it does lessen their chances.
[Hunter is] the best NBA prospect on the team, and in March the pros are the ones that end up beating you. Talent really becomes important at this time of year, so to remove him is a huge loss.
Q. Any similarities between the 1995 Elite Eight team you were on and this year's team?
A. Um … no [laugh]. I'm biased, of course. But I can't imagine a UVA team that had more talent, one through 10, than our '95 team. And if I didn't break my ankle, we would have had enough ballhandling to beat Arkansas and get to the Final Four.
We finished in a four-way tie [for first in the ACC] with Wake Forest, North Carolina and Maryland. Wake Forest had Tim Duncan and Randolph Childress. Rasheed Wallace and Jerry Stackhouse were at Carolina and Joe Smith – who was the No. 1 pick in the draft – was at Maryland.
But the chemistry on this year's team is unlike any I've ever seen. Our team would fight in practice because we had guys who were competing for minutes. I don't think this current team has that – and I think it's that chemistry that sets them apart.
Q. As a kid growing up in Waynesboro, you didn't think you even wanted to come to UVA.
A. I left home and went away to Flint Hill School (in Oakton) and then graduated from Oak Hill because I didn't want to only have UVA and James Madison University as options. But 27 years later, choosing UVA is the best decision I've ever made because of the people that make up the place who I'm still connected to. You're involved in a family that continues to grow each and every year. UVA is a unique place.
Article Information
March 14, 2018
/content/qa-former-wahoo-star-alexander-talks-hoos-hunter-and-ncaa-tourney