When a deadly tornado touched down on Virginia's Eastern Shore in the summer of 2014, the National Weather Service sent out a warning only minutes before residents of Cape Charles found themselves in its path. Victoria Long Rubin, then an undergraduate student conducting environmental research in her hometown, was one of those residents.
Eight years later, Rubin, now a Ph.D. candidate in environmental sciences at the University of Virginia, where she earned her bachelor's degree, has found herself working at the forefront of federal legislation that may change the future of tornado forecasting and hazardous weather communication.
Long's role in the policy realm stemmed from her year as a Knauss Marine Policy Fellow in 2021, which built upon her previous work with Virginia Sea Grant as a graduate student. Long was placed with the U.S. Senate Commerce, Science, and Transportation Committee's Subcommittee on Oceans, Fisheries, Climate Change, and Manufacturing.
As a fellow, she focused on policies across the marine and environmental science realm, including hazardous weather alerts, but was tasked with taking ownership over one piece of legislation of interest to her. That became the TORNADO Act.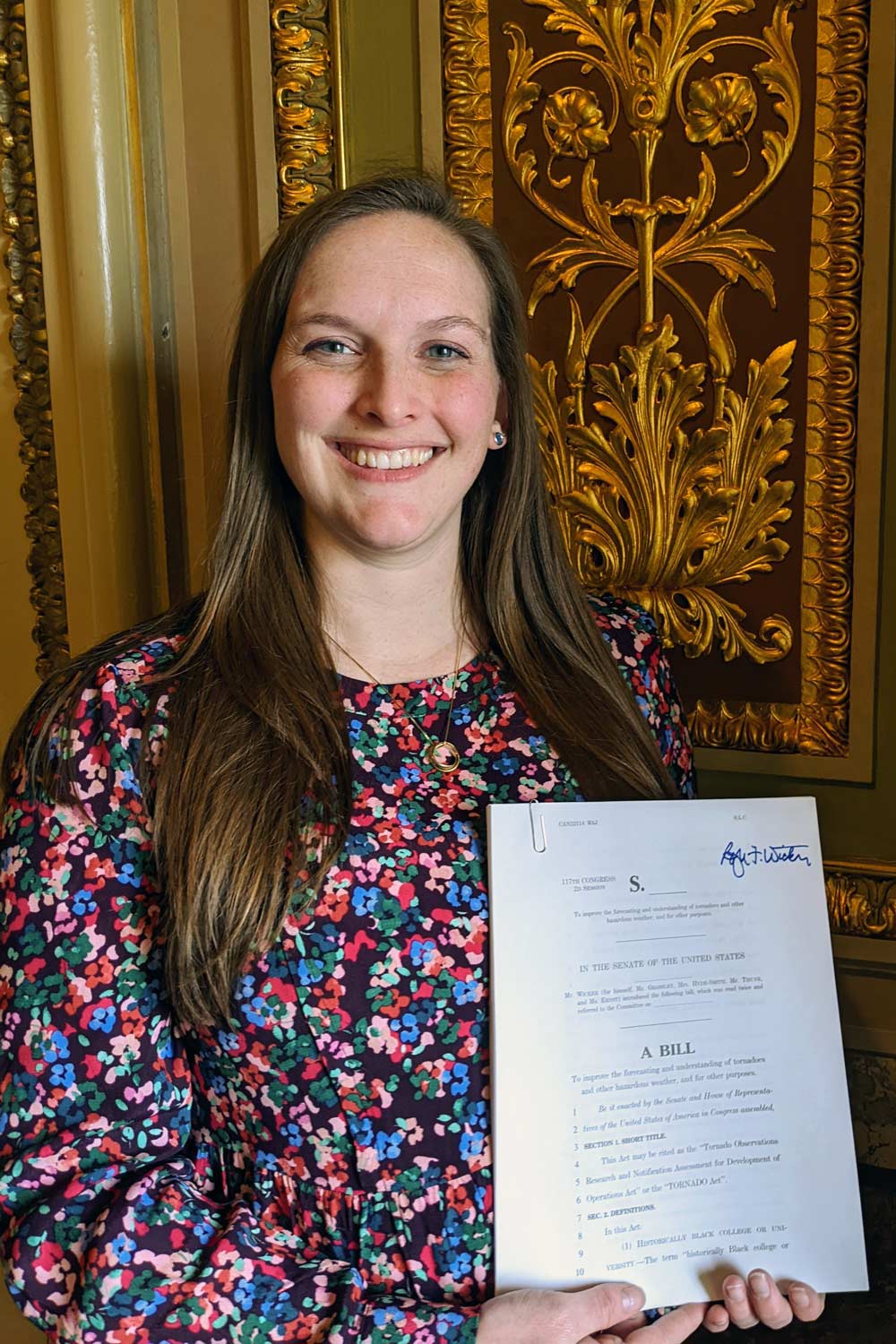 The legislation was inspired by an increase in tornado outbreaks in the Southeast, outside the infamous tornado-prone areas of the Midwest, known as "Tornado Alley." As researchers continue to see geographical shifts in tornado occurrences, the threat of natural disaster looms over unsuspecting communities across the Eastern Seaboard.
In an effort to strengthen communication between the National Weather Service and the public, the TORNADO Act aims to clarify a confusing communications system, differentiate terms such as "watches" and "warnings," and speed up notifications to communities.
Rubin worked with her fellowship mentors in crafting the legislation's wording and approach.
As the TORNADO Act awaits action on the U.S. Senate floor, UVA Today checked in with Rubin about the legislative drafting process and what it took to advance the legislation this far.
Q. What gap is the TORNADO Act trying to fill?
A. We are looking to supplement that connection between issuing the warnings and getting the necessary public response to prevent loss of life and property. One of the things that my mentors really wanted to improve upon was having a communication system that was a little less confusing. Which is more important, a "watch" or a "warning"? Sometimes that can be confusing to the general public, so unless you live in an area where you have watches and warnings all the time, you may not be familiar with it.
We are seeing the prevalence of tornadoes shift geographically across the country. We are used to seeing them in the typical Tornado Alley, in the plains where it is flat and you can see a tornado from miles and miles away. Now, they are happening more frequently in the Southeast, where the geography is a little different. You have more tree cover, and you may not be able to see the tornado as it approaches. You may not know it is there until it is on top of you. So, that watch and warning system becomes way more important when you cannot verify the information with your own eyes.
We have put a lot of money and research into forecasting and predicting where these tornadoes are going to occur, but the disconnect seems to be with the public response and figuring out what language scientists need to use to communicate the actual risk to the non-science community.
Q. What inspired the TORNADO Act?
A. One of my mentors was extremely instrumental in passing the Weather Act back in 2017, so she was a great resource in helping me craft these ideas and figure out the best way to write this legislation.
When you start writing legislation, you want to make sure you are talking to the experts in order to see where there are gaps and how you can actually make a meaningful impact. For months, I was on phone calls, learning as much as I could about tornadoes, and keeping track of current events. Unfortunately, we had quite a few devastating tornadoes last year, so it just became the perfect storm, so to speak, in terms of timing to introduce this legislation.
Q. What has your experience been like in advancing legislation through Congress?
A. Even though I have a science background, by no means am I an expert on tornadoes or atmospheric weather at all, so it was really important to find the right people to talk to. You meet with constituents to see if it is actually something they need, because scientists can collect data, but you need to ground-truth it and make sure it fits the public understanding as well.
You come up with an idea, send it to lawyers who put it into legal language that fits into the U.S. code, and then pass it around to various people to make sure that what you want to do actually makes sense and will work and is good policy that addresses the problem.
Q. What is the status of the TORNADO Act now? What is next?
A. There is a chance that it will sit on the Senate calendar until the end of Congress, but we are hopeful. It is a bill that has bipartisan support, and so it seems that it would likely move quickly.
Timeline-wise, this could be done in three months; it could be done in the last couple of days of the session, in December; or it may get pushed to the next Congress, in which case we would take the exact legislation that just passed committee and re-introduce it as a new bill and start the process all over again.
Q. How have your education and experiences at UVA helped you in drafting and pushing this legislation?
A. I took the opportunity that was in front of me and got very close to my academic adviser, Linda Blum, who connected me with Virginia Sea Grant. I did a graduate research fellowship with them after starting my graduate degree, and they encouraged me to apply for the John A. Knauss Marine Policy Fellowship. After that experience in the marine policy world, I realized that it is actually the perfect place for me. I enjoy translating the science and putting it into action.
One of the big aspects of my graduate research work with marsh migration into agricultural fields is that there are policy obstacles to actually solving the issue of sea level rise affecting coastal agricultural fields. How do you connect the policy world with science and make sure that the science is actually informing policy? So, that is how I ended up here. UVA was my home for a very, very long time and opened up many doors for one girl from a small, farming community on Virginia's Eastern Shore.
Q. Anything else you would like to add?
A. I never thought that I would be, almost eight years after the 2014 tornado in my hometown, writing legislation that could have an effect on individuals on the Eastern Shore, just from knowing how to interpret the information coming from the National Weather Service. It is strange to see how some of these small events in your life come full circle, and it has been very rewarding to feel like I have had an impact on policy, even after just one year of experience.
Article Information
April 6, 2022
/content/qa-grad-student-drafts-federal-legislation-would-enhance-tornado-forecasts