In the early 1980s, ESPN – then just a few years old – was looking for some leverage over big networks like ABC, CBS and NBC, and college basketball caught its corporate eye.
CBS owned the rights to the Final Four – as it does today – but Roger Werner, an alumnus of the University of Virginia's Darden School of Business, and his fellow ESPN executives realized that few were paying attention to the earlier rounds of the NCAA Tournament, the conference championships or important regular season games.
Enter ESPN.
The network started snapping up early tournament games and conference finals and began hyping regular-season games – shining a national spotlight on stars like UVA's Ralph Sampson, who led his team to an Elite Eight appearance in 1983 and earned three Naismith Awards as National Player of the Year.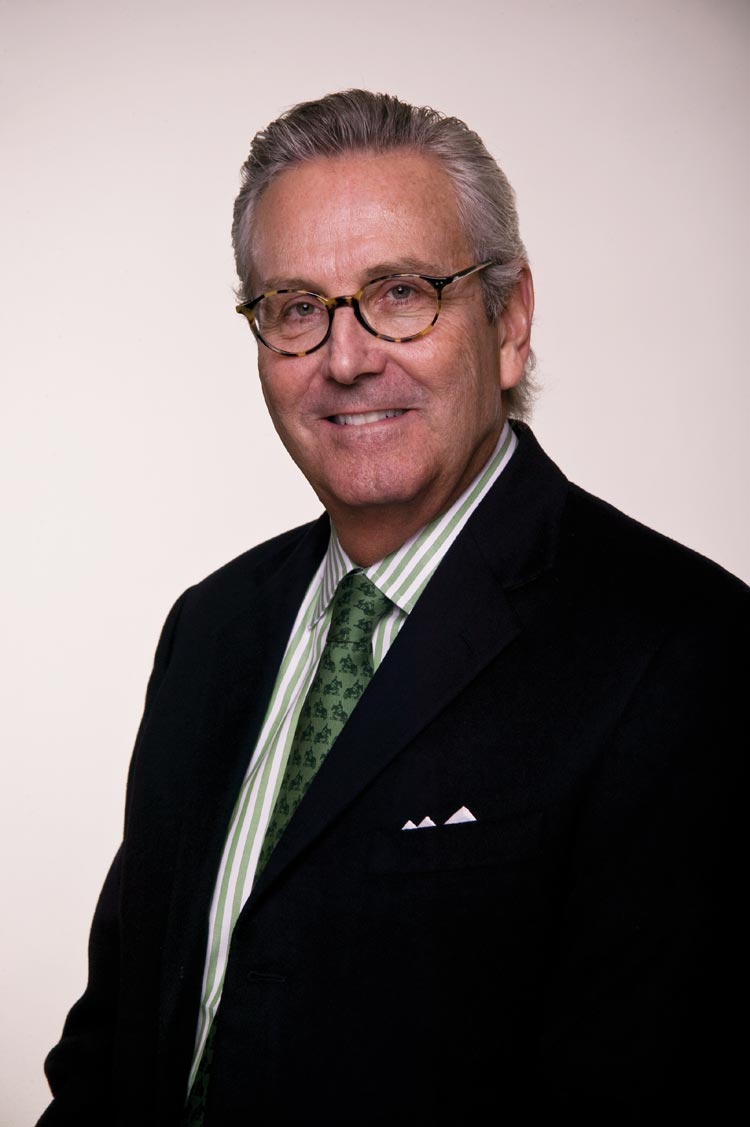 Werner is a graduate of UVA's Darden School of Business and served as COO and CEO at ESPN in the 1980s. (Contributed photo)
Though CBS later signed a billion-dollar deal with the NCAA to gain coverage of the whole tournament, the stage had been set. ESPN continued to rapidly increase its coverage of regular-season and postseason basketball, and ballooned into the powerhouse it is today.
"I think we played a powerful role in lifting college basketball from a local and regional sport to national prominence," said Werner, who graduated from Darden in 1977 and joined ESPN after a stint at consulting firm McKinsey and Company. "It put a lot of schools and games on the map."
Werner joined ESPN as chief operating officer in 1982 and served as president and CEO from 1988 to 1990. He led the development of the two-pronged revenue model that allowed the network to make money from both cable companies and advertisers, setting up what would become the go-to business model for cable television. He later founded and led several other sports networks and now serves as a director and consultant to the Motor Trend Group, which includes a large portfolio of television shows, apps, websites and other media.
With March Madness set to begin, we caught up with Werner to talk about those pivotal decisions at ESPN and get his take on the future of cable television in an era where more and more viewers are "cutting the cord."
Q. How did events like March Madness fuel ESPN's growth?
A. When we were building ESPN, broadcast networks owned all major rights to live sports, and we had to figure out where we could build a powerful consumer base. At the time, March Madness was essentially limited to the Final Four on CBS, and everything leading up to that was either not covered or covered regionally. We jumped on it, and college basketball became the first and most powerful consumer franchise that we built, other than the "SportsCenter" news platform.
It helped give more exposure to a lot of schools, including UVA – though with Ralph Sampson there, UVA didn't really need much help.
Q. How did early decisions at ESPN change the cable television business?
A. When the cable network industry started to develop in the late 1970s, most cable network services were presumed free to the cable distributor. Some channels even paid distributors to carry their shows. To make our business work, we needed to invert that model and charge distributors a subscription fee for the right to carry ESPN. As COO, part of my job was renegotiating those distribution deals with cable system operators.
We ended up with a two-revenue stream model, with both subscription fees from the cable companies and advertising revenue.
Q. Did that two-revenue stream model spread to other networks?
A. It ultimately became the industry standard as special interest channels like MTV, CNN, Turner, Discovery and others adopted. By the mid-1980s, it was understood that special interest channels would require some sort of subscription subsidy from the cable operator, rather than relying on advertising sales alone.
Q. How has the model held up over time, in your opinion?
A. It has held up very well until recent years. Today, the cable industry is losing subscribers to IPTV [internet protocol television, using the internet instead of traditional cable or satellite signals]. Cable operators are under new pressure to not raise consumer fees, and are understandably focused on providing internet services and looking at direct-to-consumer service as well. That is significantly changing the two-revenue stream model we pioneered.
Q. What do you see it changing into?
A. Today, you have to have a multi-platform slate of programs to be successful. The leading "old" media companies are focusing on a hybrid model, including both cable distribution and differentiated direct-to-consumer services, such as apps. ESPN and others are using their old media – cable and broadcast networks – to promote their new media, and are creating unique, exclusive content for those services.
E-commerce also has a role to play, as companies increasingly explore how to sell related merchandise directly from their online programming, and international markets will be hugely important. The biggest and best companies will be on every available platform and they will be global.
Q. How are you incorporating that vision into the Motor Trend Group now?
A. We aim to be a global, multi-platform provider of automotive and motor sport programming content, through both the Motor Trend app and the cable network. We deliver thousands of hours of original programming, including live racing events from all over the world.
Our most popular programming right now is personality-driven, such as our "Roadkill" series, a fun, irreverent program led by two very well-regarded and telegenic hosts. We also have a number of popular character-driven shows on the network that, along with live events, are our biggest draws. Combined with our live event coverage, it creates the kind of variety you need to succeed in television today.
Media Contact
Article Information
March 18, 2019
/content/qa-how-espn-put-madness-march