Over the last six months, wherever he has traveled – France, Spain, Pennsylvania, Tennessee, Florida, Colorado, California, Missouri and New Jersey – University of Virginia women's soccer head coach Steve Swanson has sensed excitement for the upcoming World Cup like never before.
When the games begin for real on Friday in France, Swanson, an assistant coach for the United States National Team, expects the atmosphere to be totally off the hook.
"The interest in the women's game has grown an awful lot," Swanson said. "I think a lot of these teams have made huge strides in the last four years. It's probably going to be our most competitive World Cup. There are a number of teams that can win it. I think the enthusiasm for women's soccer will probably be higher than it's ever been."
Former UVA players Becky Sauerbrunn, Morgan Brian and Emily Sonnett will be playing for the U.S. squad, which won the World Cup in 2015. It will be Sauerbrunn's third World Cup appearance, Brian's second and Sonnett's first.
Before the U.S. plays Thailand on Tuesday at 3 p.m., UVA Today caught up with Swanson.
Q. Has it been a pretty amazing experience serving as a national team assistant?
A. Oh yeah. I was with them in 2015 and also with them in the Olympics. It's been great. I'm extremely excited for the World Cup and happy to be back and involved.
In 2017 and 2018, I was in when I could, but I started again back in full-bore at the beginning of January of this cycle. We've gone to a lot of places and played a lot of games. Now the World Cup is here and we're looking forward to it.
Q. Being so busy, how have you been able to balance your full-time job at UVA and your national team duties?
A. It's been hard, probably harder on my wife [chuckle]. But I'm really lucky. I have a really good coaching staff back at Virginia. I wouldn't be able to do this without them. They've all been very understanding and kind of picked up the workload when I'm gone to make sure I didn't miss a beat when I came back in.
And I couldn't have done it without the support of the administration. Both the athletic department and the University have been very understanding and supportive. I really missed the team when I was away, but we had a really good spring.
Q. What makes doing it all worth it?
A. It's been a lot of soccer, but that's what I enjoy. In a small way, it's a chance to serve the country. And to be a part of this team and this level, playing in an event like the World Cup – it's just really unique.
I was involved with the Under-20 World Cup in 2012 and in the World Cup in Canada in 2015, and they were just amazing experiences. The international game is obviously different than the college game. Substitution rules, the tournament format and the styles of the teams are all different. From that perspective, it's fresh and interesting to be a part of the international game at this level.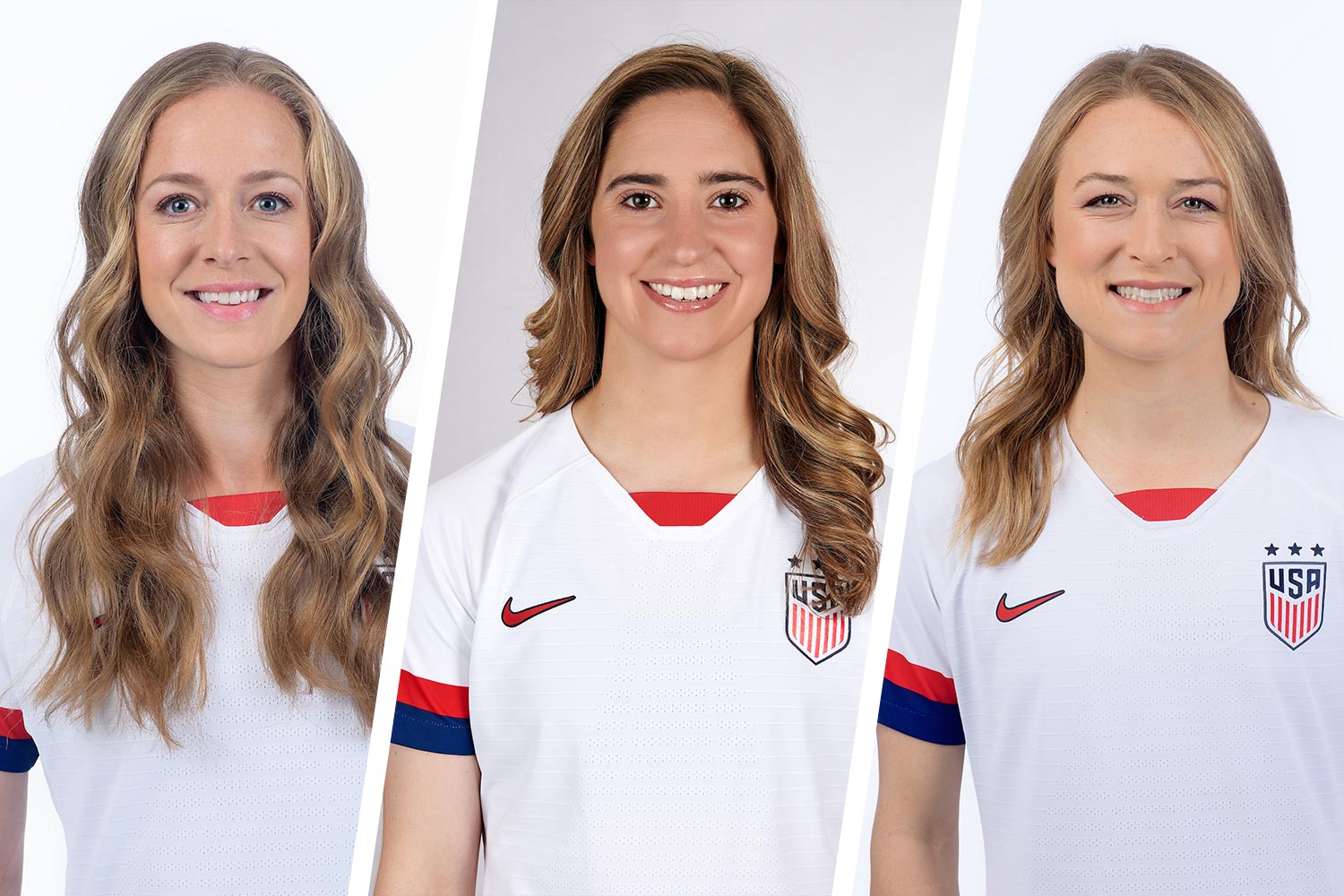 With former Cavaliers Becky Sauerbrunn, Morgan Brian and Emily Sonnett playing, the U.S. team will once again have a strong UVA flavor. (Photos courtesy of U.S. Soccer)
Q. How special is it to be coaching the three former Hoos again?
A. I have to say that the team, in general, it doesn't matter where they come from – they're just a special group. A lot of them played college soccer. That's one of the neat things about doing this; it just brings everyone together even more.
But the fact that there's a Virginia connection is pretty special. You always have to kind of pinch yourself a little bit. It's been great. I always say that usually you get four years to coach players in college, but I've been fortunate enough to coach Becky for a lot longer, and the same with Emily and Morgan.
Q. Becky has been a linchpin on past teams. What are your expectations for her this time around?
A. She was such a critical part of our win in 2015. She's a very cerebral player, very intelligent, very technical player. Not only is she a strong defender and the way she goes about the game with the skills that she has, but she's also very positional-savvy. She knows where to be and gets in the right places at the right times and always seems to be snuffing out things and reacting to things before they happen. She's got that much experience.
I expect she'll be a very strong leader for us. She's one of the more experienced players on the team and has a lot of games under her belt. I think that will be a very important piece for us once the tournament starts.
Coach Steve, thank you for pushing me. I wouldn't be representing Team USA without you. This is our year! @PlayersTribune #MassMutualPartner #LiveMutual pic.twitter.com/Sp9NT1QfUC

— Becky Sauerbrunn (@beckysauerbrunn) May 30, 2019
Q. Morgan has had a rough last couple years and there was some thought she might not make the squad, but she seems to have persevered.
A. It's been very difficult for her because for most of her career she hasn't been injured that much. A couple years ago, she became injured and since then it's been hard for her to get back on track. Her situation was a little bit difficult and challenging for her because, all of a sudden, she had injuries that were affecting her game and timing.
But she spent a lot of time and put a lot of effort into getting herself back to the point where she could physically perform. She's proven she can play at this level; there's no doubt about that. It's just nice to see her be able to get herself back to where she was before these injuries.
I think she can be a very important part for us because she can fill several different roles in the midfield. I think we'll need that throughout the tournament. And her experience from 2015 will be integral. She hasn't had a lot of game minutes under her belt, but I still think she's someone who can provide minutes, if need be, in certain situations. That will be important for us as the tournament unfolds.
Q. Emily seems like someone who has just gotten better and better.
A. Yeah, she's improved an awful lot. When she started at Virginia, she hadn't played much defense at all in her career. She was always a center midfielder. She played four years of college as a central defender and really distinguished herself. But I think the pro game has given her even more experience against more sophisticated and better players who she needed to see more consistently to become a better defender. I think she's really improved as a professional and I think that's really helped her with the national team.
She's a very versatile player; she can play anywhere in the back. I think she deserves a lot of credit for understanding the differences in the roles and working very hard to improve herself. I think she'll be an important piece for us. If you're going to win the World Cup, you're going to have to play seven games in a short time frame and will need a lot of players, and I think Emily will be an important piece as well.
!!!! pic.twitter.com/AtxNcx0kqR

— Emily Sonnett (@emilysonnett) May 2, 2019
Q. What are your thoughts on being in Group F and your first game against Thailand? (The other teams in Group F are Sweden and Chile.)
A. They've expanded the tournament this year, so there are more teams. And I think that's great for women's soccer. My experience in these events is you just have to play to win all the time.
Thailand is an up-and-coming team that really has a technical squad that could present some problems, so we have to prepare for them. And, obviously, Sweden is someone we've played in the last several tournaments. They're always a difficult team.
For us, we're going into it with our eyes wide open. We know what to expect. This is a wide-open field, a tournament that a lot of different teams can win. And so we're going to have to play our best.
I think, given our year, we're at a point where we could be playing some of our best soccer during the tournament – and that's what you want. You want to be peaking at the right time, and I feel we're in a good place for that to happen.
Article Information
June 6, 2019
/content/qa-uva-womens-soccer-us-national-team-coach-talks-world-cup