The University of Virginia's Racial Equity Task Force today released its report, titled "Audacious Future: Commitment Required," outlining 12 key initiatives to improve racial equity at UVA.
UVA President Jim Ryan established the task force June 3 amid nationwide demonstrations against racism and police brutality sparked by George Floyd's death at the hands of Minneapolis police, a string of other traumatizing cases of police brutality and racism and ongoing discontent with race relations in the country, as well as discussions about UVA's history of racial inequity.
Ryan asked task force leaders to work quickly – "more of a sprint than a marathon" – and to pursue bold ideas, building on years of activism and scholarship by UVA students, faculty, staff and community members. Ryan will now review the report's recommendations with plans to discuss them with the Board of Visitors, which meets next week.
The task force comprises Kevin McDonald, UVA's vice president of diversity, equity and inclusion; Ian Solomon, dean of the Batten School of Leadership and Public Policy; and Barbara Brown Wilson, assistant professor of urban and environmental planning and faculty director of the UVA Equity Center.
"I'm grateful to the task force members for the enormous amount of time, effort and thought that went into this report, and to all who contributed," Ryan said. "I look forward to reviewing the report and discussing it with the Board of Visitors next week, after which I will outline the steps ahead."
In preparing their report, which is now posted on the task force website, McDonald, Solomon and Wilson met virtually with more than 300 representatives of student organizations, staff, faculty, alumni, administrators and others, held a virtual town hall attended by more than 500 people, and received written feedback from more than 1,000 contributors. They also reviewed other reports, recommendations and demands put forth by students, faculty and other groups over the years.
"We have done our best to consult with a broad cross section of University stakeholders and to review the many reports, emails, recommendations and other input that has been submitted," McDonald, Solomon and Wilson wrote in a letter to Ryan accompanying the report. "Our report is a call to action for the University of Virginia to commit seriously to racial equity and implement a dozen concrete initiatives that are important to the University's future. You encouraged us to be bold and action-oriented, and we hope that this report will not disappoint. We believe strongly that this work requires significant investment in financial resources, leadership, and accountability, without which meaningful change will not occur."
The report outlined 12 proposed initiatives to improve racial equity at UVA, which the task force defines as "a system in which racial identity neither predicts nor determines one's access, success, nor influence within the University of Virginia – where people of any racial background have an equal probability of thriving."
McDonald, Solomon and Wilson note that most of these initiatives have been proposed before, but that real, urgent commitment and consistent accountability is needed to make them a reality now. Each is correlated with an element of UVA's 2030 strategic plan, which calls for the University to be both "great and good" as it works to become the best public university in the country and one of the best in the world.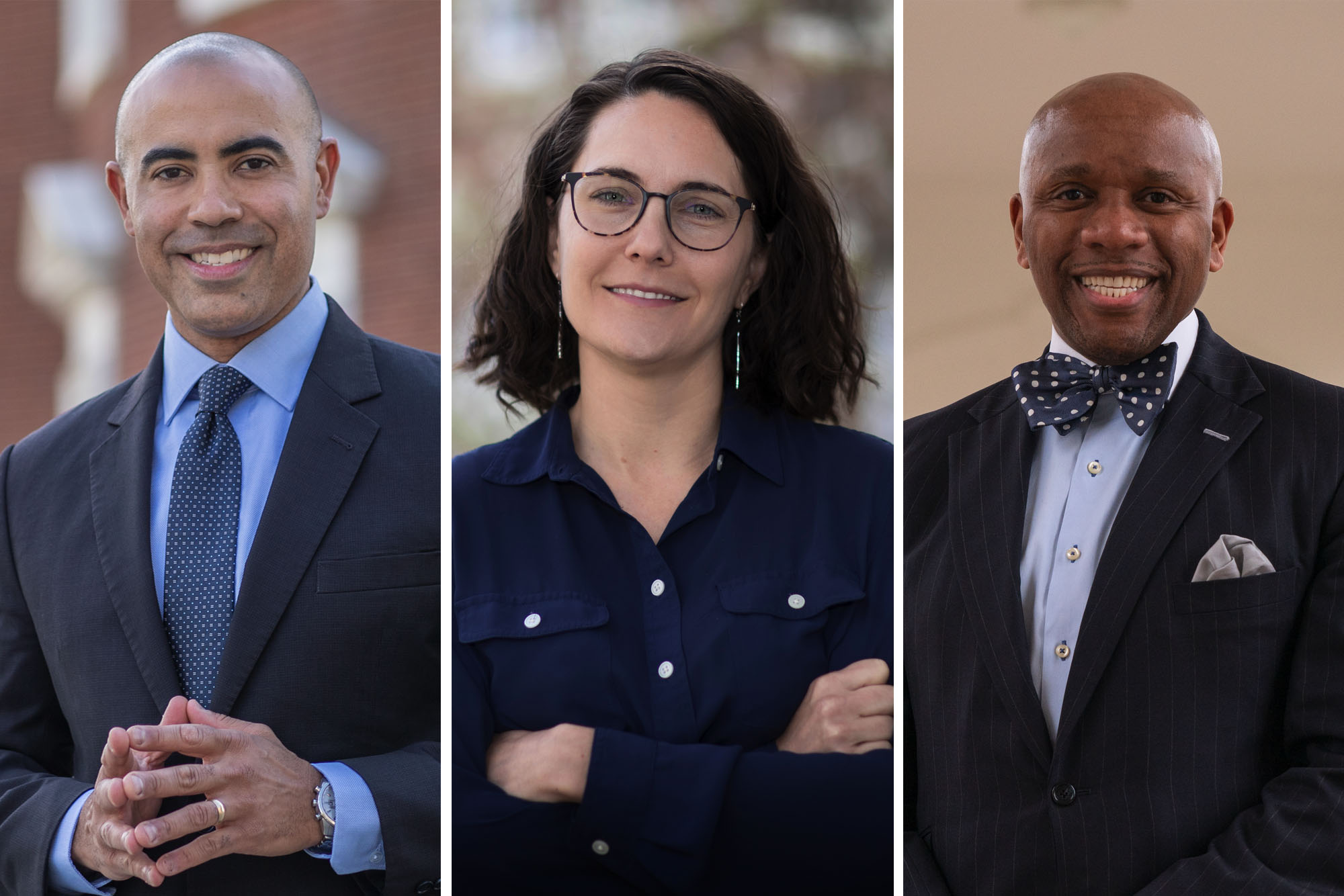 The task force comprises Ian Solomon, dean of the Batten School, left, Barbara Brown Wilson, faculty director of the UVA Equity Center; and Kevin McDonald, vice president of diversity, equity and inclusion. (Photos by Sanjay Suchak and Dan Addison)
The 12 initiatives are listed here, with the goals stated in the report. The report provides more details, as well as lists of specific actions needed, for each initiative.
Endow Equity at UVA: Dedicate the necessary financial investments for racial equity: $100 million to $150 million immediately for investments and spending over the next three to five years, $500 million to $650 million in perpetuity by dedicating Strategic Investment Fund Resources for a permanent quasi-endowment, and $100 million to $150 million collaboratively through challenge matching funds (50%) that incentivize targeted philanthropy (50%).
Launch the Equity Scorecard: Develop a scorecard of institutional racial equity goals that are posted publicly, reviewed annually and used in leadership performance evaluations.
Fund the Division for Diversity, Equity and Inclusion: Fund and empower the Division for Diversity, Equity and Inclusion so that it can fulfill its overall mission and execute or coordinate efficiently all of these initiatives.
Commit to represent Virginia in student body demographics: Recruit, admit and support an undergraduate population that reflects the racial and economic demographics of the Commonwealth of Virginia.
Launch the Inclusive Faculty Initiative: Reform search, hiring, mentoring, promotion and retention practices and double the number of underrepresented minority faculty – currently approximately 200 out of a total faculty of 3,000 – by 2030.
Build pathways for staff success: Improve career development, salary equity and hiring of historically underrepresented groups for leadership positions and contracting opportunities so that Black and Latinx staff and contractors benefit from job promotion and wealth building.
Launch the Grounds for All campaign: Improve the climate at UVA by rethinking, reframing, retelling and renaming UVA's historic landscape, and also by addressing other barriers such as concerns about policing practices.
Provide anti-racism education to all members of the University community: Empower all members of the UVA community with the courage, understanding, knowledge and skills to take effective anti-racist actions and to foster a culture of belonging and inclusion.
Review tenure and academic policies: Review promotion and tenure policies and other academic policies to ensure that they advance principles of racial equity and global best practices for inclusive excellence.
 Endow the Carter G. Woodson Institute for African American and African Studies: Build the preeminent department of African American and African Diaspora Studies by creating an endowment for the new department and supporting its long-term growth.
Launch Pay Our Debts Reparative Scholarship Program, with special recognition to descendants of enslaved laborers: Recognize the descendants of enslaved laborers who built and maintained the University by working with the UVA Alumni Association to create scholarships for both degree and nondegree education.
Restore the Indigenous nation's platform: Repair relationships with Indigenous communities by creating a Center for Native American and Indigenous Studies with appropriate academic and administrative staffing and including a tribal liaison.
McDonald, Solomon and Wilson state their hope that global momentum toward racial equity, catalyzed by Floyd's death and by racial inequities further exposed by the COVID-19 pandemic, will help spur the University to act and to remain persistent amid the hard work of implementing systemic change.
"Achieving racial equity requires a sustained effort," they write. "It will not be easy, it will not be immediate, and it will not be inexpensive. It will require UVA to courageously confront the truth of its past, to inform its present and welcome the promise of its future. As UVA works to fulfill its ambition of being both great and good, we have a lot of work to do. And it will take our collective will to make a collective impact."
Article Information
August 10, 2020
/content/racial-equity-task-force-releases-report-12-key-recommendations-action