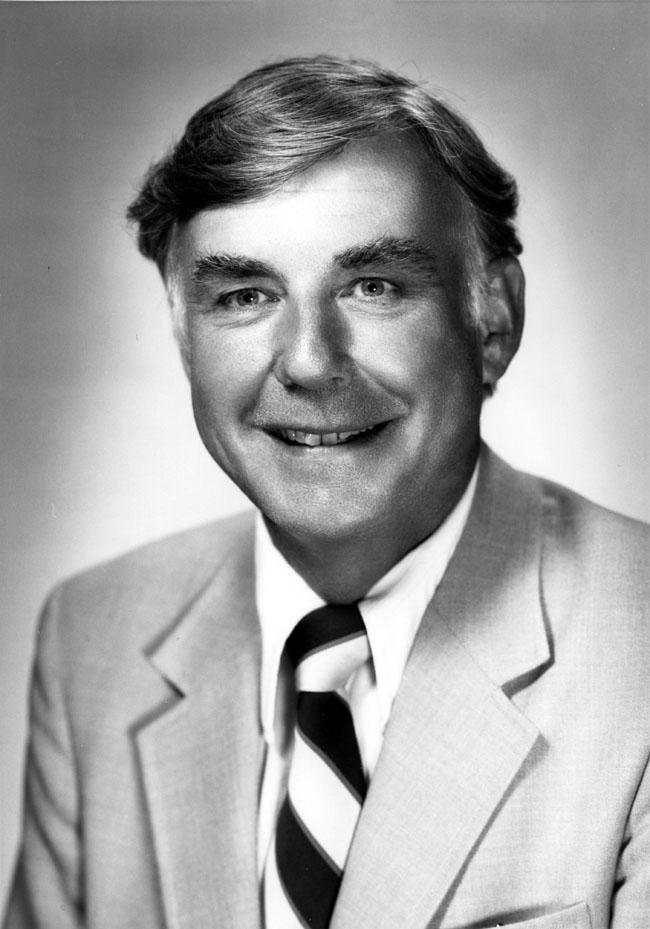 December 13, 2006 — Ray C. Hunt Jr., former vice president for business and finance at the University of Virginia and the F.S. Cornell Professor Emeritus of Free Enterprise in the McIntire School of Commerce, died Tuesday, Dec. 12, in Charlottesville. He was 75.
The family will receive visitors at Hill & Wood Funeral Home on the corner of First & Market Streets in Charlottesville on Thursday, Dec. 14, from 7 to 8 p.m.  A memorial service will be held at 2 p.m. Friday, Dec. 15, in the First Presbyterian Church in Charlottesville.  The interment will be private.
Hunt was nationally regarded in both the business and higher education communities as an innovative financial manager who directed the business operations of the University from 1977 to 1989. In addition, he was also responsible for day-to-day administration of the University, serving as chief operating officer from 1981 to 1989.
During his tenure, the University's annual operating budget increased from $144 million to $599 million and the value of the endowment grew from $96 million to $396 million.
Leonard W. Sandridge, executive vice president and chief operating officer, said that Hunt "leaves an extraordinary legacy to our university, and we are deeply saddened by his death. He was a great teacher, and highly respected by his students.
"As an administrator, he always put the good of the University first. Ray was an outstanding steward of the University's resources and we are a better institution because of his leadership," said Sandridge, who worked with Hunt for 22 years and succeeded him in the vice president's position.
"While he was known for his broad understanding of every detail of University life, it was his dedication to the long-term well-being of the University that made him legendary. Ray was a remarkable man of honor and integrity who will be greatly missed by all who had the privilege of knowing him."
Hunt received a bachelor's degree in economics from Lafayette College in 1953, a master's in economics from U.Va. in 1958 and a doctorate in accounting and finance from New York University in 1966. He was an instructor in the McIntire School of Commerce while in graduate school and later returned to the commerce school faculty as assistant professor in 1962 following stints as an audit staff member of Price Waterhouse & Co. and a graduate teaching assistant at NYU.
In addition to his teaching duties, Hunt joined the administration in 1967 when he was named associate comptroller. He was elevated to comptroller in 1972 and then vice president for business and finance five years later. In 1973, he reached the rank of full professor in the McIntire School.
When the University initiated a major reorganization in 1981, Hunt was appointed to the new position of chief operating officer, which was designed to allow then-president Frank Hereford to devote more time to fund-raising and dealing with state and federal governments.
The list of accomplishments and innovations under Hunt's guidance is significant and includes such programs as the Historic Renovation Corp., which arranged the refurbishing of many U.Va. fraternity and sorority houses; the U.Va. Real Estate Foundation, which acquires and develops property for the University; and the Auxiliary Services Foundation, which was created to operate Birdwood Golf Course.
When Hunt received the University's highest honor, the Thomas Jefferson Award, in September 1988, the citation read: "Mr. Hunt's interests have transcended the financial and academic. He has been a linchpin in dealing with the General Assembly in Richmond, and he has become a sage whose counsel and advice is sought almost as often [there] as it is here in Charlottesville."
Active in state, regional and national organizations, he served as an officer on numerous occasions. In 1990, he received the Distinguished Business Officer Award from the National Association of College and University Business Officers.
He was also active in the Charlottesville community, serving on the Charlottesville/Albermarle Chamber of Commerce and the Charlottesville/Albemarle United Way, of which he was president in 1974.
Hunt was a member of business fraternities Beta Gamma Sigma, Beta Alpha Psi and Alpha Kappa Psi as well as the Raven Society at U.Va.
In 1989 Hunt returned to full-time teaching in the McIntire School and was named F.S. Cornell Professor of Free Enterprise. He also served as associate dean of external affairs for McIntire from 1992-93 and taught until his retirement in 1996. He was Secretary/Treasurer for the Alumni Board of Trustees of the University of Virginia Endowment Fund.
Hunt is survived by his wife, Roberta Sibold Hunt and four children, Mary Beth Cardin of South Glastonbury, Conn.; R. Corbin Hunt III of Charlottesville; Margaret Corcoran of Hickory, N.C.; and Peter D. Hunt of Memphis, Tenn.
In lieu of flowers, the family requests that memorial donations be made to the Ray C. Hunt Memorial Fund to benefit the McIntire School of Commerce c/o The University of Virginia Development Office, P. O. Box 400807, Charlottesville, Virginia, 22904-4807.