For Ali Barta, who last month earned a Master of Public Policy degree from the University of Virginia's Batten School of Leadership and an MBA from the Darden School of Business, establishing her nascent business is about much more than just the standard challenge of developing and marketing a strong product.
Barta's commitment to the success of her herbal products company, Nuna Med, is deeply personal. Her first product, called Urinary Tract SupporTea, treats her own chronic urinary tract infections, caused by a workplace accident in April 2014 that nearly killed her.
"It's been a long, difficult road," Barta said, "But I have so much to be grateful for, and hopefully I'll be able to help a lot more people."
The accident that ended Barta's career at Hain Celestial Group, a global food and personal care products company, occurred during a tour of a distributor's warehouse in Illinois. A lift carrying Barta and the lift's operator dropped suddenly, which resulted in her having an open tibia fracture, broken back and spinal cord injury.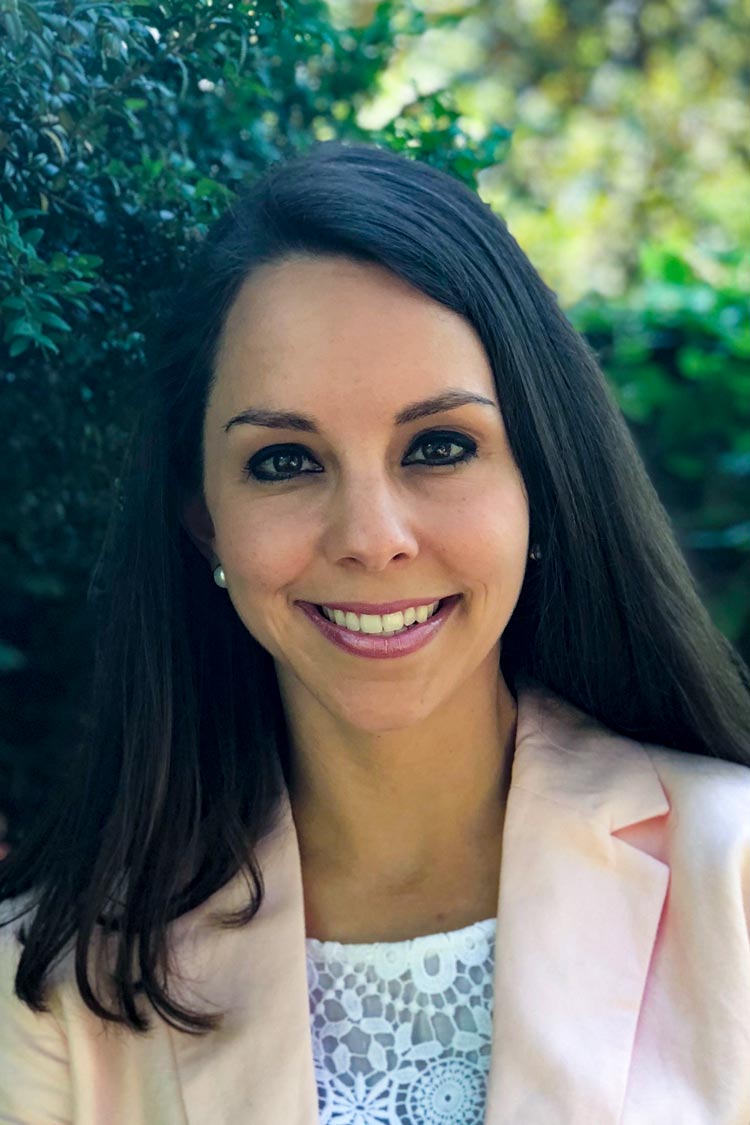 Injuries that Barta suffered in a warehouse accident led to chronic urinary tract infections, which became resistant to antibiotics.
After a lengthy surgery to fuse her spine and another to insert a rod into her fractured tibia, she spent nearly a month at the Loyola University Medical Center hospital outside of Chicago – far from her home at the time, in Richmond – before transitioning to outpatient physical therapy in the Chicago area for an additional 3 1/2 months.
Due to the spinal cord injury, her right leg was paralyzed. Several weeks after the accident, she slowly began to regain the ability to wiggle her toes, but to this day she still has a neurogenic bladder as a result of the injuries and needs to catheterize. The catheterizing has resulted in the development of chronic urinary tract infections, and in turn antibiotic resistance.
This lack of treatment options, and the discovery of something that worked to treat her chronic infections, led to in Nuna Med's first product: Urinary Tract SupporTea.
Three months after the accident, while Barta was still getting around in a wheelchair, her then-boyfriend (now husband) Chris, a Charlottesville dentist, proposed.
"I am unbelievably blessed to come from a wonderful family who supported me in a variety of ways throughout my life, and to have some pretty amazing guardian angels," Barta said. "[Faith and family] drives a lot of what I do. I'm someone who very much believes that to whom much is given, much is expected."
While she noted, "Unfortunately, I still have pain every day. I'm still in physical therapy and I can't do many things that I used to enjoy," she is committed to making the most of her situation – one that, amazingly, no longer requires the use of a wheelchair.
She describes her motivation to fight through her own medical conditions to help others with theirs as, "'Hey, do we have options? Do we have a solution? Let's fix it. Let's make whatever it is better.' I think that's really the heart of what this business is about."
Far from being opposed to conventional medicine, Barta believes that Nuna Med complements what physicians and others are already doing well; she's very thankful for the professional medical care she received after her accident.
But, she notes how scary it was when "modern medicine was not working any more" for her chronic urinary tract infections. "It couldn't prevent me [from] developing antibiotic resistance," she said, "and taking antibiotics repeatedly was not sustainable." 
That's where, she notes, recommending products like Urinary Tract SupporTea are helpful both for doctors and patients. "By encouraging the usage of products like SupporTea, antibiotics can be reserved for when they are absolutely necessary, thus making them more likely to work when they are needed and providing patients with more options," Barta said. "And options are great."
Nuna Med's name is derived from its tagline "Nurtured With Nature."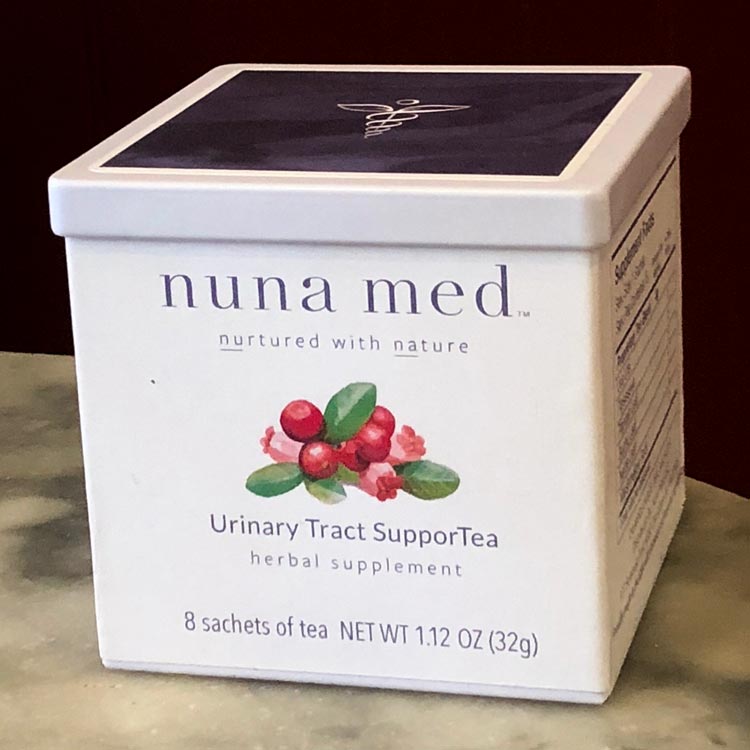 Nuna Med's Urinary SupporTea is based on a formulation that offered Barta relief from antibiotic-resistant urinary tract infections.
More than 200 people have already requested Urinary Tract SupporTea samples, which Barta plans to send out early next month. She laid the company's foundation while completing her two master's degrees during the past three years, and will now be able to focus more squarely on running the business.
"So much up until now has been getting everyone in line in terms of being ready to produce SupporTea and figuring out the regulatory landscape, who the suppliers are, who's going to be doing the blending, who's going to be putting the herbs in the bag, sourcing tins, sourcing labels, and things like that," she said.
She emphasized that the company is committed to thorough, costly testing of the tea, to ensure that Nuna Med's products only contain the highest-quality ingredients. "Ultimately, Nuna Med's consumers can be confident that we've done everything possible to make sure that what they're getting is what is listed on the label and of utmost quality," Barta said.
The Urinary Tract SupporTea recipe was created by a long-established herbalist who has been using the product with her patients for more than a decade, with a claimed 80-percent effective rate. 
Barta said she has also benefitted from advice from former colleagues at the Hain Celestial Group, which owns Celestial Seasons tea.
"Overall, I'm just excited to get SupporTea into more people's hands who can benefit from it," Barta said.
The combination of classes from Batten and Darden prepared her to navigate government regulations and to maintain a business focus.
"There are many more regulations within the herbal supplements industry than I imagined going into this – from guidelines in the Dietary Supplement Health and Education Act of 1994 to label requirements, to some of the do's and don'ts related to good manufacturing practices compliance," she said. But, "I've wanted to make sure that everything that Nuna Med is doing is at as high of a level as it can be – dotting the 'i's' and crossing the 't's.' So many companies make compromises on quality to cut costs, and I refuse to let Nuna Med be one of them."
She noted that Batten professor Randy Lutter's "Federal Regulatory Policy" course and former Batten professor Eric Patashnik's "Health Care Policy" course were two courses that served her particularly well starting Nuna Med.
As for Darden, "I am certainly glad that it's a general management MBA program!" she said, since she anticipates that she will rely heavily on everything from Mary Margaret Frank's taxation course to Tim Kraft's operations classes to Damon DeVito and Saras Sarasvathy's entrepreneurship courses.
"I am going to miss the classroom environment because I've learned so much from my classmates and their various experiences," Barta said. "I've also really enjoyed meeting so many incredible people in the process of getting Nuna Med up and running. I can't wait to finally be selling, beginning with helping people one urinary tract challenge at a time."
Urinary Tract SupporTea will be available in July at NunaMed.com and locally in the UVA Bookstores.
Media Contact
Article Information
June 21, 2018
/content/recovery-near-fatal-accident-sparks-recent-graduates-entrepreneurship