In the University of Virginia football program, after Jordan Ellis comes … Reed Kellam.
It's safe to say most UVA fans weren't expecting Kellam, a reserve inside linebacker, to be first player to select a jersey number this year. Neither was Kellam, who joined the program as a walk-on in 2015.
"Not at all," he said after practice Monday. "It was a huge surprise. I thought I maybe had a chance to get a number, but definitely not first pick. I think that's the biggest honor anybody can ever get in this program, selecting the jersey first. Coming from my teammates, it means a lot."
Starting in 2016, Bronco Mendenhall's first year as the Cavaliers' head coach, team leaders have determined the order in which players choose their jersey numbers, based on work ethic and commitment to the program.
Ellis, a hard-nosed running back, picked first in 2016, '17 and '18. He's now a rookie with the NFL's Cincinnati Bengals, and his departure from UVA added a measure of suspense to this year's selections.
That suspense ended Sunday night at Scott Stadium. The Cavaliers gathered in the home locker room, where Mendenhall announced that Kellam would choose first, to cheers and applause from his teammates.
"I felt like he was a little choked up," said senior Jordan Mack, another inside linebacker. "I could just tell, knowing Reed and being around him a lot, that it meant a lot to him. It was definitely earned, not given. He definitely earned every single bit of that."
Mack is one of the task unit leaders who met and decided on the order. In all, 36 players picked jersey numbers Sunday night, and another round of selections is scheduled for this coming weekend.
Kellam, a graduate of Collegiate School in Richmond, chose No. 45 for the third straight year.
"He just symbolizes what our program is about," said Mack, a four-year starter who chose second and switched to No. 4 after three seasons in jersey No. 37. 
Quarterback Bryce Perkins, picking third, went with No. 3 for the second straight year, and defensive lineman Richard Burney, picking next, stayed with No. 16. Rounding out the top five was wide receiver Joe Reed, who chose No. 2 again.
For Kellam, it was a milestone he'll cherish. To earn his coaches' admiration is one thing, but his peers' respect is "even more meaningful, because you spend so much time with these guys," Kellam said. "You're in class with them, you're in the film room with them, you're with them every day in the summer, the winter, the offseason. These guys see the ins and outs of everything."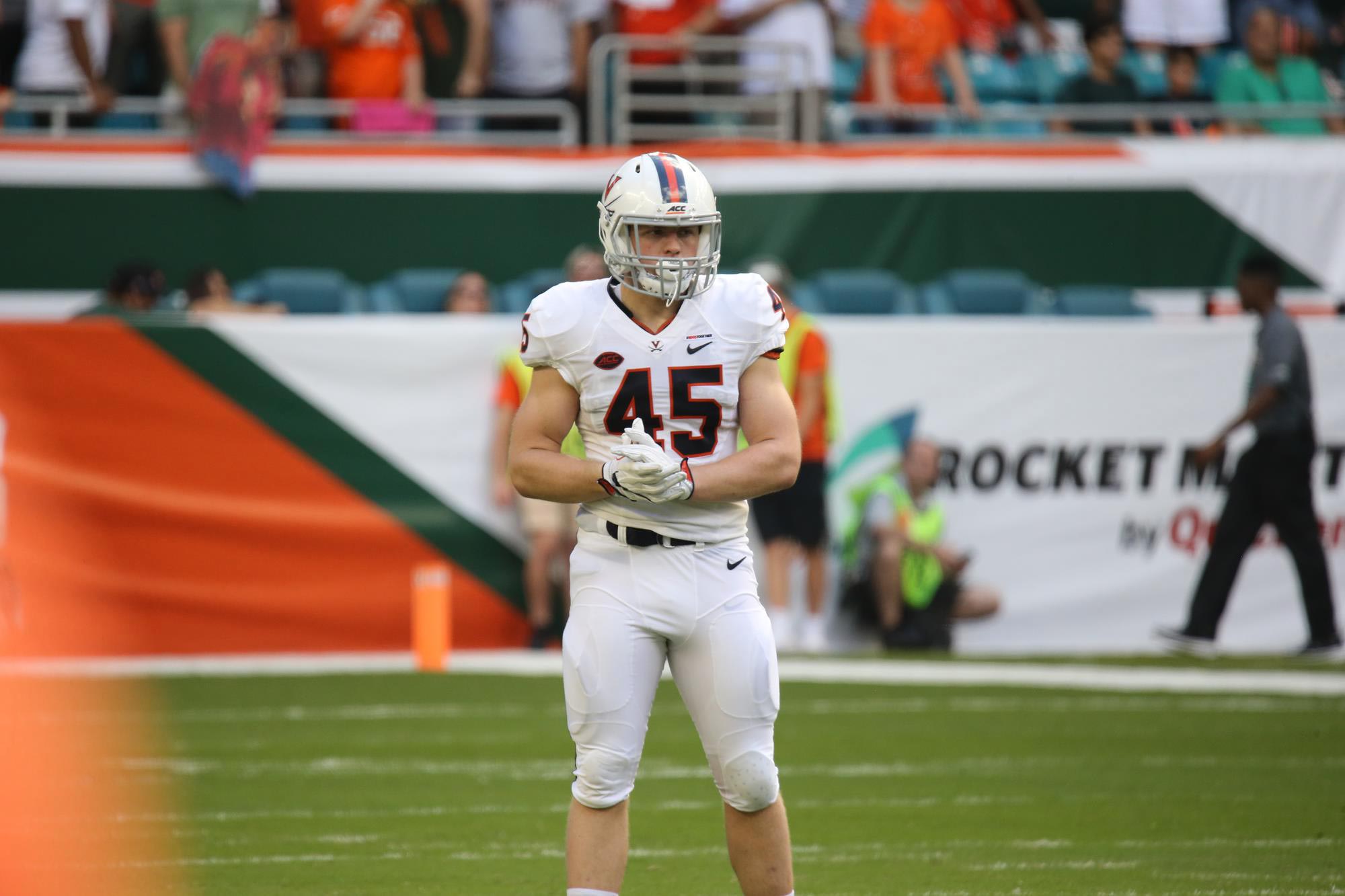 Kellam is "full-go, and the other kids see that and they respect him," special teams coordinator Ricky Brumfield said. (Photo courtesy UVA Athletics)
Nobody at UVA appreciates the contributions of players such as Kellam more than his head coach. After graduating from high school, Mendenhall played for two years at Snow College in Utah before finishing his career at Oregon State. 
He was a "late bloomer that had to work very diligently for anything I received, even to play and have a role on the team," Mendenhall said last week. "I love the walk-on mentality."
Mendenhall has instilled that attitude in his program at UVA, and Kellam is "just the perfect example of that," Mack said.
Whenever possible, Mendenhall likes to reward walk-ons with scholarships, and Kellam was among those who earned one in 2018-19. He graduated in May with a bachelor's degree in history and is now enrolled in a master's program in the Curry School of Education and Human Development.
"It's hard to find the words to describe Reed," Mack said. "He's just consistent, and he goes about his work and he does his job every single day."
As the Wahoos move toward their Aug. 31 opener at the University of Pittsburgh, the 6-foot-1, 225-pound Kellam is starting on two special teams units: kickoff and kickoff return.
"He's an all-in guy," special teams coordinator Ricky Brumfield said. "He's a guy that is about the team. It's never about him. Last year he did mostly kickoff return, and he probably had more pride in that one phase than anybody else.
"He's that kid that just works hard. He's never going to complain. He's going to give everything that he has. He's always just even-keeled, from the first day I met him till right now. He's always had the same demeanor. He's full-go, and the other kids see that and they respect him."
Kellam redshirted in 2015, the Cavaliers' final season under Mendenhall's predecessor, Mike London. In 2016, Kellam was among the players who did not earn jersey numbers before the season opener, "and that kind of upset me a little bit," he recalled Monday.
"It was a little bit heartbreaking, because I thought I'd really worked hard," Kellam said. "But that kind of fueled me. I became a Mad Hatter" – a member of UVA's scout team – "and really worked hard on special teams and defense, and I was able to earn my number the week of the Duke game. I selected 45 and got to travel to the Duke game. I'd say that was really a turning point in my career, and 45 really meant something to me.
"Even last night when I walked right up there, there wasn't even a thought of getting a lower number or anything. I just walked right to 45. It means so much to me."
He made his UVA debut in 2017 and played on special teams in all 13 games that season. Kellam appeared in every game last season, too, when Virginia finished 8-5. 
"It's a huge honor to play football here," Kellam said. "Being a walk-on, it's just a dream come true."
His parents, Tom and Sarah Kellam, are 1991 graduates of the University. 
"I grew up coming to games," Kellam said, "so I'm really living the dream here, playing football. Getting to play the last few years, it's meant so much to me and my family. It's been a real blessing."
Article Information
August 13, 2019
/content/reed-kellams-journey-walk-football-teams-top-honor