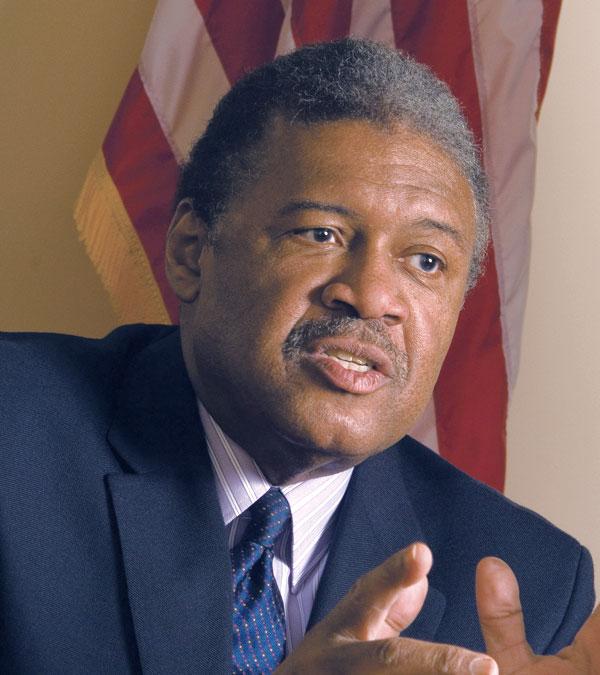 John Charles Thomas, a double graduate of the University of Virginia and the first African-American appointed to the Supreme Court of Virginia, has received the U.Va. College Foundation's Distinguished Alumni Award.
The retired justice graduated with distinction from the University in 1972 with a bachelor's degree in American government, followed three years later by his graduation from U.Va.'s School of Law. A senior partner at Richmond's Hunton & Williams law firm, Thomas spent nearly seven years on the Virginia Supreme Court following his appointment in 1983.
At the age of 32, not only was Thomas the first African-American justice to sit on the Virginia Supreme Court, he was also the youngest.
"Judge Thomas is a true legend from the University. He has distinguished himself in many ways – as a brilliant legal mind, as a leader in higher education, as a lecturer, as man of firsts, as a poet," College Foundation board chairman Philip Herget said. "He is a Renaissance man extraordinaire."
The College Foundation presented the award to Thomas April 4 at a dinner in the Rotunda.
A member of the University's Raven Society, the oldest honorary society at U.Va., Thomas accepted a job with Hunton & Williams in 1975 after graduating from law school. He was the first African-American lawyer at the firm, and when he was made partner in 1982, media profiles touted Thomas as the first black lawyer in the history of the American South to come to an old-line, Southern law firm directly out of law school and "go up the line" to make partner.
Thomas is a member of the Court of Arbitration for Sport in Lausanne, Switzerland. He is a trustee of the Thomas Jefferson Foundation at Monticello, a member of the College of William & Mary's Board of Visitors and has lectured at the United States Military Academy at West Point.
Thomas delivered U.Va.'s commencement address in 1992, two decades after his own graduation. In 1999, he was the commencement speaker for U.Va.'s School of Law, where Thomas has delivered the "First Day, First Year" lecture for more than 10 years.
"The Board of Trustees of the College Foundation proudly recognizes the lifetime achievements, leadership and service of Judge Thomas," Herget said. "We celebrate his association with the College of William & Mary, Monticello and the University of Virginia; his achievements as a U.Va. student, both in the College and the Law School; his active presence on Grounds as an alumnus; his leadership as a justice of the Virginia Supreme Court; and his devotion to higher education and academic opportunity."