With the U.S. State Department seeking its assistance, the pressure was on a team of University of Virginia researchers to complete a one-of-a-kind project that could help save lives – and potentially improve relations between the U.S. and Russia.
After combing through more than 8,000 scientific articles, the team – led by Dr. Scott Heysell, an associate professor of medicine for infectious diseases and international health – has put the finishing touches on what they believe is the only geo-located database of HIV research conducted in Russia and former Soviet Union countries.
The nearly yearlong project will help scientists and public policymakers in Russia and other Eastern European countries shed light on why Russia is one of the few places in the world with a rising number of HIV infections.
The project, part of the U.S. Department of State's "Diplomacy Lab" program, was done at the request of the U.S. Embassy in Moscow and funded, in part, by UVA's Center for Global Health and Center for Global Inquiry and Innovation.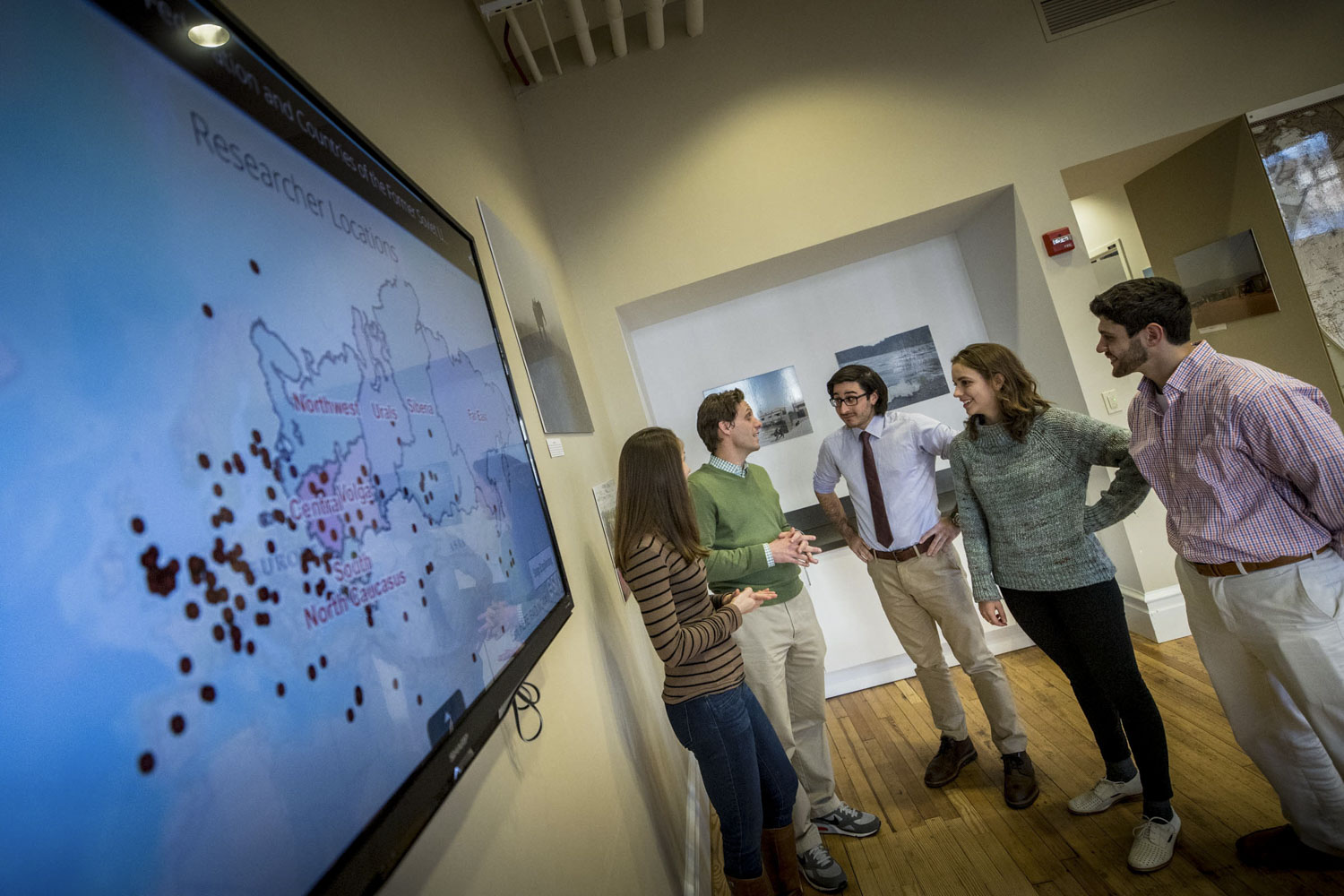 At the behest of the State Department, the UVA team built a database that tracks Russian and Eastern European HIV research by time, location and medical field.
The researchers hope that the database, which encompasses scientific literature from 1991 to 2016, can show trends in research that will help scientists and policymakers develop new strategies for the treatment and prevention of HIV, as well as associated diseases and infections. And if it can help international relations in the process, well, all the better.
"I think these small acts of diplomacy can have a real extended reach," Heysell said.
Using a number of existing databases, Heysell's team analyzed research abstracts and articles, tagging them by field and mapping their geographical location.
The result is an interactive web application, which synthesizes research from Russia and former Soviet Union countries, corresponding it to the geographic area in which it occurred.
Being able to pinpoint the precise location of research allows policymakers to see what is happening at both the national and local level. "Because the country is so large and because the research is so diverse, I think this is a very powerful tool," Heysell said.
Heysell's team included Center of Global Health Director Dr. Rebecca Dillingham; Dr. Megan Gray and Dr. Galina Lyles, who are both fellows in training at the UVA Medical Center; project manager Serhiy Vitko; second-year medical students Herman Pfaeffle and Art Kulatti; and Christian McMillen, associate chair of UVA's Corcoran Department of History.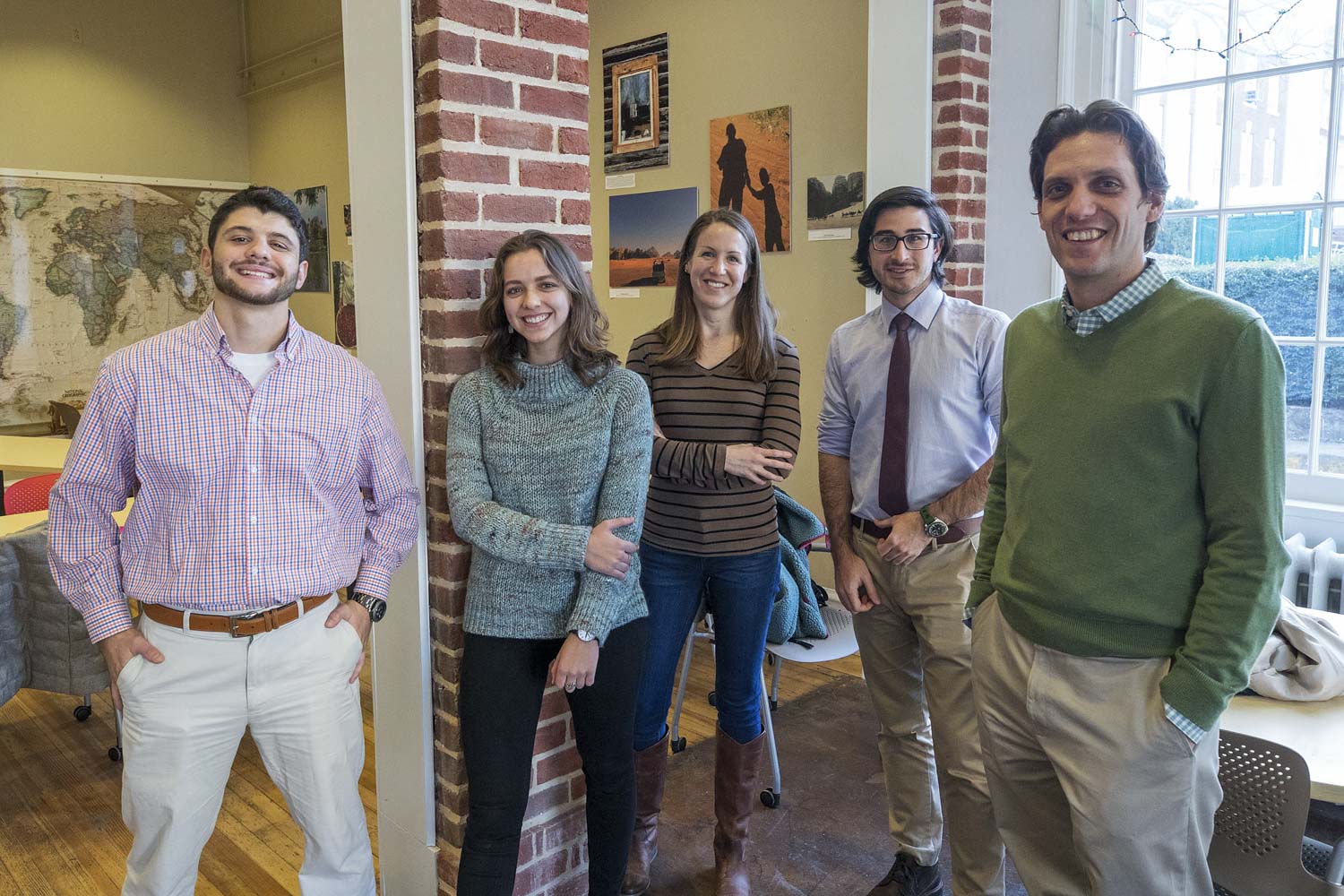 Dr. Scott Heysell, far right, and some of the members of his research team: from left, medical student Herman Pfaeffle, undergraduate student Alena Titova, Dr. Megan Gray and medical student Art Kulatti.
"I think it's a really great tool," Gray said, "because if you are looking for a very specific topic, it makes it easier to find the papers that you want to look through. This might narrow the field on certain topics that your own literature review might not catch."
The database includes abstracts and hyperlinks to full articles, a map of the location of researchers involved in Russian HIV efforts around the globe and a timeline showing the progression of research. "There's not another place that we know of that has linked the research to geo-mapping," Heysell said.
The other members of Heysell's team were Drew Macqueen and Chris Gist of the UVA Library Scholars' Lab; graduate student Faith Musvipwa; and undergraduate students Elizabeth Gasteiger, Paige Karp, Elizabeth Mangin, Diana Renalt and Alena Titova.
Heysell had previously collaborated with a team in Irkutsk, Russia headed by Oleg Ogarakov that researched HIV-related tuberculosis. "That team opened our eyes to the possible research gaps in HIV in Russia," Heysell said, "so when the opportunity from the Diplomacy Lab came, we were already primed with the topics that we wanted to investigate and tag as priorities."
Gray said pulling all the data together was, at first, a daunting task.
"We had to figure out what we needed to search for in these huge databases," she said. "Then once we set the search terms, we had to sift through thousands of articles and read a few paragraphs from each article and pick out what subjects that article covers. That translated into the tags that would be on the website. The process took awhile."
During labs, team members pored over spreadsheets. With the knowledge that a single keystroke could throw everything out of whack, attention to detail was paramount.
"It had to be systematic," Gray said. "If it wasn't, it was just a mess and we couldn't actually translate it."
In essence, the team has created a one-stop shop to locate all the research completed over a 25-year span.
In October, the team traveled to Irkutsk and showed the database to public officials. The team also recently presented it to the State Department via conference call. Heysell said officials expressed their gratitude and showed an eagerness to put the database to use immediately.
"They were appropriately keen that our work is a way to have mutually beneficial exchanges between the U.S. and Russia," Heysell said. "I think this is a truly helpful way in which we've been able to collaborate.
"I would call this a relative bright spot in U.S. and Russian relations."
Article Information
January 3, 2018
/content/russia-love-uva-research-team-creates-one-kind-database