When he retired in 2009, former U.S. Sen. John W. Warner had logged 30 years in the upper house of Congress and garnered a well-earned reputation as one of the most effective legislators of the last half-century.
A 1953 graduate of the University of Virginia Law School, Warner was a regular figure on Grounds throughout his career in public service and accepted an invitation from UVA in 2008 to make the University Library the eventual home of his public papers.
After years of careful cataloging and preparation, the Papers of Senator John W. Warner will officially open to the public this week at UVA's Albert and Shirley Small Special Collections Library.
"My theme is, if I can do it, I say to the next generation, 'You can do it and do it better. You have to do it better because the challenges today are far more diverse and far more complex than the greatest generation had,'" Warner said.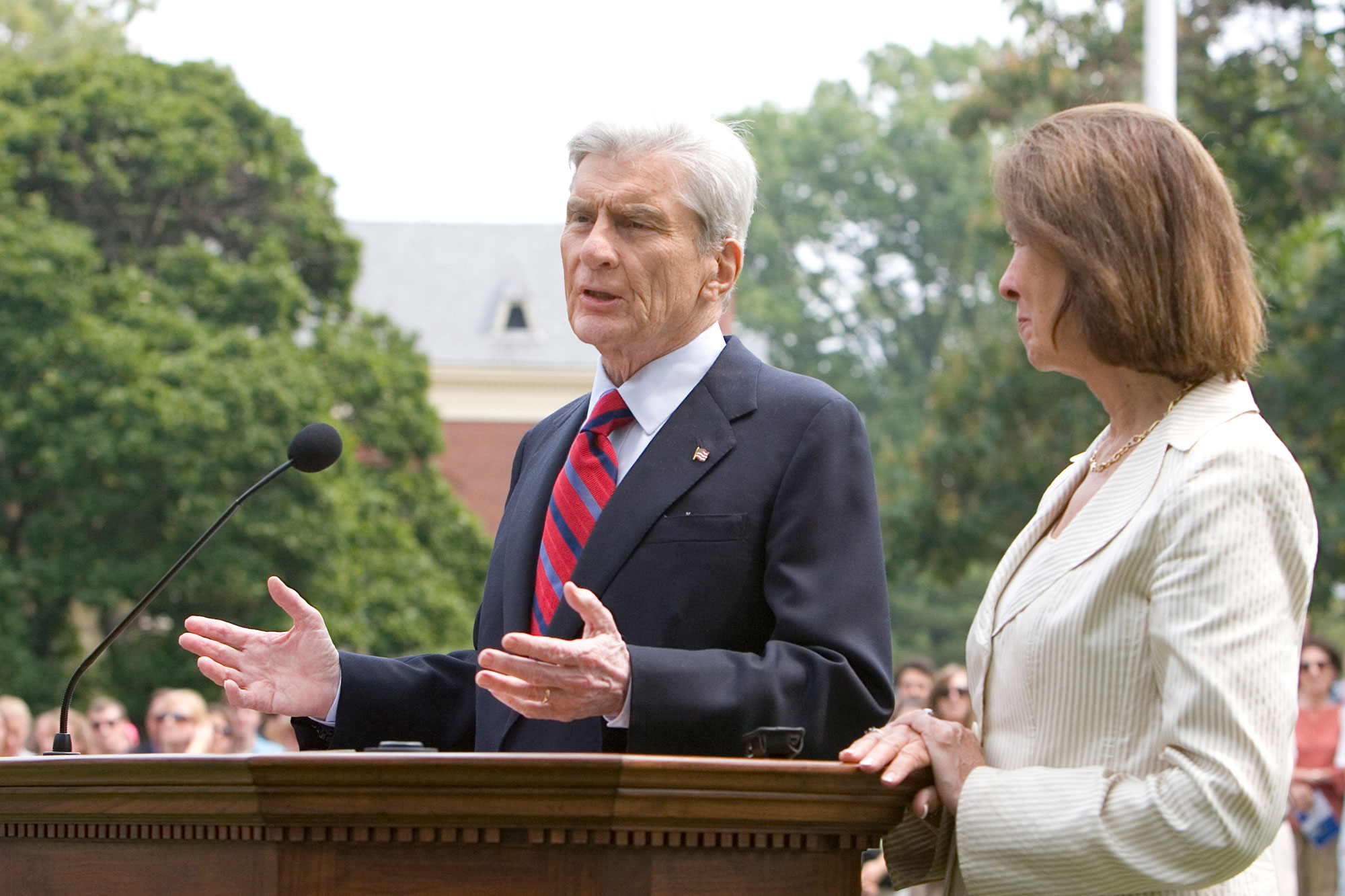 Sen. Warner and his wife, Jeanne Vander Myde, in front of the Rotunda in 2007 as he announced his plans to retire from the Senate in 2009. (Photo by Dan Addison, University Communications).
Throughout his tenure in the Senate, Warner was known for his willingness to reach across party lines to get things done, even bucking his own Republican Party leadership at times when it stood at odds with his goals. He hopes that students and young civic leaders can use his papers as an example of how to build consensus and take on major national priorities.
"I put it all out there," he said. "Some public officials only want to put things out piecemeal or only want to show this or that. I 'dumped' the whole thing, all the records for everyone to see."
The full collection not only spans Warner's three decades as a senator, but also reaches back to his earliest days as an enlisted man in the U.S. Navy in the final years of World War II. Researchers will get a glimpse into his lengthy career as a public servant before he ran for office in 1978, including his years as a Marine officer in the Korean War, an Assistant U.S. Attorney, Undersecretary of the Navy, Secretary of the Navy and head of the American Revolution Bicentennial Administration.
"Certainly the Warner papers will be an important window into the end of the 20th century and all the political issues that took up the nation's attention in that time," said Hoke Perkins, the associate University librarian for philanthropy. "We are thrilled to be able to add this important collection to our archives."
Perkins has been coordinating with Warner's staff since 2008 to prepare the papers for the library. Warner's donation builds on Special Collections' crucial repository of firsthand accounts of the lives and works of American leaders. His collection will join those of well-known former senators including Harry F. Byrd Sr., Harry F. Byrd Jr. of Virginia, Lowell Weicker Jr. of Connecticut and Hugh Scott of Pennsylvania, as well as collections of papers from Founding Fathers James Madison and Thomas Jefferson.
"It's a capsule of American history from the closing days of World War II to the emergence of the millennial generation," Warner said. "I've nicknamed this life 'From Seaman to Senator.'"
The University will celebrate the unveiling of the Papers of Senator John W. Warner with a public discussion between Warner and Larry Sabato, director of UVA's Center for Politics, on Thursday. UVA President Teresa A. Sullivan and University Librarian John M. Unsworth will provide opening remarks for the event, which takes place at 4 p.m. in the Special Collections Auditorium.
Prior to his arrival on Grounds, Warner, who is 90, joked about the breadth of the papers and the many insights it will give researchers into his life and career.
"My life has had a couple of rather spicy chapters in it," he said. "I'm not bragging. It's just a matter of fact."
Article Information
April 5, 2017
/content/sen-john-warner-celebrates-opening-his-official-papers-uva-library