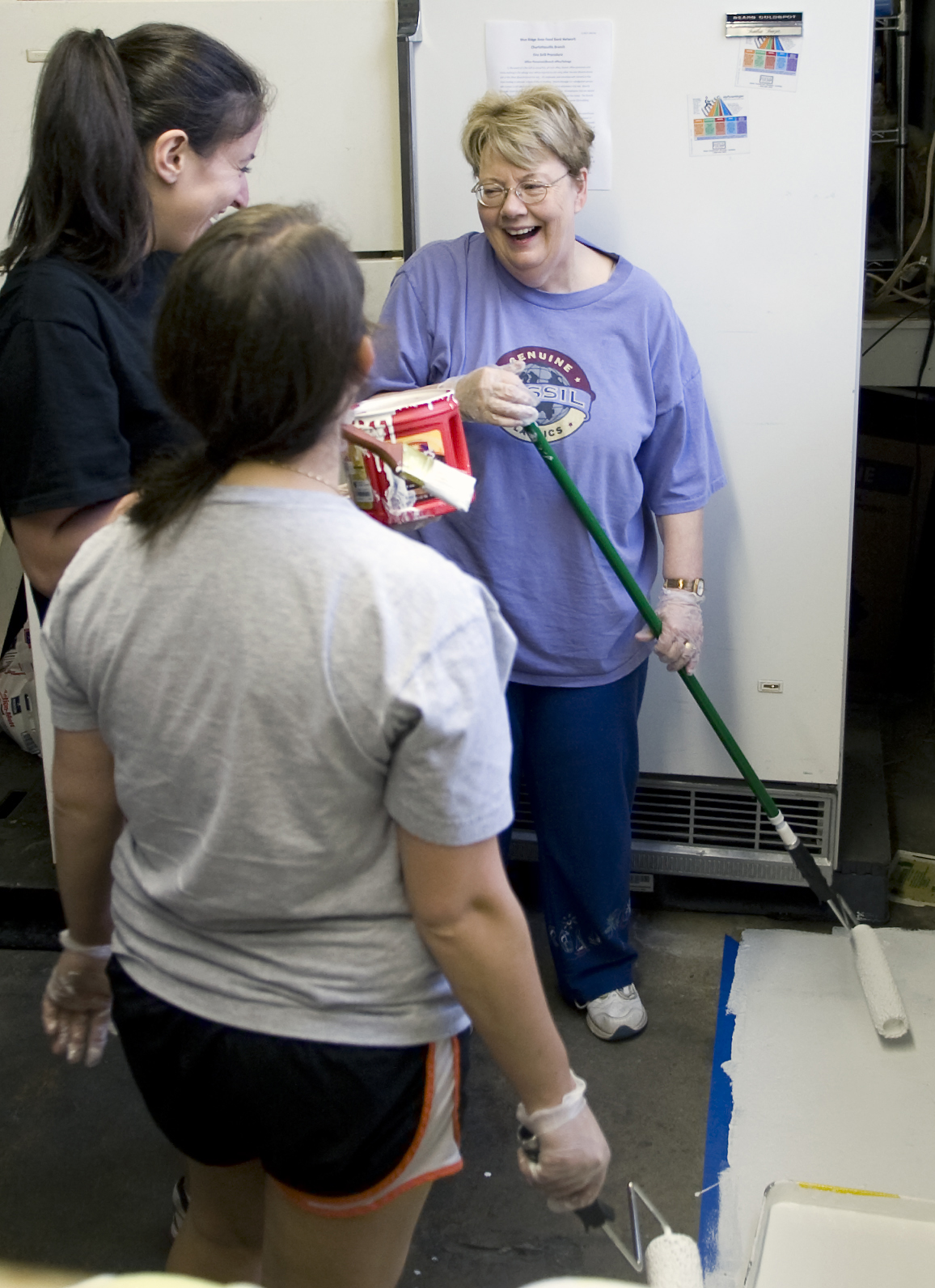 April 18, 2011 — Despite Saturday's severe weather, 600 University of Virginia students, faculty and community members came out to volunteer as part of "Cavaliers Care: A Day of Service." Though "Cavaliers Care" was founded in 2000, this year President
Teresa A. Sullivan
chose to incorporate the service event into her inaugural celebrations.
"The inauguration highlights all the key parts of the University's mission," Sullivan said. "Service is part of that mission."
The day started off at 8 a.m. with a complimentary breakfast for all of the volunteers at the Student Activities Building. After about an hour, the teams separated and made their way to more than 50 volunteer sites in the community. At noon, when their work was done, they reconvened in the Student Activities Building for a free pizza lunch.
Cavaliers Care
was started to give University alumni to participate in service projects in honor of Thomas Jefferson's birthday.
"It's particularly meaningful that we are united with Cavaliers all across the country," Sullivan said. Alumni around the globe also participated through UVa Clubs, organized by the
Office of Engagement
.
This year, Cavaliers Care hosted projects that provided opportunities in almost every realm of service. Volunteers helped the Boys and Girls Club of Central Virginia set up for an upcoming fundraising event, walked dogs at the Fluvanna SPCA and helped with painting and maintenance work at countless other sites. Moreover, the invitation was extended not only to members of the University community, but to those living in Charlottesville and the surrounding counties.
Sullivan chose to spend the day at the Blue Ridge Area Food Bank helping to sort food and repaint the facility – reacquainting herself with a cause that she first joined while working at the University of Texas.
"I volunteered with the Austin Area Food Bank when I was in Austin, so this was very familiar to me," she said.
Sullivan was joined by a team of 13 faculty and students, including
Dr. Marcus Martin
, U.Va.'s vice president and chief officer for diversity and equity.
Martin, an advocate of community service in general, said he enjoyed spending a rainy Saturday giving back, especially as part of the inaugural celebration.
"To end the inauguration with community service is a nice way to connect U.Va. with the community," he said.
Third-year student Kathryn Babineau, of Norfolk, headed up the project at the Blue Ridge Area Food Bank. A double major in history and foreign affairs in the
College of Arts & Sciences
, Babineau volunteers year-round with
Madison House
, where she serves as the head program director for Migrant Aid.
"Particularly in this city, and as U.Va. students, we are gifted with an opportunity to go to a great school. It's important for us to make sure others have the same opportunities," she said.
Babineau enjoys volunteerism in general, she said, because she also benefits from her work. She said she has met a lot of inspiring people through Migrant Aid, and gotten to hone her Spanish skills.
Babineau rounded up 10 sisters from her sorority, Zeta Tau Alpha, to help out.
Elaine Perrotto of Lynchburg, a third-year Arts & Sciences student majoring in economics,  said she was "really excited" to learn about Cavaliers Care, and especially to get to work alongside the new president.
She said she was impressed that Sullivan was willing to incorporate a service component to her inauguration. "It makes it more meaningful that she's actually with students doing community service," she said.
Katherine Crowley of Salem, Mass.,, a second-year Arts & Sciences student majoring in American studies, said that she was happy for a way to become more involved in service work. "I think Cavaliers Care is a great event because it brings out people who may not be involved in service," she said.
The Blue Ridge Area Food Bank was excited to have an enthusiastic team of volunteers. Branch manager Kevin Ruddle said that the Cavaliers Care event is "a huge help" because the food bank works on such a limited budget.
He expressed gratitude for the canned food drive that was also a part of the Day of Service. Cavaliers Care hosted a food drive at area grocery stores, and also gathered food donations at the morning's breakfast.
Ruddle said that it was "an amazing honor" for Sullivan to choose to volunteer with the food bank, and that "it shows how much she cares about the community."
On a broader scale, Ruddle lauded the Cavaliers Care event and Madison House in general for fostering the spirit of volunteerism in students who are about to become young professionals.
"It gives students a good structure to take into their professional lives," he said.
— By Samantha Koon

Article Information
April 18, 2011
https://news.virginia.edu/content/service-part-inauguration-celebration-well-universitys-mission