WISE – State legislators, college board members and administrators gathered here Friday to discuss strategies and ideas supporting the University of Virginia's College at Wise as an economic development engine for Southwest Virginia.
Virginia Dels. Terry Kilgore, Will Morefield and Will Wampler; UVA President Jim Ryan; UVA Rector Whittington Clement; UVA Wise Chancellor Donna P. Henry; and members of the UVA Board of Visitors attended the UVA Wise College Board meeting at the David J. Prior Convocation Center.
The legislative and academic leaders engaged in lively brainstorming about how to best promote UVA Wise as an industry catalyst and recruit more students with aims at economically elevating the region's future.
"UVA Wise graduates amazing students," Ryan said. "I think a lot of them would love to stay in this region, but right now there's not sufficient jobs. The region would be better off if they were able to stay."
Kilgore said the region has struggled with employment and maintaining population since the coal industry went into decline. That population decline also has cost the region a seat in the General Assembly's House of Delegates.
"It really hurts us in representation," Kilgore said, adding that it remains important for Southwest Virginia to keep and grow energy industries such as clean coal, gas and solar power.
"We still want to be the energy resource for the commonwealth," he said.
Technology is also gaining momentum as a key regional industry. A recent success came when Earthlink, an internet-service provider, relocated overseas jobs to Wise County.
"The Earthlink CEO went to J.J. Kelly High School [a former Wise County public school]. He wanted to come home and help our region. We are looking for more stories like that," Kilgore said.
UVA Wise aided in Earthlink's relocation and has been instrumental in igniting strong economic success, Kilgore added.
Ryan said the expansion of broadband might offer an opportunity to make more virtual interships available for UVA Wise students.
"More and more people work remotely because of the pandemic," he said. "Virtual internships can become virtual jobs and inspire them to start a business here."
Ryan's suggestion comes after UVA enlisted alumni to offer virtual internships for students during the pandemic.
"We are glad you are here and continuing that partnership between the mother institution and its outpost in Southwest Virginia," Del. Wampler told the meeting attendees. "Without this institution, Southwest Virginia would not have the same opportunities for education and upward mobility. UVA Wise has state-of-the-art facilities and academic programs."
UVA Wise has already made significant investment in paid internships through its Wise Works program, which incentivizes the creation of paid internships for students by cost-sharing with companies across the globe, said Shannon Blevins, UVA Wise vice chancellor for administration, government relations and strategic initiatives.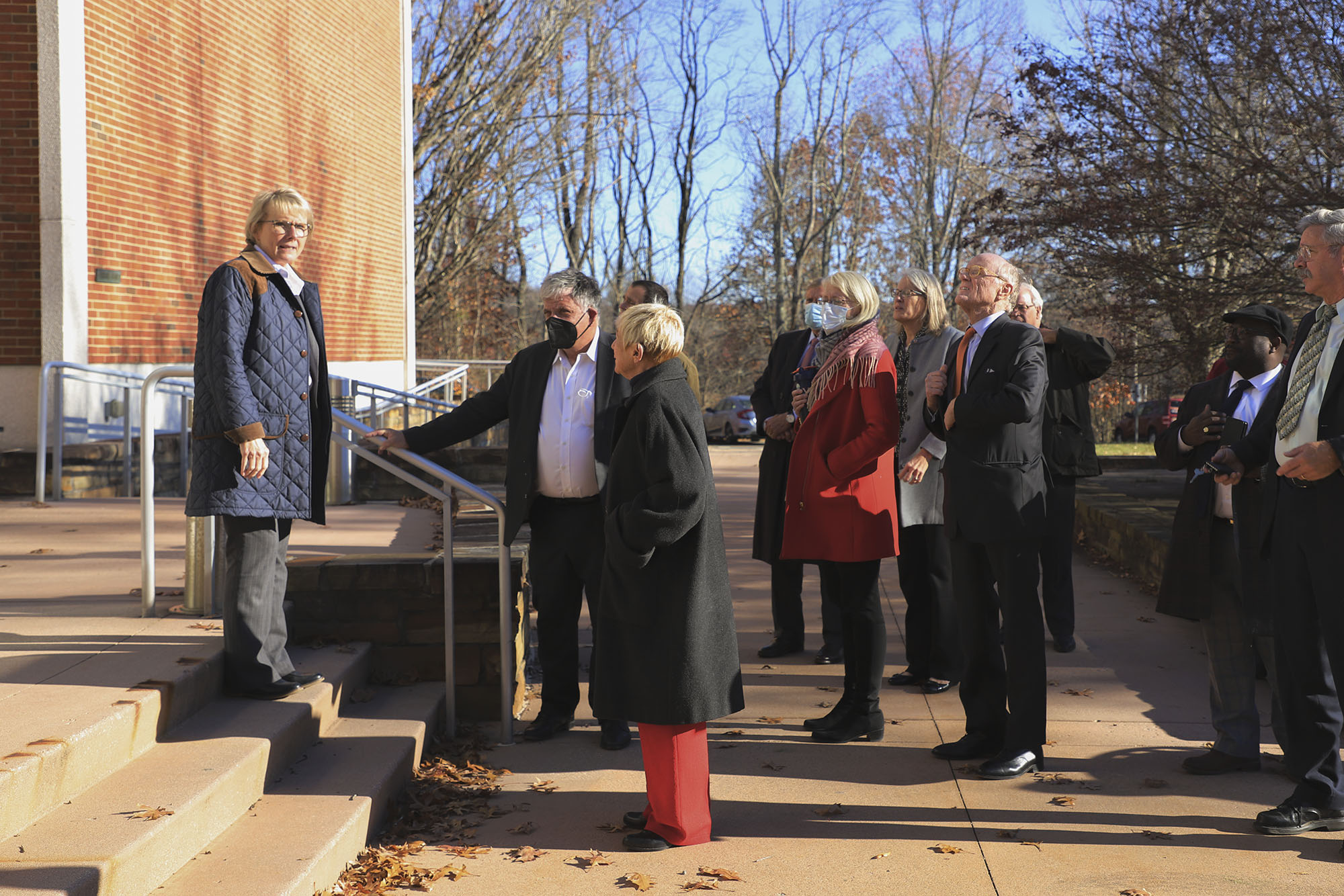 UVA Wise Chancellor Donna P. Henry, left, shows UVA Board of Visitors members, President Jim Ryan and other academic leaders around the college campus during a visit on Friday. (Photo courtesy UVA Wise)
"Leveraging the power of UVA and UVA Wise alumni is a great opportunity to grow that experiential learning opportunity and offer students a way to stay in Southwest Virginia," Blevins added.
Del. Morefield also expressed gratitude for UVA's support of UVA Wise and highlighted the urgency of health care accessibility and a strong educational network for success. "We have so many opportunities and you [UVA] have planted those seeds for expansion," he said.
One of those UVA-UVA Wise collaborations is centered on growing the regional health care workforce. In fall 2022, UVA Wise will begin offering the University of Virginia's family nurse practitioner program, empowering nurses to earn a Master of Science in Nursing degree.
The group toured the existing building soon to be renovated for nursing education.
"We have a great opportunity in health care," Kilgore said. "If you've been to a hospital, you can't find enough nurses. Stepping up nurse practitioner programs opens opportunities to get us a lot of students."
Carlos Brown, a UVA Board of Visitors member, asked what other support would boost enrollment, noting that increased enrollment spurs economic growth. "You get parents coming to a hotel, attending games," he said. "You've got to have that spark."
Kilgore credited the Appalachian Regional Commission Initiative's tuition reduction with already improving enrollment efforts. Under the initiative, students who live outside of Virginia but within the regional commission's boundaries may be eligible for significant reduction of out-of-state tuition.
"Our enrollment traditionally was 95% in-state and 5% out-of-state. Now we have 13% out-of-state. We are getting name recognition in North Carolina, Tennessee, West Virginia and Kentucky. They are now looking to come to Wise, and this will continue to help," Chris Dearth, UVA Wise's vice chancellor for enrollment management, said.
Increased regional name recognition not only potentially expands student enrollment, but also further develops the college as an economic driver.
The strategy, Dearth said, is promoting UVA Wise as a destination college focused on the area's natural resources.
"Many would say industry has left the region and it is in dire straits. The solution is not looking at it from that standpoint, but rather that Southwest Virginia has assets," Wampler said. "This is one of the most beautiful parts of the commonwealth. Affordable housing is priced out in Northern and Central Virginia, but in Southwest Virginia owning a home is still affordable. It's a strength."
Chancellor Henry addressed College-specific resources needed, including nearby affordable, temporary housing and child care for faculty and staff. She hopes to create a child care facility on campus.
Other attendees on Friday included Wise County Administrator Mike Hatfield and Beth Rhinehart, president and CEO of the Bristol Chamber of Commerce.
"From recruiting heavily in local schools and across the Appalachian Regional Commission to growing our endowment to support students, hiring more faculty and staff, renovating spaces for our growing nursing and ROTC programs, and pursuing our graduate program expansion, there's significant momentum at UVA Wise right now," Henry said. "We're grateful for the University's and regional partners' generous support as we do our part to grow our students and communities."
Article Information
November 22, 2021
/content/southwest-va-legislators-uva-leaders-strategize-regional-economic-vitality