On the University of Virginia men's golf team, Derek Bard casts a sizable shadow, and understandably so.
"He's played in the Masters and the U.S. Open," Jimmy Stanger said. "That's unbelievable."
Not as well-known outside the UVA program is Stanger, a senior from Tampa, Florida – but he, too, is a formidable talent. Like his more celebrated classmate, Stanger was All-ACC as a junior, and he and Bard were named to the Cleveland Golf/Srixon All-America Scholars team as well.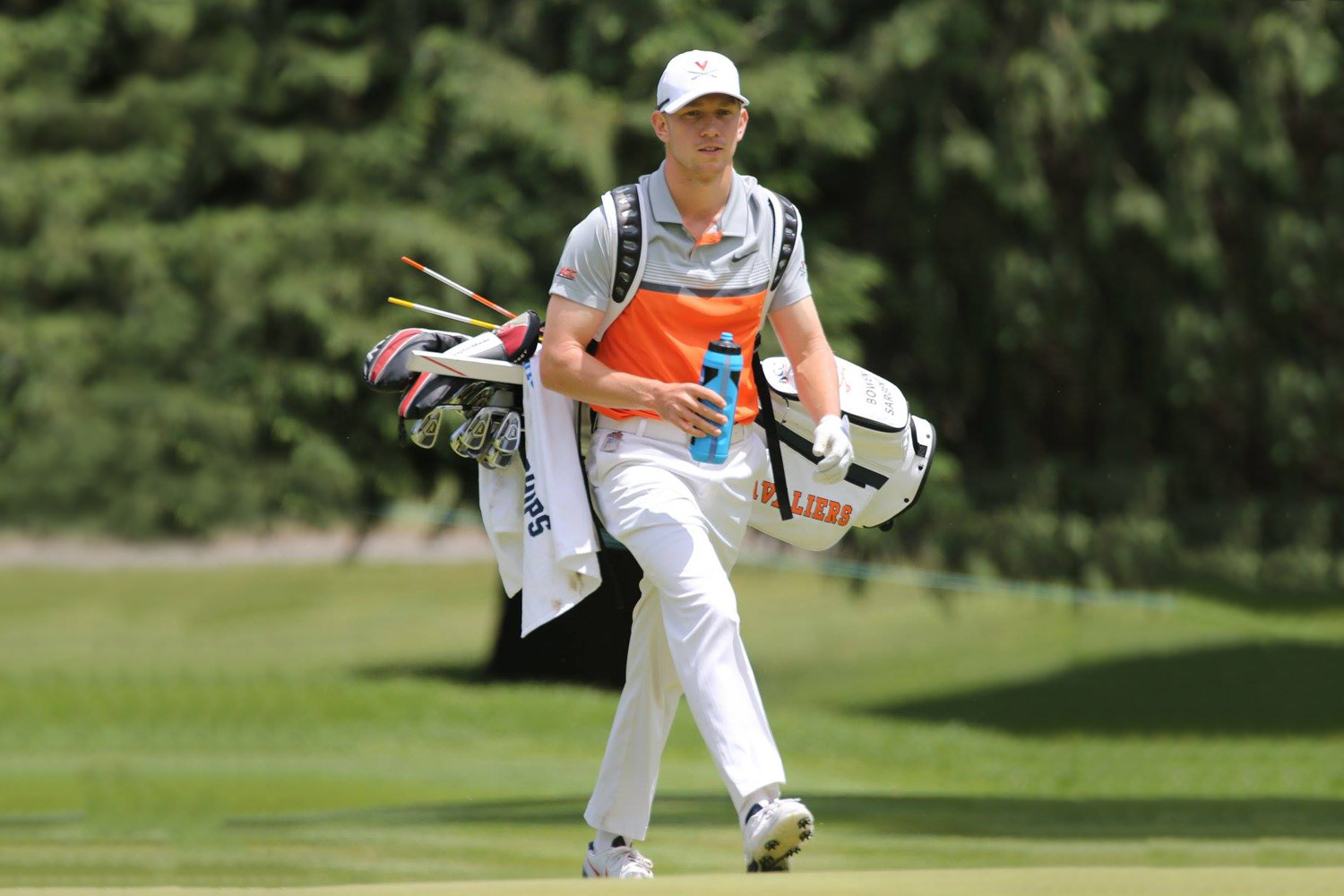 Jimmy Stanger is ranked No. 10 in the nation, and helped lead the Cavaliers to three tournament championships this fall. (Contributed photos)
"This is without a doubt the best two I've ever had, in terms of combining academics and athletics in a single class," said Bowen Sargent, who's in his 13th year as Virginia's head coach.
"Both of them are almost perfect kids. They do what they're supposed to do, they're great role models, they're good kids outside of golf. It's fun to be around both of them."
Stanger and Bard, who's from New Hartford, New York, roomed together after arriving at UVA in the summer of 2013.
"It's funny, because when I came into school, I was ranked a little higher in the junior index," Stanger recalled, "so I kind of came in ready to be 'The Man,' and by the end of the first semester Derek was 'The Man.'"
Through four tournaments this fall, Stanger leads Virginia with a stroke average of 68.18, and is ranked No. 10 in the country by Golfweek. Bard is second on the team in scoring at 69.29 and is ranked No. 42 nationally.
"It's funny to see how iron sharpens iron, because we've kind of gone back and forth," Stanger said. "He's been ahead of me for a while, and I still consider him the default No. 1 on the team. ... But I don't think I'd be in this position, ranked where I am, without him. And I don't think he would be in that position as well without the competition we have on our team."
Born and raised in Tampa, Stanger had no family connections to UVA. But when Sargent started recruiting him in the middle of his junior year of high school, Stanger was intrigued. He visited the school, liked what he saw, liked what he heard about Sargent from others in the golf world, and decided to become a Cavalier.
"I was a very late commitment," Stanger said. "I'd looked at every school on the East Coast, everywhere from the University of South Florida in Tampa, to Harvard. I ended up settling on UVA because of the great academics and great golf program. This year we're probably going to have a top-10, top-five golf team, and the school's the No. 2 public school in the country. You're not going to find a better combination."
Stanger, a student of American history, had read extensively about Thomas Jefferson. That heightened the University's appeal.
"This is one of what he considered his top three accomplishments," said Stanger, who has visited Monticello. "I figured, why not give it a shot?"
As a freshman, he posted a stroke average of 73.44 and played in nine tournaments for the Wahoos. As a sophomore, he again averaged 73.44 strokes per round, and he was the team's No. 2 finisher at the NCAA regional in Rancho Sante Fe, California, behind All-American Denny McCarthy.
Stanger's birdie on No. 18 at the regional helped the Cavaliers edge Wichita State and advance to the NCAA championships, where they finished 18th.
His ascent continued in 2014-15. He lowered his stroke average to 71.79 and finished first or second on the team in nine of UVA's 12 tournaments. At the 54-hole NCAA regional in Franklin, Tennessee, Stanger led the team with a 9-under-par score of 207, and his birdie on the 18th hole broke a tie with Washington and sent the 'Hoos back to the NCAA championships.
The season, however, did not end happily for Stanger or the Cavaliers. At the NCAA championships in Eugene, Oregon, he shot 8-over 218 and Virginia finished 22nd.
For the team, Sargent said, that performance "left a little bit of a sour taste."
So the 'Hoos entered 2016-17 with something to prove. Back this year are the five players who represented Virginia at last season's NCAA championships – Bard, Stanger, sophomores Thomas Walsh and Ashton Poole, and junior Danny Walker – and Sargent added a talented freshman class led by Luke Schaap and Andrew Orischak.
"I think after last year's national championship, there was a little extra motivation here this year, because I think we realize how good we can be," Sargent said. "Everybody realizes how talented and how deep of a team we have.
"In years past, we haven't had that depth. Last year we were kind of at four guys and struggled to find that 5-man. But this year I think we have seven guys that can really step up."
Stanger agreed.
"The stars of your team are always going to be the stars of your team," he said. "Every team has them. The key to a team is depth, especially in golf, and this year we have depth. We have nine guys who are out there working hard every single day, and I haven't heard any complaining this year. As a team captain, typically I'm having to deal with players on the team who are a little less inspired, who don't want to go out there and work. Everybody on this team is working hard enough that I actually have to look at myself and make sure I'm working hard enough. It's a great team atmosphere."
The Cavaliers opened the fall with a flourish, winning the prestigious Carpet Capital Collegiate last month in Dalton, Georgia. UVA shot a 54-hole total of 31-under 833, breaking the tournament's scoring record by eight shots. Virginia finished six strokes ahead of Auburn, the tournament's defending champion.
The Tigers are No. 6 in the latest Golfweek team rankings, and the Cavaliers are No. 9.
Bard shot 206 to lead UVA at the Carpet Capital Collegiate. Walsh shot 208, and Stanger and Schaap each shot 210. In the final round, Bard, Walsh and Stanger each carded a 69.
The victory "validates all our expectations," Stanger said. "We knew we had the talent coming in this year, and we still know that we have the ability to beat any team in the country. We came out there and beat Auburn, a team that was No. 1 in the country for quite a long time last year and didn't lose many people, with a course record. So it was an unbelievable experience for our psyche, to know that we can fulfill these expectations if we just go out there and play our game."
The Carpet Collegiate victory launched the Cavaliers on a roll. They set a team scoring record in winning the Bank of Tennessee Intercollegiate championship, played Oct. 14-16 in Jonesborough, Tennessee, then tied for the team championship a week later at the Golf Club of Georgia Collegiate tournament in Alpharetta, Georgia, the last event on their fall schedule. Stanger and Bard tied for fifth in the individual competition in Tennessee – where Stanger shot a career-low 206 for the three rounds – and Stanger tied for individual medalist honors in Alpharetta.
The Cavaliers are next in action Feb. 15-17 at the John Burns Intercollegiate tournament in Kauai, Hawaii.
Stanger came off a summer in which he reached the round of 16 at the U.S. Amateur – "That's something I'm going to look back fondly on my entire life," he said – and won the Southern Amateur.
The Southern is "considered the fourth-largest amateur [event] in the United States," Stanger said. "It's like winning one of the four majors. It just gives you that same confidence that winning [the Carpet Capital Collegiate] gives our team. You knew you were good enough beforehand, and you truly believed you were good enough, but to actually be under that kind of pressure to perform, the way I was able to at the Southern, it gives you confidence to know that there's not really a player in the country who can beat you whenever you're playing your game."
Stanger is in his final year in UVA's prestigious McIntire School of Commerce, where he focuses on finance and marketing. Juggling his academic obligations with his golf commitments is challenging, "because of how much we travel," said Stanger, who's likely to pursue an MBA after graduating from the University.
The Cavaliers play no tournaments at their home course, Birdwood, and "every single time we travel, we'll leave on a Wednesday night and come back on a Sunday night," Stanger said.
"It's quite a trek to be able to try to get school done with that, and I've been very blessed at this university to have incredible professors who are willing to work with me and allow me to pursue my dreams, academically as well as athletically."
His schedule runs from "sunup to sundown," said Stanger, who then corrected himself. "Past sundown."
But he's not complaining.
"Here's the way I try to explain it to people: I get to wake up in the morning, and I go work out with our team or on my own," Stanger said. "And then I'll go to class from about 9 to 1. So I get to go and study something I love. And then I get to, in the mid-afternoon, have a break from work and go out and play golf. After I finish playing golf, I get to come back and study something else that I truly enjoy.
"That's a great life."
Article Information
October 25, 2016
/content/stanger-course-brilliant-uva-career-golfer-and-student