Shortly after getting married five years ago, University of Virginia alumna Megan Eddings realized she couldn't stand the smell of her husband one second longer.
Well, the odor coming from the workout shirts he was wearing, that is.
Eddings' husband, Kyle, liked to wear the performance T-shirts made of material like Nike's "Dri-FIT." Made of polyester, it has a moisture-wicking quality that keeps the material from clinging to skin.
But there's just one problem with these types of shirts, according to Eddings.
"Even though the fabric is breathable and light, it holds onto 'the stank' something fierce," she said, smiling.
So much so that whenever it was Eddings' turn to do laundry, she had to do separate loads – one with her stuff and one with Kyle's.
Using a lavender-scented detergent, a "scent booster" and then air drying, Eddings found she could get Kyle's shirts to be something resembling fresh. However, that would change the second he started sweating in the shirts again. The shirts would "activate," and the musty-mildewy stench she thought she had gotten rid of would come back just as strong, sometimes stronger.
Kyle, though, was in denial. "I didn't think my shirts really smelled," he said. "However, after shirts started disappearing, I knew something was up. I started smelling my shirts before and after and quickly realized that maybe I just wasn't paying the best attention."
It was around that time when Megan Eddings, a graduate of UVA's College of Arts & Sciences – who had worked in a Brown University lab trying to find a cure for cancer, prior to embarking on a medical sales career – felt compelled to seek a solution.
"I could not believe that I was selling $3 million MRI machines and we were planning to send people to Mars, yet we did not have workout clothes that didn't stink," said Eddings, a Rhode Island native who has lived in Houston for the last 15 years. "With my background in chemistry, I had to understand, from a scientific perspective, why we couldn't wash the stink out."
Eddings quit her job, started her own company, Accel Lifestyle, and dedicated herself to finding the answer.
Three years later, she had one in the form of a fabric she named Prema.
Eddings said Prema, which is trademarked and has a patent pending, has the potential to revolutionize the clothing industry, with workout gear just the tip of the iceberg.
"Most companies who say they have 'anti-stink' apparel actually use a chemical treatment to line the fabric," Eddings explained. "This treatment inhibits bacteria, but the treatment washes out after five to 25 washes. The consumer is usually then left with a polyester garment that will attract bacteria and start to stink.
"[Prema's] trade-secret science is actually embedded into the fabric, so it does not wash out over time."
So far, Prema has been a huge hit.
On the strength of the fabric, Accel Lifestyle has won numerous awards – including one for "Best New Product" presented to them by Houston Mayor Sylvester Turner – and earned over $2 million last year. Inc. Magazine also chose Accel as one of its "Top 3 National Startups."
Kyle approves of the new shirts as well.
"They don't smell!" he said. "I've phased out all other shirts from my workout wardrobe for fear of being 'that guy' in the gym – and we have all been there, whether we know it or not."
Protecting the USA
At the outset of the pandemic, Accel expanded its business to include the production of face masks.
The Office of the Chief of Naval Operations had just issued a mandate that the Navy issue reusable cloth face masks to all personnel, and suddenly Jonathan Haynes, the director for Supply Chain Operations and Services for the U.S. Fleet Forces Command, needed 50,000 by the end of the week.
Haynes said Accel's masks stood out.
"I preferred its multiple layers of anti-microbial material to the single layer of cotton T-shirt material I saw with some designs," Haynes said. "Additionally, Megan's masks held up under multiple washings, whereas other designs and fabrics frayed or simply fell apart altogether.
"Megan supplied both black and white masks to the Navy and her white masks maintained their white color the longest, while all the other white masks we received from other suppliers turned yellow or gray."
To date, Accel – which now has a contract with the Pentagon – has sold more than 600,000 masks.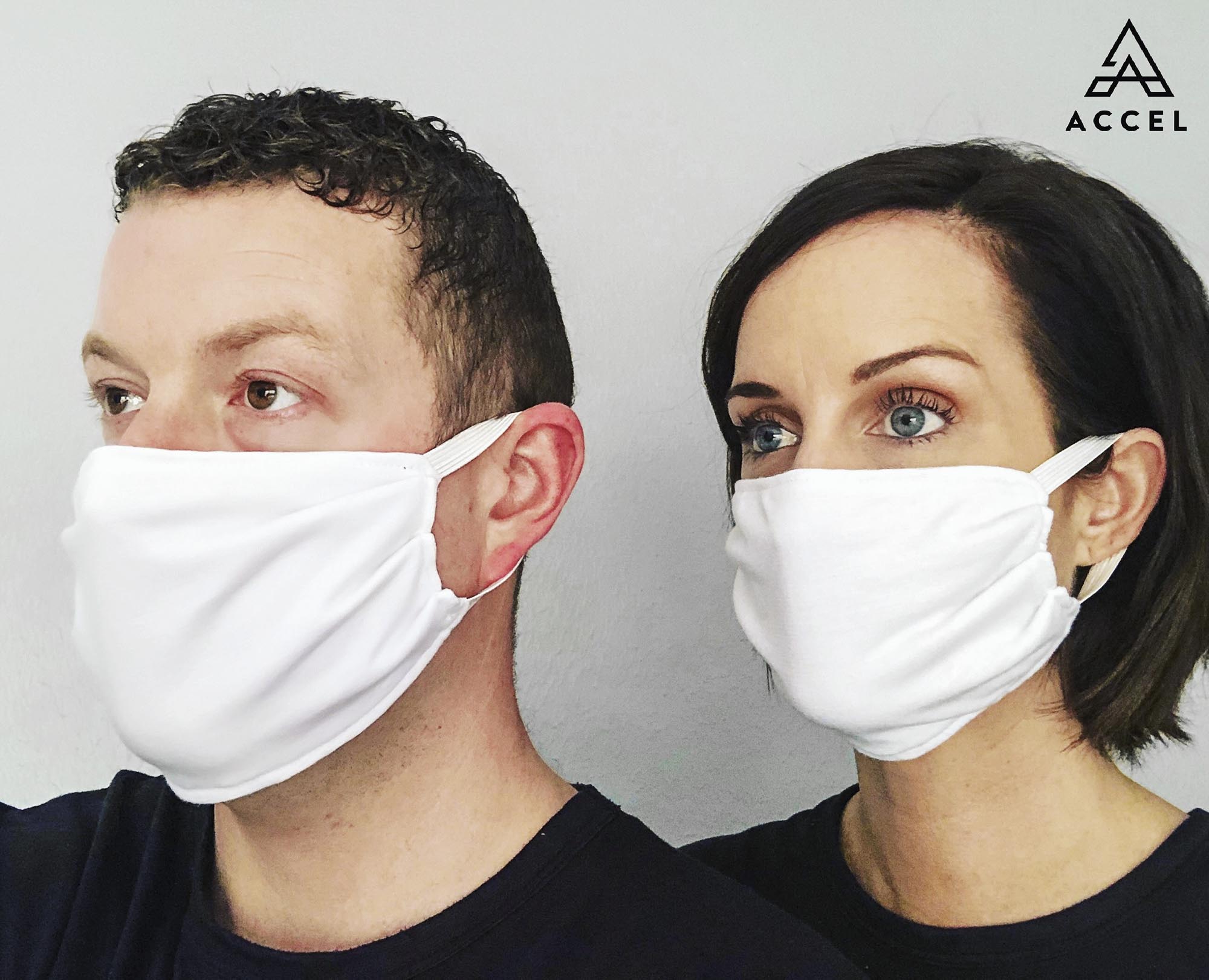 Kyle Eddings, left, didn't think his workout clothes smelled until his wife, Megan, convinced him otherwise. (Contributed photo)
"To have made the decision years ago to have my fabric made in the USA allowed me to be able to pivot quickly because of our domestic supply chain," Eddings said. "I was overjoyed that we have been able to help protect our frontline workers and the general public because of decisions and a mission I made and stuck to years ago."
Since Accel's shirts are made in the States, they are pricier than others on the market – they generally range from $59 to $74 – but the trade-off was a no-brainer for Eddings.
This year, Eddings launched another company, Accel Unite, which focuses specifically on sustainable and reusable personal protective equipment options for the health care industry.
Eddings designed a new style of reusable isolation gowns that she said saves the health care provider money, provides additional protection and is better and safer for the environment. 
Eddings said the new design is safer for wearers due to the fact that dirty sleeves do not have to go near their faces in order to remove the gown. She worked with infection control to design the new gowns and they just launched.
Grounded at UVA
As a kid, becoming an entrepreneur never crossed Eddings' mind. She grew up in a small town in Rhode Island, where, she said, the biggest thing ever to happen was getting a Wal-Mart. One of the highlights of the year was dining at Pizza Hut on New Year's Eve.
"We could not afford to go out to eat throughout the year," she said, "but looking back at growing up with a home-cooked meal on the kitchen table every night is a beautiful memory that will never fade."
A first-generation college student, Eddings arrived at UVA in 1999, then went on to major in chemistry, with a specialization in biochemistry.
Having grown up in a largely white town, Eddings called her experience "profound."
"I had a yearning to meet people who did not look like me and learn from different cultures," said Eddings, whose maiden name is Doucette. "Going to UVA and experiencing the diversity was absolutely beautiful and eye-opening. I took a few classes on African American studies and was fascinated to learn about history from a different lens and perspective.
"I loved that even though my major was in chemistry, the vast offering of classes was awesome. I loved a classical music class that I took, and it made me appreciate the arts even more. My grandmother knew so much about classical music and I was raised in a family filled with musicians. I still have the CDs that I had to purchase in that class, and looking at them – even if I am not playing them – makes me smile."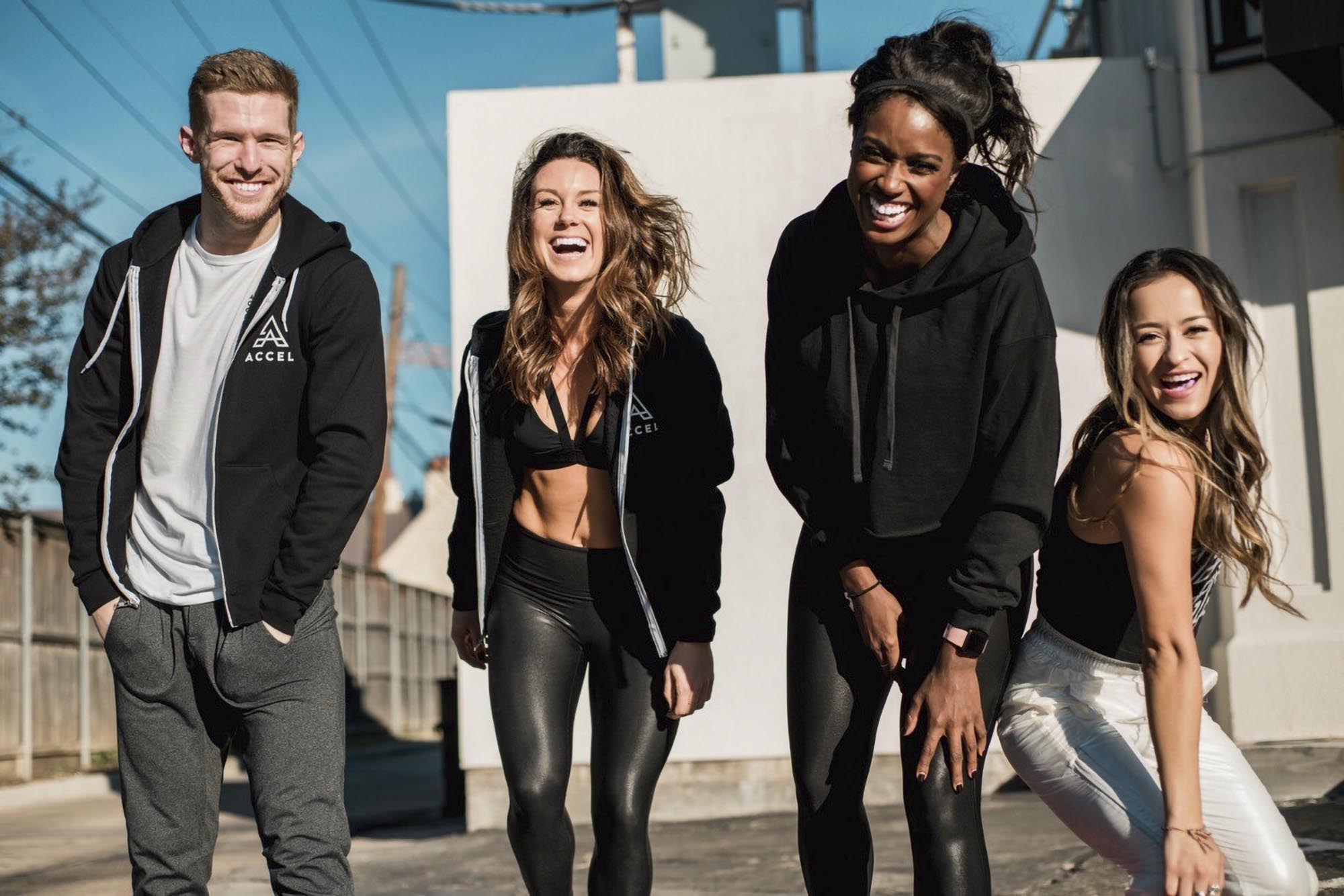 All of Accel Lifestyle's products are made in America. (Contributed photo)
Some of Eddings' fondest times on Grounds involve her former roommate, Catherine Baxter, who sadly died of cancer in 2006. "She was the sister I never had," Eddings said.
Unfortunately, tragedy struck Eddings again in 2012 when her father – with whom she was extremely close – died of a heart attack. A few years later, Eddings decided to launch Accel.
"We only get one life, we never know when it will be over, so make each day count and we all must focus on what truly fulfills us," Eddings said.
Having studied chemistry and biochemistry at UVA, Eddings had the confidence to be able to research why, exactly, her husband's clothes were smelling so badly.
"I think it is so cool that a student never can truly understand how their UVA experiences will shape and mold their future," Eddings said. "Never in a million years did I think that my science background and exposure to different cultures would give me the tools and experiences to start my own company.
"I will be forever grateful for the opportunity to be a Wahoo and I smile as I think of all of the current students whose lives will be molded and positively impacted by their UVA experiences."
Looking Ahead
Recently honored as one of the Houston Business Journal's "40 Under 40," Eddings feels a responsibility to share her experiences, especially with women.
"Inspiring others, letting them know they are not alone in their struggles, motivating, building confidence and giving advice and guidance on being an entrepreneur is what I love to do," Eddings said. "I used to shy away from focusing on being a female. I used to think if I highlight or host events just for women, then I was coming from a place of 'less than.' I did not want people to look at me as a female entrepreneur, but rather an entrepreneur.
"Then a dear friend told me that I was truly limiting myself with this mindset. People want to look at someone that looks like them and be inspired. When my mindset shifted, I embraced being a woman and I found that my talks became extremely honest about my struggles, fears, failures and wins."
Lately, there have been a lot of wins, for sure.
Long-term, Eddings has high hopes for her companies. "Our culture is, 'Think big … now think bigger,'" Eddings said.
"Quite a few [venture capitalists] and other investors have reached out over the past few months. My companies are 100% self-funded up until now, but I am excited about the possibility of strategic partnerships and investors. This will help us scale, change the world and continue to provide solutions that consumers want and need."
Even if, like Kyle, they don't realize it right away.
Article Information
May 4, 2021
/content/stank-stays-your-workout-gear-thanks-alumnas-invention