He was a sportswriter. Then he was an NBA executive. Now he is a sportswriter again.
Along the way, he became a pioneer.
Today, University of Virginia alumnus John Hollinger is considered one of the godfathers of basketball data analytics.
Some might say the 1993 grad has been to pro hoops what Oakland A's general manager Billy Beane (of "Moneyball" fame) has been to baseball.
Hollinger, who was honored with a Lifetime Achievement Award at the Sloan Sports Analytics Conference in 2018, has created several advanced metrics that are used by NBA teams and mainstream media alike.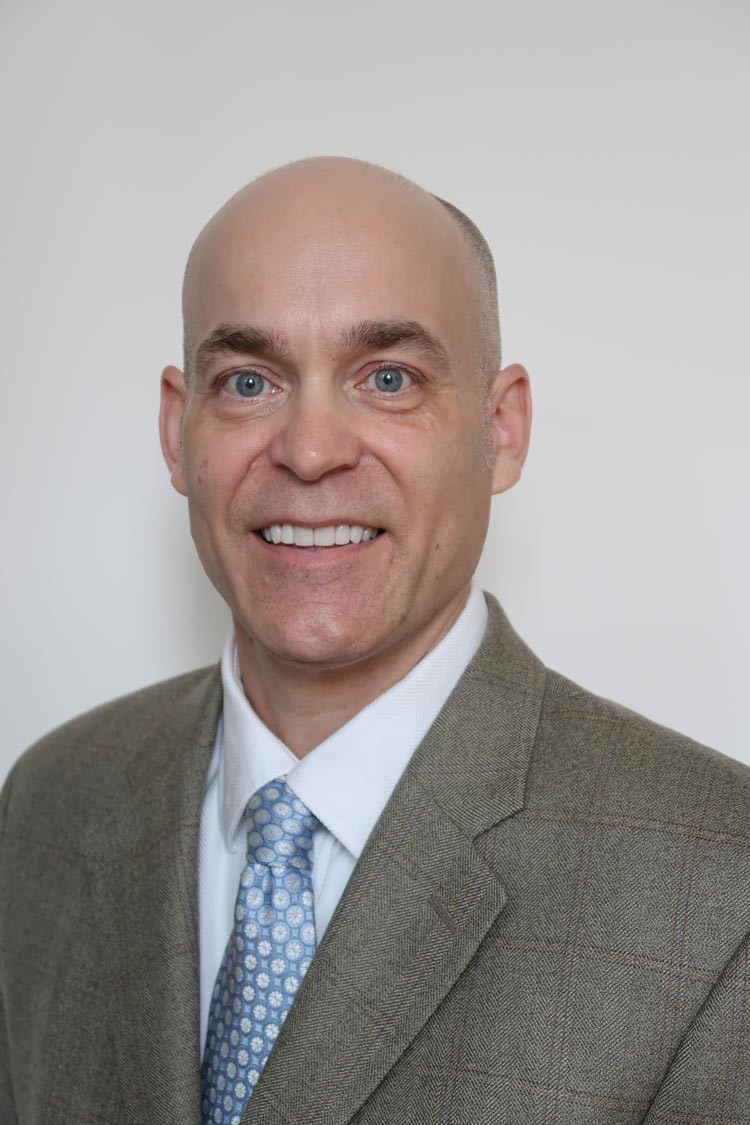 He developed his Player Efficiency Rating, or PER combining all of a player's contributions into one statistic, while working as the sports editor of OregonLive in the 1990s. Hollinger went on to work for both SI.com and ESPN.com before being hired by the NBA's Memphis Grizzlies in 2012 as the organization's vice president of basketball operations.
In September, he came full circle, returning to the media as a senior NBA columnist with The Athletic.
UVA Today caught up with Hollinger, a Mahwah, New Jersey native who now makes his home in Alpharetta, Georgia with his wife, Judy.
Q. What did you study at UVA and what were some of your most memorable courses?
A. I double-majored in economics and environmental science. Some of my favorite classes were the ones that went a little outside the box – a class that was technically environmental science, but really got into lots of land-use planning, or a class on the colonial economy that leaked heavily into history, or an engineering humanities class that talked about technological impact on civilizations. But that's life, right? Most things are really multidisciplinary.
Q. What did you think you wanted to do back then?
A. I was always massively interested in sports, as anyone who roomed with me or hung out with me at the time will tell you. I didn't have any real concept of how I might parlay that into a career, so I thought I would use my math skills in more traditional ways. 
Q. What are your fondest sports memories from your time on Grounds? Any big football or basketball games you'll always remember?
A. C'mon this is easy – we tore down the goalposts with four minutes left in the Clemson game [in 1990]! But I also really enjoyed the [Atlantic Coast Conference] games in [University Hall]. It was a smaller league then and you would see every team, and they were all good.
Q. What was your first full-time job after you graduated?
A. I worked for a consulting firm in D.C. that worked with the Department of Energy. Not a lot of basketball involved.
Q. How did you turn what sort of seemed like a hobby – coming up with these cool basketball stats – into a career?
A. Unintentionally. But basically, the Internet happened at the exact right moment for me, just as I was leaving school in the mid-'90s. One of my best friends at Virginia (Jason Titus) happened to be an expert in this area and showed me how to set up my own website, and I started putting my basketball opinions and stats on it. It was all downhill from there.
Q. Back when you invented PER, sports analytics wasn't the rage like it is now. What made you think that it had a real future?
A. I read all of Bill James' books on baseball as a kid in the 1980s, and I really wanted to do for basketball what he had done with baseball. Obviously, I had no idea it would turn into this, I was just in my 20s and playing around with basketball stats in my free time.
Q. What was it like when you first left the media to join the front office of an NBA team? Did it feel a bit strange going to the other side?
A. It was different, just because you go in with a set of assumptions about how things work and only some of those assumptions turn out to be true. In general, I think people would be surprised at all of the small things that go into operating a pro basketball team, many of which have nothing to do with basketball.
Q. What did you enjoy most about working for an NBA team and, on the flip side, what did you miss most about being a media member?
A. The best part about the team side was being able to watch all the practices, training camps and draft workouts – this was the forbidden fruit from the media side, plus those were usually a lot more enjoyable than the games.
On the media side, the nice thing is that I can speak freely! Once you work for a team, opening your mouth can get you fined or cause other trouble.
Q. What's it like now to be back in the media? Has a lot changed in seven years?
A. It has changed quite a bit, yes, and partly it's my own fault – the audience is a lot more informed and stat-savvy than it was when I first started writing for ESPN. But it's not just that. Advanced stats are commonplace and camera-tracking is going to make them even more so, while the consumption patterns of the end user have changed substantially and we have to account for that.
Q. The Athletic has burst onto the sports writing scene, gobbling up talented writers from all corners of the world. What excited you about joining them?
A. They've had a really smart strategy to fill in the niche for sports fans with the decline of daily newspapers. It was a great spot for me because they aren't trying to support a TV network or some other creation – their existence is entirely about the writing, and that's my wheelhouse. Additionally, it's a subscription site, which I see as a plus – even at ESPN, my material was usually behind a paywall, because it's the type of material that works better for serious fans than for a mass audience.   
Q. Pro hoops is obviously your expertise, but we're guessing you've kept some tabs on the UVA men's basketball team. What has impressed you most about the squad? Anything jump out or really impress you about the Hoos from a sports analytics perspective?
A. You mean the national champions? Yes, I've been following them.
Tony Bennett is an unbelievable defensive coach, and you see it regardless of how much offensive talent the team has – they always rank near the very best in college hoops in defensive rating, and that's a tribute to his system and his teaching.
Q. Is it cool to see all these former Hoos like Malcolm Brogdon and Joe Harris and De'Andre Hunter doing so well in the NBA?
A. Yes. I always attribute it to their great education! (Staffers with the Grizzlies actually grew sick of hearing me say this.) And don't forget about Ty Jerome, Mike Scott and Kyle Guy.
Q. We're guessing your interest would have been piqued if UVA's new School of Data Science had been in existence back when you were a student.
A. Oh, absolutely. I was very intrigued when I saw that was happening and would have made a beeline for it had it existed when I was on Grounds.
Q. Any advice for UVA students who are thinking about a career in data analytics?
A. The same thing I tell aspiring writers: Find your niche. Find something that you can do that nobody else is doing. In my case, at the time, it was basketball analytics. For other people at other times, it's something else.
Q. How much of an impact has attending UVA had on your life?
A. It's hard to know without a sliding doors moment where I go to some inferior school, but I'd say pretty huge – I met a ton of great people, made lifelong friends, was exposed to a new part of the country and developed the skills that made this career possible.
Article Information
December 23, 2019
/content/stat-man-alumnus-became-basketball-analytics-pioneer