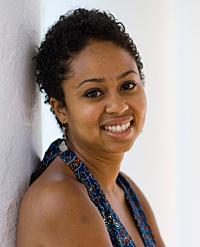 May 10, 2010 — From helping establish an African Studies minor to organizing a human rights film festival, Stephanie de Wolfe, who graduates May 23, has been a well-rounded leader at the University of Virginia.
Her other activities have included helping plan the Bill T. Jones arts residency in fall 2008 and performing community service in Charlottesville and Cameroon.
An African-American and African studies major in the Political and Social Thought Program, de Wolfe, whose mother is Togolese and whose father is American, grew up in several places in Africa, spending much of her time in Dakar, Senegal. Her diverse interests led her to minor in public health.
"Grant writing and programming, as well as food security and agriculture, are areas in the public health field that most interest me now," she said.
She drew on these studies in writing her senior thesis.
"It was about the relationship of the corporate food industry and the high and rising rates of diet-related chronic illnesses in America (obesity, pre-diabetes, diabetes and others – what I called 'the Western Diet Epidemic')," she wrote recently. "In particular, I explored the various ways that the food industry creates an atmosphere that enhances risk for these illnesses, and the public health implications of this connection – a few hundred million Americans suffer from at least one form of diet-related chronic illness."
Besides focusing on America, she got the chance to work on a clean-water project in Africa.
"The summer of my first year I was a Center for Global Health Scholar with a team of engineers," de Wolfe said. "We spent the whole summer in Tourou, Cameroon, an arid region of the country. Our team split up and worked on a few different projects, and my focus was mainly studying water sanitation and working with the community to help develop basic, pragmatic ways they could treat their water.
"It was one of the most formative experiences I have had yet, and has definitely guided my career and academic interests."
Early on at U.Va., she joined the Organization of African Students, which was working on a new project called the African Studies Initiative. One of the group's efforts was a campaign to establish an African studies minor. 
The program was finally approved in spring 2007, at the end of her first year. The student who led the initiative graduated, and de Wolfe stepped into the role and organized other activities in the following two years.
"Stephanie assumed leadership of the organization," said Cynthia Hoehler-Fatton, adviser and director of the African-American and African studies undergraduate program. "In that capacity, she helped put together the film festival on human rights in the fall of 2007, a trip to the Smithsonian Museum of African Art for interested students in spring 2008, and most recently created the African Studies Forum."
The African Studies Forum presented bimonthly interdisciplinary lectures and discussions about Africa, past and present. 
"Since our time here is so short, it is important for me to know that the African Studies Forum and the Human Rights Film Festival are institutionalized and will continue to engage students regardless of my involvement," de Wolfe said.
She has also made an impact on developing arts events at the University, planning and participating in the Bill T. Jones Arts Residency. Jones, along with his Bill T. Jones/Arnie Zane Dance Company, conducted a workshop and, with students and community members, put on an original performance at the University in November 2008.
A 1994 MacArthur Fellow, Jones has garnered an international reputation as one of the most innovative leaders in the performing arts world.
"Given how early I became involved in the planning, I didn't know what to expect and I was thrilled by the general community response," de Wolfe said. "We brought groups from all walks of life in Charlottesville together for a series of events, and everybody I talked to was sincerely interested.
"We tied this choreography into history and literature, into the social context of the South and into the practical application of the work. I think the event really challenged the community to see that the arts are just as relevant, fascinating and stimulating as other disciplines," she said.
She further reached out to the local community by joining the Quality Community Council, a citizen-driven coalition created in 1999 to improve the quality of life in Charlottesville's most challenged neighborhoods. She called it "one of the most insightful and meaningful of my commitments."
"Ultimately, I've enjoyed making connections with people from various backgrounds both in and outside of the University," de Wolfe said. "I have really enjoyed chances to collaborate with others in the community to foster opportunities of learning and exchange."
De Wolfe wants to put all these experiences to work in community health in Africa or for a non-governmental organization.
She plans to stick around for a few months on this continent first.
"I hope to find an internship for the fall in the U.S. before going back in January," she said. "Going back" means back to Mali, where her mother lives.
"She has exercised exceptional leadership throughout her four years here, and I'm sure she will continue to do so in the future," Hoehler-Fatton said.
— By Anne Bromley