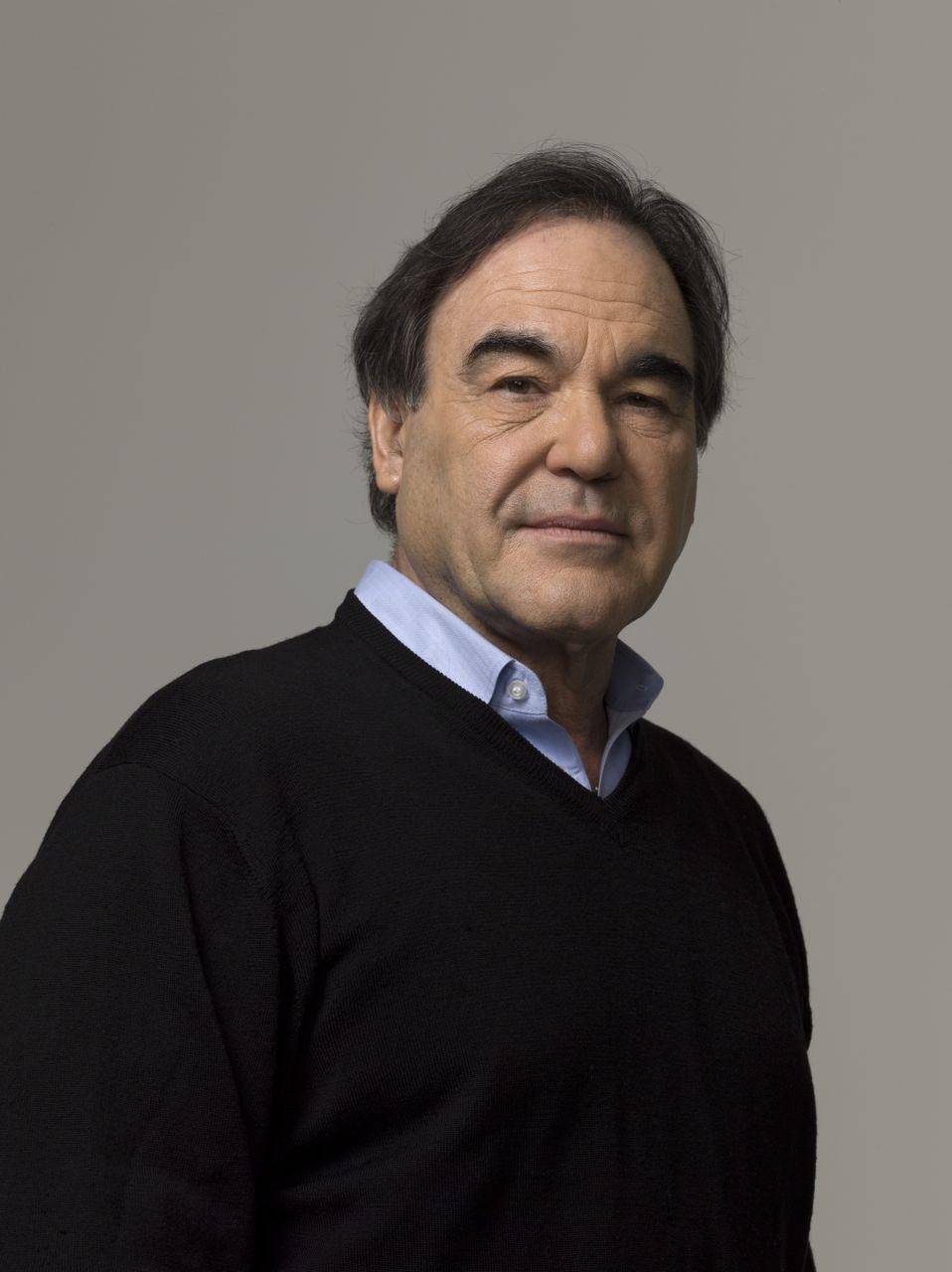 October 5, 2011 — The Virginia Film Festival returns for its 24th year from Nov. 3-6, featuring a lineup of more than 100 films and a long list of special guests.
The festival is presented by the University of Virginia's College and Graduate School of Arts & Sciences.
Coming off its most successful year, the festival will feature four days of movie magic, kicked off with a special opening night screening of Alexander Payne's "The Descendants," which stars George Clooney. The film is one of many in the festival that have been earning buzz at major festivals this season, including the much talked-about silent film, "The Artist"; the chilling psychological thriller, "We Need to Talk About Kevin"; David Cronenberg's latest, "A Dangerous Method"; the creative political satire, "Butter"; and others.
 
This year's festival will bring an array of special guests to Charlottesville:
•    Legendary director Oliver Stone will present and discuss his Academy Award- winning "JFK" in a special discussion with Larry J. Sabato, director of the U.Va. Center for Politics.
•    Academy Award-winning actress Sissy Spacek and her husband, the art director Jack Fisk, will present a restored print of the classic "Badlands," as part of a special series presented in collaboration with the Library of Congress and Turner Classic Movies.
•    The new film "Albert Nobbs," which stars Glenn Close, will be presented by Mia Wasikowska, who starred as Alice in Tim Burton's "Alice in Wonderland" and won raves for her performance in "The Kids Are All Right," director Rodrigo Garcia and the film's producers, U.Va. graduate Julie Lynn and Bonnie Curtis.
•    Publishing magnate Larry Flynt will return to Charlottesville to present a 15th anniversary screening of his Academy Award-nominated film "The People vs. Larry Flynt," and will participate in a discussion presented by the Thomas Jefferson Center for the Protection of Free Expression.
•    Actress and comedian Rachael Harris, who stars in "Natural Selection," the breakout film at this year's South by Southwest Film Festival, will appear with the director, Robbie Pickering. Harris, a veteran of L.A.'s Groundlings troupe, was the difficult girlfriend of Ed Helms' character in "The Hangover." Film historian and television personality Ben Mankiewicz, host of Turner Classic Movies, will present a collection of classics under the heading "Turner Classic Movies and The Library of Congress Celebrate the National Film Registry."
Other featured guests will include producer and U.Va. alumnus Paul Junger Witt, who will present his latest film, "A Better Life"; family farmer, author and activist Joel Salatin (appearing with the film "Farmageddon"); and colorful chef and school food reformer Tony Geraci (appearing with the film "Cafeteria Man").
"This year I am particularly excited by the fact that our guests represent so many aspects of Hollywood as well as of American culture and history," festival director Jody Kielbasa said.
With the festival coming off a year in which it topped all-time attendance and box office records by some 25 percent, Kielbasa said this year's schedule will present some great options and tough choices.
"When you are talking about more than 100 films and so many interesting panel discussions and events over the course of only four days, it is virtually impossible to see everything you want to see at the festival," he said. "But on the other hand, there is such a rich and diverse range of offerings that I think people really enjoy creating their own unique festival experiences, and in the process, get excited about coming back year after year."
Opening Night Film: "The Descendants" – Alexander Payne's story of an uninvolved dad forced by a tragic accident into a new level of engagement that sends him toward discoveries he never could have imagined.
Centerpiece Film: "Albert Nobbs" – Glenn Close stars as the title character in Rodrigo Garcia's tale of a 19th-century Irish woman who hatches a plan to dress like a man in order to make her way in the world and get a job as a butler, a role she originated onstage in 1982.
Closing Night Film: "Thin Ice" – Oscar nominee Greg Kinnear is a slick-talking salesman determined to use his powers of persuasion to engineer an elaborate con and change his life, until he meets up with a mysterious man who more than challenges him at his own game.
Spotlight Films
•    "The Artist" – A creative and ambitious new silent film from French filmmaker Michael Hazanavicius traces the fall of a prominent silent film star in 1927, just as 'talkies' change moviemaking forever.
•    "A Dangerous Method" – Writer and director David Cronenberg's latest film takes a look inside the complicated intellectual love triangle that included Karl Jung, Sigmund Freud and the woman whose role in their lives had fascinating and lasting consequences for modern psychotherapy.
•    "We Need to Talk About Kevin" – Tilda Swinton stars in this tale of a mother's quest to understand the reasons behind her 15- year-old son's school killing spree and what responsibility she bears for the events.
•    "Melancholia" – A bride's plans spin wildly out of control just as a far greater danger threatens existence itself in Lars von Trier's film, which earned Kirsten Dunst top acting honors at Cannes.
•    "Martha Marcy May Marlene" – Elizabeth Olsen is earning raves for her performance as a young girl looking to reconnect with her family after escaping a cult.
•    "Butter" – Jennifer Garner stars as the scorned but determined wife of a retiring champion butter carver, played by Hugh Jackman, who vows to carry on the family's championship tradition rather than ceding the stage to a young African-American upstart in this political satire from director Jim Field Smith.
•    "JFK," featuring Oliver Stone, presented in association with the U.Va. Center for Politics – Stone will present a 20th-anniversary screening of his famed 1991 film, then will join Larry Sabato, U.Va. Commonwealth Professor of politics and director of the Center for Politics, for a discussion. 
•    "The People Vs. Larry Flynt," 15th anniversary screening – In 1997, Flynt appeared at the Virginia Film Festival for a screening of Milos Forman's "The People vs. Larry Flynt." The self-described "pornographer, pundit and social outcast" was in town for a conference with the late Rev. Jerry Falwell, his longtime legal and ideological adversary, to discuss the 10th anniversary of the landmark Supreme Court case that would forever link their names in First Amendment history. The organizer of the conference, the Thomas Jefferson Center for the Protection of Free Expression, has again arranged for Flynt to visit Charlottesville for another screening and a discussion of his First Amendment battles. 
•    "Badlands," with Sissy Spacek and Jack Fisk – Charlottesville's Oscar-winning actress Spacek and her husband, Fisk, will screen and discuss the 1973 Terence Malick classic "Badlands," the film on which they first met.
•    "Cafeteria Man" – Childhood obesity is near the top of the priority list for school systems across the country. "Cafeteria Man" is the story of chef Tony Geraci, who combines his culinary talent with his own passion for the issue by spearheading the "greening" of the Baltimore city schools' menu. He will share in a discussion with area school and health officials.
Turner Classic Movies, Library of Congress Celebrate the National Film Registry
The Virginia Film Festival will participate in a partnership with the Library of Congress and Turner Classic Movies to highlight films on the National Film Registry.
"This is a project we have been working on for the better part of a year," Kielbasa said. "We are thrilled and honored to partner with both the Library of Congress and Turner Classic Movies to highlight these films that have been chosen for their cultural and historical significance to be part of the National Film Registry.
"It also allows us to celebrate the extraordinary preservation work being done by the Library of Congress right up the road in Culpeper, work that is showcased in the fascinating and important film, 'These Amazing Shadows.' This is a great opportunity for film lovers to see these cultural treasures as they were intended to be seen, in beautifully restored and preserved 35-millimeter prints."
The series will include:
•    "Badlands" (1973) – Featuring Sissy Spacek and Jack Fisk
•    "The General" (1926) – 85th anniversary screening featuring live musical accompaniment by Matt Marshall and the Reel Music Ensemble
•    "National Velvet" (1944) – Showcase film of Virginia Film Festival Family Day
•    "McCabe and Mrs. Miller" (1971) – 40th anniversary screening
•    "The Treasure of the Sierra Madre" (1944) – Preserved in-house at the National Audiovisual Conversation Center at the Library of Congress Packard Campus
45th Anniversary Celebration of Kartemquin Films, Featuring "A Good Man"
The festival will celebrate the founding of Kartemquin Films with a series of screenings, including "A Good Man." The film highlights "100 Migrations,"choreographer Bill T. Jones' Abraham Lincoln-inspired research, dance workshop and performance at U.Va. in 2008. Kartemquin's "100 Migrations," will also be shown.
"Over its remarkable history, Kartemquin has captured the heart and soul of American society in ways few others have ever done," Kielbasa said, "addressing issues ranging from the struggles faced by inner-city youth to those faced by soldiers returning from battle and others seeking workers' rights, to name just a few.
The screening and post-film discussion about "A Good Man" will be shared in a live broadcast to Virginia Tech as part of the 4VA Program. The live broadcast was initiated and organized by the Virginia Film Festival, the U.Va.'s Department of Drama and the Office of the Vice President and Chief Information Officer. 4VA uses state funds and technology donated by Cisco to link the campuses of the University of Virginia, Virginia Tech, James Madison University and George Mason University.
Jones and the Bill T. Jones/Arne Zane Dance Company return to U.Va. Nov. 6-11 for a weeklong residency co-sponsored by the Office of the Vice Provost for the Arts, U.Va. Department of Drama, U.Va. Arts Council and the Office of the Vice President for Research.
The film festival will also welcome Kartemquin co-founder Gordon Quinn, along with documentary filmmaker Steve James ("Hoop Dreams"), for a series of six full-length documentaries and three short films. They will include James' "The Interrupters," which takes a fascinating look at the extreme interventional steps being made by some in inner-city Chicago to help stem the tide of youth violence.
"The Loving Story"
"Fascinating documentaries have long been at the heart of the Virginia Film Festival experience, and this year is no exception," Kielbasa said. "Among this year's highlights are 'The Loving Story,' which chronicles the tale of Richard and Mildred Loving, the Virginia interracial couple who in the 1960s took their battle for acceptance all the way to the Supreme Court, and changed history in the process."
The film will be followed by a panel discussion organized by the Virginia Foundation for the Humanities. "The Loving Story" will also be screened for local schoolchildren at the Martin Luther King Performing Arts Center.
Food On Film
"From the explosion of cooking-themed TV programming to the serious issues of health, nutrition and sustainability," Kielbasa said, "it's clear that food is now a major ingredient in our cultural consumption. We decided to explore that a little further this year with a series of films that explore food-related issues around the world, and quite literally right in our own backyard."
This series will include:
•    "El Bulli: Cooking in Progress" – A look behind the scenes as one of the world's most famous restaurants shuts down for its annual tasting and testing process, which results in its highly anticipated menu.
•    "Cafeteria Man" – Chronicling the revolutionary efforts of New Orleans-born chef Tony Geraci to "green" the menu of Baltimore City Schools.
•    "Farmageddon" – The story of how small family farms are facing significant economic and bureaucratic hurdles in their attempts to provide safe and healthy foods. The film will be accompanied by a panel discussion featuring internationally renowned family farmer, author and activist Joel Salatin.
•    "Growing Up Cason" – The film tells the story of one of Albemarle County's most prominent, and colorful, farming families.
Focus on Israel
The festival has partnered with representatives from the Embassy of Israel and Charlottesville's Congregation Beth Israel to program a series celebrating that nation's outstanding film scene.
The films will include "Human Resources Manager," a black comedy (and winner of three Israeli Academy Awards) about one man's transcontinental search for redemption after he is blamed for the death of a co-worker; "Infiltration," military drama set just after the nation's War of Independence that follows one platoon's struggles at training camp; "Restoration," an official Toronto Film Festival selection about a man's herculean efforts to hold onto the antique restoration shop that has been his life's work; and "2-Night," an atypical love story of a couple whose relationship is launched during the search for a parking space.
The series will be grouped with a quartet of films focusing on Jewish themes and culture. They include "David," a cultural coming-of-age story of an 11-year-old Muslim boy caught between cultural and family expectations and a group of Jewish boys he befriends. Other films in this series will include "Klezmatics: On Holy Ground," "La Rafle" and "In Darkness" (Poland's Oscar entry for Best Foreign Film this year).
Documentaries
Other highlight documentaries at the festival this year will include:
•    "Page One: Inside the New York Times," a look into the newsroom of the New York Times, featuring one of the film's primary subjects, Brian Stelter.
•    "!Women Art Revolution," Lynne Hershman-Leeson's look at how the feminist art movement transformed our culture and our times.
•    "El Sicario: Room 164," the story of a double-dealing Mexican hit man employed both by a powerful cartel and by the police.
•    "Elevate," the story of young Senegalese men trying to achieve their college hoop dreams here in America, including U.Va. basketball player Assane Sene, who will be on hand to discuss the film and his experiences.
•    "Armadillo," highlighting the growing cynicism and adrenaline addiction of a group of  Danish soldiers in Afghanistan.
Spotlight on Virginia Filmmakers

Again this year, the festival will showcase the work of Virginia filmmakers in a series that will include short films and features.
"Each year I am more and more impressed by the quality and the depth of the filmmaking talent right here in our own backyard," Kielbasa said. "Last year's screening of 'The Parking Lot Movie' was one of the highlights of the entire festival, and we are excited to share the work of a number of terrific Virginia filmmakers this year, highlighted by a program of short films by Kevin Everson, whose recent installation at the Whitney in New York won a rave from the New York Times, among others."
World Visions – Foreign Films
In addition to Poland's "In Darkness," this year's crop of foreign films is highlighted by Hungary's "The Turin Horse" and Greece's "Attenberg," two more award-winning features submitted by their respective countries for Best Foreign Film consideration at the Oscars next year. Other foreign films include:
•    "Salt of Life" (Italy)
•    "3" by Tom Tykwer (Germany)
•    "Curling" (Canada)
•    "Family Instinct" (Latvia)
•    "King of Devil's Island" (Norway)
•    "The Monk" (France)
•    "The Nine Muses (Ghana/UK)
•    "Tyrannosaur" (UK)
Family Day
The festival renews one of its fastest-growing traditions on Nov. 5. The series of events, which regularly draws thousands to the Downtown Mall, will feature an array of free activities for all ages, highlighted by a Paramount Theater screening of the family classic "National Velvet," starring the young Elizabeth Taylor.
On the mall, children will again be treated to their own "Red Carpet Walk"; debuts of films by members of the Young Filmmakers Academy and Light House Studio; healthy snack tastings from Whole Foods; Story Time with live readings of favorite children's books; live music and entertainment throughout the day on the Family Festival stage outside the Main Street Arena; and more.
Digital Media Gallery, Coming to a Building Near You

After two years of commandeering Downtown Mall storefront spaces to show a variety of experimental films by student filmmakers from U.Va. and throughout the area, the festival will take this feature to the great outdoors. This year, these films will be projected onto buildings both on the Downtown Mall and on the University's Arts Grounds.
"This has been a great opportunity for us to share the festival with the community, and we had more than 2,000 people come through our doors last year," Kielbasa said. "This year, we were looking to expand upon that creatively while reaching an even larger audience."
The Digital Media Gallery projections will debut Oct. 28 as part of the monthly "Fourth Fridays" festivities.
Adrenaline Film Project
In the Adrenaline Film Project, a festival staple since 2004, Charlottesville native Jeff Wadlow and other mentors from the industry will offer guidance to teams of local filmmakers, who will pitch, write, shoot, edit and screen a film in just 72 hours.
The event will culminate in a competitive screening Nov. 5 at 10 p.m. in U.Va.'s Culbreth Theatre, followed by a reprise screening the next morning at the Regal Cinemas downtown.
Parties and Events
The festival plans plenty of opportunities to share in celebrating throughout the weekend.
•    The Opening Night Gala: Nov. 3, 9 p.m., Alumni Hall
The kickoff celebration, which will follow the opening-night screening of "The Descendants," will feature a celebration of Old Hollywood, and include beverages, light buffet refreshments and live music, and the opportunity to mingle with friends and festival guests. Tickets are $75 per person.
•    Late Night Wrap Party – Nov. 5, 10 p.m., Main Street Arena
The Virginia Film Festival goes to Bollywood in this themed event at the Main Street Arena on the Downtown Mall. Tickets are $35.
Additional premieres and special guests will be announced in coming weeks.
For the full schedule and more information, visit here. Tickets will go on sale Oct. 7 via the festival website, at the U.Va. Arts Box Office at Culbreth Theatre, and by calling 434-924-3376. 
The premiere sponsors for the festival are Acura, The A/V Company, Regal Entertainment Group and the Virginia Film Office.