With a global pandemic, nationwide protests of police brutality and racism and an upcoming presidential election, the 2020 news cycle has not let up – especially for those working in the journalism field.
Right in the middle of the tempest have been four University of Virginia alumni, bringing news to millions of Americans.
Every Sunday morning, Margaret Brennan, Mary Hager and Olivia Rinaldi each play their part in CBS News' "Face the Nation," one of the longest-running programs in the history of American television.
Brennan, a 2002 alumna from Danbury, Connecticut, has served as the show's moderator since taking over for UVA alumnus John Dickerson in 2018. Hager, a 1987 alumna who grew up in the San Francisco Bay area and has been at CBS for nearly three decades, serves as executive producer. Rinaldi, from Northern Virginia, joined the 13-member team as a broadcast associate after graduating from UVA in 2019.
Tim Perry, a 2013 alumnus who hails from Bowie, Maryland, worked on the Emmy Award-winning program for nearly three years before transitioning to become a CBS News campaign reporter in 2019.
The quartet's bond to their alma mater is strong. Perry says he still thinks daily about two courses he took; Rinaldi celebrated the men's basketball team's national championship on the Corner; Hager has a long-standing tailgate at football games with former classmates; and Brennan's husband proposed on the Lawn.
Recently, "Face the Nation" – which began covering the coronavirus outbreak in January, well before many of its competitors – earned its best viewership in nearly three decades.
UVA Today caught up with Brennan, Hager, Rinaldi and Perry for a wide-ranging Q&A.
Q. During these times, what kind of challenges have you faced in putting the show together? 
Hager: I almost don't know where to begin. We are a collaborative broadcast. One person's thought can bounce off someone else and then turn into a brilliant guest idea and in turn, a really important segment. Doing that over Zoom, or on a conference bridge, is really tough. People talk over each other. Some feel that their voice isn't important, so it's really important to encourage everyone to weigh in and speak up. We are a small editorial team – 13 people – so everyone brings an important part to the broadcast. There's a larger team of technical and production staff who work on the show, too. Everyone is affected by this virus; we are all in this together and we're also tasked at making sure that everyone's doing OK. How are they holding up? Who needs a break? How are people's families and friends doing? What do they need?
As an EP, along with Margaret, we worry about health of our staff. Can someone work from home? Who do we really need to come in? It is so hard to put the show together with all the news and the challenges of not being able to access video and the same information that we can when we're physically in the bureau – it just makes all of our regular routines twice as hard. Then add the staggering load of life-and-death news and wow, it's a lot.
When we talk about show ideas and what we think is important, it is really difficult to say we just don't have time for this particular story or segment. Winnowing down, fine-tuning, doing a mental check of all the news that's out there and making sure we've worked in, in some capacity, what we think is important for our viewers to know and what is new and different that can answer questions they have, is the biggest challenge.
One thing that has not been a challenge: finding content or guests for the broadcast. We've gone outside our normal guest Rolodex of politicians and newsmakers. We're really trying to find the best voices in science, medicine, the economy and industry to help inform us, and our viewers. People are craving information – not spin, not talking points. They want to hear ways to fix and improve the problems in the country, not who's to blame. 
Brennan: TV is a team sport and the logistics are challenging when most of us are working at a distance. Guests are mostly remote and not in person; that is less personal and conversational than a face-to-face conversation. But I think the most challenging thing for all of us is experiencing the story that we're all covering. This is not at a distance. We're all keenly aware of the health and financial risks that come with this virus.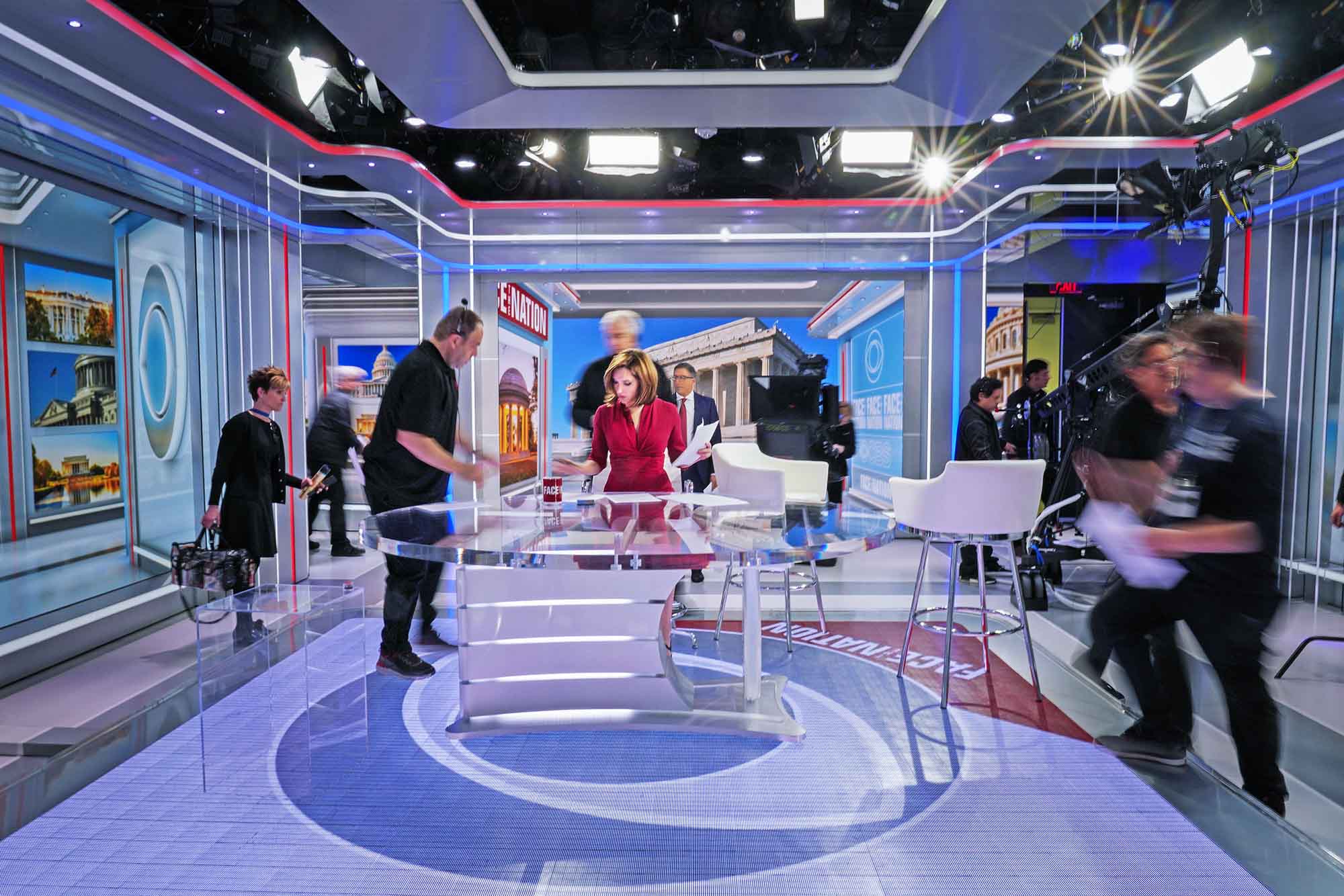 Margaret Brennan has served as moderator since taking over for fellow Hoo John Dickerson in 2018. (Photo by Chris Usher, CBS News)
Rinaldi: No one could have planned for a pandemic, but if there is one thing I've learned from watching us uproot our entire production process in the last few months, it's that TV news is incredibly adaptable. CBS was one of the first major news organizations to have a COVID outbreak in our New York bureau, so [the] D.C. [bureau] had to step up to the plate in a lot of ways to get the news on air every evening.
As for our show, we've entirely transitioned to working from home except for Sundays. It's still an adjustment, especially heading into the fall, where we don't know how this pandemic will flare back up. It's hard to not have our team together in person to have editorial discussions, but I'm always happy to see them on Sunday. 
Perry: I don't work on a show, so I won't speak on the challenges of putting one on during the age of COVID. Reporting from home has its challenges, though. While I can always speak to sources on the phone or over Zoom, it's hard to put a face on a story if I can't have those organic, face-to-face conversations with people as we could on the campaign trail. Those conversations are so valuable.
To be clear, I'm not just talking about voters at campaign events either. Uber drivers, waiters and waitresses, bartenders – you name it. Everyone has an opinion on this election. I was very lucky to come into contact with so many people who were so open to voicing their concerns, their thoughts, their fears and their stories. All of those people unknowingly made me a much better journalist and a more rounded person.
Q. Margaret and Mary, how has the broadcast news industry changed since you first began?
Brennan: It continues to change as we adapt to a digital landscape. I cannot remember a time in which TV was more influential, in terms of affecting the presidency and policy on a daily basis. Yet faith in our institutions has waned and that includes the Fourth Estate. Broadly speaking, information has become more and more democratized, which has its pluses and minuses. I think the need for context and perspective is more important than ever, but also harder to find. We try to provide that on Sundays. 
Hager: I think cable news has accounted for the biggest change in broadcast news since the early '90s. With the rise of cable, news gets old fast. You have to keep up – we've gone from a morning deadline with the morning news programs, then the evening news deadline. Now with cable, it's more competitive keeping on top of the news, and Twitter has made news coverage – and the ability to report something – even more instantaneous.
The downside of the ability to get news out instantly is that there is often not time to fact-check, or the length of time and space needed to give the news context. You can report something happened, but you still need the ability to explain why it's important and what the event means. Bring in the broadcast news networks; we still take, and have, the time to slow down and report what happened and tell and show viewers what they need to know, particularly on "Face the Nation."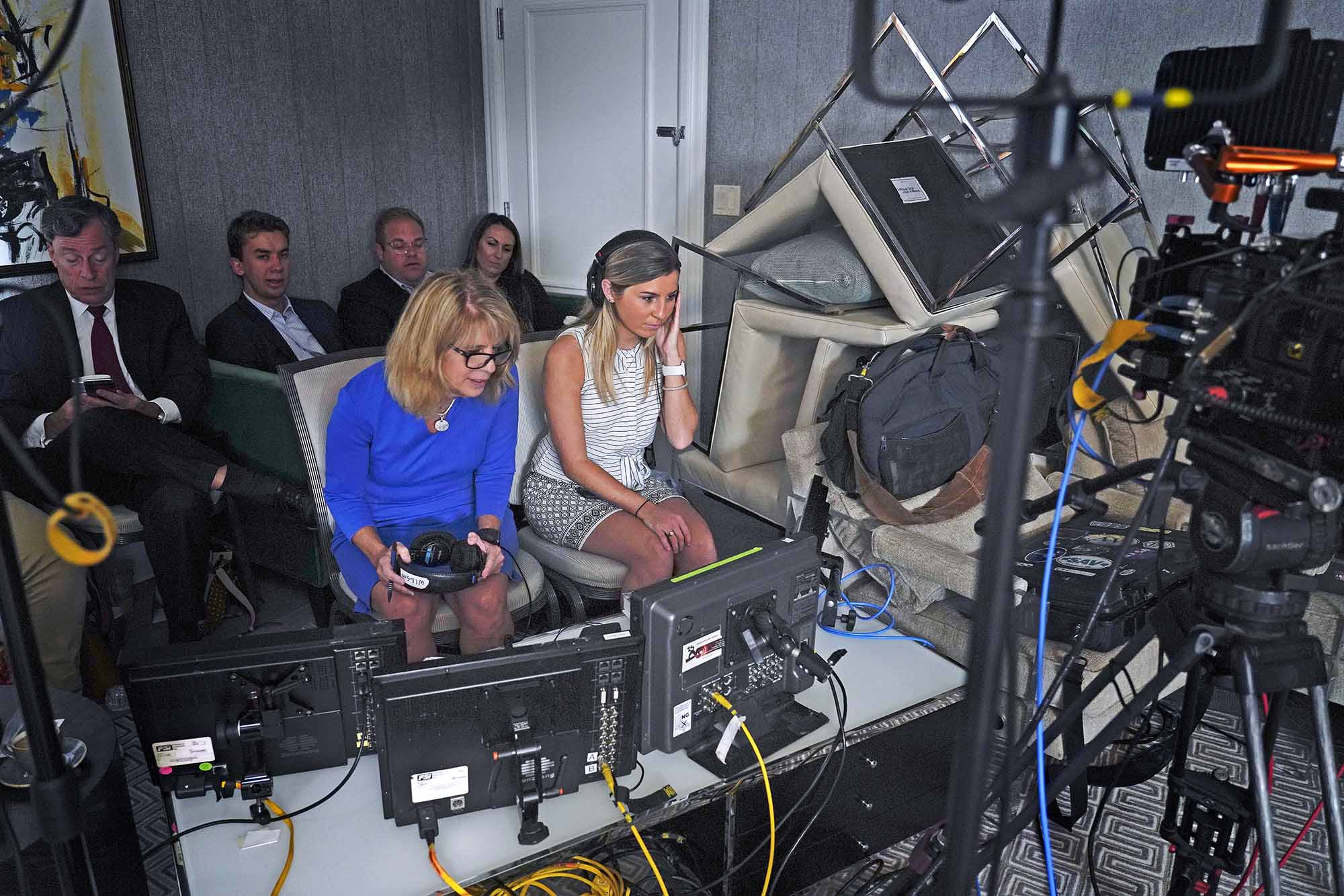 Mary Hager, left, has served as a mentor for Rinaldi, a 2019 alumna. (Photo by Chris Usher, CBS News)
Q. What have been some of the most impactful stories you've worked on?
Perry: Covering the Georgia primary was for sure one of my most memorable. I won't get into the details of why that primary went so poorly – and poorly is putting it nicely – but the implications are so important. For one, most of the problems occurred in areas that overwhelmingly had Black voters. But secondly, how is the state going about fixing these problems, so that things will run smoother in November? Turnout in June during the primary was big. November will certainly be bigger.
Rinaldi: As a student, I wrote about Heather Heyer's vigil in Charlottesville after the Unite the Right rally in 2017 for the Cavalier Daily. I went downtown to the scene of the attack after a previously scheduled vigil at the Rotunda was canceled due to threats. Her friends and family were all there and this sort of impromptu service unfolded. I sat for hours listening to them speak about Heather. The gravity of the situation was intense and there was such a devastating sense of loss in the air. It was one of the more challenging pieces I've had to write. I had never written an obituary-style piece, much less one after such a tragic day in our country. 
Brennan: In 2013, I was a State Department correspondent traveling with John Kerry as he tried to build up international support for a limited U.S. military strike on the Assad regime for using chemical weapons on Syrian civilians. We knew President Obama was reluctant to take the strike and Assad was trying to avoid one.  
At a press conference in London, I decided to test for any diplomatic opening and pointedly asked if there was anything that Assad could do to avoid a strike. That's when Kerry floated the idea of Assad turning over his chemical weapons within a week, but then quickly said it was not going to happen. By the time we'd landed back in the U.S., the Russians had seized the opportunity to help their ally Assad, and he accepted the idea of turning over at least some of his stockpile. Kerry wrote about it in his memoir as essentially a massive policy that grew out of a simple question.
Tragically, we know that Assad did not stop butchering civilians and using chemicals.
Witnessing loss firsthand is also very difficult and those stories stay with you. I think of the Sandy Hook elementary school shooting and interviewing the families of those held hostage by ISIS as examples. That pain is visceral and you feel personally responsible for telling their stories in a way that does justice to their loss.
Hager: I've covered every presidential campaign since 1992, in all sorts of roles – as the researcher, as the field producer, as the "embed" (although we called ourselves the "kids on the bus" on the Dole campaign, and primarily communicated by dictating text pages through our pagers). I've been backstage as an editorial producer at our CBS 2016 primary debates, moderated by then-["Face the Nation"] host John Dickerson. I worked with Bob Schieffer on two of his general election Presidential Commission debates, I spent six weeks working out of a Winnebago with 20 CBS colleagues for the 2000 recount behind the Florida State Capitol in Tallahassee. I field produced at the Pentagon on 9/11, and covered the terrorist attack on the USS Cole in 2000, spending time with family members of those who were killed. That was particularly impactful – I often think of those families and wonder how they've fared over the years. Both Sandy Hook and Parkland happened while I was at "Face the Nation," as well as several other horrific mass shootings (Charleston, Las Vegas, Pulse nightclub); the victims and the families, particularly those who appeared on the show, stay with me, too.
COVID-19 has been the most impactful, because it literally stopped the world in its tracks. There are so many layers to this story. It's bringing all of America's flaws and weaknesses front and center – disparity in income and economic means, racial inequality, the devastating health impact of the virus, and also the flaws in our leadership. Since graduation and my first exposure to politics, the divide between the two parties and now throughout the country has gotten so personal, so intense, I don't know how we're going to heal and recover as a nation once there's a vaccine and the virus is under control.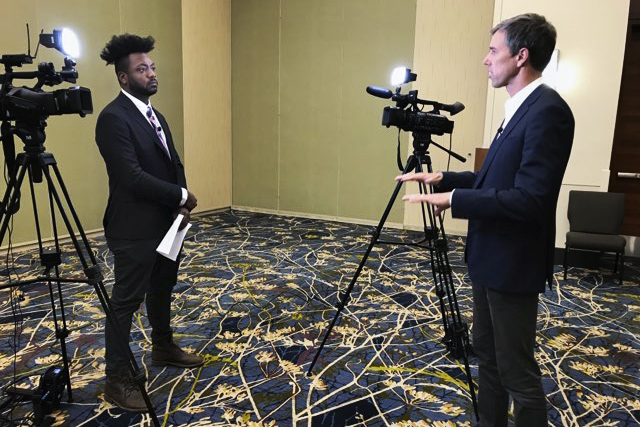 Perry, shown here with presidential hopeful Beto O'Rourke, was an embedded reporter on several different presidential primary campaigns. (Photo courtesy of Tim Perry)
Q. What's driving the editorial process during a global pandemic, a time of unrest like this country hasn't seen in awhile and an election year? And in that regard, how do you make sure you're being fair and balanced in your coverage?
Brennan: We're focused on getting facts. People are craving that in this time of uncertainty. This is personal for people who are concerned about their health, their financial stability, their job, their future and their children. I try to be equally challenging to all of those in a position of power.
Hager: Once it became obvious that COVID was going to be huge, early this year, Margaret and I made the decision to suspend our political panels and treat the story, and our coverage, as "just the facts." People were, and still are, so hungry for information. We're committed to giving it to them. We refer to the broadcast sometimes as an "hour-long public service announcement," but it's true.
The COVID story has changed and the challenges stemming from it continue to grow. First off, it was a mysterious virus (and still is) that's killing people. Then it was clear that with shutdowns, the economy was declining, so enter the economic turmoil as another "pillar" of the virus. We focused on two things: health and economy.
But then it became clear that the virus had exposed the weakness with America: that minorities were hit harder, both with the impact of the disease and with unemployment. Politics entered as the administration started moving toward reopening the economy – red-state governors followed the president's lead.
On top of that, Memorial Day weekend marked a crucial milestone – the horrific video of George Floyd being kneed to the neck by a white policeman was recorded and the country just erupted. 
We have changed our focus. It's not analysis-based; it's not "one Democrat and one Republican on a particular issue" – it's a look at the issues, the facts, the information you need to make decisions.
Coming up next, the presidential election – not just the "Who's going to win the most electoral votes?," but "How in the world are people GOING to vote in the middle of a pandemic?" That's the fourth pillar of 2020 – and it's going to be a mess, and an enormous challenge covering it. 
Perry: At the risk of contradicting my last answer, I think it's more important now than ever to speak to as many people as you can before writing a story. In my opinion, that will always keep you honest. The more people who are challenging what I originally believed to be true going into a story, the better I feel when I begin writing.
Rinaldi: This is a momentous time in this country, and we still come into every week asking ourselves what is going to be the most important information for viewers to know on Sunday morning. Sometimes there aren't two sides to a story. I mean that by saying the coronavirus doesn't care about your age, religion, or political party. There's just the fact that it's a harmful and deadly virus.
It was overwhelming at first, because it was a completely beyond the realm of anything we had covered before. We had to tap into a whole new group of sources who could help us make sense of this virus and tell our viewers how to stay safe. We've done a tremendous job sticking to our roots as a public affairs program in educating our viewers on this, hopefully, once-in-a-lifetime story. 
Q. Tim, what was it like being embedded on Kamala Harris' presidential campaign?
Perry: Covering Sen. Harris' presidential campaign, and tracking her as a potential running mate, was a blast. For context, Harris was one of several candidates I covered throughout the primaries. She was one of seven candidates I was assigned to (Beto O'Rourke, Julián Castro, Steve Bullock, Jay Inslee, Duval Patrick and Mike Bloomberg are the others) and one of three candidates I traveled full-time with (O'Rourke and Bloomberg). I covered her toward the end of her campaign.
Harris was a great candidate to cover, especially given the historic nature of her campaign. She was the only Black woman to run this cycle – I will never be able to fully explain just how important that was for many of the Black women and girls I met at her events. On that note, I can only imagine what that meant for her to meet those Black women and girls at her events. I think I was very lucky to be able to put her campaign coverage, as well as herself on a personal level, in proper context and perspective.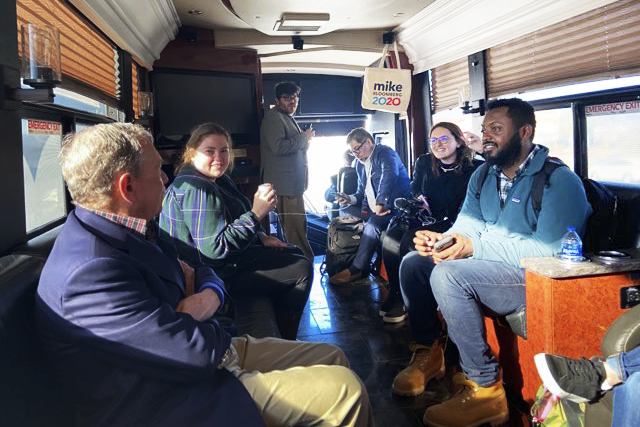 Alumnus Tim Perry worked his way up to an associate producer position at Face the Nation before becoming a campaign reporter. (Photos courtesy of Tim Perry)
Q. Pretty cool to be working with a bunch of fellow Hoos?
Brennan: It is GREAT.
Hager: VERY cool. We made history on "Face the Nation" the morning after the 'Hoos made it to the final game of the NCAA Tournament – our first piece on college basketball. We've had two staff retreats in Charlottesville – so John Dickerson and I, and then Margaret and I, have made sure to indoctrinate those on our staff who did not attend UVA on the awesomeness of Charlottesville and the UVA world (as best we can).
Perry: There really is a special bond that we all share, even though I'm rarely in the same state as them. I've known Margaret and Mary since my first days at CBS News (five years ago) and I am always grateful for their guidance, support and wisdom. I worked at "Face the Nation" during the last election when another UVA grad was there, John Dickerson. Watching their coverage and their work ethic has been super helpful for me on the road. My advice for Olivia: take in EVERYTHING.
Rinaldi:
I think "unreal" is the best way to describe working with the fellow Hoos on our staff. Margaret is only the second woman to ever moderate "Face the Nation," and Mary, as our executive producer, understands the DNA of the show better than most. Together they're both barrier-breakers.
Coming from UVA with journalism aspirations, you kind of have to make your own way. The University doesn't have a journalism school, and you are competing for positions with students coming from the top J-schools around the country. I have the opportunity to work side-by-side every week with the women who quite literally paved the way for me to be a UVA-educated journalist. It's an incredible opportunity and one I could never take for granted. 
Q. What's your favorite thing to do in your down time?
Brennan: Spending time with my toddler son. Watching him explore the world is fabulous.
Hager: I read, I cook and I do a lot of yoga. I love baseball and UVA football and hoops (when they're available!) 
Perry: During most of quarantine, I've been with my family in Maryland. I've loved being able to cook for them. I can't think of better test subjects for some of the new recipes I find online. I also have a niece, Arie, who I'm absolutely obsessed with. She turns 2 in September, and when I was living on the road, getting a FaceTime from her was a day-maker.
Rinaldi: A great question. Assuming I do have some down time, I enjoy reading and going on runs. 
Q. What's your favorite movie depicting journalists?
Brennan: "Live from Baghdad." "Broadcast News." 
Hager: So funny – I was just thinking about the "China Syndrome" this morning! I guess I wanted to be Jane Fonda, the television reporter who was desperate to break out of her role in broadcast journalism covering animal birthday parties at the zoo and stumbled into a near-nuclear power plant meltdown. "Broadcast News" is another favorite, especially for those of us at CBS – the movie was inspired by our one-and-only super producer, Susan Zirinsky (now the president and senior executive producer of CBS News). And I think I've seen "All The President's Men" so many times (and used the footage in Watergate-related stories), I can quote lines. 
Perry: "Spotlight." Incredible movie.
Rinaldi: I'm a huge fan of "The Newsroom," but I'm going to have to go with "Broadcast News."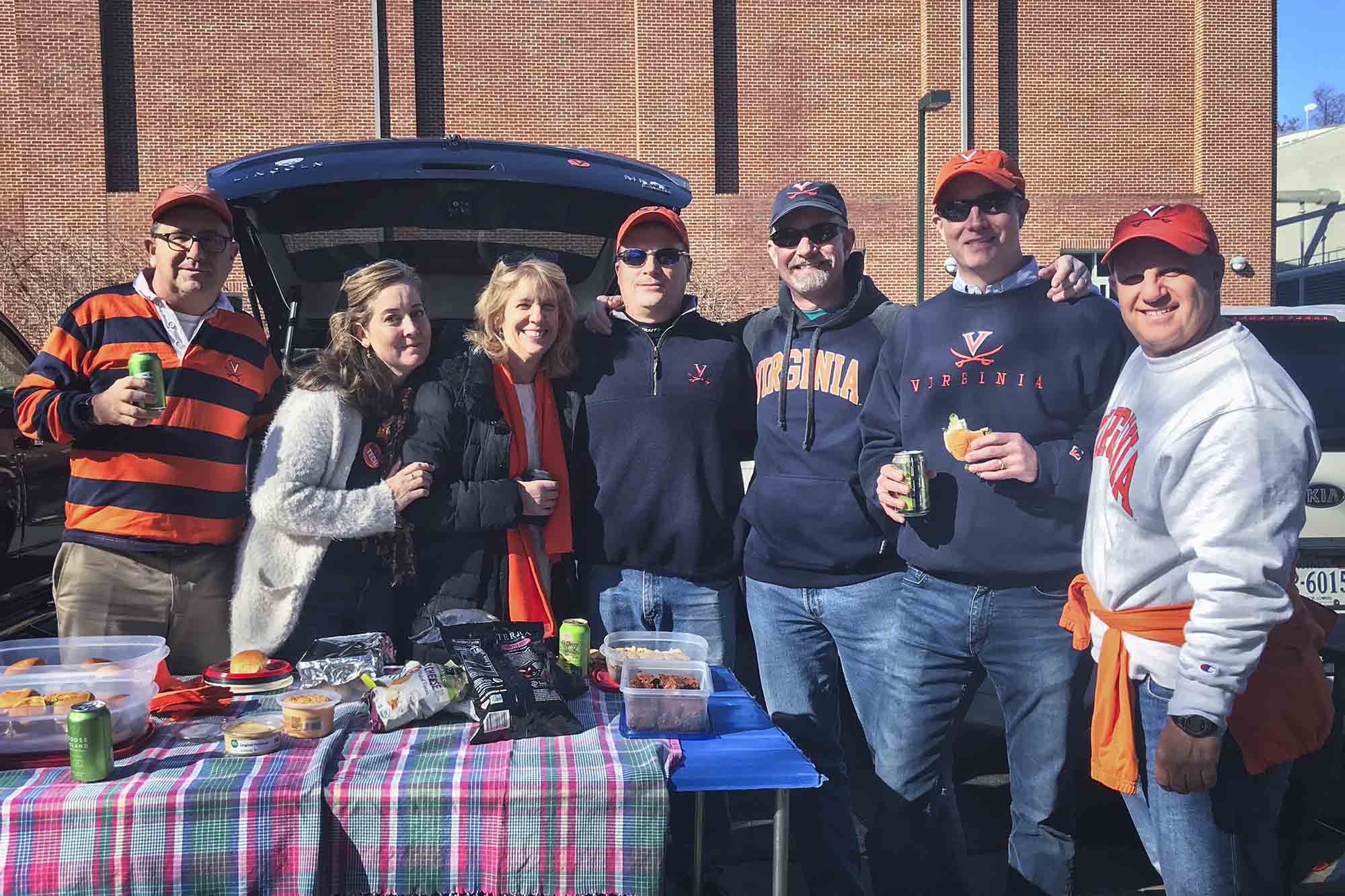 Hager, third from left, has a regular tailgate at UVA football games with former classmates. (Contributed photo)
Q. What's one thing about working in the television journalism industry that some people might be surprised to learn?
Brennan: It is a collaborative process. People probably also don't realize how much homework the moderator of "Face the Nation" has to do to read in on a topic and figure out the most important questions to ask or points to clarify. We do an hour of back-to-back interviews on Sunday. It is a lot of homework.
Hager: It's not as glamorous as it looks. And it is really hard work, with long hours at ALL hours of the day and night. It's stressful, there are decisions to make on a minute-to-minute basis, [and] when you're on the air with live TV with breaking news, the decision-making process is even faster. As a producer, you're a master multitasker; there are just so many little things you have to juggle.
It's also a LOT of fun and extremely rewarding – your work really matters to people.
Perry: The amount of pre-planning that goes into everything.
Rinaldi: People are always shocked when I tell them this, but we actually have obituaries ready to go for any major global figure in case they were to pass suddenly. You don't want to be caught on-air unprepared. 
Q. What are some of your most memorable moments from your days as a student at UVA?
Brennan: I'm constantly remembering them with some of my best friends from Virginia who also happen to have settled in this area. We're lucky to relive them. One of my favorites is meeting my husband back in 1998 on the Lawn. I remember the moment distinctly, even though we did not date until 2013. (Brennan's husband, UVA alumnus Yado Yakub, proposed on the Lawn in 2014.)
Hager: My days as a student may be long over, but the friendships I made at UVA last to this day – and continue. Most of my best friends are the same as they were 35 or so years ago. I've definitely lost touch with some I was particularly close with, but there are about 20 of us who get together every year in Charlottesville for a football game and we keep in touch by text (and now Zoom), so we all know what's going on in each other's lives. A group of us have had a tailgate spot and season tickets for UVA football for 25 years or so, so that group is still going strong, too. 
Perry: Two classes that I think about every day: a class on the HBO show "The Wire" (my favorite show of all time), and a class on the history of Black music in the United States.
And yes, Coupe's.
Rinaldi: Of course, the national championship. I was actually interning for "Face the Nation" during the spring of 2019 when we won. I worked remotely during the week and would drive up to D.C. every weekend to be there for the Sunday show. My friends thought I was crazy giving up some of my last weekends of college to drive hundreds of miles for an internship, but I knew what was happening at "Face" was something special. I did, however, request to have one Saturday off to be in Charlottesville for the semifinal game.
Mary, a huge UVA basketball fan herself, texted me before the game and said, "Win or lose, you should enjoy tonight and can work remotely tomorrow morning." While I definitely enjoyed the win and celebrating on the Corner, I still got up at 4 a.m. to drive from Charlottesville to D.C. in time for the show.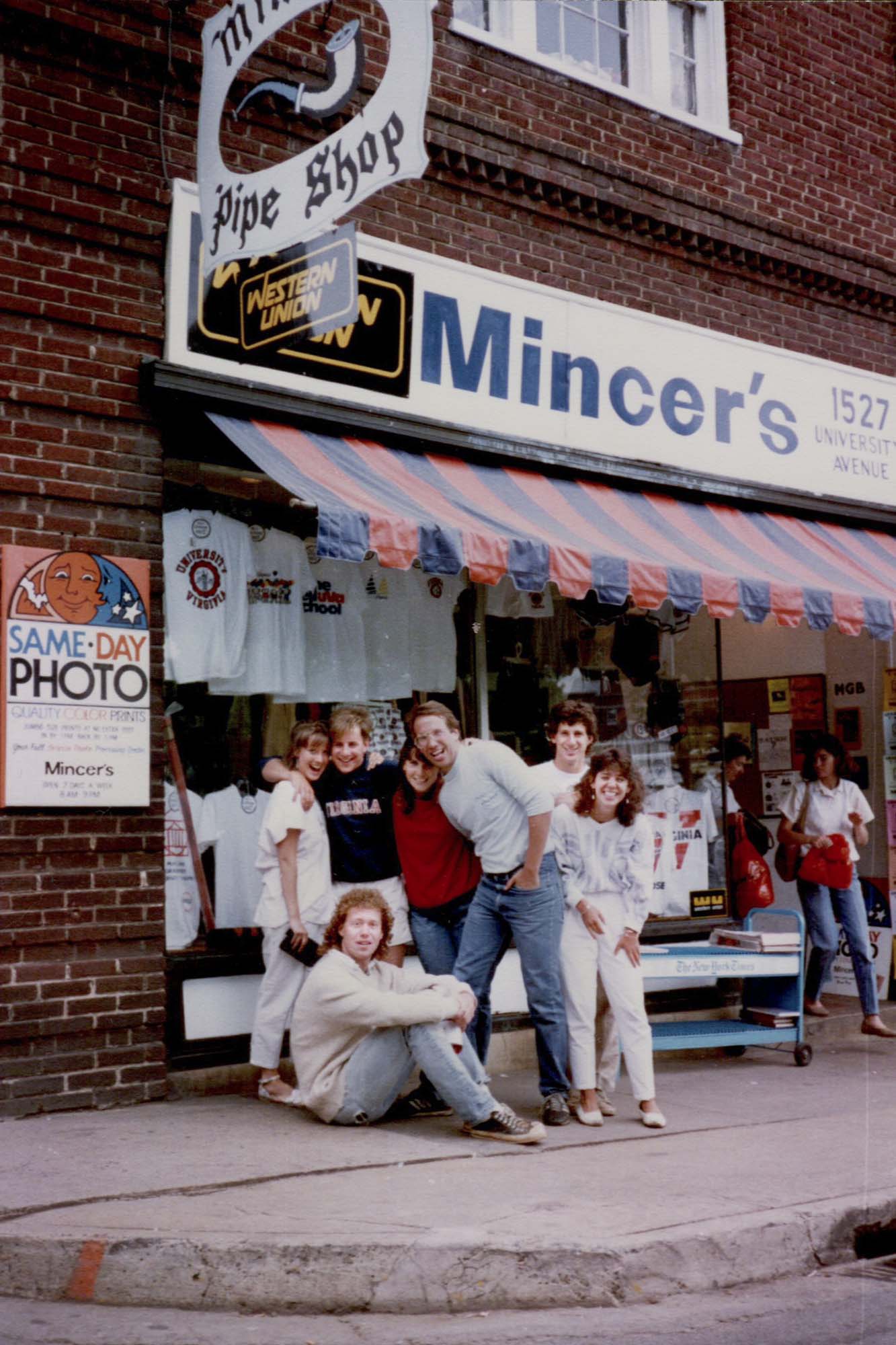 Hager, far right, has stayed in touch with many of her friends from her time on Grounds. (Contributed photo)
Q. How do you think UVA helped prepare you for what you're doing now?
Brennan: It gave me my support networks and friends. My professors also helped me to build my analytical skills. 
Hager: I think UVA taught me to be me and not worry about what other people thought of me. The honor system at UVA is something that I also think is still part of my mindset, in a different way – CBS News is proud of getting the facts RIGHT and sticking to our ethics and standards. We're proud of that, and it reminds me very much of the pride in the honor system while at school. 
Perry: I learned a lot about working with other people. A lot of group projects. Most of TV production is team-oriented.
Rinaldi: UVA students already have a leg up coming into the workforce. You have a great degree from a school that teaches you critical thinking skills in any major, but I really have two great professors, Wyatt Andrews and Anna Katherine Clay, to thank for their journalism classes. They gently pushed me in the right direction with my writing and production skills and have made the University competitive when it comes to the media studies program. 
Q. Any advice for UVA students hoping to go into journalism?
Brennan: Develop an area of expertise and raise your hand as often as you can to help out. You don't have to study journalism to be a journalist. You just need insatiable curiosity and an ability to run the marathon.
Hager: Read. And then read more. Watch the news, but always try to look at the other side of an argument. Be aware of news organizations that feed consumers or their followers only ONE set of views, as if to reinforce the consumers' views. Ask questions; don't be shy. Be curious. Ask "why?" or "why not?" Don't just do what's expected of you; figure out how to do more. 
Perry: How you treat people is so important. Do people enjoy working with you? Do sources trust you with information? Will voters feel comfortable speaking with you? You might be the smartest person in your class, you might be the best writer etc., but if people don't want to work with you in any way, that can easily become your reputation. Keep in mind: this is a small industry.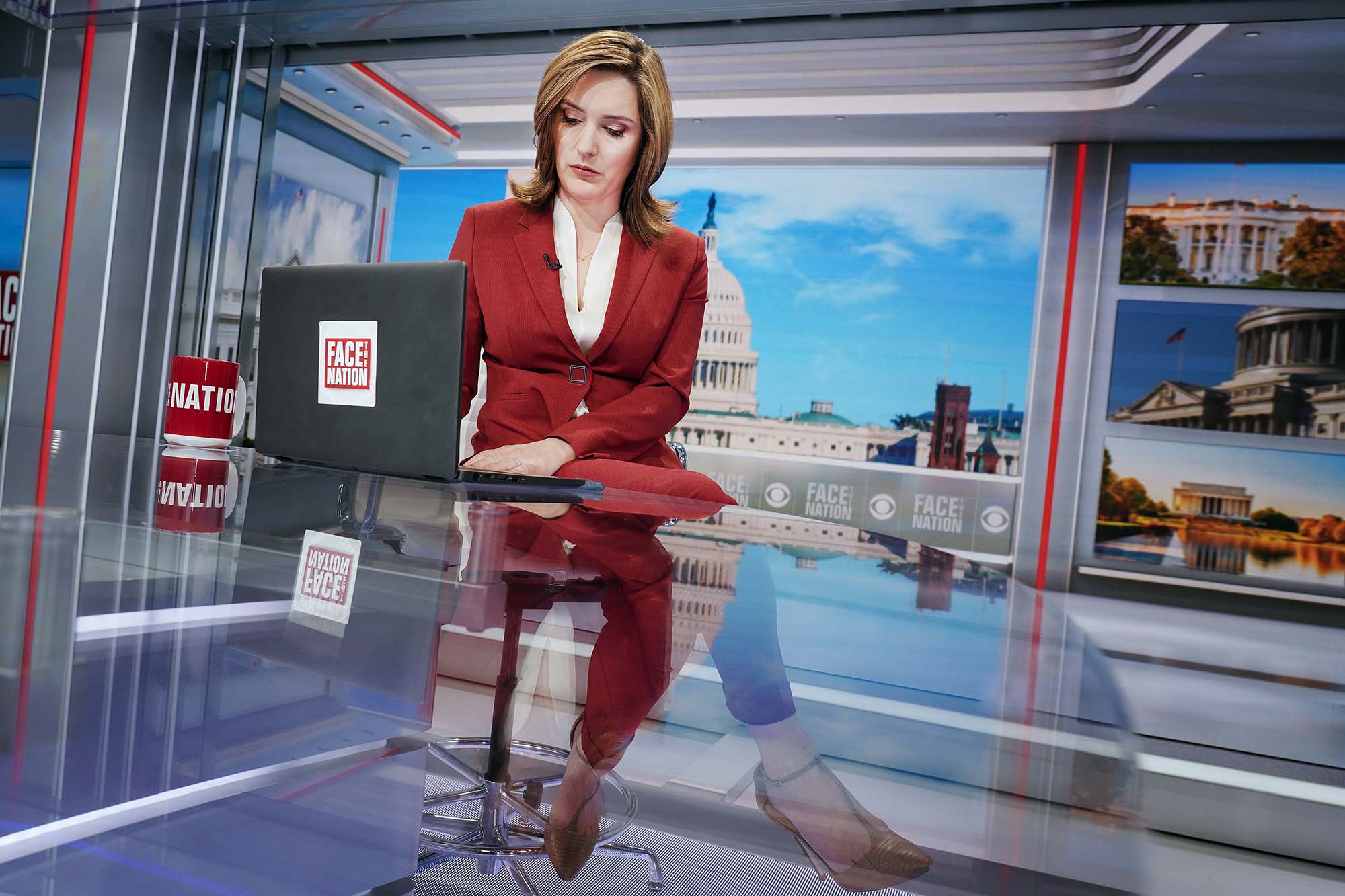 Brennan says the "Face the Nation" team is focused on "getting the facts." (Photo by Chris Usher, CBS News)
Rinaldi: My advice to budding UVA journalists, especially women, is to be dogged in your pursuits. Talking on the phone or looking someone in the eye to ask them a question is becoming a skill of its own and will help you in your job searches. 
Q. Anything else you'd like to add?
Rinaldi: I'm incredibly fortunate to not only work with a bunch of Hoos, but also a team that has women holding the highest positions. When you walk into the control room on a Sunday morning, there's a woman sitting in virtually every chair, from the anchor seat to the director's position. It's a fact that is not lost on me every week. 
Hager: My favorite bit of wisdom: It's sometimes more important to discover what you don't want to do than what you do want to do. I spent so much of my late teens and early 20s worrying about what my career was going to be and what did I want to do; it will come to you. You will find out what you DON'T want to do, and you can work from there.
Also, if you make a mistake – as I have made many mistakes as a producer – you will never make the same mistake twice. 
Article Information
July 17, 2020
/content/strength-four-hoos-face-nation-earns-highest-ratings-three-decades