Abel Liu, co-founder of UVA Mutual Aid and the newly elected president of the University of Virginia's Student Council, can now add being a Truman Scholar to his list of achievements.
University President Jim Ryan surprised Liu with the news last week.
"I was informed that I had been selected as a Truman Scholar following a meeting with President Ryan about my plans for Student Council over the next year," said Liu, a third-year student from San Anselmo, California, who is double-majoring in economics and sociology. "I was surprised by my wonderful mentors and letter-writers in the lobby of Madison Hall. I could only repeat my thanks and shock and was essentially speechless until I left the building."
But that was not the end of his celebration.
"I did a little dance when I got to the parking lot, and I couldn't stop smiling for the rest of the day," he said. "I am humbled to join the ranks of a national community of change agents."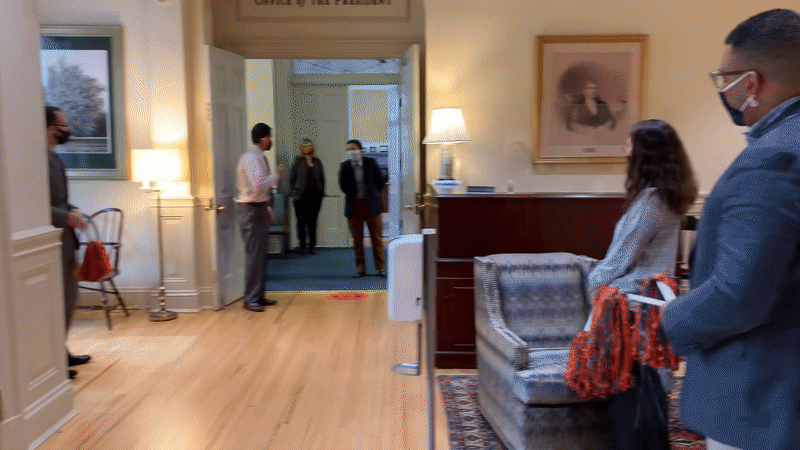 Established by Congress in 1975 as a living memorial to President Harry S. Truman and national monument to public service, the Truman Scholarship supports future public service leaders. Scholars are selected on the basis of outstanding leadership potential, a commitment to a career in public service, and academic excellence. They receive funding for graduate studies, leadership training, career counseling and special internship and fellowship opportunities within the federal government.
Liu, one of 62 scholars selected from 845 candidates nominated by 328 colleges and universities, is UVA's 33rd Truman Scholar.
One of the ways Liu showed leadership was creating UVA Mutual Aid.
"Shortly after UVA closed due to COVID-19, my inbox was flooded with emails from students in need of immediate support," he said. "Within a few hours, I launched UVA Mutual Aid, a collective of community members working to support students and their needs. Coordinating with my peers, I organized grants, food, temporary shelter and transportation for hundreds of students."
To date, the UVA Mutual Aid team has raised and distributed more than $70,000 to the UVA community.
"Our aid network taught me the connection between building a community of care and creating real resources," he said. "My mutual aid efforts also imbued me with a new sense of duty. I spoke to students who were grateful for any help we could offer, but still needed much more."
Liu now seeks to expand the outreach through his work with the Student Council.
"I institutionalized our mutual aid network and, alongside it, proposed a new branch of Student Council to manage and expand a suite of student support services," he said. "I collaborated with resources that already existed, like our food pantry and affordable break transportation service. I also created new ones, including subsidies for disability accommodation paperwork, outpatient psychological services and a textbook loaner library. While I am now negotiating a fee re-allocation to help our support services grow, they have already served thousands of resilient and deserving students.
"Creating these services was rewarding because they are tangible and personal, yet much bigger than me. Their impacts change the lives of my constituents and will far outlast my own time at UVA."
Liu said the Truman award will allow him to pursue a graduate program in social administration and policy, with a focus on community organizing and development.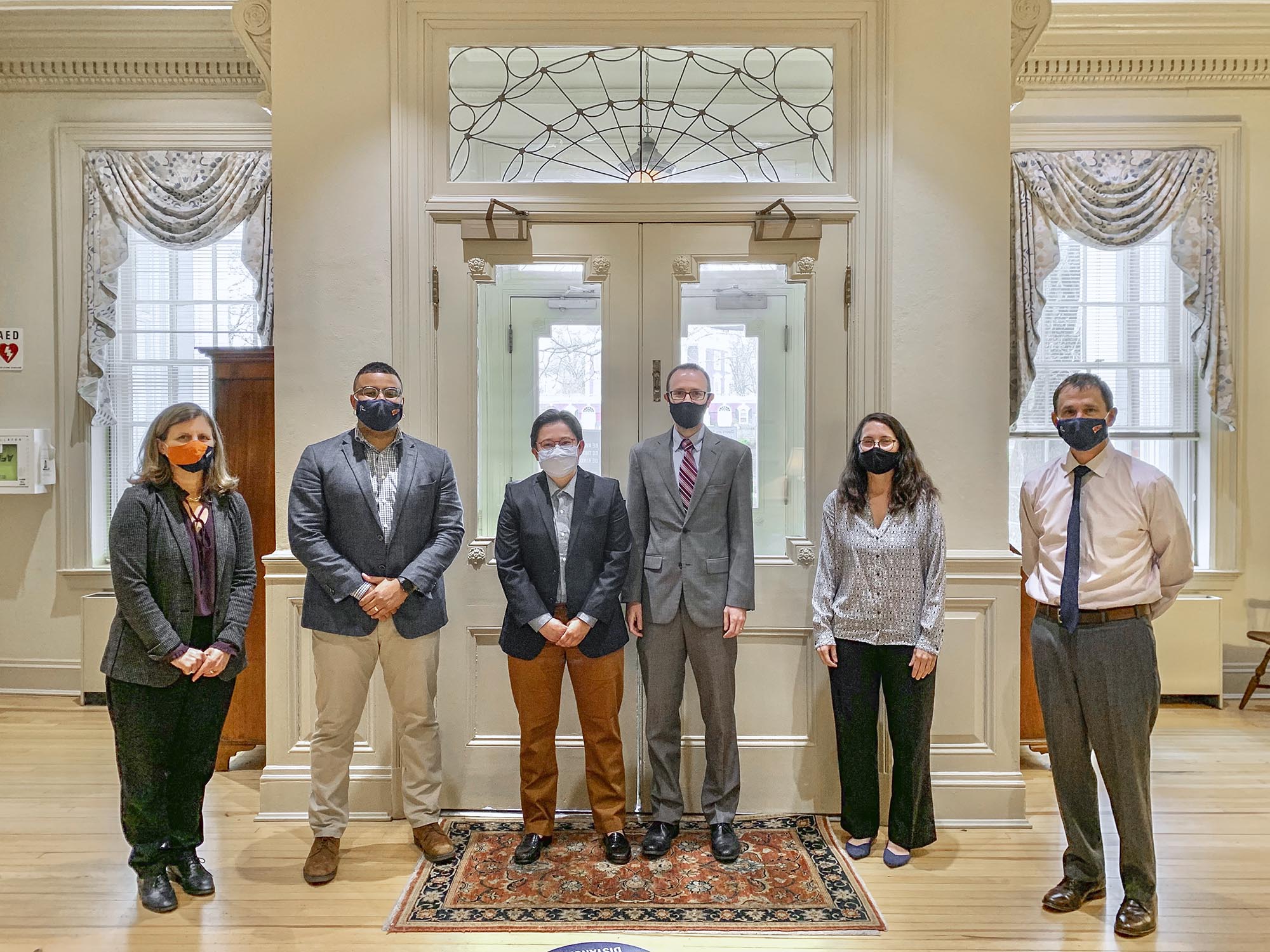 Provost Liz Magill, Ben Allen, Abel Liu, Andrus Ashoo, Barbara Brown Wilson and President Jim Ryan celebrated Liu's Truman Scholarship news in Madison Hall on Thursday. (Contributed photo)
"Ultimately, I hope to supplement my studies in social administration with either a law degree or a Master of Business Administration, so my toolkit includes the hard and soft skills necessary for community wealth-building," Liu said. "Winning the Truman Scholarship did not just change the trajectory of my education; it also gave me the confidence and affirmation that I needed to unreservedly pursue community organizing and wealth-building as a career. The scholarship is nothing short of life changing."
For Liu, the benefits of the Truman extend to the community he is joining.
"I am excited and eager to learn from past scholars and alumni," he said. "The network of Truman Scholars represents decades of experience in public service, one that I hope will help guide me as a leader. I applied because I was drawn to the scholarship's goal of attracting change agents."
While looking to the future, Liu also praised many of the people already in his life who helped him on his journey.
"Dozens of individuals, both before and during my time at UVA, shaped me and made it possible for me to effectively represent myself in the competition," he said. "This award belongs to all of those people, from my middle school history teacher to my high school debate coach to my generous Truman letter authors and mentors at UVA."
His mentors said they have been impressed by Liu and his dedication.
"I've been lucky enough to know Abel as a student, an advocate and a colleague," said Barbara Brown Wilson, faculty director of the Democracy Initiative Center for the Redress of Inequity Through Community-Engaged Scholarship. "In class he always to put in extra effort – he not only read every recommended resource, came to my office hours regularly and did great work on class projects, but he also reached out to authors of our readings more than once to develop professional relationships."
Wilson, who wrote a letter of recommendation to the Truman Foundation for Liu, also cited his work on the Student Council.
"As an advocate on Student Council, he helped craft student mutual aid programs during the pandemic and equitable recovery policies and practices for students and staff," she said. "And after all these outstanding displays of commitment, it was not surprising when he transitioned into being my colleague – working in support of community wealth-building strategies and frontline workers' rights in Charlottesville with us at the UVA Equity Center. He's the sort of student who makes you exceedingly hopeful about the future."
"In my roles as an Army officer, a school principal, and University staff I have had the opportunity to work with many incredible leaders. I can confidently say that Abel Liu is among the best," said Ben Allen, executive director of the UVA Equity Center, and another of Liu's mentors. "The type of careful, equity focused, humble, and action-oriented leadership Abel engages in is exactly the characteristics needed for public service."
Andrus G. Ashoo, director of the Office of Citizen Scholar Development, the fellowships office of UVA, added, "Many people will know of Abel from the papers and the Student Council election, and others might be intimidated by Abel's many involvements, but I think Abel is a Truman Scholar in large part due to selfless, consensus-building leadership that has brought together organizations and people – some of whom have been at odds with one another for years – in an effort to solve problems. And all of that has been possible due to Abel's desire to make friends and start relationships with just about anyone. Abel has worked really hard to serve others and make change – definitely a Truman 'change agent.'"
Before assuming his role as president of Student Council, Liu was an executive board member and chair of the representative body; and a member of the Jefferson Literary and Debating Society, the University Chairs Summit and the Virginia Review of Politics. He is also a frontline worker advocacy intern with the UVA Equity Center.
Article Information
April 14, 2021
/content/student-council-president-abel-liu-named-uvas-latest-truman-scholar