Some families will fill their new gardens with fruits and vegetables to bring truly fresh food to the table. Others are hoping for blooming flowers to brighten up their corner of Westhaven, a public housing community near the University of Virginia.
In a student-led project called Growing for CHANGE, Westhaven residents have co-designed hanging or boxed gardens with dozens of UVA student volunteers, working together to bring new verdure to an area where poor soil and small plots have kept most families from gardening.
On Saturday, students and residents will gather at Westhaven for a Community Grow Day to begin planting seeds in the newly constructed gardens. City Schoolyard Garden, which manages gardens at seven Charlottesville public schools, will distribute seeds for flowers, fruits and vegetables and offer gardening lessons during the event, ultimately helping residents grow healthy food right outside their door.
Growing for CHANGE is the brainchild of co-founders Shantell Bingham, a graduate student pursuing a master's degree in public health, and Artem Demchenko, a fourth-year undergraduate student in UVA's School of Architecture. Bingham and Demchenko are Dalai Lama Fellows, two of only 19 students worldwide selected for the 2015-16 fellowship sponsored by the Tibetan spiritual leader. Each receives funding for projects supporting the fellowship's mission of promoting peace, justice and ecology.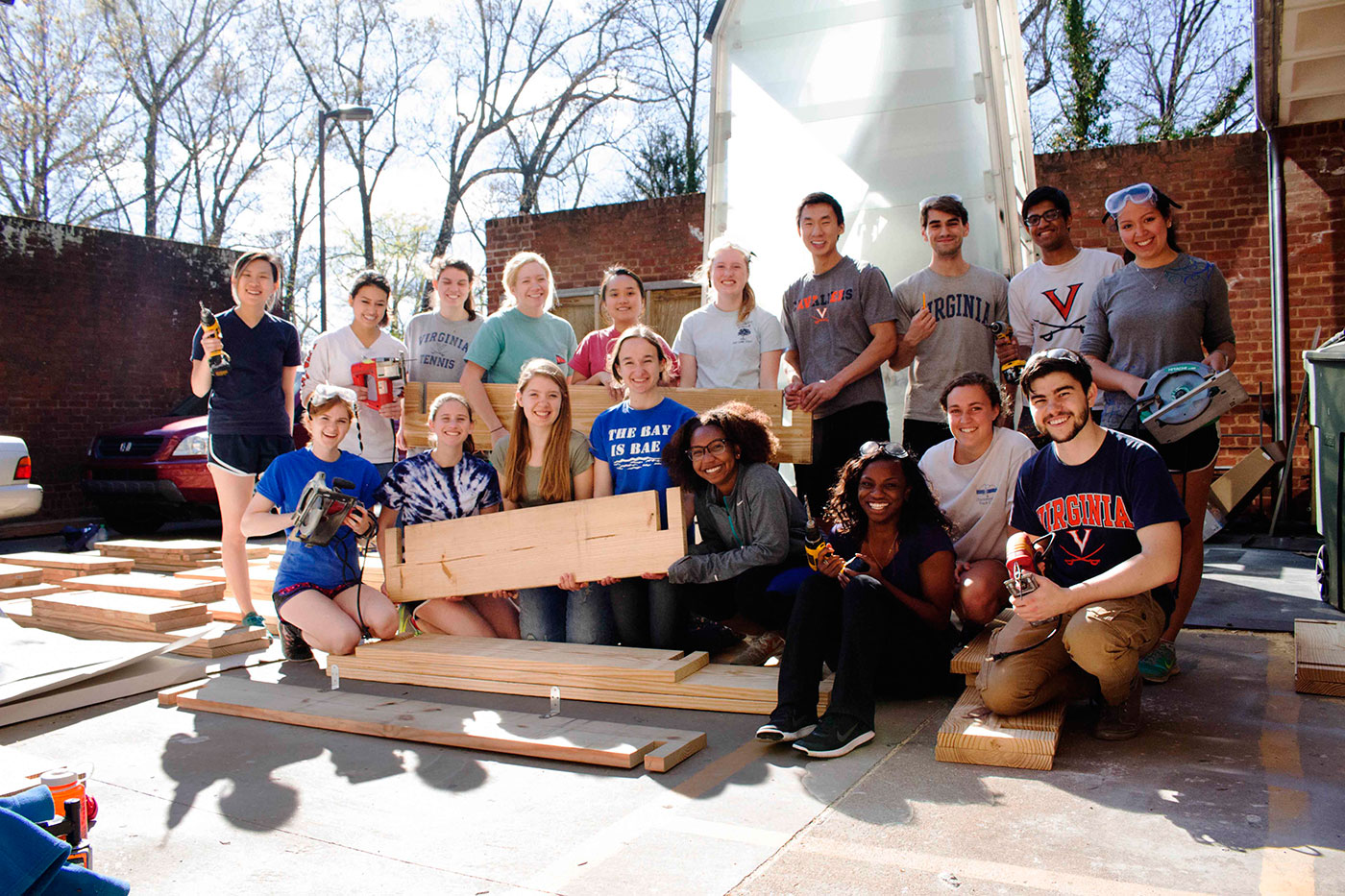 Growing for CHANGE volunteers and executive board members work together at the woodshop in the School of Architecture to build the gardens. (Photo courtesy of Shantell Bingham).
Bingham and Demchenko used the funding to create Growing for CHANGE after discovering their mutual interest in the Westhaven community, where each had volunteered with Bridging the Gap, a Madison House program pairing UVA student mentors with refugee children in Charlottesville. Bingham, who formerly directed Bridging the Gap, also spent a summer photographing Westhaven residents for a social documentary photography class.
Previous efforts to build community gardens at Westhaven failed to include residents throughout the design process and left them with little feeling of ownership, Demchenko said. To avoid this, Demchenko and Bingham focused their efforts on individuals and families and used a co-designing approach that gave residents a very active role in designing the gardens. They also educated student volunteers about the history of the Westhaven community, which was created in the 1970s when redevelopment displaced residents of Vinegar Hill, a predominantly African-American neighborhood, in the name of "urban renewal."
"Architects can be used to just coming in and trying to be the expert, but this is a different approach that empowers a community that has been historically disempowered and gives them a voice in leading the design," Demchenko said.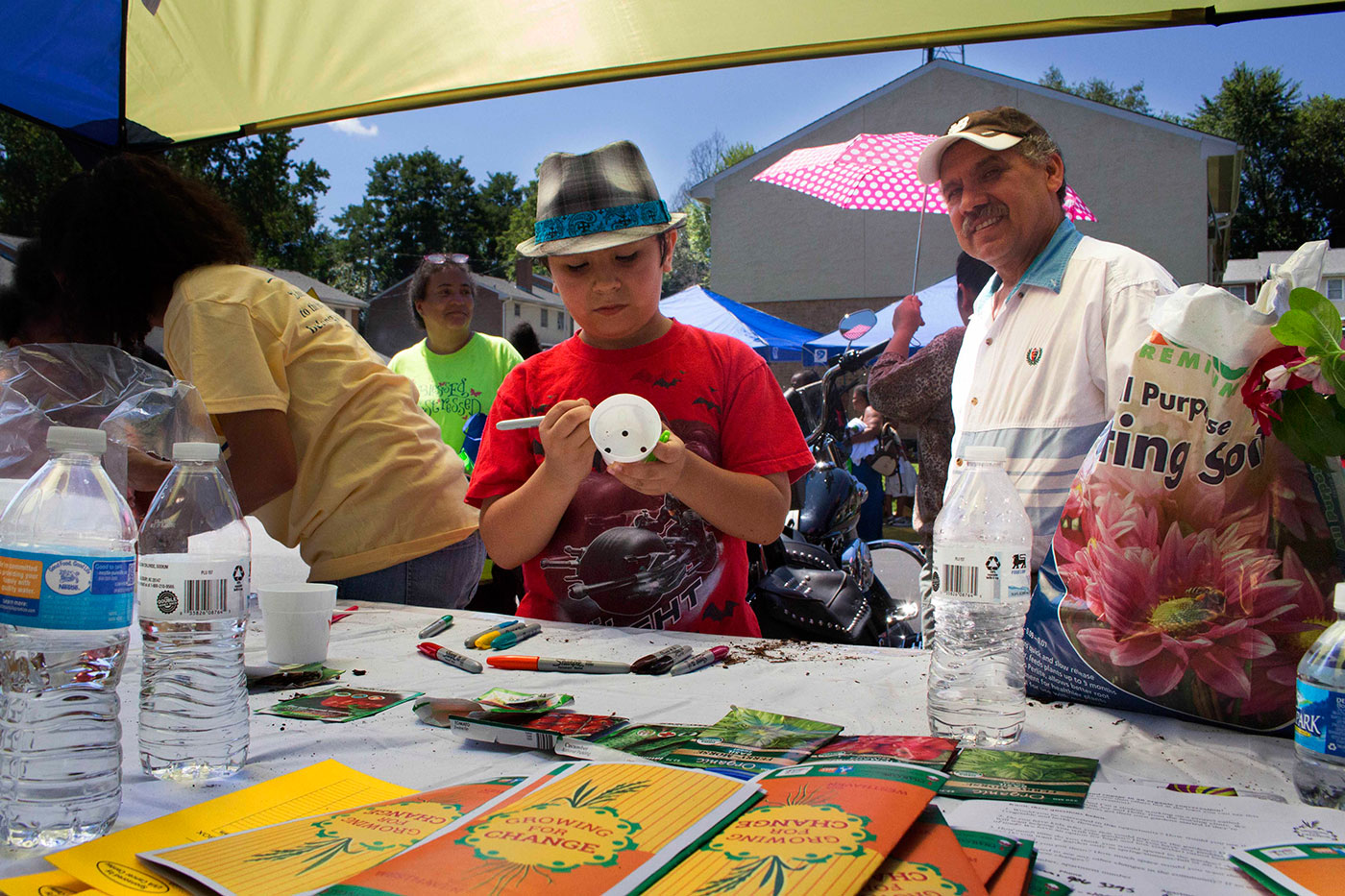 Residents gathered at Westhaven's Community Day to learn more about gardening and the Growing for CHANGE project. (Photo courtesy of Shantell Bingham)
In August, students manned a booth at Westhaven's Community Day and, with approval from community leadership, went door-to-door talking with residents about potential gardens. By the time the spring semester began, students were co-designing gardens with about 20 residents and their families, meeting weekly at Westhaven to measure and sketch designs.
In March, students used the woodshops at the School of Architecture to build planters to their residents' specifications. Over the weekend, resident and student teams began installing the planters outside of Westhaven homes.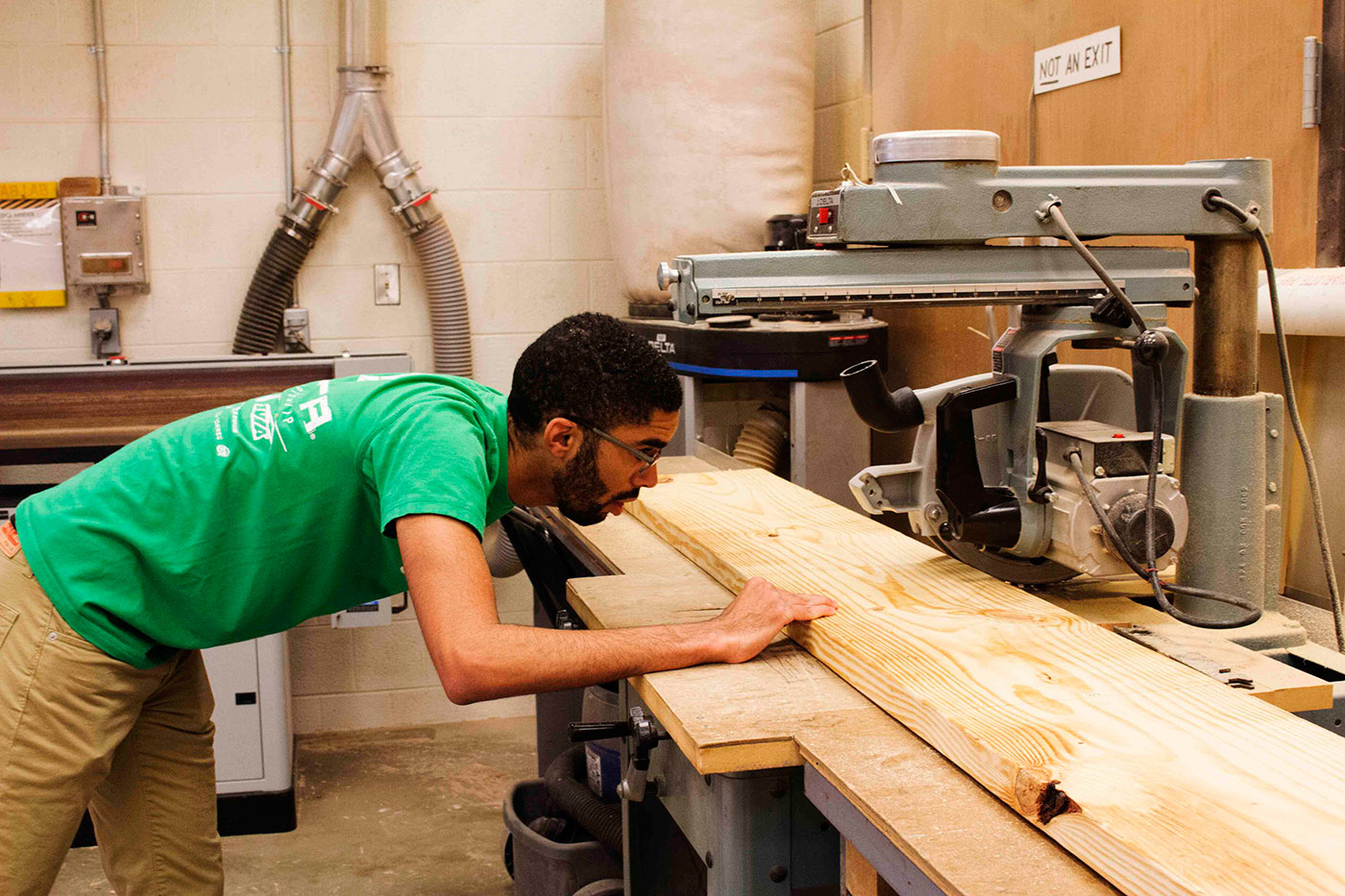 Third-year student Malik Vaughan, a volunteer with Growing for CHANGE, cuts wood for one of the garden boxes. Vaughan volunteered through the National Organization of Minority Architecture Students. (Photo courtesy of Shantell Bingham.)
The planters are designed to be easily set up, taken down and transported while providing enough space to accommodate a variety of flowers, fruits and vegetables. Bingham and Demchenko hope this will improve residents' access to fresh, high-quality produce, which can be expensive at grocery stores or farmers' markets.
"The gardens we are building will help families to start growing their own food, though it will obviously not be their main source of food," Bingham said. "We do hope that people develop more of an intimate connection and relationship with growing by bringing the food from the ground to their plate, even if it is just three or four batches of healthy food for meals."
Bingham and Demchenko worked closely with several architecture classes, partnering with Phoebe Crisman, an associate professor of architecture who directs UVA's Global Studies, Environments and Sustainability major; Frank Dukes, a lecturer in urban and environmental planning; and Barbara Brown Wilson, an associate professor of urban and environmental planning and a board member of the Piedmont Housing Alliance, which administers public housing in Charlottesville.
"In community engagement work, you want to bring your creative inspiration to the project, but also be a humble resource ally," Wilson said. "It is a really delicate balance to make sure that you bring your expertise and also your humility."
Wilson has been impressed with how Bingham, Demchenko and their fellow student volunteers have handled that balance and avoided a one-size-fits-all approach. Instead, Wilson worked with Bingham and Demchenko to build a toolkit for co-designing to help, as Wilson put it, "take design off of a pedestal."
The kit included visuals that illustrated several different garden designs residents could choose from. Residents and students worked together to adapt those different choices to the residents' homes and customize the design to fit their needs.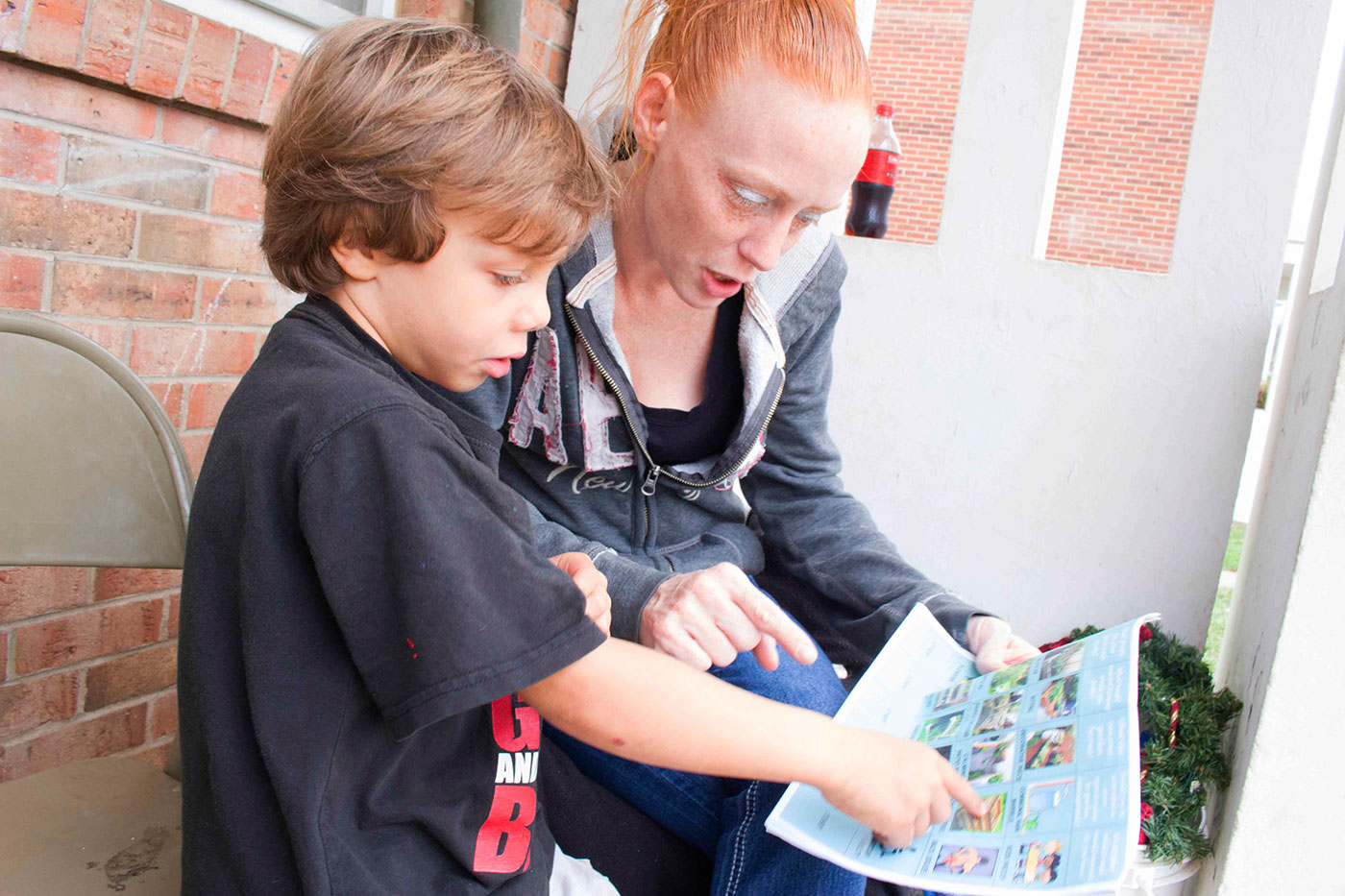 Lisa Zampini and her son consider different garden designs for their home in Westhaven. (Photo courtesy of Shantell Bingham.)
Initial surveys indicated that the co-designing approach was a positive experience for both residents and students, Bingham said
"Co-designing is a different type of volunteering that is not very traditional," Bingham said. "It's about creating projects together, creating volunteer experiences together and delivering a direct service. Students say they have experienced a huge perspective shift during the project."
Now, Bingham and Demchenko are focused on ensuring that success continues after they graduate in May. They have established an executive board of 10 to continue the project and are applying to become a contracted independent organization at the University. Third-year student Brianne Nueslein and second-year student Megan Dister, both education coordinators with Growing for CHANGE, will incorporate the project into the service learning class they are teaching next year through the Cavalier Education Program, called "Development through Revolution: Exploring the local food movement of Charlottesville."
"One of our initial goals was to bridge barriers between UVA and the local communities in Charlottesville," Demchenko said. "We are looking forward to getting more people involved in Westhaven, and perhaps other public housing communities as well."
Media Contact
Article Information
April 5, 2016
/content/student-led-project-brings-fresh-approach-gardening-public-housing