A graduate student and an undergrad will conduct research in the University of Virginia's historic Academical Village this summer, exploring the Lawn experience for black students and the history of the pavilion gardens.
Christian P.L. West, a doctoral student in UVA's Curry School of Education and Human Development, and Sophia McCrimmon, a rising third-year student double-majoring in American studies and history with a minor in historic preservation, will receive research funds from the William R. Kenan Jr. Endowment Fund of the Academical Village, which awards grants supporting students who conduct summer research projects that increase public understanding of the University's original, Thomas Jefferson-designed precinct. The Kenan Fund provides recipients with up to $4,000 for their projects, with an additional $1,000 for a faculty adviser.
"The Kenan Fellowship plays an important role in helping us understand the mission of the Academical Village," Brian Cullaty, director of UVA's Office of Undergraduate Research, said. "I'm excited that both Sophia and Christian's research will fill gaps in the current knowledge; the gardens in Sophie's case, and the experience of African American student residents on the Lawn in Christian's case."
Christian P.L. West
West, of Louisa, will explore the experience of black alumni who were Lawn residents over four decades. The study will look specifically at how they make meaning of their living-learning experience in the Academical Village, and how perceptions of their experience influence their racial identity and leadership development during their college experience.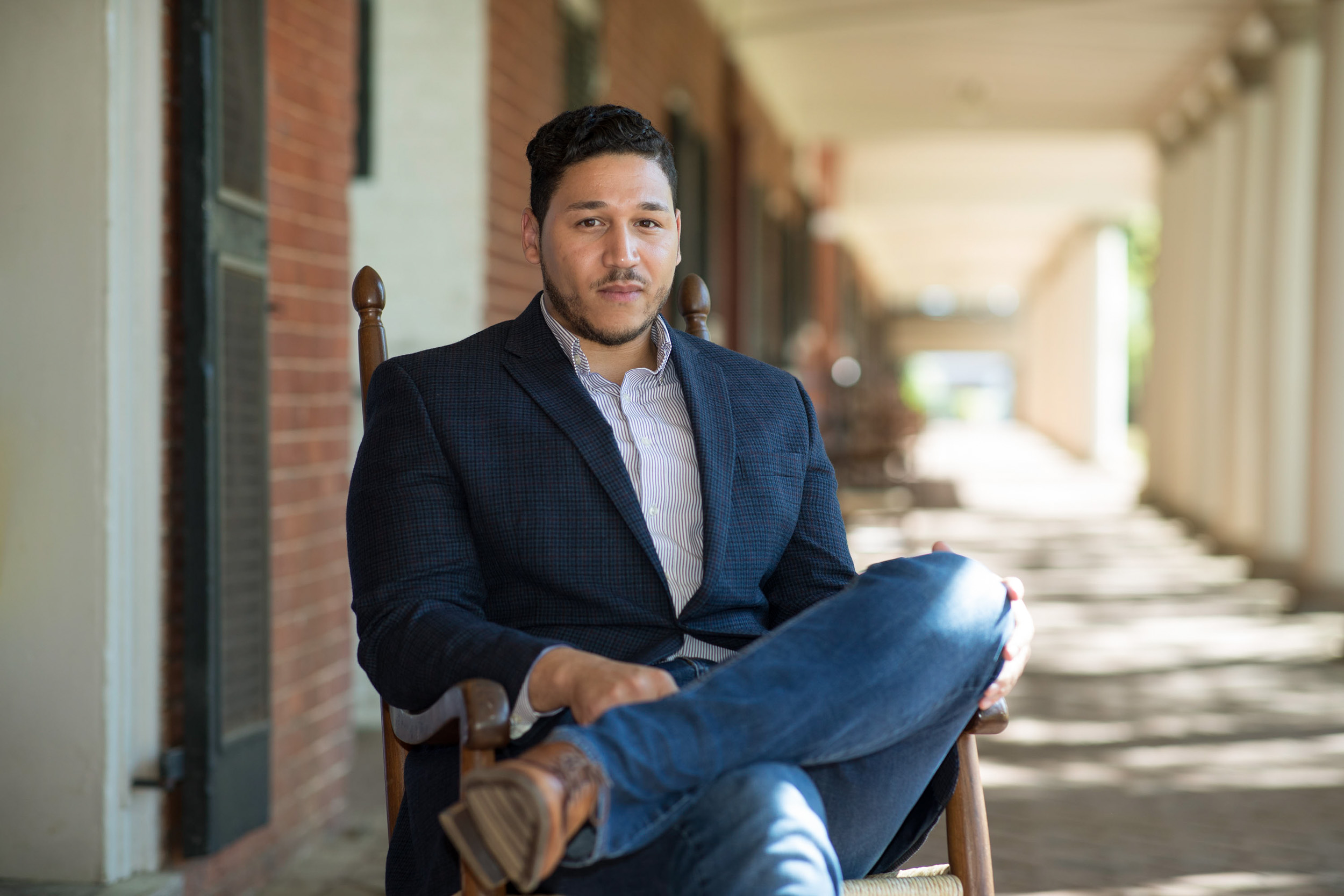 "Given the Academical Village's construction by enslaved laborers and the institution's participation in segregation leading to the first black Lawn resident in 1961 [Amos Leroy "Roy" Willis], I argue that black residents of the Lawn will fundamentally have a differentiated experience," West said. "With the lack of empirical research on residents of the Academical Village, I hope to present a narrative of how black student leaders negotiate a path for student success during their time on the Lawn and in different eras of the institution."
West himself was a Lawn resident in the 2008-09 academic year, at a time when students began to investigate the Academical Village's construction by enslaved laborers, which eventually led to the President's Commission on Slavery and the University and the Memorial for Enslaved Laborers.
"Acknowledging the history of the space I called home for year, both built by enslaved laborers and intended for students not like me, who were sons of white landowners, I found my experience on the Lawn a contradiction – unnerving and empowering at the same time," West said. "Initially, there was a sense of alienation from the 'honor' to live on the Lawn. However, it was through my relationship-building with other Lawn residents that my experience became a reclamation over the space, and transformative."
West helped host a reception for black alumni Lawn residents during the University's past three Black Alumni Weekends.
"We managed to reach a range of alumni from the 1970s to current residents over the years," he said. "During the reception, we discussed our experiences living on the Lawn and how much it varied over different eras of the institution. Other residents expressed the same sense of contradiction I experienced. This piqued my interest in capturing and documenting our experiences in an empirical research study."
West wants his research to fill a gap of empirical literature on the residential experience in the Academical Village, for both Lawn and Pavilion residents.
"While we know much about the Academical Village's conception by Jefferson, we do not have much evidence on the day-to-day lived experiences of its most recent residents," West said. "This study will document a cross-section of this population, black alumni Lawn residents, and provide a narrative of their experience while living on the Lawn.
"It will also highlight the present implications of the institution's history with slavery and segregation to tell a fuller history of the Academical Village."
West received a Bachelor of Arts in political and social thought  in 2009 and a Master of Education degree in 2017, both from UVA. As a graduate student, West has been a member of the Raven Society; the Graduate & Professional Student Council; and the SEEDs4Change Diversity Action Organization. He is a recipient of the Jay L. Chronister Student Award in Higher Education and the Brenda Holliday Loyd Award, both at the Curry School. He is also a member of the Association for the Study of Higher Education and the American Educational Research Association. He plans to pursue a tenure-track faculty position in education.
Juan C. Garibay, assistant professor at the Curry School, had West in several courses and ranks him among his top students.
"His engagement, depth of analysis and quality of writing on course topics are exceptional," Garibay said. "As a researcher, he is showing his capacity as an early scholar already having presented at various conferences, including the American Educational Research Association, the premier conference of education."
Garibay predicted that West would be a future leader in the field of education.
"Given the important work many universities are doing to better understand their legacies with slavery, including at UVA, Christian's work will provide a deeper understanding of the intersections of race, space and history in a contemporary context," he said. "Not many higher education studies have explored this for black students. It will have important implications not only for UVA, but also for other institutions thinking about ways to address their histories to advance equity on college campuses for black students."
"As a scholar of higher education, we study the same phenomena in which we are situated," West said. "Being at the University of Virginia, a unique and influential institution in American higher education, presents a rare opportunity. My research focuses on institutional history and its relationship with the experience of current students of color. It asks the question 'How does the institution's past inform the students' present?' The Kenan Fellowship gives me the opportunity to study a unique phenomenon within the field of higher education, Jefferson's Academical Village, and apply it to my fundamental research question that has implications for all aspects of the college student experience."
Sophia McCrimmon
McCrimmon, of Richmond, will research the social histories of the 10 pavilion gardens surrounding the Lawn.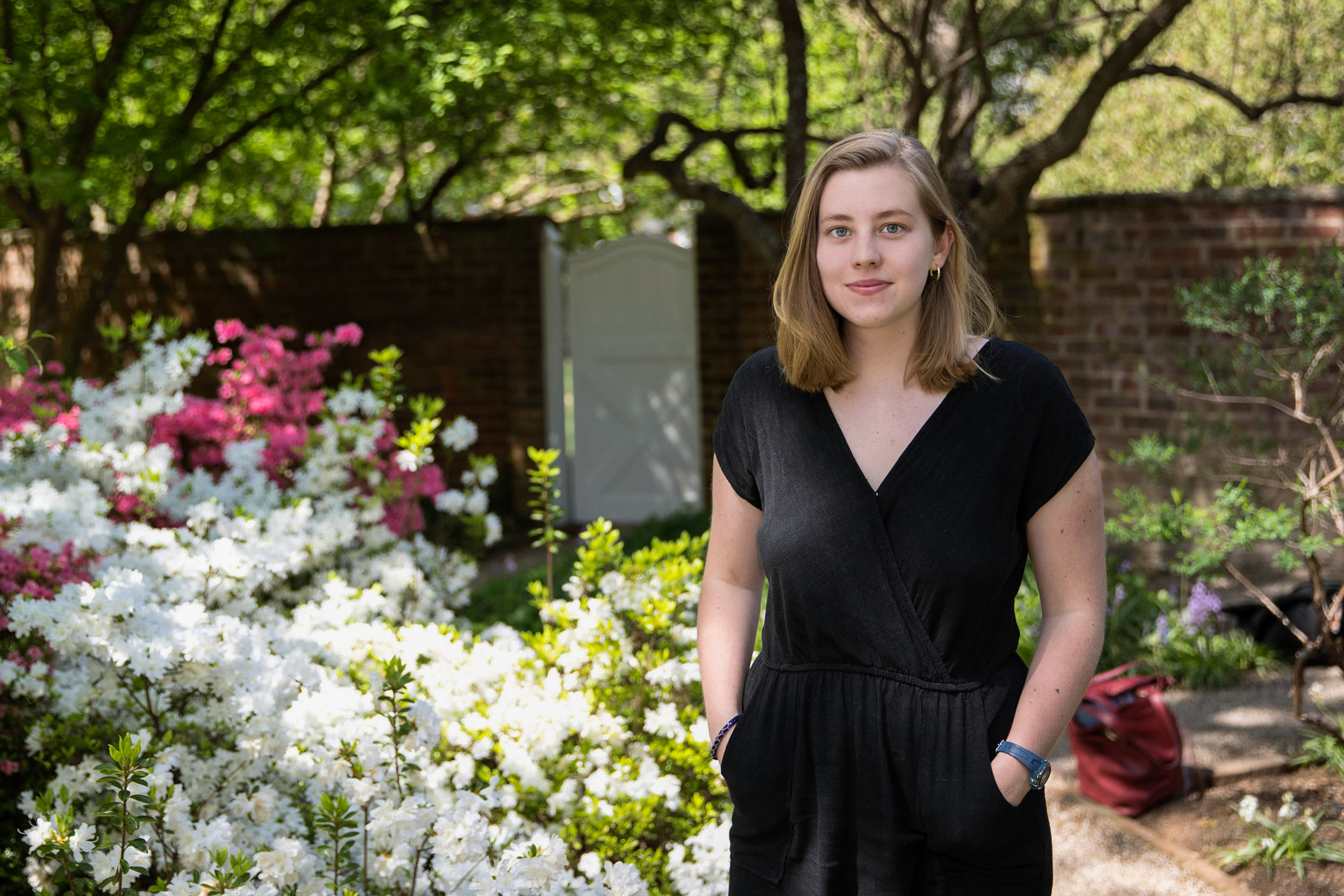 "These unique spaces have a multifaceted history, from their original function as sites of enslaved labor to their contemporary role as landscaped gardens," she said. "Building upon existing scholarship on the evolution of the gardens' built environment, I am interested in exploring their different social uses and cultural meanings – for enslaved laborers, professors and their families, students and others."
McCrimmon has led historical tours with the University Guide Service.
"Like many other Guides, I take tourists to the gardens to discuss the history of slavery at UVA," she said. "I was struck by the dissonance of discussing such difficult histories in such aesthetically beautiful spaces, and it prompted me to do more research on the layered history of the gardens. I'm intrigued by how the spaces have historically functioned as both public and private, and both beautiful and utilitarian. I would love for my research to complicate our understanding of these spaces, exposing their multifaceted history."
McCrimmon is using the work of 2008 Kenan Fellow Lydia Mattice Brandt as the foundation for her research. Brandt examined the 19th-century history of the gardens.
"In between these two historical bookends [Brandt's 19th-century history and the current state of the gardens] are many more stories, shaped by professors, students, landscape designers, community members and others," McCrimmon said. "I think that the pavilion gardens can tell us a lot about the development of the early University, the private lives of students and professors and the politics of public memory."
An Echols Scholar and a Jefferson Scholar, McCrimmon is also a counselor for the Cornerstone Summer Institute; a member of the President's Commission on the University in the Age of Segregation and a student docent at the Fralin Museum of Art.
A graduate of Maggie L. Walker Governor's School, she is considering pursuing a graduate degree in American studies and hopes to do public history work.
Elizabeth K. Meyer, the Merrill D. Peterson Professor of Landscape Architecture and co-director of the UVA Center for Cultural Landscapes, said she put McCrimmon, who was one of her students, in touch with Brandt.
"While enrolled in my 'Cultural Landscapes of Virginia' class, Sophia stood out among a remarkable group of intrepid students who decided to take this new course taught by an architect/architectural historian and a landscape architect," Meyer said. "Andy Johnston, my co-instructor, and I attracted students from three schools – Arts & Sciences, Architecture and Engineering, from second-year undergraduates to Ph.D. students. Sophia seemed particularly interested in the relationship between fieldwork, research and writing, and was not in the least bit intimidated discussing ideas with students a decade older."
Meyer said that she was anxious to work with McCrimmon on the project.
"Sophia recounted how her experience as a University Guide left her wondering about the cognitive dissonances between the Guides' walking tours focused on history of the University's early life and the physical beauty of the 1950s-1960s garden restorations which obscure the gardens' 19th-century history as working spaces where professors, students and their enslaved laborers lived and interacted," she said. "Interpreting these layered cultural landscapes requires nuance, clear description and spatial imagination. I felt Sophia was committed to acquiring the landscape literacy necessary to take on this complex and important project."
McCrimmon said she was drawn to the Kenan Fellowship because of its emphasis on the shared history of the Academical Village and its focus on a public-facing research product.
"This really aligns with my passion for UVA's public history," McCrimmon said. "I'm hoping that I can connect this research to my work with University Guide Service and the President's Commission on Slavery and the University, using it to deepen our public understanding of the garden spaces."
Article Information
May 28, 2019
/content/student-researchers-explore-black-experience-gardens-academical-village