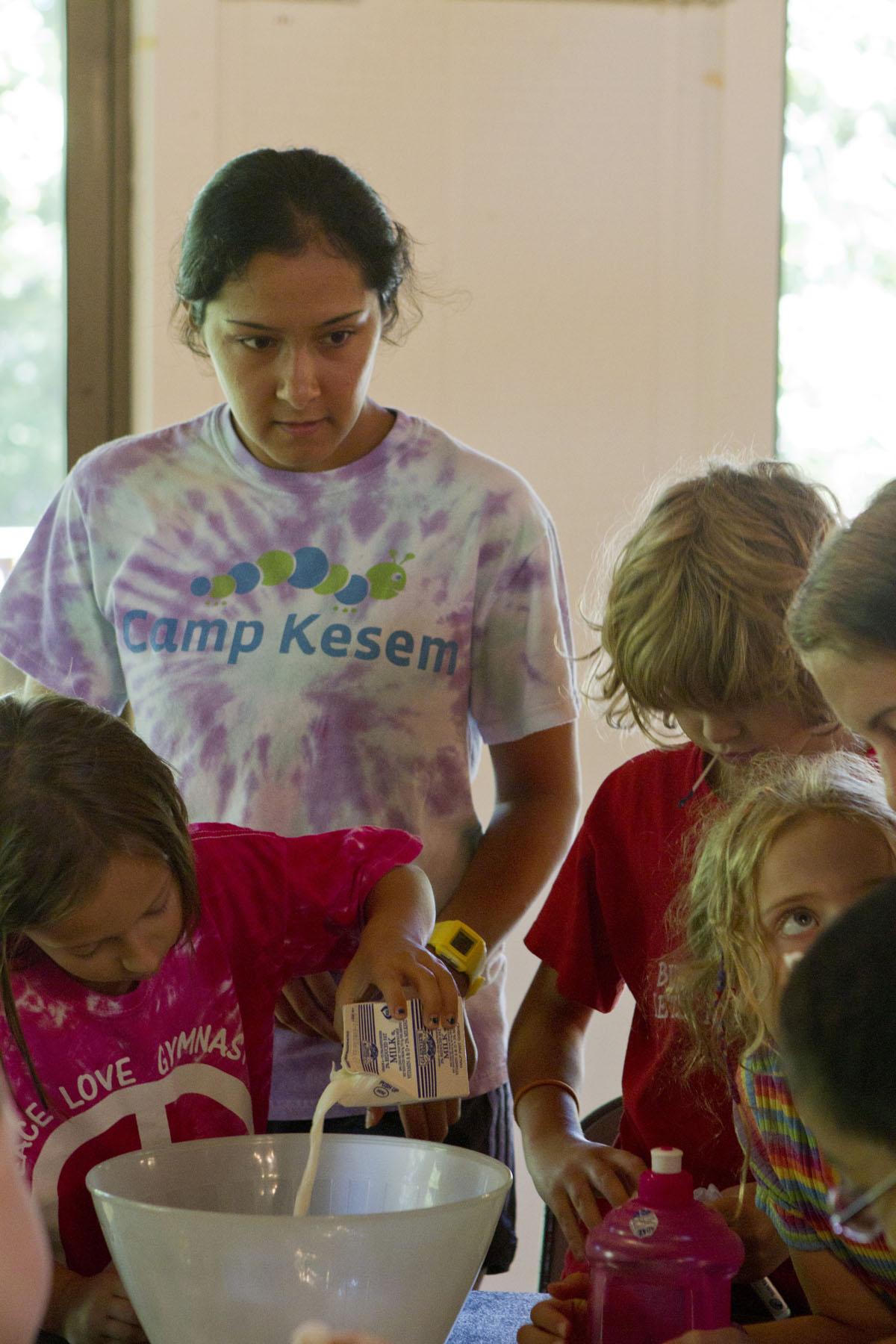 August 11, 2011 — "Diva" and "Dots" are making "bead buddies" in the forest canopy, while "Flave" looks on. The youngsters could be at a summer camp anywhere in America.
But these kids share a special burden: Their parents have, or have had, cancer.
For one week a year, these children, ages 6 to 16, can escape to a place where kids can be kids, which is one reason they are known by "escapist" nicknames while at camp. In Charlottesville, that place is Camp Kesem at the University of Virginia.
Kesem – "magic" in Hebrew – is a nondenominational network of camps, created in 2001 and run largely by college students. The campers attend free of charge, with funds raised by student volunteers through events, letter-writing campaigns and other fundraising initiatives.
U.Va.'s camp, hosted this week at Camp Holiday Trails, has grown significantly since it was first held in 2006. It started with 15 to 20 kids; this year, camp co-chairs Mark Manning, a May graduate of the College of Arts & Sciences, and Sydney Kastner, a fourth-year student in the College, lead a team of camp counselors who look after 72 campers, including 16 teens, most of whom are returning. Several campers have been coming longer than their counselors, and the friendships these children make outlast their time at camp.
Counselor Rebecca Christensen, a third-year student in the College, said she is constantly impressed with the support the children give each other in "Cabin Chats," the nightly discussions when kids can bring up any topic they want to talk about, including their parents' conditions.
"I love how much the kids seem to grow while they're here and the connections they make with each other," she said. "It's really moving. You can visibly see that we have an impact on their lives."
Kastner, too, remarked at the importance of a peer support system for the campers as they deal with a beloved parent with cancer. "A lot of the kids have found that camp is a good place for them to not have to talk about it, but know that everyone around them is in the same boat," she said.
Campers spend their days having fun. In the mornings, they rotate by age group through activities like dancing, hiking, arts and crafts, cooking, sports, canoeing and climbing a rock wall. In the afternoons, they have pool time and "feet on bed" time, in which the kids don't have to sleep but must at least have their feet on the bed. Every day, campers sing songs and eat meals together and participate in full camp activities like Capture the Flag or the annual talent show.
Counselor Bhaumik Patel, a third-year College student, called the camp "the perfect proportion of organization and chaos."
Some highlights of the week have included a photo scavenger hunt, where teams were given a checklist of silly things to do and digital cameras with which to photograph them. The kids also enjoyed visits from the U.Va. men's soccer team and women's field hockey team, as well as representatives from Charlottesville's Music Resource Center, who showed them how to play instruments.
Near the end of the week, all the kids take part in an evening "Empowerment Ceremony," sharing why they are there and what camp means to them. As a part of this ceremony, they write down their hopes and fears on pieces of paper and throw them into a campfire, symbolically releasing their fears and making their dreams come true.
Manning said campers often have difficulty articulating how their parents' illness impacts them. Gatherings such as these present "an amazing opportunity to connect with these kids," he said. "It isn't just a summer camp."
U.Va.'s 7 Society recognized the camp's value in May with its James Earle Sargeant Award, given to an outstanding student organization that makes major contributions to the University community.
The award means a lot both in terms of support and increasing awareness of the camp's mission, Manning said. "It's always thrilling to be recognized for good work we try to do."
The camp also transforms the student counselors. Kastner, who had a parent go through cancer treatment and recover, said that working with the kids has shaped her so that she now wants to go into nonprofit management.
"It's been a great experience for me because I came out the other end of it and I can tell kids how I dealt with things," she said. "It's a great feeling that I can help someone else go through something that I felt with my family."
Manning said his involvement with camp has profoundly shaped his life.
"I couldn't imagine my college experience without Camp Kesem," he said.
— By Kate Colwell
Media Contact
Assistant Director of Media Relations Office of University Communications
rpa@virginia.edu (434) 924-7189