As a junior in high school, Taylor Thompson raised $85,000 and spent 16 straight Saturdays building a Habitat for Humanity house in his hometown of Austin, Texas.
He was working to help single mother Annette Lopez and her daughter, but he was also working to honor his own mother and, in a way, to help himself.
Thompson's mother, Maureen, died about a year before he built that house after an 11-year battle with breast cancer. Each Saturday he spent on site, the University of Virginia first-year student said, helped him work through his grief.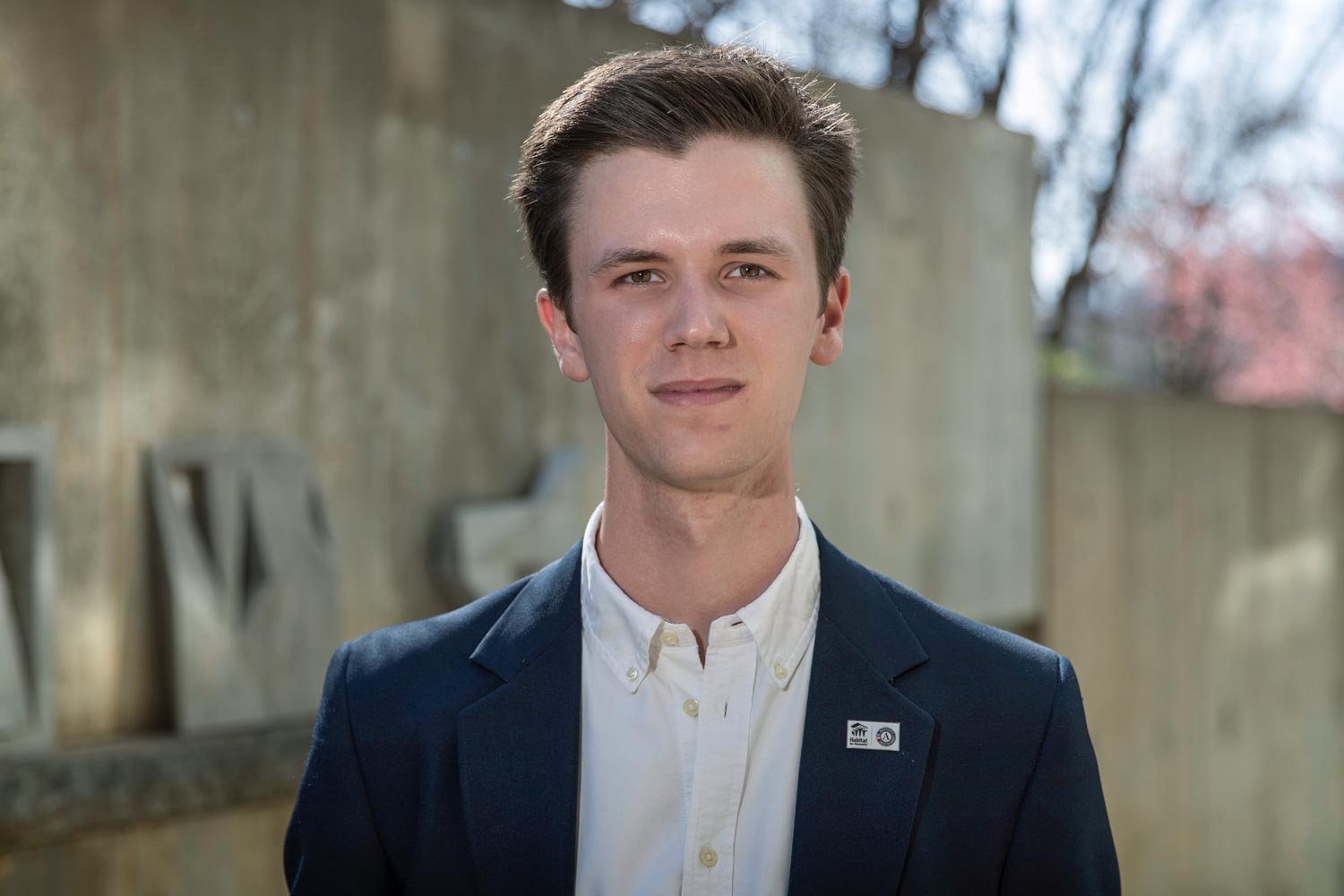 Thompson, now a first-year student in UVA's School of Architecture, said his mother's career introduced him to the field at a young age. (Photo by Dan Addison, University Communications)
Maureen Thompson was an accomplished architect who designed the house that Taylor and his two younger sisters grew up in. She often brought her three children to work with her on school holidays, and talked with them about the plans she brought home from the office.
She had also worked on Habitat houses. In fact, one of the houses she designed as a college student was just two blocks from where her son now hammered, drilled and painted each Saturday.
"Being in that space, focused on architecture and Habitat – both things that were very much a part of who my mom was – really helped me," Thompson said. "For eight hours once a week, I felt really close to my mom again."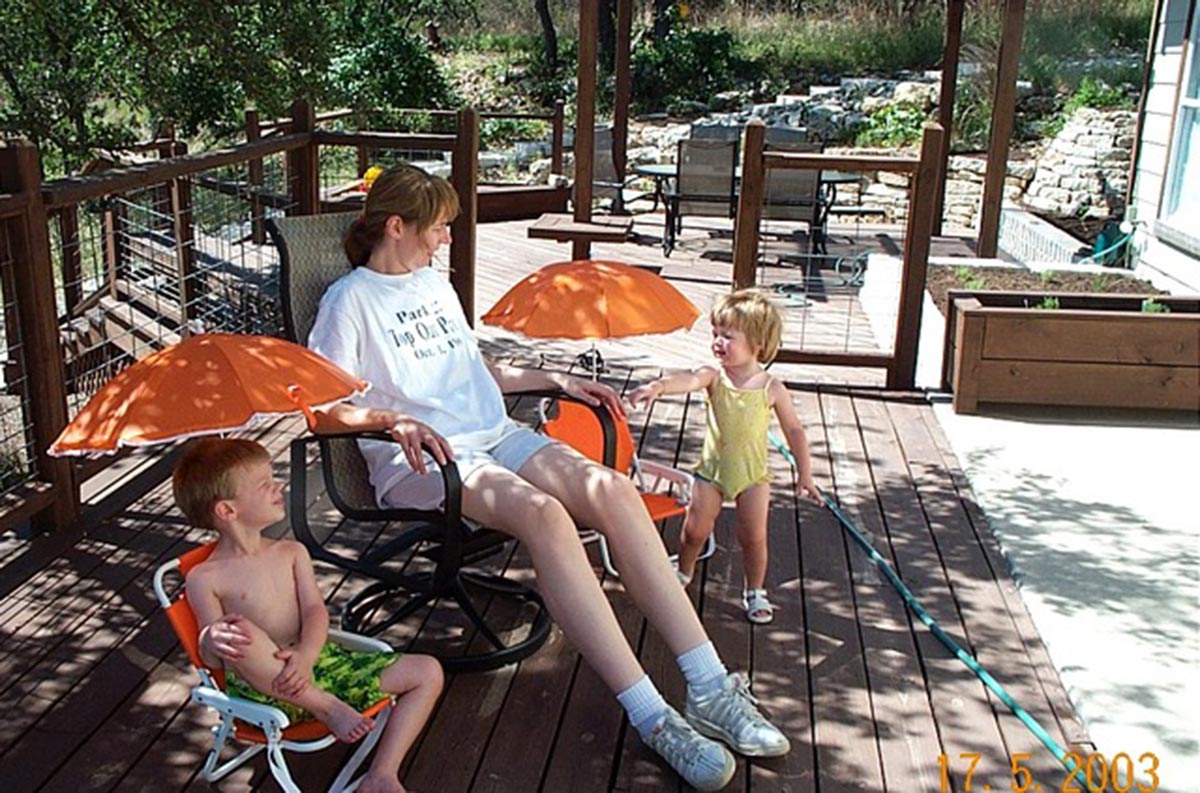 Thompson, left, with his mom, Maureen and younger sister Kyla. (Photo courtesy of Taylor Thompson)
Thompson's father, Gary, said he could see the relief the work brought his son, who he describes as having both his mother's height – she was quite tall – and her heart for others.
"I could see it in his eyes, as he was hammering, this peace and calm," he said. "Maureen would love the fact that he is making other people's lives better by creating places they can call home."
Taylor was 15 when his mother died on Oct. 21, 2014. Though only a sophomore in high school, the longtime Boy Scout had already begun thinking about his Eagle Scout project and knew he wanted to build a Habitat house. He had come up with the idea while talking with his father on an eight-hour road trip, and previously had many conversations with his mom about her own work with Habitat.
In September 2015, he presented his proposal to the local Boy Scout Council. They turned it down, worried that raising the $85,000 needed to build a Habitat house was too ambitious.
Undaunted, Thompson decided to raise the money on his own. The house would not be his Eagle Scout project; it would simply be his tribute to his mom. The Scouts' refusal, he said, was a blessing in disguise.  
"It made me realize and allowed me to do the project solely for the reason I wanted to do it," Thompson said. "And that was because I loved my mom and wanted to do something to honor her and her memory. I wanted to do something not just mourning the breast cancer, but mourning the mom, the life, the friend, the architect, the person that did things for other people."
He started fundraising in October 2015, calling up and meeting with people all over Austin. Within a few months, he had the $85,000 he needed, thanks to individual donors and companies like Kendra Scott, Wells Fargo and O'Connell Robertson, his mother's architecture firm.
"I was nervous at first, but once I got a few people to say yes, I felt more confident," Thompson said.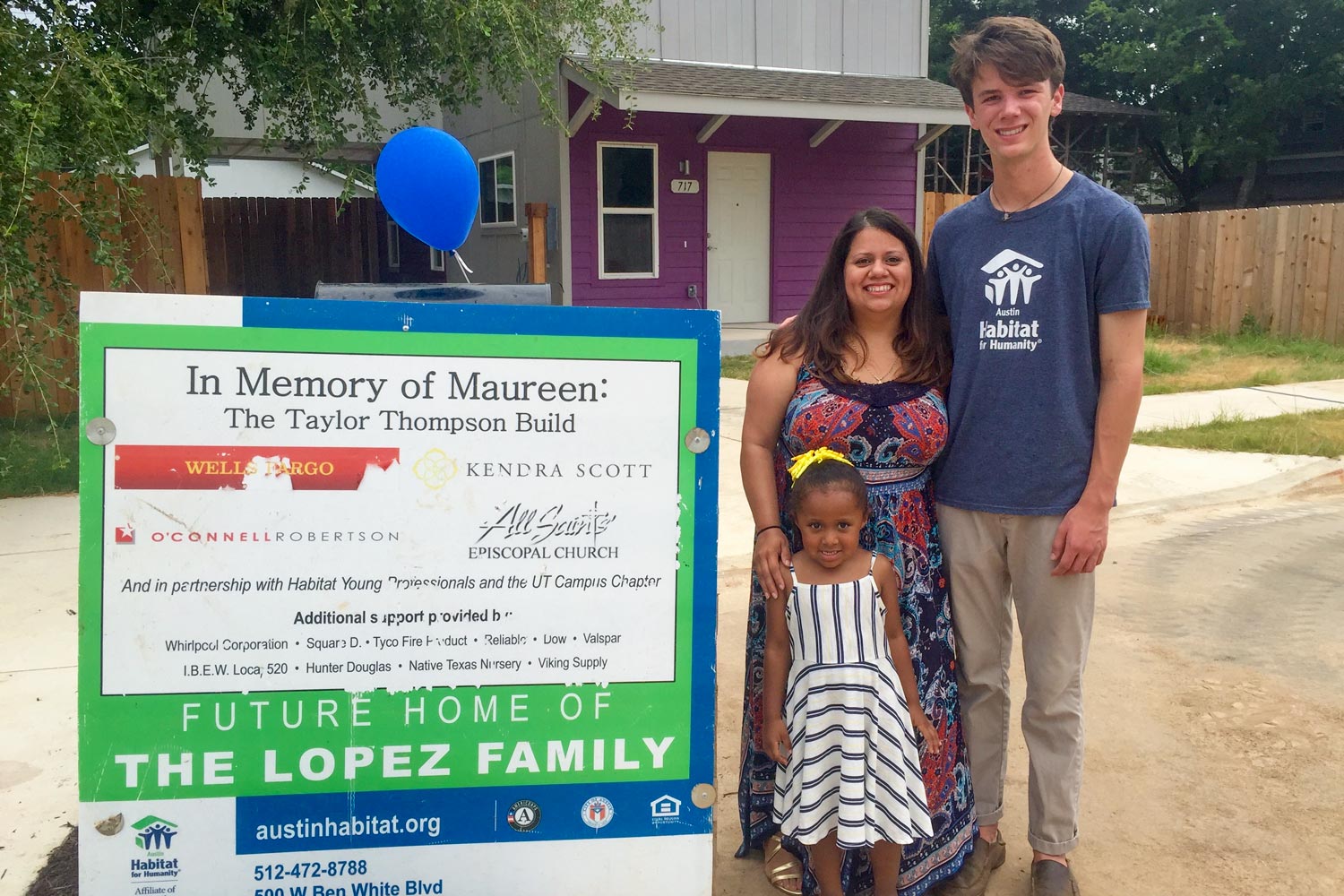 Thompson with Annette Lopez and her daughter, who now live in the home in Austin he sponsored and built in honor of his mom. (Photo courtesy of Taylor Thompson)
By June 2016, Annette Lopez and her 4-year-old daughter were receiving the keys to their brand-new home. Thompson's involvement with Habitat for Humanity, however, had only just begun.
From Memphis to Thailand
Since that first house, he has helped out with others in the Austin area and even gone on a Habitat Global Village Build trip to build homes in Thailand. He has also been invited to two Carter Work Projects, special weeklong Habitat for Humanity builds led by former President Jimmy Carter and his wife Rosalynn. Both have volunteered with Habitat for more than 30 years. 
Throughout the week, groups of volunteers build dozens of homes in that year's host city. The first time he went, in Memphis, Thompson and his dad spent the entire week at the same site as the Carters, where they were joined by Habitat CEO Jonathan Reckford and country artists Garth Brooks and Trisha Yearwood.
The former president, now 93, and first lady, 90, were on site and part of the action every day.
"They were both amazing," Thompson said. "To see a man who used to be in the most powerful seat in the world performing the purest form of servant leadership there is … it was incredible."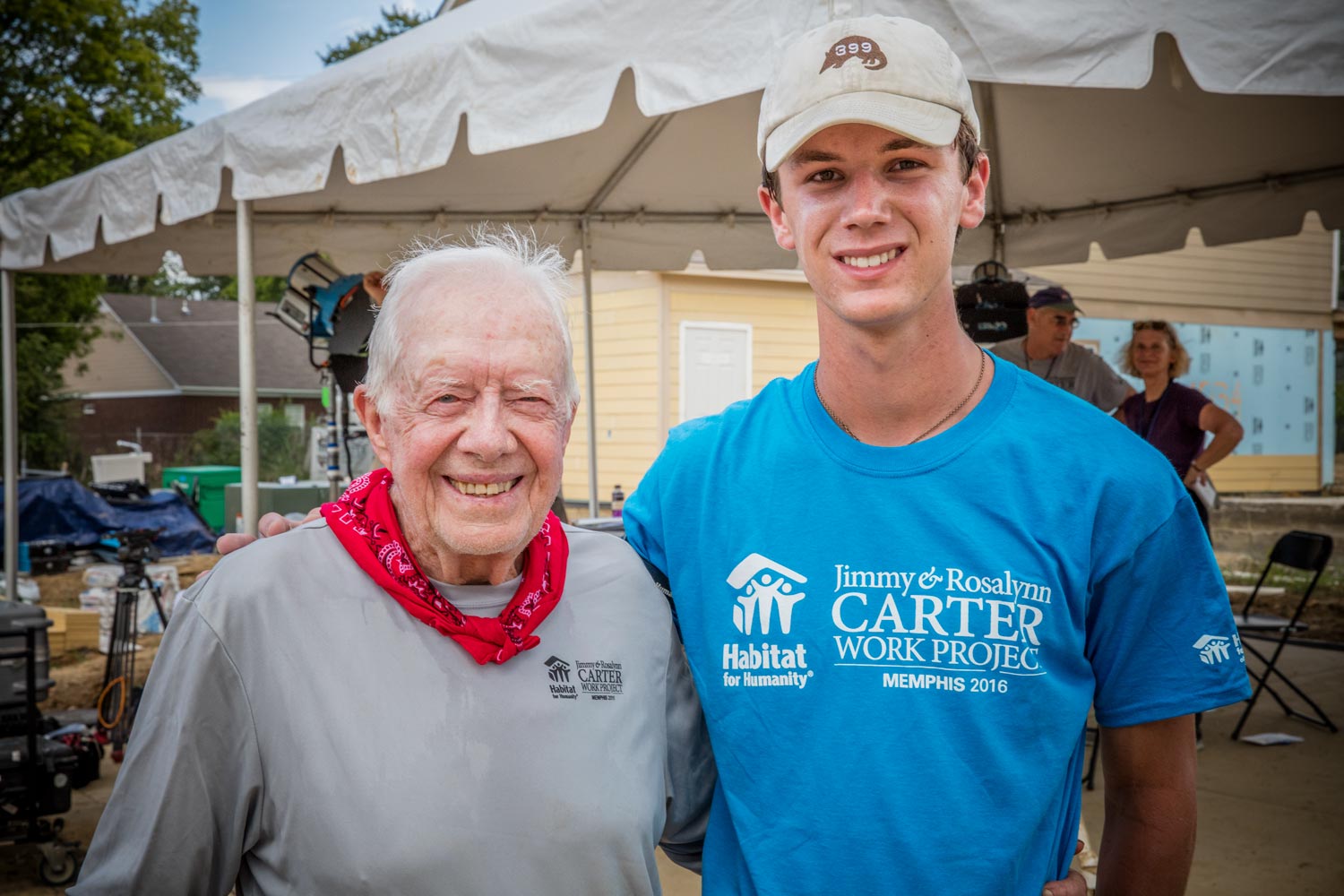 Thompson with former President Jimmy Carter, a longtime benefactor and volunteer with Habitat for Humanity. (Photo courtesy of Taylor Thompson)
Shortly after that build, Thompson started his senior year and began applying to colleges. He knew two things: he wanted to try living in a different state, and he wanted to be an architect. 
"I had lived my whole life in a house my mom designed, always having plans around the house or going into her office," he said.
In high school, he did a summer program at the University of Texas School of Architecture. He remembers being so worried that he would not like it.
"I was nervous that something I had loved and thought I would do for my whole life would not end up being what I thought," he said. "But coming out of that program, I knew."
'This is the Place'
The question then, of course, was where he would study. He visited several other schools before coming to an event at UVA for admitted students about a year ago. That afternoon, walking by Scott Stadium, he told his dad to cancel all of the other college visits they had planned.
"This is the place," Thompson, now a UVA Blue Ridge Scholar, remembers saying.
As his first year draws to a close, Thompson remains sure of his choice. He has enjoyed living in the "old dorms" and getting to know his classmates as vice president of the first-year class, and he loves all of his classes in the School of Architecture. This summer, he will welcome new students to UVA as an orientation leader.
Of course, he is still involved with Habitat. He was recently elected as co-president of Habitat for Humanity at UVA; his term will officially begin in the fall. In February, he spoke at Habitat on the Hill, a weeklong legislative conference that brings Habitat volunteers from across the country to Capitol Hill, where they meet with lawmakers and advocate for affordable housing policies.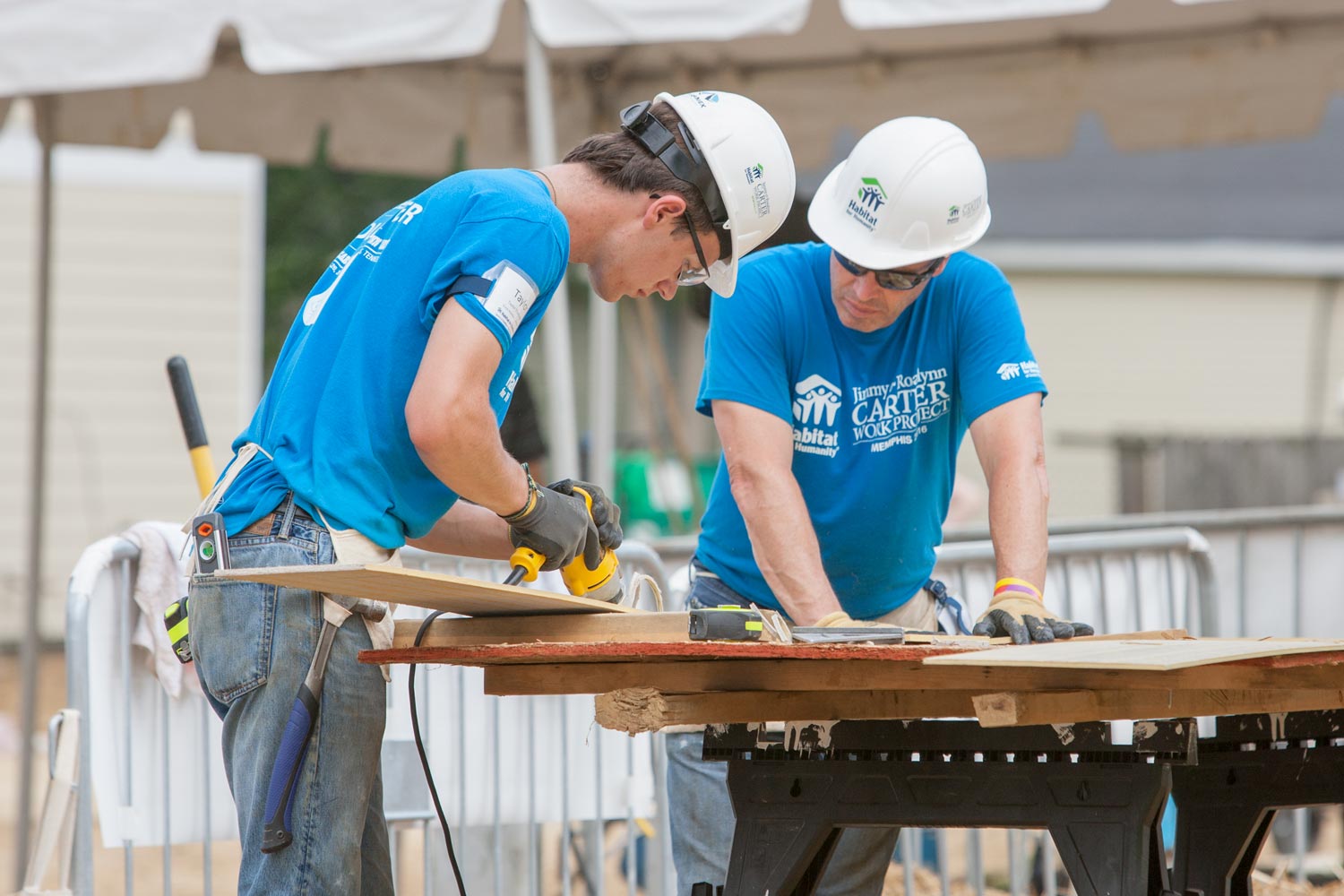 Thompson realized this year that he wanted to devote even more time to Habitat for Humanity. (Photo courtesy of Taylor Thompson)
As he spoke at the conference and met with legislators, Thompson realized how much confidence he had gained through Habitat.
"Going in, at 14 or 15 years old, I was meeting with people decades older than me, and I would outline specific speaking points with my dad beforehand," he recalled. "Over time, I grew in confidence, got the know-how and started to understand the lingo and what I was saying."
An Ongoing Mission
After that week in Washington, Thompson realized that he wanted to devote even more time – and possibly much of his career – to Habitat's mission.
"On the train back from D.C., I just realized that this is really who I am at the core, this is what I love to do," he said.
He chose not to run for re-election as class vice president so that he would have more time and attention to give to Habitat. Already, he is working with a fellow 'Hoo, recently-elected third-year class vice president Ginny Brooks, on another project. Brooks' mother is a volunteer leader in Boy Scouts of America and is collaborating with other international scouting leaders around the 2019 World Scouting Jamboree, which will bring 40,000 Scouts from 75 different countries to West Virginia for a weeklong camp and conference.
Thompson and Brooks are crafting a week of service to coincide with the massive event. They hope that Scouts in West Virginia can come together to build Habitat homes there while, simultaneously, crews around the world build one home in each of the 75 countries represented at the jamboree.
"It's a way to bring kids around the world together, working on a project with a common goal," Thompson said. "It's ambitious, but we have more than a year to put it together."
If the Boy Scouts learned anything from the first time they told Thompson he was too ambitious, perhaps this time they will tell him to dream even bigger.
Media Contact
Article Information
April 6, 2018
/content/student-spotlight-he-raised-85k-house-honoring-his-mom-and-found-lifelong-mission