On what started as a quiet day of classes in 2016, the University of Virginia's Darden School of Business hosted a rare collision of worlds – a meeting of MBA students and ABC's "The Bachelorette."
The surprise discussion between "Bachelorette" runner-up contestant Robby Hayes and student fans of the show was made possible by 1Degree, a new social media app founded by second-year Darden MBA candidates Maximillian Huc and Sam Boochever.
"This was right after the show was ending, so Robby was really famous in the moment. He had just downloaded our app and was creating an auction to test it out," Boochever said.
Huc and Boochever credit the Darden School and the UVA iLab with helping them make connections and build their platform.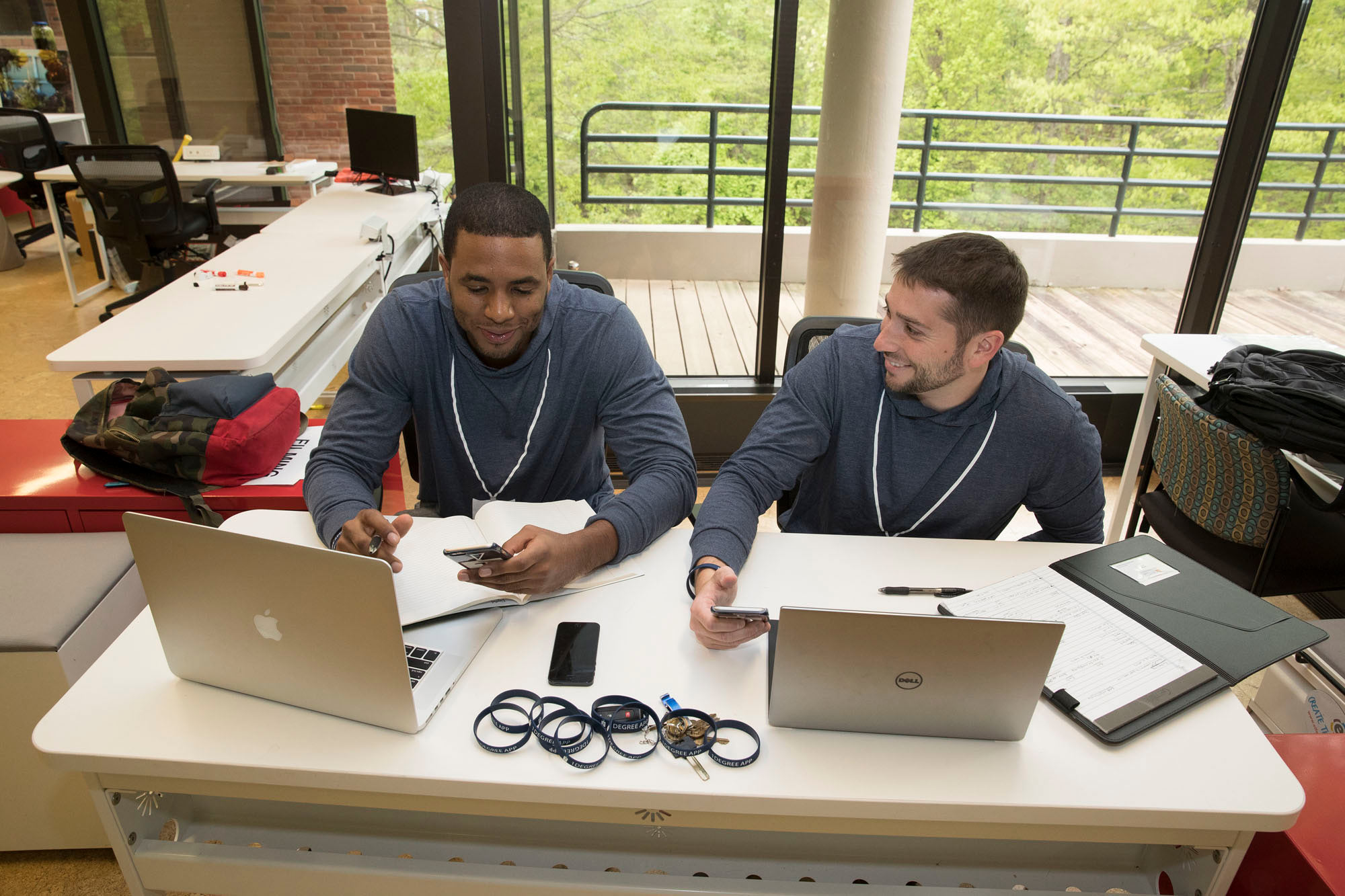 Huc and Boochever credit the Darden School and the UVA iLab with helping them make connections and build their platform.
1Degree is a connection app that gives users the opportunity to speak with their favorite celebrity "influencers," as the app calls them, face-to-face. Influencers like Hayes start the process by creating an in-app auction, typically designed to raise funds for the charity of their choice. Fans can then log in and bid for the opportunity to speak with a well-known personality over video chat. The highest bidder or the first person to bid $200 at the end of the auction window wins the chat. There's a $200 bidding cap on all auctions to keep the platform more accessible to all fans.
It's like eBay for celebrity conversations. 1Degree collects revenue through a percentage of every transaction that occurs on the platform.
"Robby was new to the platform and he hadn't really built up his following yet, so it was only Max and myself and a few others who were following him," Boochever said. "He created an auction without telling anyone – they can be planned or spontaneous – so I was sitting in class when I got the notification that Robbie Hayes was going live."
Anxious to make one of the app's first auctions a success, Boochever quickly texted friends around the school for help and once his class was ended, sprinted out asking more people to log on and bid. Luckily word had already spread, and as Boochever entered Darden's dining room, he found a group of excited students happily video-chatting with Hayes.
Since its earliest auctions in 2016, 1Degree has picked up a steady stream of new influencers, including popular figures in the NBA, NASCAR and new music scene. Meanwhile, it's growing its user base into the thousands.
Huc and Boochever honed their idea over the summer as the first remote participants in UVA's i.Lab Incubator. They worked with entrepreneurial mentors and instructors at UVA while living in Los Angeles to build their contacts and bring on more interested celebrities.
Their hard work has paid off not only in a growing user base, but also with increased recognition and funding. In just the last month they secured first place in the launch competition stage of the UVA's Entrepreneurship Cup, earning a $20,000 prize, and won the recent Crowd-Funded Pitch Night at Charlottesville's Tom Tom Founders Festival, bringing in another $5,200 in prize money.
Now on the road to success, Boochever and Huc chuckle as they remember how the idea for 1Degree first came to them. Co-founders as well as roommates, the two Darden students often spent evenings bouncing start-up ideas off of each other.
"Then there was a definite spark. We were just hanging out in our apartment and we read an article about a fan who paid Meek Mill – he's rapper out of Philadelphia – $2,000 to stick his head out of his Las Vegas hotel room door and take a selfie," Huc said. "Sam and I thought it was really crazy how much people are willing to pay or how much they're willing to go out of their way to access these individuals who influence their life. We started to ask, 'How can we make this wow moment available to people every day?'"
The groundwork for 1Degree was laid and the pair have been spreading their idea ever since. They recently joined two other i.Lab companies to attend the South by Southwest Festival in Austin and share their work at the annual convergence of entrepreneurs.
Now, they're planning new collaborations with non-profits hoping to use the 1Degree to raise funds.
Huc and Boochever are working with the American Civil Liberties Union in May to raise funds through a series of 1Degree auctions at the Collision Technology Conference in New Orleans. Participating tech entrepreneurs and investors have pledged to log on as influencers and donate all profits from their 1Degree auctions to the ACLU.
"We'll have prominent investors and CEOs on one end and start-up companies as users on the other end who will use our app to bid for the time to pitch to these individuals," Huc said.
With just a month until they graduate with their MBAs, Huc and Boochever already see a busy future. The pair will remain in Charlottesville for the summer as they continue to grow their fledgling company, then hope to set up permanent office space in either New York or Los Angeles.
"We're really thankful to the Darden support network and the i.Lab for all their help so far," Boochever said. "They've given us a ton of opportunities that have greatly increased our chance of success and put us on the path to something special here. They've been a huge backer in our corner and it means a lot."
Article Information
April 20, 2017
/content/student-start-shrinks-degrees-separation-between-celebrities-and-fans