It's known as the "Trash Class," and the students are deep in it.
Nineteen University of Virginia engineering students, many of them wearing white plastic jump suits to protect their clothes, pored through translucent trash bags behind Thornton and Olsson halls last week, segregating the trash from three academic buildings – Thornton, Olsson and Rice halls. (All of them also wore sky-blue safety gloves and eye protection.)
The students are studying the trash, not just for a civil engineering course, "Solid Waste Management," but also to contribute to the University's materials and waste action plan. The University's Office for Sustainability is working on several action plans within the University's overall Sustainability Plan, which also includes plans to deal with the University's nitrogen footprint and water consumption.
Lindsay Ivey-Burden, senior research associate and civil engineering instructor, said the students enrolled in her course take an in-depth look at where garbage goes once it is thrown away.
"If they find out what is in the trash, they can figure out how to divert it," she said.
The students stood on a bright blue tarpaulin laid out on the pavement next to the 6-cubic-yard dumpster near the Thornton and Olsson loading docks, surrounded by plastic bags held upright by metal frames, each one marked for a purpose, such as "recycling" or "composting" or "landfilling." The students pulled trash out of the dumpster and separated it into the appropriate categories. Bruce "Sonny" Beale, the recycling program superintendent for the University, and Jesse Warren, sustainability program manager for buildings and operations, assisted the students in the trash diversion, noting which things went into which category – which was not always easy.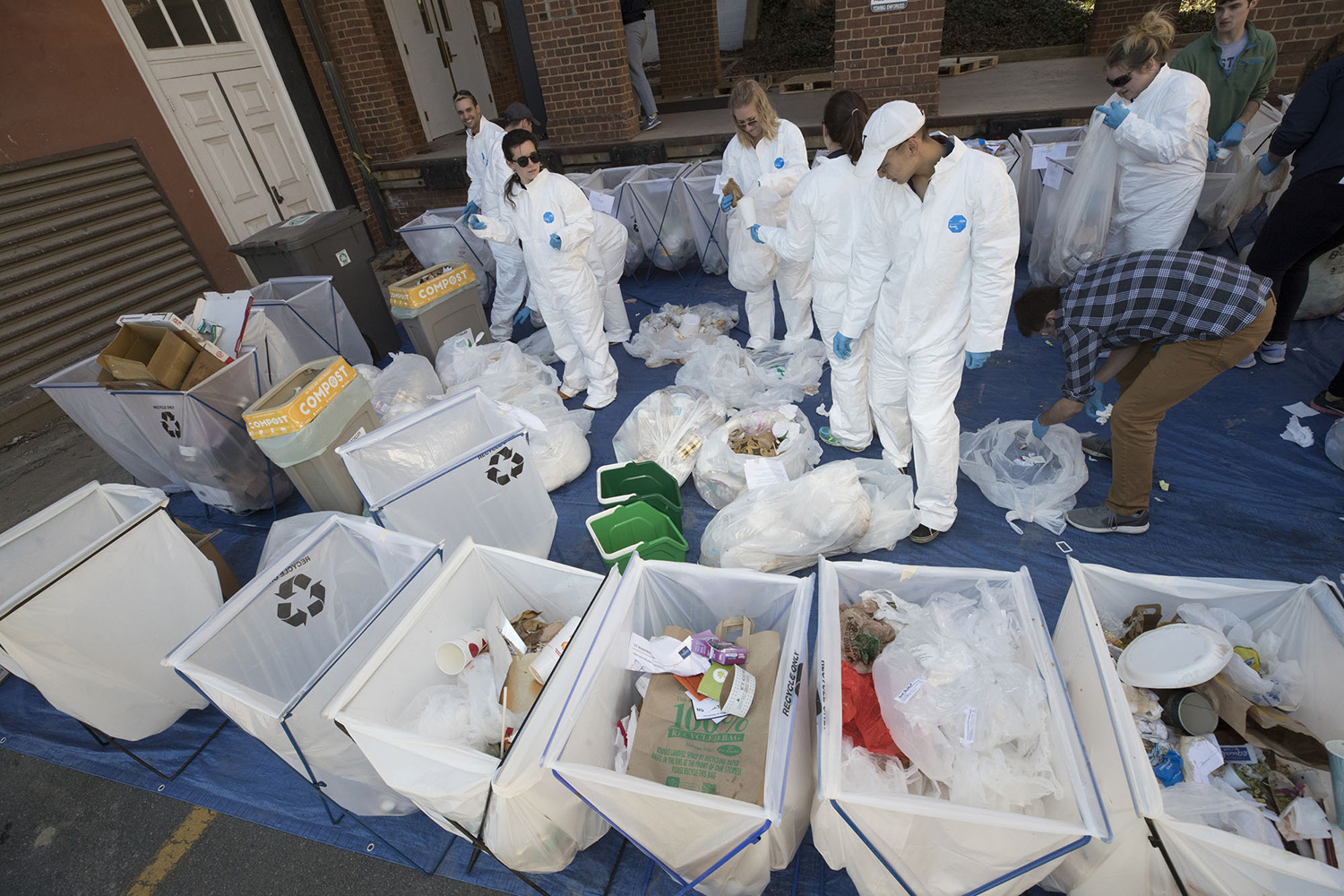 "You have combined material, such as a disposable coffee cup, which is lined with a thin coating and plastic lid that is half full of coffee, which is organic," said Mary-Michael Robertson, a third-year civil engineering student from Hurt. The plastic lid is recyclable; the coffee is compostable; but the paper cup, because of the lining, has to go to the landfill, according to Beale.
Some of the trash was simpler to tag: bags of bagels and packages of out-of-date bacon, an upholstered metal office chair with one broken wheel, metal plumbing pipes, scraps of treated lumber and a half-eaten tin of sardines.
Matt Dean of Charlottesville, a third-year civil engineering student, said the exercise has him thinking about his own lifestyle.
"How much can I reduce to have a smaller impact on the environment," he said. "How much can I recycle? Do I get my groceries in paper or plastic or carry them myself? What can I do without?"
The class centers on trash and what happens to it once it is thrown out, according to Ivey-Burden.
"We cover sustainability issues, landfills, landfill alternatives, recycling, composting and the economics and politics of trash," she said. "Trash and landfills directly affect humanity. These are the problems we are trying to solve."
While the trash audit helps the students understand the problem at the heart of the course, it is also helping the University as a whole; the students are tasked with coming up with four or five ways the University can better handle its trash. Trash audits will also be performed on other parts of Grounds, such as the residence halls, to give the Office for Sustainability a more complete picture of the University's garbage stream. Warren will return to the class in mid-April to brainstorm with the students on trash-reduction suggestions which may be incorporated into the materials and waste action plan.
Of the 46 students in the course, 19 participated in this trash audit. About 20 will work on another audit at the same spot next week; the remaining students are making personal audits, inventorying their own trash.
Robertson noted that her apartment building offers only "single-stream" waste removal, where everything is put into one bag, with the idea that it would be sorted by the trash hauler. But Van der Linde Recycling, which handled the household waste from this area, shut down its residential trash operation on March 1.
Robertson said she is looking at ways she can recycle and compost at her family's home in Hurt.
"Working with trash hands-on like this makes you think," she said. "Seeing it this way makes more of an impact."
"I think we need a cultural shift," Dean said.
Warren thought the audit would go quickly, but it took the allotted two hours. "The people in the building were putting trash into the dumpster as fast as we were taking it out," he said. "It was amazing how much was coming out of these buildings."
Robertson said she was amazed how much trash there was in one dumpster, accumulated over a 30-hour period.
Ivey-Burden said the students have become much more conscious of their personal trash habits and those of the people in these buildings.
"Once they know that, they can better plan on ways to divert the portion of the waste stream that is recyclable," Ivey-Burden said. "The students will also be responsible for coming up with ideas on ways to divert recyclables and eliminate garbage on Grounds."
Article Information
March 21, 2018
/content/students-dumpster-dive-contribute-uva-trash-action-plan