Find the latest information on the University's response to the coronavirus here.
EDITOR'S NOTE: For more information on the University's response to the novel coronavirus, visit virginia.edu/coronavirus, including FAQs for current students that are updated continually. Find all coronavirus messages from University leadership archived here.
On Sunday morning, brother and sister Will and Charlotte Milone drove from Alexandria to Charlottesville with their father, Steve, for a surreal experience: moving belongings out of their dorms, not knowing that on the very next day, the University of Virginia would confirm its first case of COVID-19.
The University has given students until Wednesday at noon to retrieve their things from dormitories, with the exception of those who have no other option than to stay on Grounds. "The process has been operating smoothly," said Gay Perez, assistant vice president of student affairs and executive director of Housing & Residence Life. "Students and family members have been returning to Grounds to briefly obtain essential items. It is up to the resident to determine if they take more than essential belongings."
Arriving mid-morning, Will, a third-year architectural history and preservation major with a minor in architecture, packed all of his clothes, shoes and a bike at Hoxton House, part of the International Residential College.
"Grounds definitely felt empty when I arrived," he wrote. (Both Milones communicated via email on Monday.) "There were still cars in the road, but there was hardly anyone to be seen on foot. In the International Residential College, the only people I saw were a hallmate of mine moving his things out with his dad and another student and his family in the neighboring building who were clearly doing the same thing."
Meanwhile, Charlotte and Steve were going through a similar dance on the third floor of Emmet House, one of the McCormick Road hall-style first-year dorms.
Charlotte called entering her room "eerie." Her roommate had already come and gone a few days earlier. "Her wall, before covered with photos, posters, and other decorations, was now blank. Having cleaned out a majority of her belongings, her side of the room almost appeared uninhabited," Charlotte wrote.
She and her dad defrosted the minifridge, unplugged everything and made several trips from her room to the car.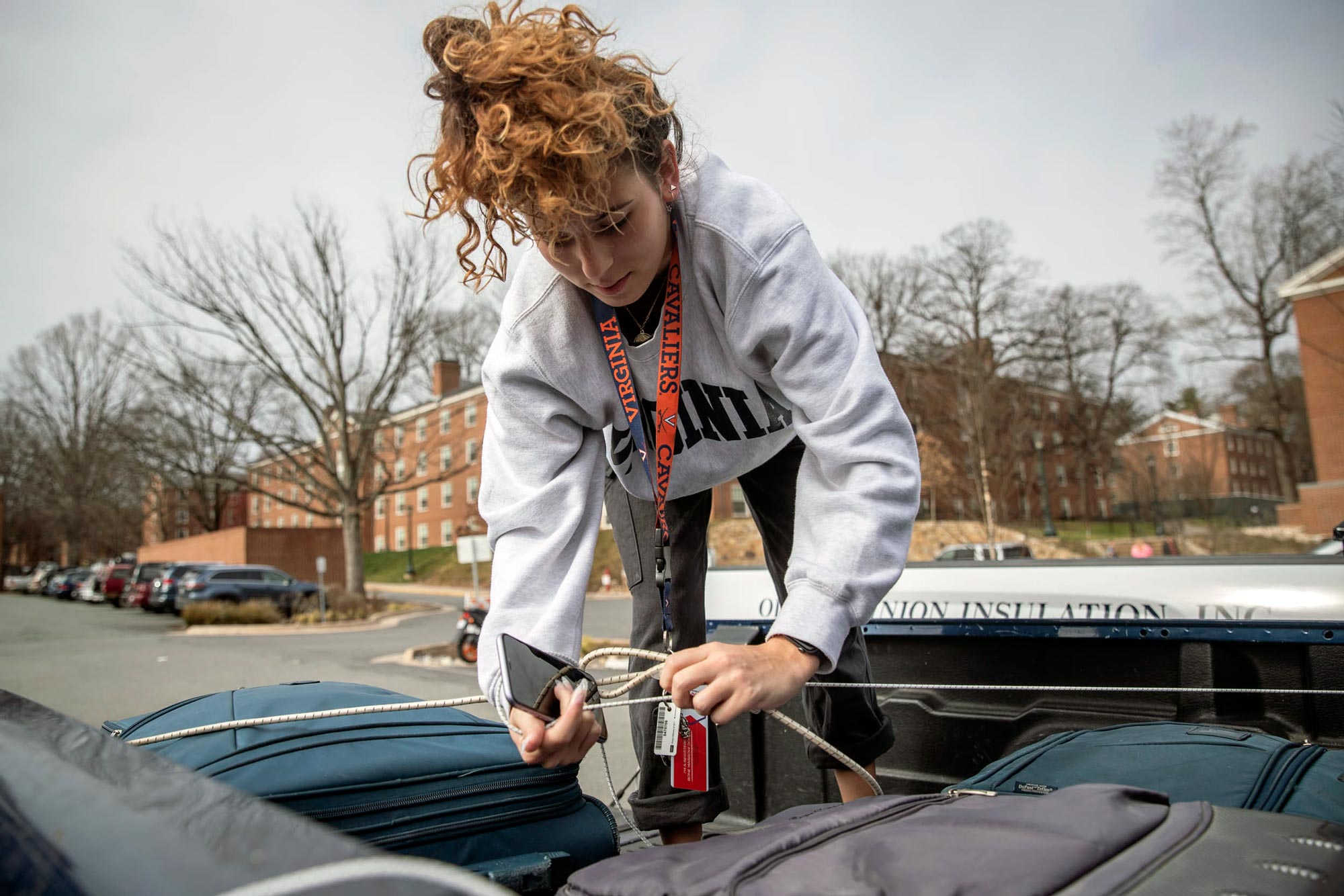 Taina Santana secures suitcases in the bed of a pick-up truck.
"Being the optimistic person I am, I still held on to a sliver of hope that we'll get to come back, so I didn't take down my decorations or strip my bed. Otherwise, the room was pretty much empty by the time we were finished.
"On the way out of Emmet, I ran into one of my friends who lives in Humphreys and was also moving out," she continued. "For a moment, I completely forgot about the virus and why we were there in the first place and I reached out to hug her. My dad reminded me, 'Social distancing, Charlotte! Six feet!'" 
The reality of moving back home and taking courses online for the foreseeable future set in at different times for the siblings.
"As we drove out of Charlottesville, I reflected on the memories from my first year, feeling nostalgic and sad, and left with a feeling of incompleteness. Moving out was certainly disheartening, but I think the reality of the whole situation really set in once I started unpacking my clothes from the bags and packing them into my drawers at home.
"I am beginning to receive more and more emails about online classes, and it certainly will be a strange adjustment maybe finishing the semester online," Charlotte wrote. "As unenthusiastic as I am about the whole situation, as many students must be, too, it is something that we are going to have to deal with. As difficult as it may be, I hope that we can make the most of this terrible, unexpected situation and turn it into a time of productivity and learning."
Will said nothing unusual was going through his mind as he and his family made the drive to and from Charlottesville. "I am not worried about this virus because I am pretty much avoiding all public spaces, as per the advice of my parents. I know that as long as I continue to *almost* self-quarantine and practice good hygiene, I am not likely to be infected or to spread the virus to any sensitive members of our community," he said.
Will added that he will miss the hands-on aspects of some of his architectural history and historic preservation courses. "On a positive note, however, one of my final projects for a preservation class requires that I spend lots of time looking at Alexandria records only available in the Alexandria Special Collections Library. I wasn't able to get enough research done during spring break, but now I have plenty of time for that on my hands."
First-year student Avery Goldberg returned to her Long Island home Saturday with father, Jeff. He said it's nice to have her home, but that he recognizes this is a huge adjustment for his daughter.
"I'm sad because I know how much she loves UVA, her classes, the Grounds, her friends, her new sorority and extracurriculars," he wrote. "I consider UVA to be a special, almost magical place. This decision was the only one that could be made and President Ryan did the right thing to protect the students and all who live and work there."
Student housing head Perez said many students are taking advantage of having essential items shipped to them.
"We have residents who have requested essential items be shipped to them. The requests are coming in daily from primarily out-of-state students. Most requests are for textbooks, notes, medications and computer and chargers," she said. "We recommend residents work with a friend who is coming to retrieve belongings to gather theirs if at all possible.  
"Anyone who is within driving distance of Grounds and not at risk, per Centers for Disease Control and Prevention guidance, should come and retrieve their belongings. It will probably be more efficient and faster than asking to have the items shipped," Perez said. "If residents are out-of-state or have symptoms of illness and/or exposure, we are prepared to send essential belongings using priority shipping."
Perez stressed that it's important for students to take what they need for the foreseeable future, including anything needed to feel comfortable while home. "For some students, they may want to take everything out of their room – and that's OK," she said. "We will determine a final move-out plan for a period of time in the future." 
Finally, Perez thanked everyone for their patience during such a highly unusual time.
"On-Grounds housing is not the same with a reduced student population," she said. "Housing & Residence Life will miss having everyone around Grounds during this time. We hope that everyone stays safe and healthy at home."
Article Information
March 16, 2020
/content/students-experience-melancholy-moments-they-leave-eerie-grounds