Editor's Note: On Monday, Nov. 16, Moderna announced that preliminary trials showed its COVID-19 vaccine to be nearly 95% effective.
L
ike many of his peers at the University of Virginia and around the country, Nick Seyler watched his planned summer job vanish as the novel coronavirus pandemic gripped the United States.
The chemical engineering and biology student quickly began sending out résumés again even as the virus spread, and he ended up in Portsmouth, New Hampshire, working as the cell therapy intern for the Swiss chemicals and biotechnology company Lonza Group. It would be a good internship by any measure, but this year it put Seyler, a rising fourth-year student, squarely in the middle of the race to develop a COVID-19 vaccine.
Lonza is partnering with the American biotech company Moderna to develop commercial production lines for Moderna's coronavirus vaccine, which made headlines last month after data was published showing the first 45 people to receive it developed the hoped-for immune response.
This U.S. commercial manufacturing line, which Lonza and Moderna will rely on to produce millions of vaccine doses – should the vaccine be approved – is being quickly set up in Portsmouth, in the same cell therapy area where Seyler works as an intern. The company is aiming to finish the production line this fall, pushing for a month or two earlier than its original December target.
"Lonza is a global leader in pharmaceuticals and biologics. I was very lucky to get an interview, and I am really glad I have been able to work here," said Seyler, who did not know about the vaccine contract until after he accepted the internship. "I never thought I would have the chance to do anything close to as important as this, especially this summer after my first job was canceled at the last minute. It has been an amazing experience."
One of Seyler's main duties is helping to catalogue and track the arrival of new lab equipment needed to manufacture the vaccine and help establish maintenance and calibration plans similar to the approach Lonza uses for other equipment, to ensure reliability and quality.
"Lonza has a system for tracking all of its equipment and instruments, developing maintenance plans and proactively working on the equipment so that nothing breaks down," he said.
Eventually, the company plans to produce between 500 million to 1 billion vaccine doses per year.
"I have gotten to have input on some of the decisions that set the precedent for equipment maintenance for the entire project, which is pretty exciting," Seyler said.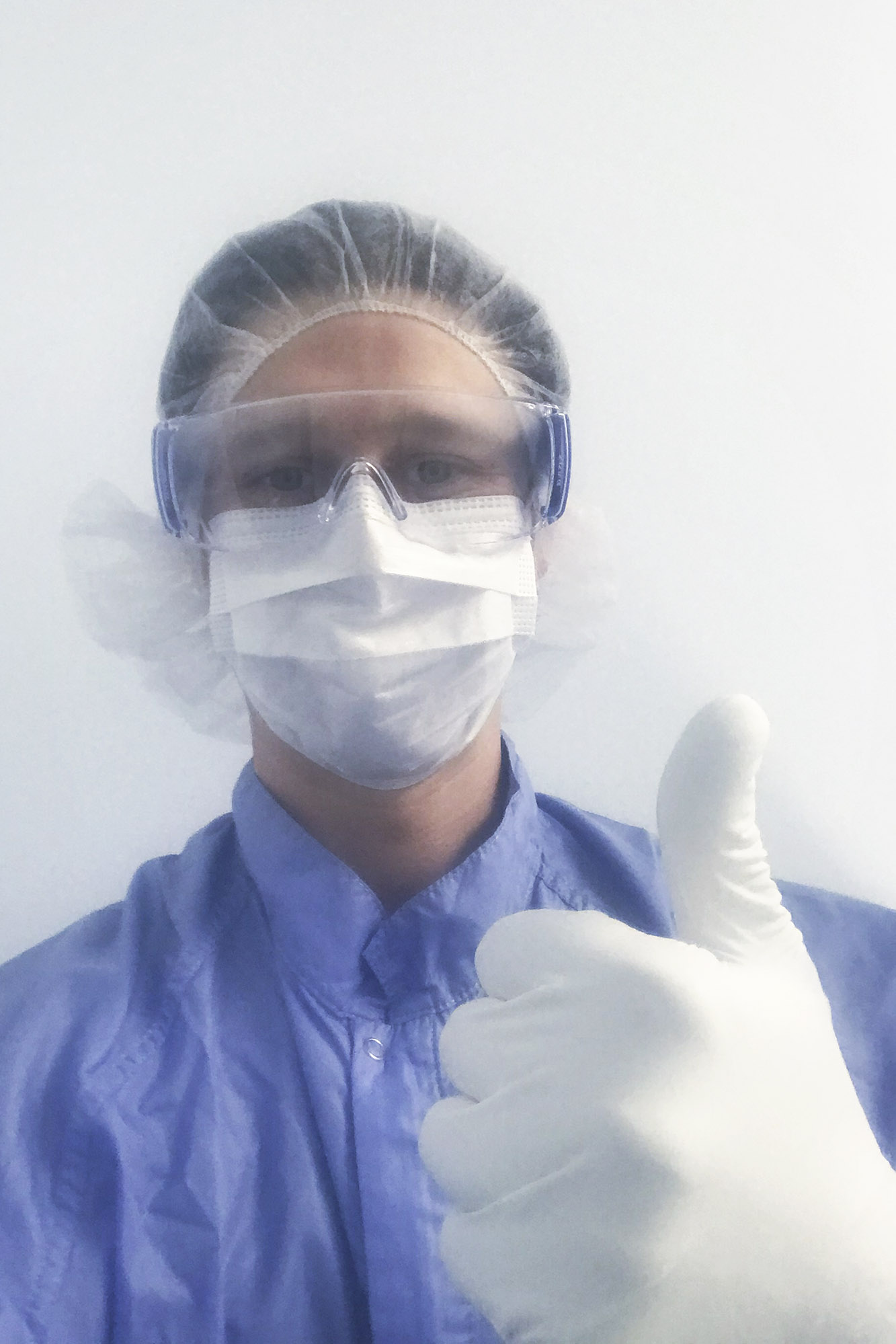 Rising fourth-year student Nick Seyler dons extensive protective gear each morning before he goes into work at Lonza. (Contributed photo)
Moderna's vaccine candidate is an mRNA vaccine, a novel type of vaccine that uses messenger RNA to instruct human cells to make specific proteins that create an immune response, rather than using a whole virus or pieces of the virus to induce a response, as most current vaccines do.
"Usually, to make a vaccine, you have to grow a cell culture in some way, or work with a live virus, which requires a significant production footprint and time," Seyler said. "To create an mRNA vaccine, it's a hybrid of cell culture and a chemical reaction, but the footprint required is much smaller and the production run is shorter."
Occasionally, Seyler sits in on meetings where his supervisors discuss the specifications needed to create that all-important chemical reaction.
"We might talk about what volume range we need, or what temperature range, or run tests with water or a similar substance to see how the equipment performs, and make sure it will be able to do what we need it to do," he said. "That has been really fascinating."
Seyler is not new to lab work. At UVA, he works in the Cell Signaling Engineering Lab led by associate chemical and biomedical engineering professor Matthew Lazzara. The lab studies the biochemical process cells use to signal other cells, and therapeutics that could correct aberrations in that process, potentially treating cancer and numerous other diseases.
"Nick has been fantastic," Lazzara said. "He has worked on a variety of projects in the lab, from cloning and molecular biology projects to image analysis. His work with us has been focused on cancer biology, but I am sure he is putting the same creativity and analytical skills to excellent use for Lonza."
Fourth-year Ph.D. student and researcher Brooke McGirr, who supervises Seyler's work in the Lazzara lab, has worked closely with the student for two years.
"He has continued to exceed expectations," she said. "He eagerly takes on new projects to provide insightful and creative solutions. His genuine interest in research and determination has made him a great asset to our lab."
Seyler said he loves working in Lazzara's lab – it has made him think about pursuing graduate school, just as his summer internship has made him think about working in the pharmaceutical industry.
"I've learned so much about how to work in the industry, about different equipment and all of the requirements you need to meet for safety," he said. "I have also learned a lot of soft skills, just how to work within teams, and get approvals that are needed for safety purposes, often from people in different departments who have a million other things on their mind. We do a lot of group work in school, of course, but it has been great to experience that in a working environment."
Right now, Seyler is focused on finishing up his work with Lonza before his internship ends and he returns to Charlottesville. By the time he leaves, he hopes the company will be well on its way to producing the vaccine dosages needed to help out in coronavirus hotspots around the country and the world.
"Hopefully, the commercial production lines will be finished as planned, and will be ready if approval happens for the Moderna vaccine," he said.
Media Contact
Article Information
August 13, 2020
/content/students-summer-internship-put-him-front-lines-vaccine-production