As University of Virginia students wrapped up final exams and began heading home for the holidays, they took the time to reflect on the past semester.
On UVA's Instagram account, we asked students about their favorite fall-semester courses. Submissions poured in with students highlighting engaging classes and how professors' teaching styles transformed their classroom experience.
We selected a few courses to spotlight from a variety of disciplines around Grounds.
Black Writers in America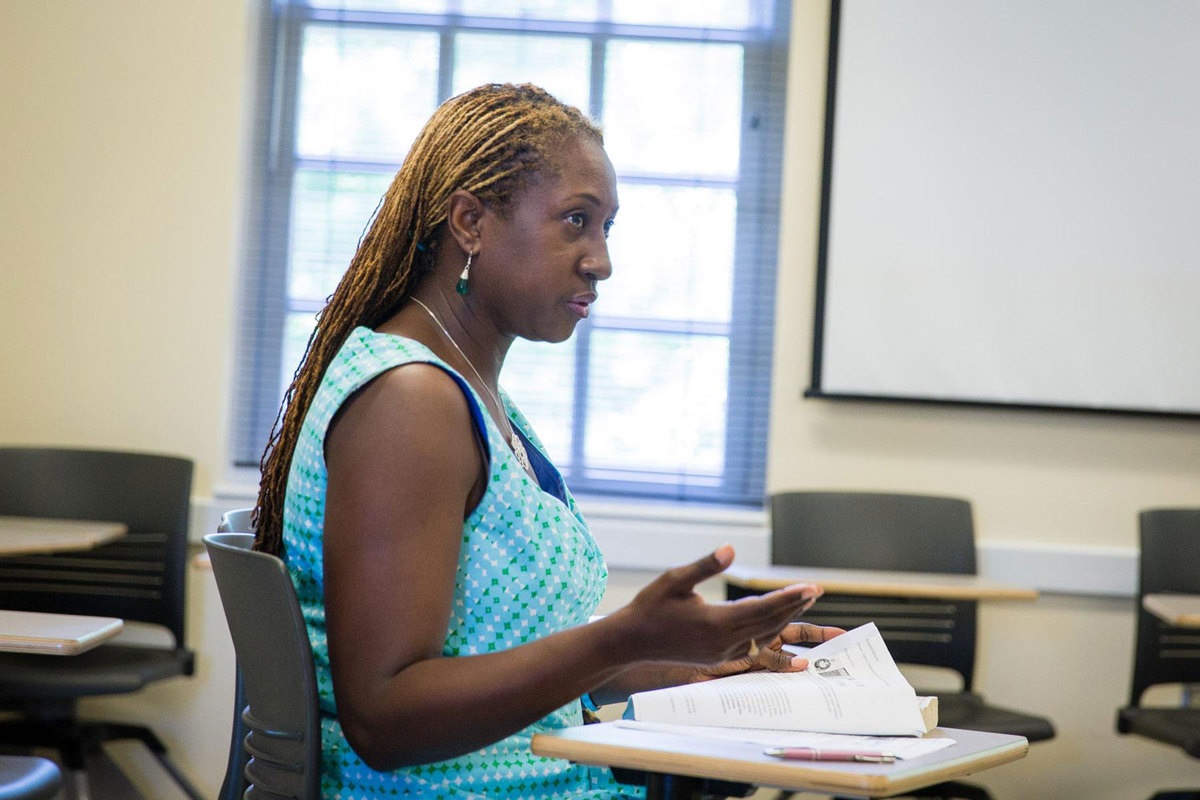 English professor Lisa Woolfork's "Black Writers in America" course was a student favorite. (Photo by Cole Geddy)
Kyle Guy isn't the only student who loves English professor Lisa Woolfork's courses. After taking one of Woolfork's summer classes, cognitive science major Madeline Williams made sure to enroll in her "Black Writers in America" course in the fall. Woolfork's teaching style made it one of Williams' favorites.
"Her talent in teaching and incredible intelligence make the class so interesting and challenging," Williams said. "My favorite part is the discussion-based layout – it creates a positive environment for critique and learning."
Science in the Elementary School
Finishing up his last year at UVA, biology major Matt Bartolozzi wanted to expand his horizons and take a course in the Curry School of Education and Human Development with professor Robert Tai.
"I thought this class would be an interesting opportunity to gain a new perspective on how science is taught in elementary schools," Bartolozzi said. "Little did I know how much I would thoroughly enjoy this class."
Bartolozzi said Tai "truly puts in the effort to get to know his students more personally" and would recommend the course to any student, regardless of major.
Russian and East European Film
Stanley Stepanic teaches a popular course on "Dracula" as well as one on Russian and East European film. (Photo by Sanjay Suchak, University Communications.)
While third-year student Aslan Urushanov couldn't get into professor Stanley Stepanic's popular "Dracula" course, that did not deter him from taking another course from the same professor. Urushanov found that Stepanic's "Russian and East European Film" was "really educational in terms of the films and the cultural and historical context."
In addition, the biology major spotlighted how Stepanic, an assistant professor of Slavic languages and literatures, kept students engaged.
"Professor Stepanic does a great job of keeping his class interested because he's so knowledgeable and passionate about the topics," Urushanov said.
Introduction to Media Studies
As a first-year student, Khuyen Dinh took "Introduction to Media Studies" with professor Andre Cavalcante to explore what it would be like to be a media studies major. One of the highlights of the course was how Dinh could connect what she was learning to the real world.
"It was very relevant to today's society, so learning about the relationship between media and other aspects of the world such as politics, gender and race was very enlightening," she said.  
So, will the media studies department have another student? It seems likely, as Dinh said she looks "forward to taking more classes with the department."
Biomedical Systems Analysis and Design
As a required course for biomedical engineering student Zainab Aziz, she decided to take "Biomedical Systems Analysis and Design" this fall because she "heard great reviews about professor Song Hu."
Aziz said she made the right decision, as she found that Hu "explained every concept clearly and walked through the class content in an amazing way." Future biomedical engineering courses often reference material in "Biomedical Systems Analysis and Design," so Azis found that this course would help in her future biomedical engineering classes at UVA.
Costume Technology
For media studies major Jordan Schneier, taking "Costume Technology" through the Department of Drama was all about helping her gain new skills.
"I spend a lot of my free time altering clothing to fit me or transforming it and posting it to my art Instagram, so this class seemed like the perfect opportunity to explore a passion of mine and improve upon/expand my skill set."
Coming of the Civil War
Taking advice from his brother who attended UVA, Alexander Pradhan took "Coming of the Civil War" with history professor Elizabeth Varon as he was "interested in delving deeper into a period of history that had merely been touched upon in [Advanced Placement] U.S. History during high school."
With the course covering the antebellum period in the United States, Pradhan realized how the "politics and social dialogue has a tremendous and nuanced effect on the path of our country."
The Resilient Student: Transition, Thriving, and Leadership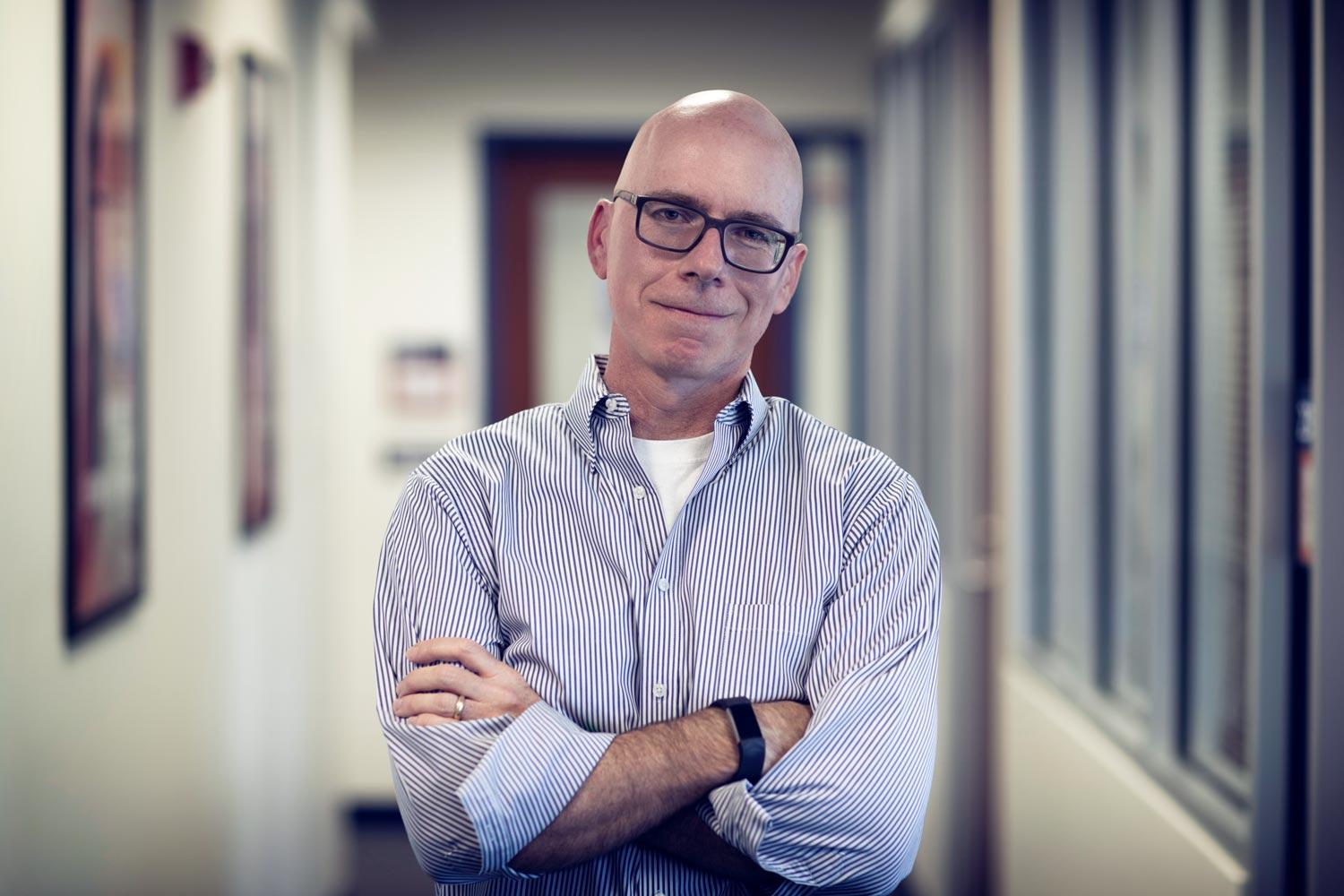 Batten professor Tim Davis teaches a class on student resiliency. (Photo by Dan Addison, University Communications)
More than one student spotlighted associate professor of public policy Tim Davis' "The Resilient Student: Transition, Thriving, and Leadership" course.
For first-year student Lauren Coppins, she signed up in order to "transition into my first year at college and gain some useful life and leadership skills." Not only did she gain new skills, but she found a new support network.
"We were able open up and be very vulnerable with each other, so it was awesome to build such a great emotional support network so early on in my college career," Coppins said.
Biology major Tatiana Gold signed up for the course after seeing Davis speak at her summer orientation. After taking it, she said that Davis' course helped her as a transfer student to UVA.
"I learned a lot about myself through this class, which was a very special thing for me, especially with a big transition like transferring," Gold said.
Introductory Physics I: Classical Mechanics, Waves, Thermodynamics
First-year student James Sappington was a bit apprehensive about taking a college physics class as he "never had a great experience with physics in high school." Sappington credits professor Cass Sackett as one of the main reasons this course was one of his favorites.
"Even though the class was hard, it never felt intimidating because he was always reassuring, hosted ample amounts of office hours, and was just super-compassionate," he said. "My favorite part were honestly the lectures, because he would do great demos and I lived for his small jokes he threw in."
Sappington recommends "the class to anyone who wants to get a good grip on physics."
Nonparametric and Rank-Based Statistics
A course title like "Nonparametric and Rank-Based Statistics" might sound intimidating, but statistics major Jisu Kim credits the material and her professor as the reasons it "ended up being my favorite class for the semester, and … probably my favorite statistics course so far."
"Professor Justin Weinstock is a really kind professor who is really knowledgeable on the course material and statistics in general. Also, the final project was a statistical consulting project, and I thought it was really fun to work on (especially because I would like to go into a career in statistical consulting in the future)," Kim said.
Commercial Law I
Second-year student Taylor Milch decided to take professor Sherri Moore's "Commercial Law I" course not only because of good word-of-mouth from other students, but because it seemed very practical class, despite her not being a pre-law student. Milch found that Moore's style of teaching really made the class for her.
"Professor Moore made the class extremely practical and relevant to her students, and always answered questions and left her office door open for questions on both material and life," Milch said.
Milch intends to take Moore's second "Commercial Law" course, which, as she mentions, "in no way fulfills any requirements."
Media Contact
University Communications
Article Information
December 13, 2019
/content/students-take-instagram-highlight-their-favorite-fall-courses