Over the last decade, University of Virginia men's basketball players have talked at great length about the impact that Coach Tony Bennett has had on them not only as players, but as people.
Before the NCAA Tournament got underway, a number of this year's players said the same thing holds true for their professors, who, in many cases, have been their mentors, friends and coaches off the court.
These faculty members have played a pivotal role in the players' acclimation to college life and in developing them into productive and thoughtful members of the University and Charlottesville communities.
With this in mind, UVA Today asked a few members of this year's team about their most impactful professors – and then talked with those professors.
Here's what both the teachers and pupils had to say.
Braxton Key and Jay Huff
Professor: George Gilliam, Department of History
As a transfer student from the University of Alabama, Key said Gilliam – who serves as his adviser – smoothed his transition. "He's always challenging my brain, and I just like him as a person," said Key, a history major.
Said Huff: "He's just a kind person who wants to help regardless of how well you're doing in the class."
Both Key and Huff (who is majoring in youth and social innovation in the Curry School) have taken Gilliam's "Viewing the South" course, which analyzes the changing way movies and fiction have depicted the South during the last 100 years; and a rigorous, 3000-level "History of Virginia" course that Gilliam said requires a heavy reading and writing load.
"The ability to read critically, and write economically, efficiently and persuasively may be the most important skills many students take from their college years," Gilliam wrote. "I see my job as requiring more than simply slapping a grade on their work, so I offer to read and comment upon preliminary drafts of their work. I want to see progress during the course of the semester in not only their ability to analyze sophisticated texts, but in their ability to write cogently and thoughtfully.
"I can usually identify serious students, who are willing to work hard, from the rest of the pack by how many drafts of a paper a student sends me to read. I have found that recruited athletes are used to doing things over until they get them right and really appreciate the opportunity to take instruction and see improvement in their work. Jay Huff and Braxton Key both have excellent work ethics and have put in the hours to succeed at a high level."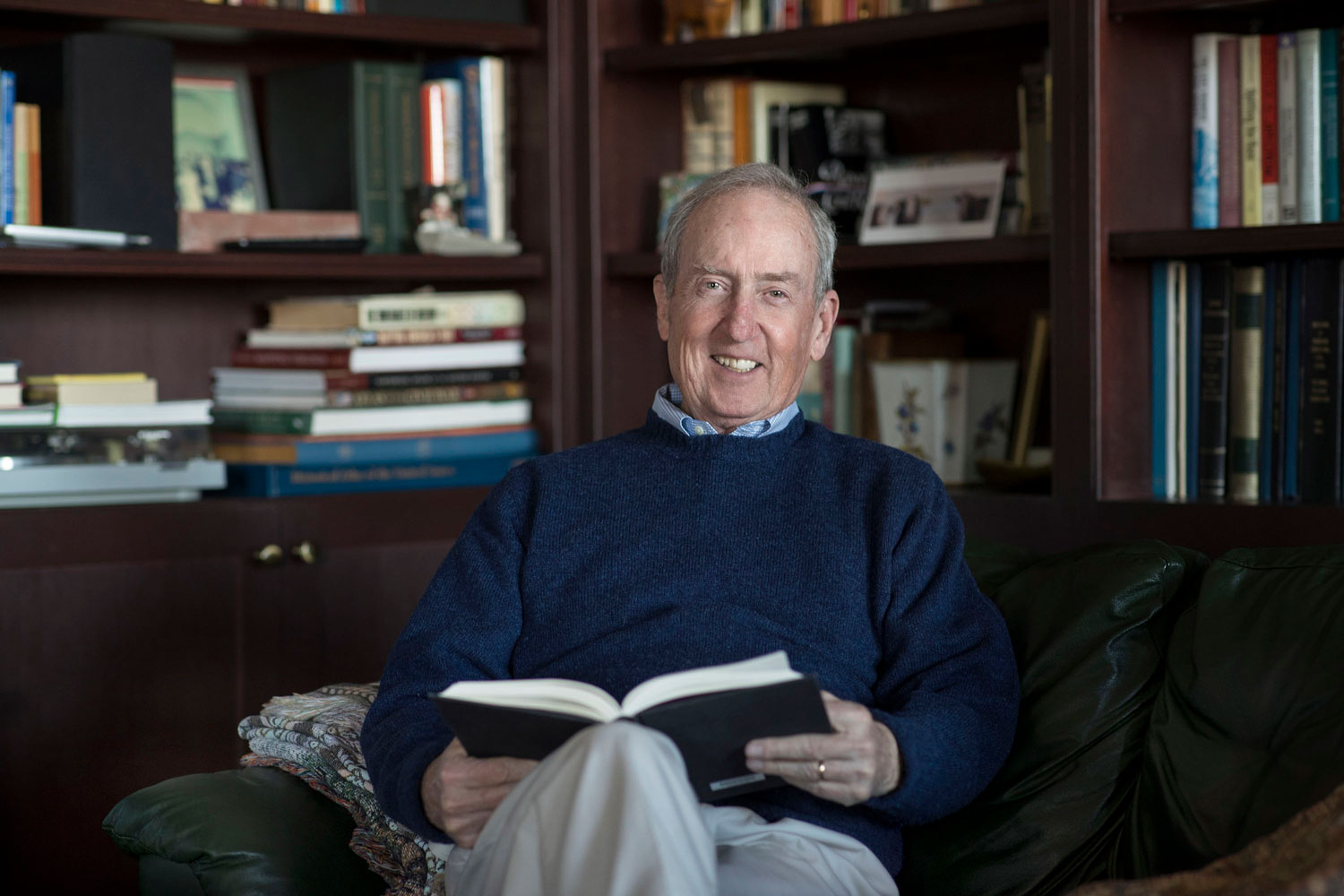 Gilliam says Key and Huff "represent the best of Virginia students." (Photo by Dan Addison, University Communications)
"Jay Huff is very relaxed and comfortable," Gilliam continued. "He is thoughtful, considerate and draws deeply on his faith to sustain him. Braxton is a serious student and he tells me he is very happy with his decision to transfer to Virginia, for both athletic and academic reasons.
"They both are highly motivated to succeed at everything they do and freely ask for help when they get stuck. My impression of both of those men is that they represent the best of Virginia students. Regardless of where they end up and what they ultimately do with their lives, I have every confidence they will do it at a high level."
Jack Salt
Professor: Ann Boyce, Curry School of Education and Human Development
Salt, a fifth-year senior pursuing his master's degree in educational psychology (he was an anthropology major as an undergraduate), has taken Boyce's kinesiology courses. "I like the way she teaches – she's just very upfront and relates to me very well," Salt said.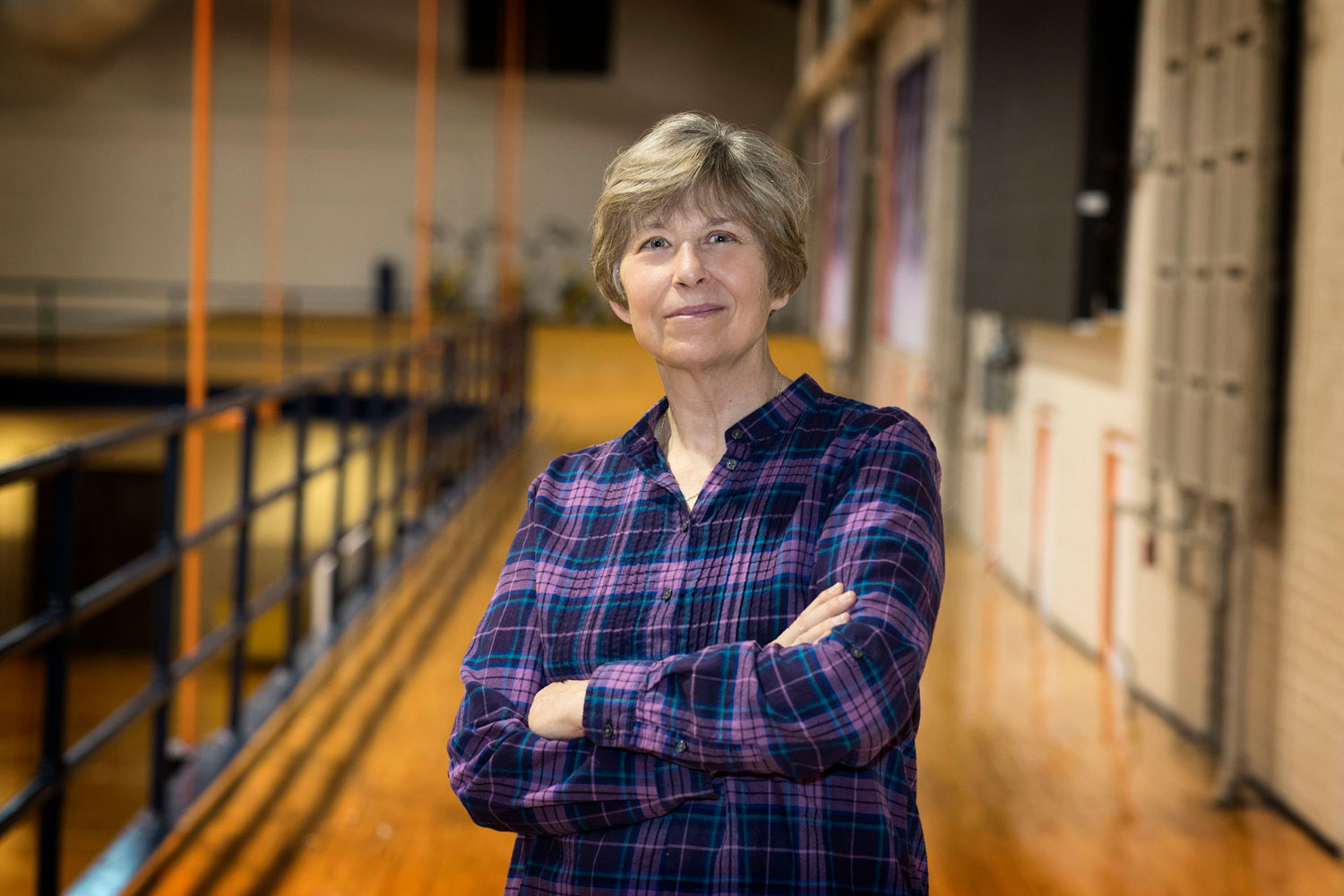 Boyce and Salt have forged a strong relationship. (Photo by Dan Addison, University Communications)
Boyce wrote an open letter to Salt in which she told him she knew he was special after he spotted an error in a research study during a class presentation.
"I love it when students go beyond the course curriculum and apply the class content," she wrote. "Your ability to analyze and evaluate research is truly exceptional!
"… You have said that choosing UVA was one of the best decisions you ever made. I think that UVA is a unique university that stresses both academics and athletics with just the right balance of both. Each student who attends the University leaves his or her mark.  Your legacy is one of service to the university as an outstanding student-athlete.  You epitomize that ideal.
"… I wish you great success in the upcoming tournament and know that you and your teammates will represent UVA with honor and at a level of competitiveness that other teams can only hope to emulate."
Kyle Guy
Professor: Lisa Woolfork, Department of English
Guy took a course from Woolfork centered on the hit TV show, "Game of Thrones." "She was fantastic, just awesome," Guy said. "I got to dissect episodes and examine how culture narratives were similar. It was very cool."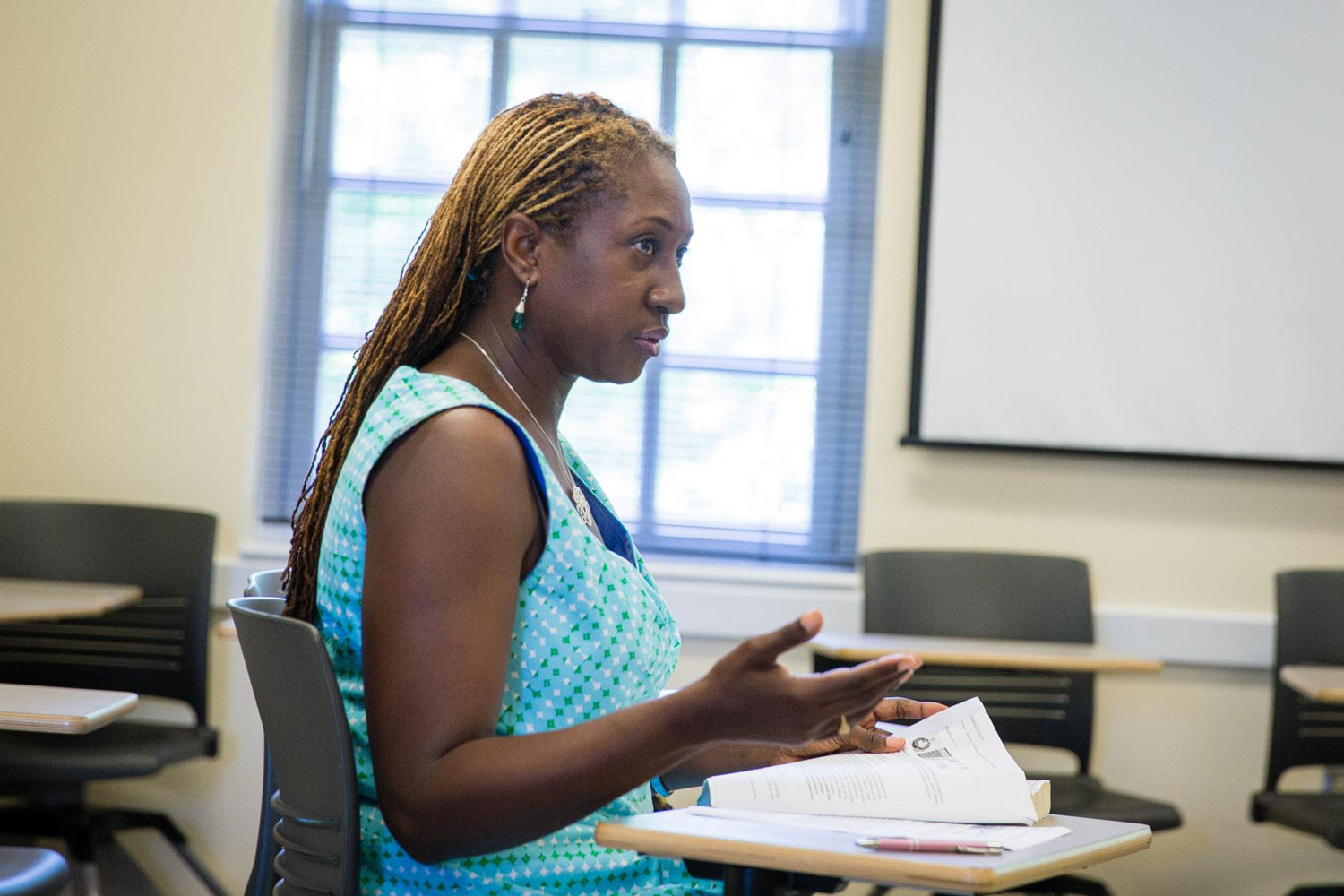 Woolfork, currently on sabbatical, calls Guy a "winner." (Photo by Cole Geddy)
Woolfork's course starts with a careful examination of the first novel in George R.R. Martin's book series, followed by detailed analysis of three seasons of the HBO television adaptation.
"We spend a lot of time talking about the uses of power: who has power, who is allowed to wield power, what other issues like sexism, racism, conquest and dominance flow from that central issue of power," Woolfork wrote. "We also consider the popular cultural interpretations of the 'Game of Thrones' universe, including food, toys, song parodies, late night television spoofs, etc. In one class, we viewed a parody called 'Game of Zones,' about the NBA championship series. Each NBA division was cleverly mapped onto a region in the 'Game of Thrones.' 
"It's easy to say, quoting the 'Game of Thrones,' that, 'When you play the game of thrones, you win or you die.' But this grim absolute is not true of the NCAA Tournament. And it is not true of Kyle Guy. The student that I knew in my 'Game of Thrones' class was already a winner, regardless of what happens in any tournament."
Mamadi Diakite
Professor: Kandioura Dramé, French Department
Diakite, a French major from Guinea, has been close with Dramé ever since being introduced to him by T.J. Grams, UVA's director of academics for men's basketball, and former Cavalier assistant coach Ron Sanchez the summer before Diakite enrolled at UVA.
"He's a really cool guy who reminds me of my dad," Diakite said. "He's African, he's from Senegal. He gives me a lot of advice and is just a great person to look up to."
When Diakite was young, he used to travel with his family to Dakar, the capital city of neighboring Senegal, where Dramé was born.
"Senegal and Guinea have many cultural similarities. … It is easy for us to interact," Dramé said.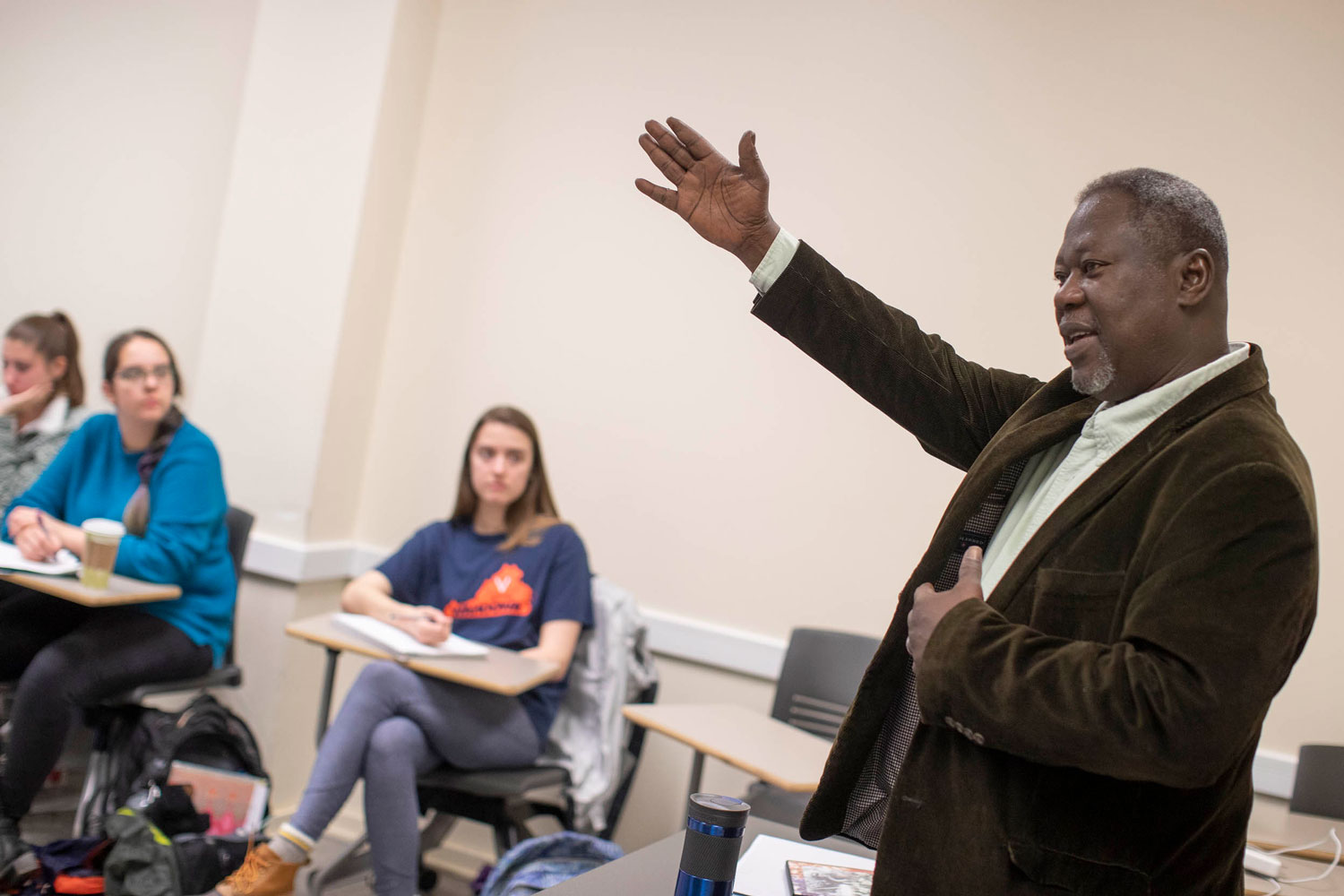 Dramé says he has been struck by Diakite's openness and kind disposition. (Photo by Sanjay Suchak, University Communications)
Dramé has taught Diakite in his "Africa in Cinema" and "Francophone African Literature" courses.
"Mamadi worked hard to improve his writing skills in French and was successful," Dramé wrote. "Mamadi was often enthusiastic about the subject matter of the courses and always cheerful in discussions in class. On a regular basis, I could count on him to raise his hand and make contributions that provoked more lively discussions among his peers. I enjoyed having him in my classes. Naturally, when he asked me to serve as his major adviser, I was glad to do so.
"What struck me most about Mamadi is his openness, his kind disposition, and his willingness to take advice. I wish him and his teammates a brilliant NCAA Tournament!"
Article Information
March 22, 2019
/content/uva-basketball-players-celebrate-their-most-impactful-professors