"My parents change the rules when they feel like it."
"My parents won't look at me if I've done something to upset them."
"They try to control everything about how I think and behave."
These are some of the things 13-year-olds told University of Virginia researchers, who have found that teens who grew up with psychologically controlling parents struggle with relationships and educational attainment as adults.
"What we found was that kids who had parents who displayed more overcontrolling behavior tended to struggle in tasks that require assertiveness and independence and autonomy throughout development," said Emily Loeb, a postdoctoral researcher who was the lead author on the study. "So by the time the kids were adults, they were in romantic relationships where there wasn't as much support being given. By 32, they achieved less education relative to those who had less psychological control, and they were less likely to be in a romantic relationship at all by age 32."
The new results come from a longitudinal study involving 184 young people from a variety of socioeconomic backgrounds in and around Charlottesville, tracking participants from ages 13 to 32. The study took into account family income, gender (about half the group was male and half female) and a person's grade-point average at the age of 13.
Loeb's team also measured the teens' psychosocial maturity to discern how well they take into account others' perspectives and think about social situations in a nuanced way.
"We asked people at their schools to rate how much they would want to spend a Saturday night with this particular person," Loeb said. "We gathered all the readings, and that was a measure of what we call 'sociometric popularity' – so, 'How much do kids just like them and want to spend time with them?'"
The researchers also asked the 13-year-olds about symptoms of depression
The researchers filmed the study participants with their closest friends at 13 and had them ask their friends for some support or advice on an issue and studied the interaction. "We coded the interaction for the amount of support shown in the interaction," Loeb said.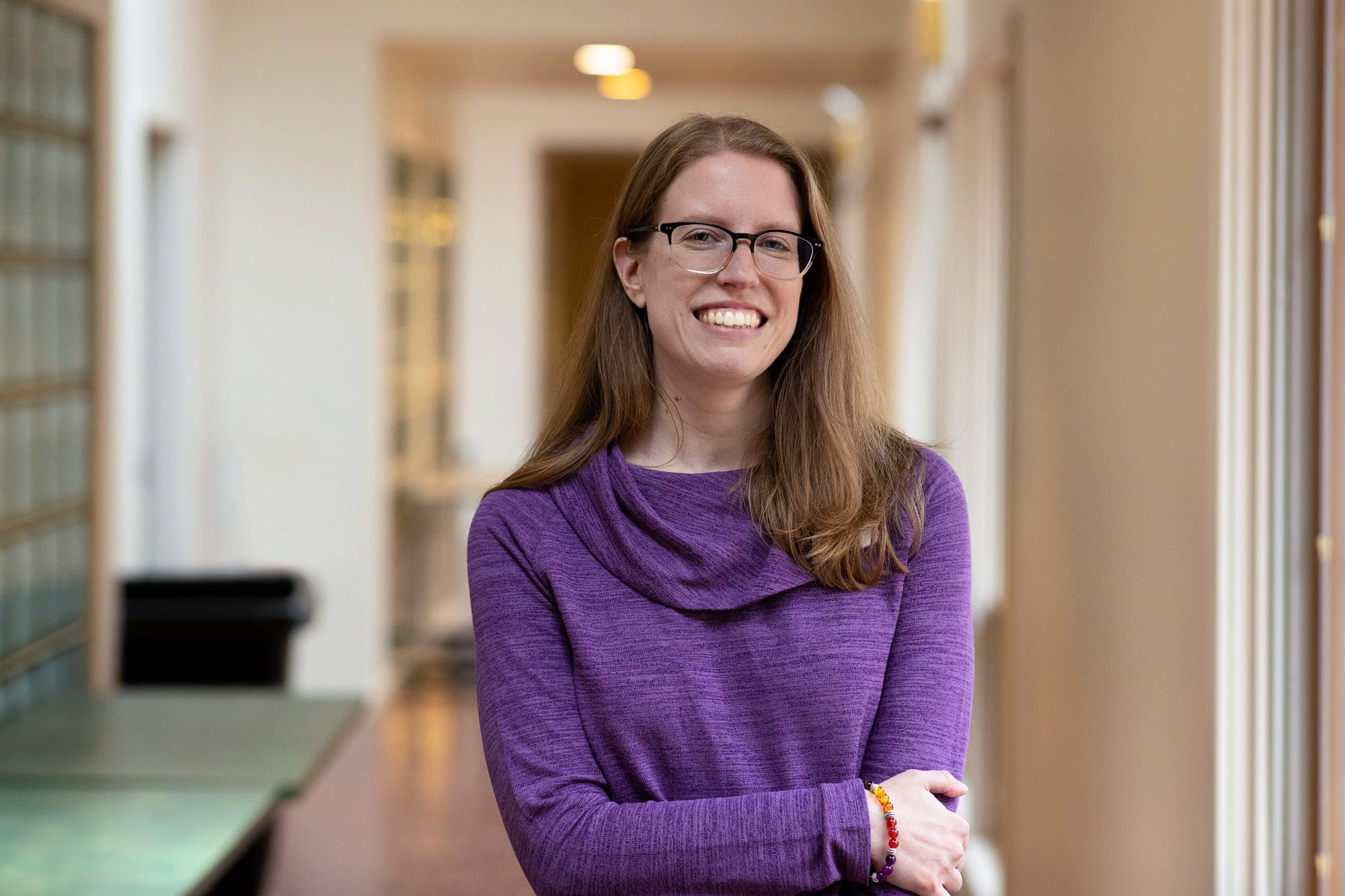 Emily Loeb is a postdoctoral researcher in the Department of Psychology. (Photo by Dan Addison, University Communications)
The team replicated this scenario with romantic partners when the study participants were 27 and again when they were 32.
"We found there were problems going on in mid-adolescence that helped explain that they were less liked by their peers," Loeb said. "So fewer people said, 'Yeah, I'd like to spend time with them on a Saturday night.' And they were less mature in terms of balancing perspective and thinking about things in a nuanced way."
Loeb says these findings are important because people – be they clinicians, parents or educators – are always seeking the right balance when trying to guide children.
"It's not saying you can't have rules," Loeb said, "but it's very important that parents do let kids think for themselves and let them express opinions that are different than the parents. Independence of thought and action in teen-hood makes for a healthier adulthood."
The study is published in Child Development, a journal of the Society for Research in Child Development. A press release about the new findings says the authors acknowledge there are limitations to the work.
"First, they relied on teens' self-reports of parents' psychological control, so the measure of parenting was perceived and not observed or corroborated by parents. Second, they did not definitively show that parents' psychological control causes developmental problems. However, the authors suggest that their findings provide strong evidence that psychological control predicts long-term difficulties after ruling out other potential explanations. Finally, unmeasured characteristics of the teens (e.g., temperament) or their parents (e.g., personality) could have driven both psychological control and later outcomes in the youth."
Over-Controlling Parents and Your Heart
Another newly published Loeb study finds that psychological control at age 13 predicts having a more blunted heart rate response when under stress at age 29. The results are based on data drawn from the same group of 184 people in the above study.
Loeb said it might sound like it's good to have a blunted heartrate when under stress, but a blunted heartrate is linked to cardiovascular disease and early mortality. "Actually, you want to have your heart rate rise an appropriate amount … and if it doesn't, that can suggest that either your heart rate is at a high baseline or that your body is not sensitive to adapting to stressors," she said.
"We found that the psychological control – not that we can say anything about causation – but it is linked to problematic physical responding in adulthood as well," Loeb said.
It directly predicted a blunted heart rate response and indirectly predicted blunted respiratory sinus arrhythmia reactivity under stress. These findings are published in the journal of Development Psychobiology.
Article Information
June 17, 2020
/content/study-overbearing-parents-lead-long-term-struggles-relationships-education