College students who participate in hands-on, faculty-mentored research while pursuing bachelor's degrees gain personal and professional benefits that strengthen time-management, critical thinking and communication skills, and provide deep one-on-one connections with distinguished faculty through shared research interests.
Now, a finding by scientists at the University of Virginia and four collaborating institutions suggests that the value of structured undergraduate research programs extends to society as a whole by encouraging participants to seek advanced degrees in science, technology, engineering and mathematics – the so-called "STEM" fields.
In an article recently published in the journal BioScience, the researchers reported that college underclassmen who take part in summer research training programs – specifically, in this study, the National Science Foundation's Research Experiences for Undergraduates initiative – are 48 percent more likely to pursue STEM-related doctoral degrees than demographically matched students who apply to the program but are not selected.
The analysis is among the first to provide valuable, quantifiable data on the effectiveness of research opportunities for undergrads.
"STEM scientists drive innovation and contribute to economic growth in this country," said Eric Nagy, a study co-author and UVA biology faculty member who serves as associate director of UVA's Mountain Lake Biological Station. The station hosts and trains Research Experiences for Undergraduates students each summer.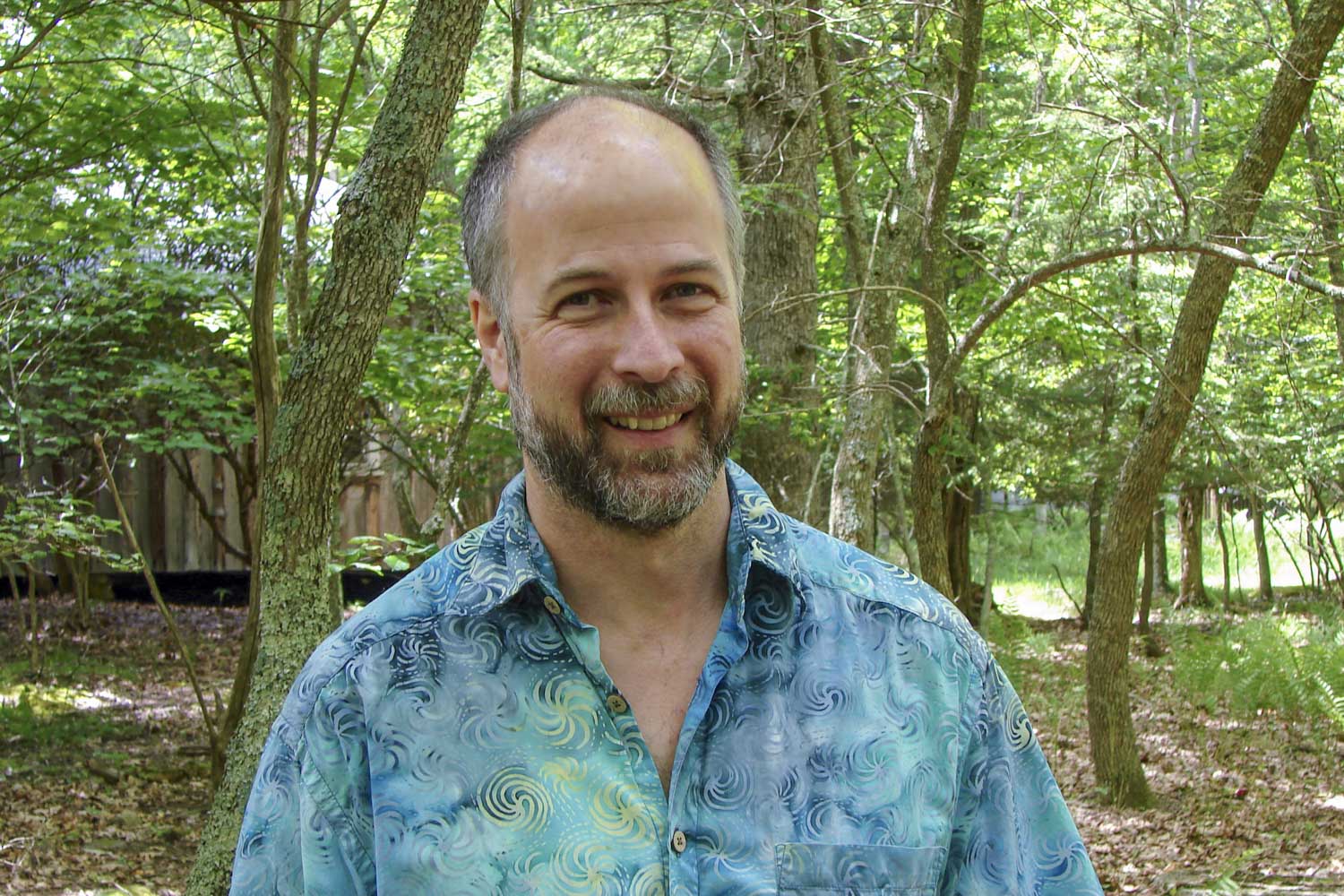 Biology faculty member Eric Nagy co-authored the new study. (Photo by Fariss Samarrai, University Communications)
"The biologists we train at Mountain Lake Biological Station apply their skills to critical societal challenges in the environment, health care, public policy and basic scientific understanding and advancement," Nagy said. "The U.S. is falling behind in citizen scientific literacy. Programs like ours can help change that."
Nagy and his colleagues note in their publication that concrete data are increasingly essential to document the value of science training programs.
"Scientific, technological and economic competitiveness is motivating greater interest and investment in STEM training around the world, with an emphasis on addressing the current (global) shortage of STEM Ph.D.s," the scientists write. "With annual spending on STEM training well over $14 billion in the United States, guiding future investments … demands a good understanding of effective approaches."
In the Research Experiences for Undergraduates program, in which UVA is a long-time participant, the National Science Foundation awards universities and laboratories competitive grants to support the scientific training of 10 college underclassmen for 10 weeks over three to five consecutive summers. Students from colleges with limited research opportunities then apply to host institutions, and those accepted receive a stipend and, at UVA and many other sites, free room and board and research support for the duration of their training.
"The REU program at Mountain Lake has been an awesome opportunity to explore my interests in scientific field work and the program has exposed me to important skills that will help me succeed in graduate school," said UVA undergraduate Rachel Thoms, a rising fourth-year biology student in the program this summer.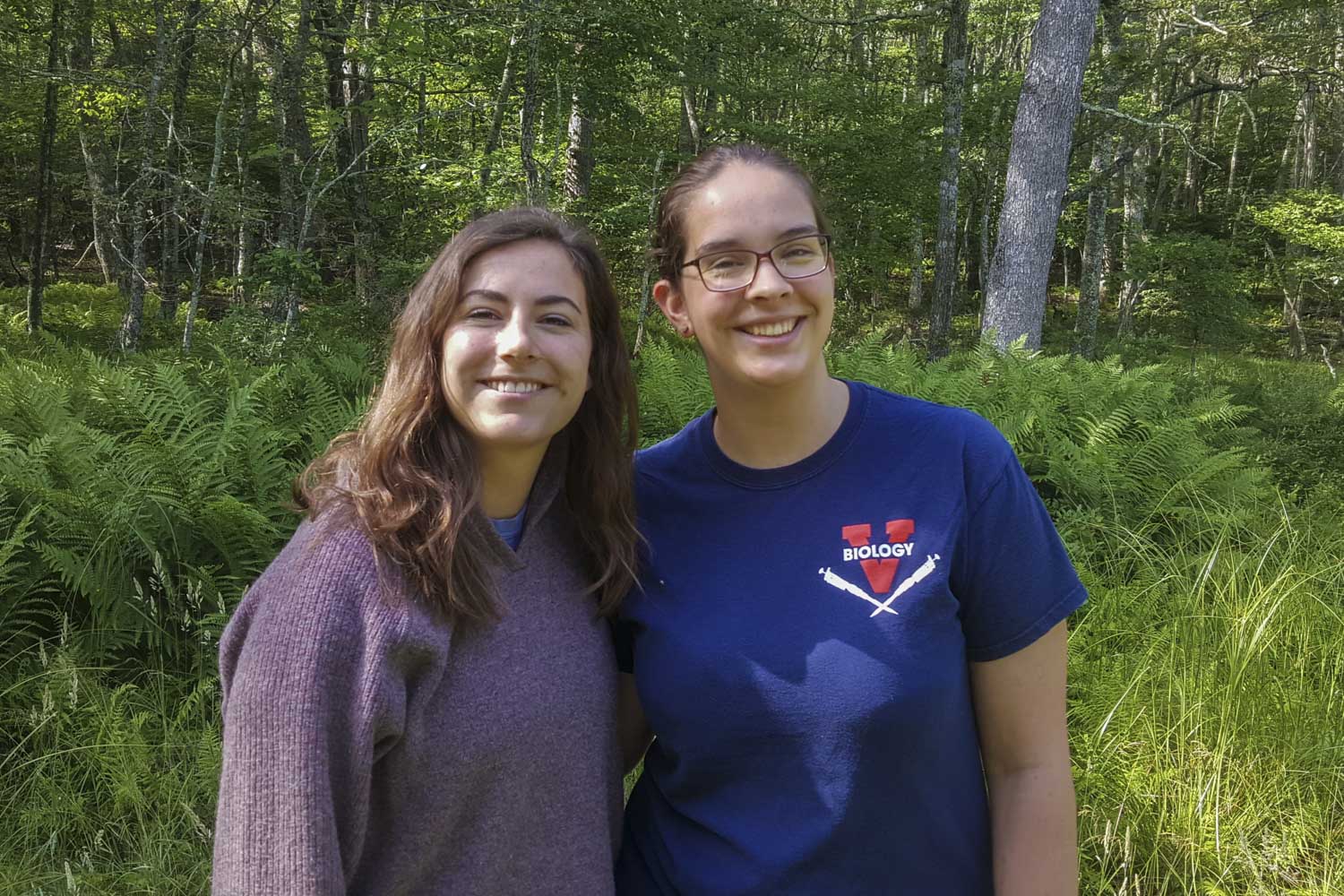 UVA biology students Rachel Thoms, left, and Rita Hueston are in the REU program at Mt. Lake. (Contributed photo)
Like professional scientists, the students, working under mentors, design their studies, prepare proposals, collect data, perform analyses and interpret and present their results. They also participate in seminars and a wide range of formal research training activities.
"This REU program has been very valuable to me," said Rita Hueston, a rising UVA fourth-year biology and French major, and an Research Experiences for Undergraduates student at Mountain Lake. "It has allowed me to fully immerse myself in research and explore field biology in a way that's hard to do in a university setting, especially when balancing additional classes and work. It has also provided me an opportunity to converse with a variety of people from all sorts of backgrounds who have valuable experiences of their own worth sharing with others, but who I might never have met if I hadn't done this program."
To gauge the effectiveness of these funded research experiences for undergraduates, the researchers identified and tracked 176 individuals with similar demographics who had applied to one of five field ecology- or field biology-based training programs offered at a Research Experiences for Undergraduates site in the U.S. for the summers of 2009 through 2011. Half of the applicants were accepted, and half were not. Nearly half of the acceptees went on to pursue advanced degrees.
"Our assumption for a long time has been that conducting independent undergraduate research under the guidance of a faculty mentor prepares students for success in STEM careers," said Alan Wilson, the study's lead author and a biology professor at Auburn University. "Our data support that assumption. They show that the product is real, that it can make a difference – for the students, their mentors and the reputation of their universities."
The Research Experiences for Undergraduates impact study was conducted by scientists with UVA, the National Science Foundation, Auburn University, the Rocky Mountain Biological Lab in Colorado, San Francisco State University and the University of Washington.
Article Information
July 2, 2018
/content/study-undergrad-research-opportunities-often-lead-stem-doctorates