Today there's sunshine in my soul," read one graduate's mortarboard.
Although umbrellas and rain ponchos were as ubiquitous Saturday as University of Virginia graduates decked out in caps and gowns, the cool, misty morning did not dampen their enthusiasm and that of their families and friends. In addition to the main event for Final Exercises, all departmental and program ceremonies were held outside despite the cloudy weather.
During the first UVA graduation ceremony, devoted to the College and Graduate School of Arts & Sciences, 2,950 degrees were conferred: 2,576 bachelor of arts and bachelor of science degrees; 213 master of arts, of arts in physics education, of fine arts, of public health and of science degrees; and 161 doctoral degrees. The oldest and largest of UVA's 11 schools, Arts & Sciences comprises some 50 undergraduate majors and more than two dozen graduate programs.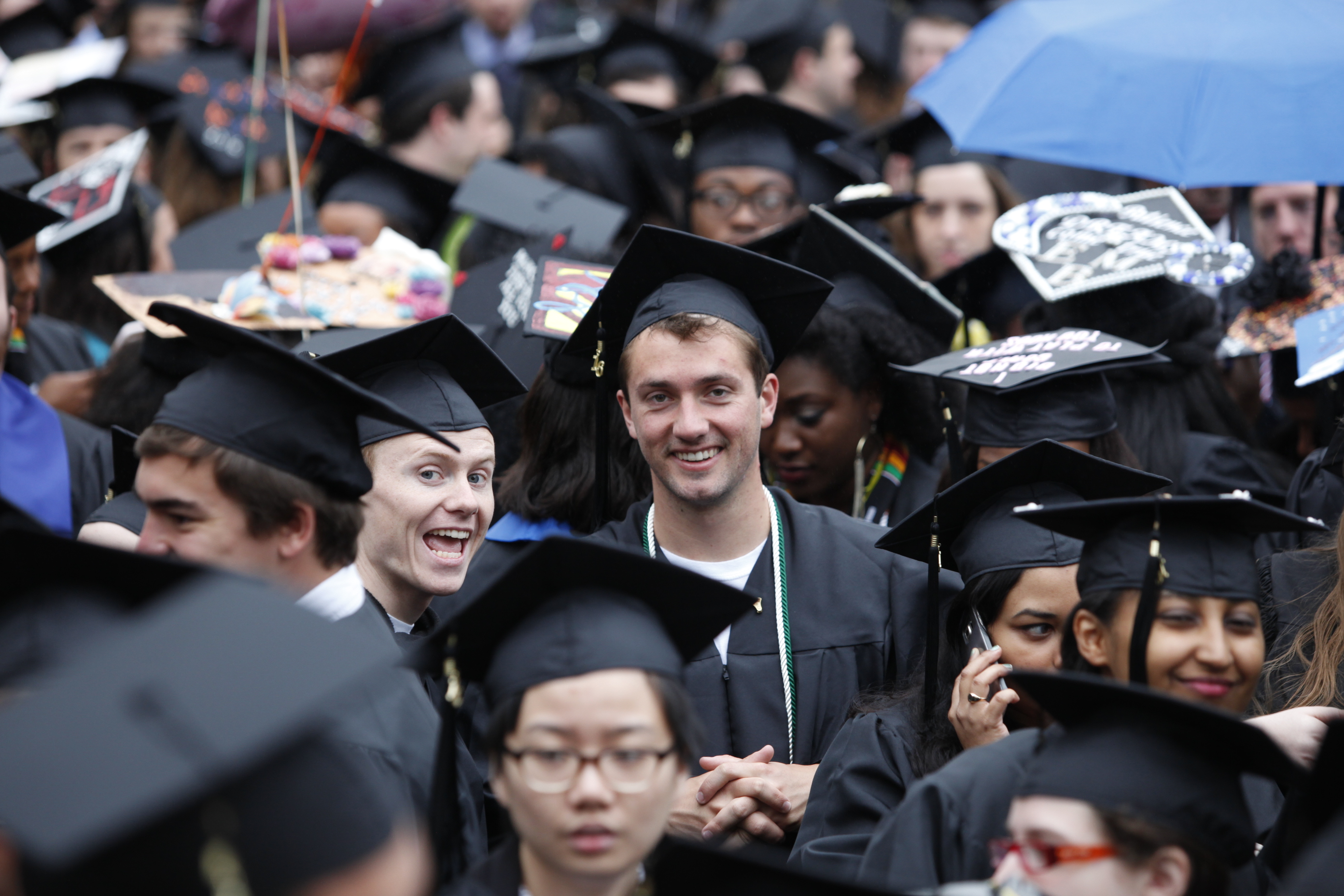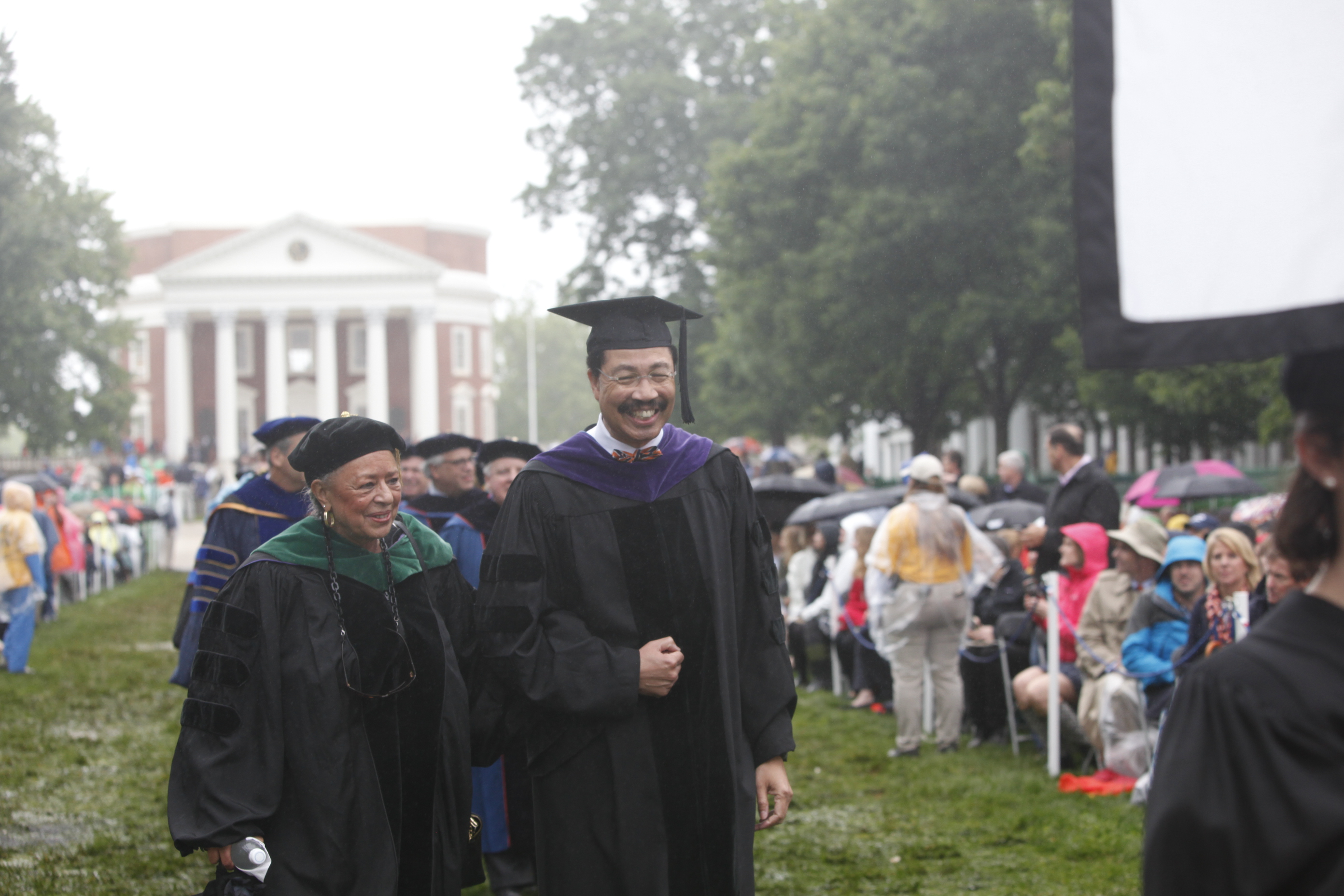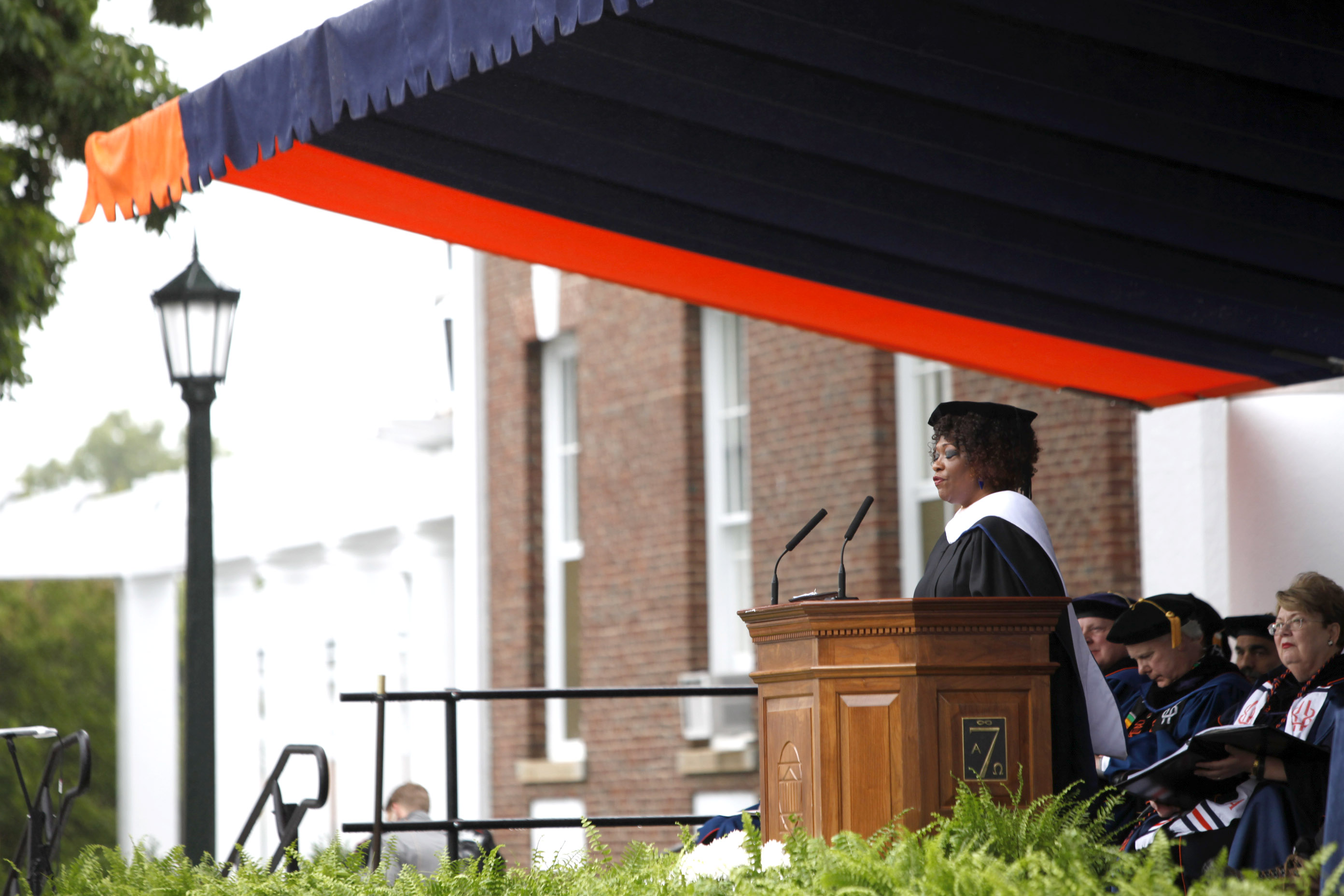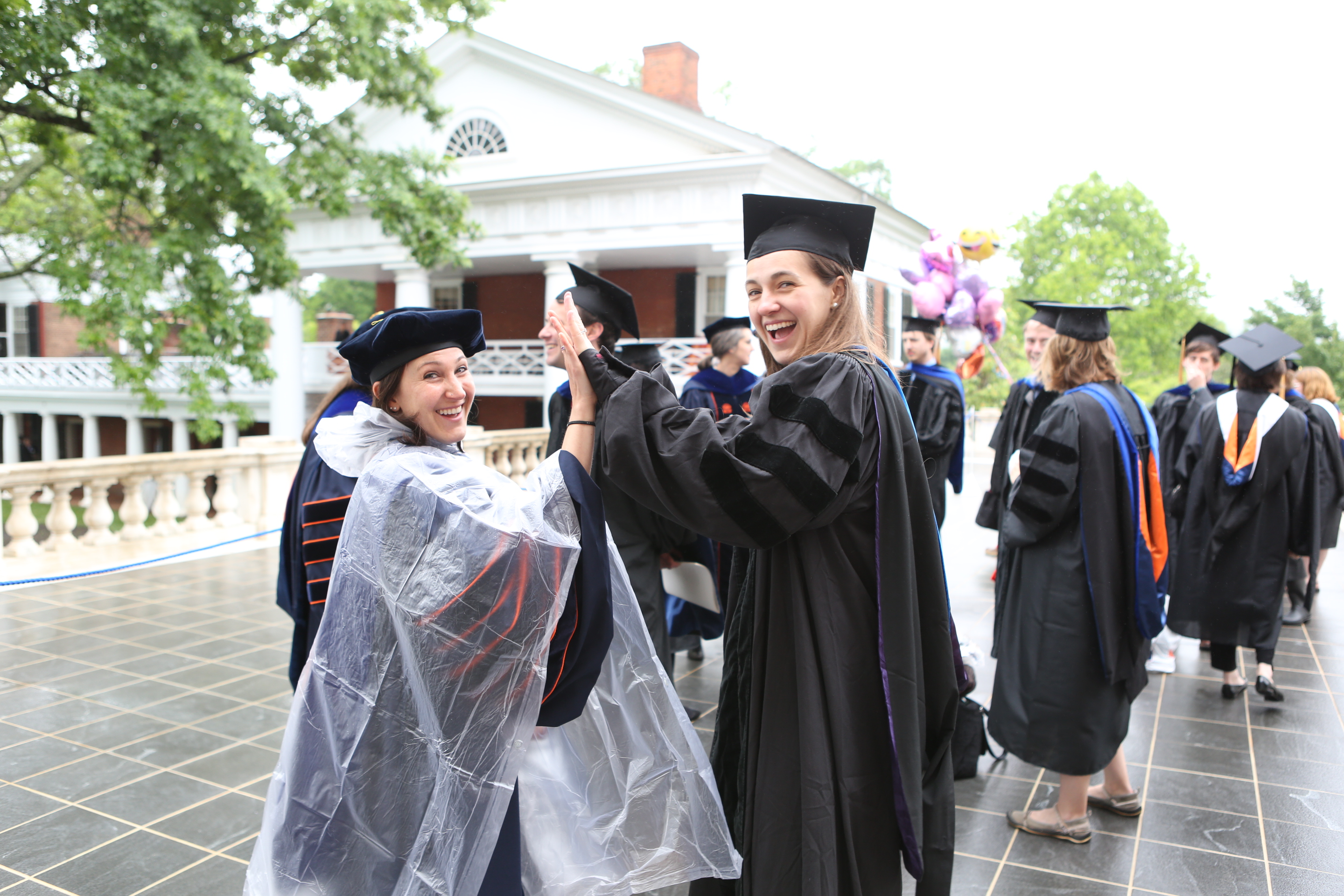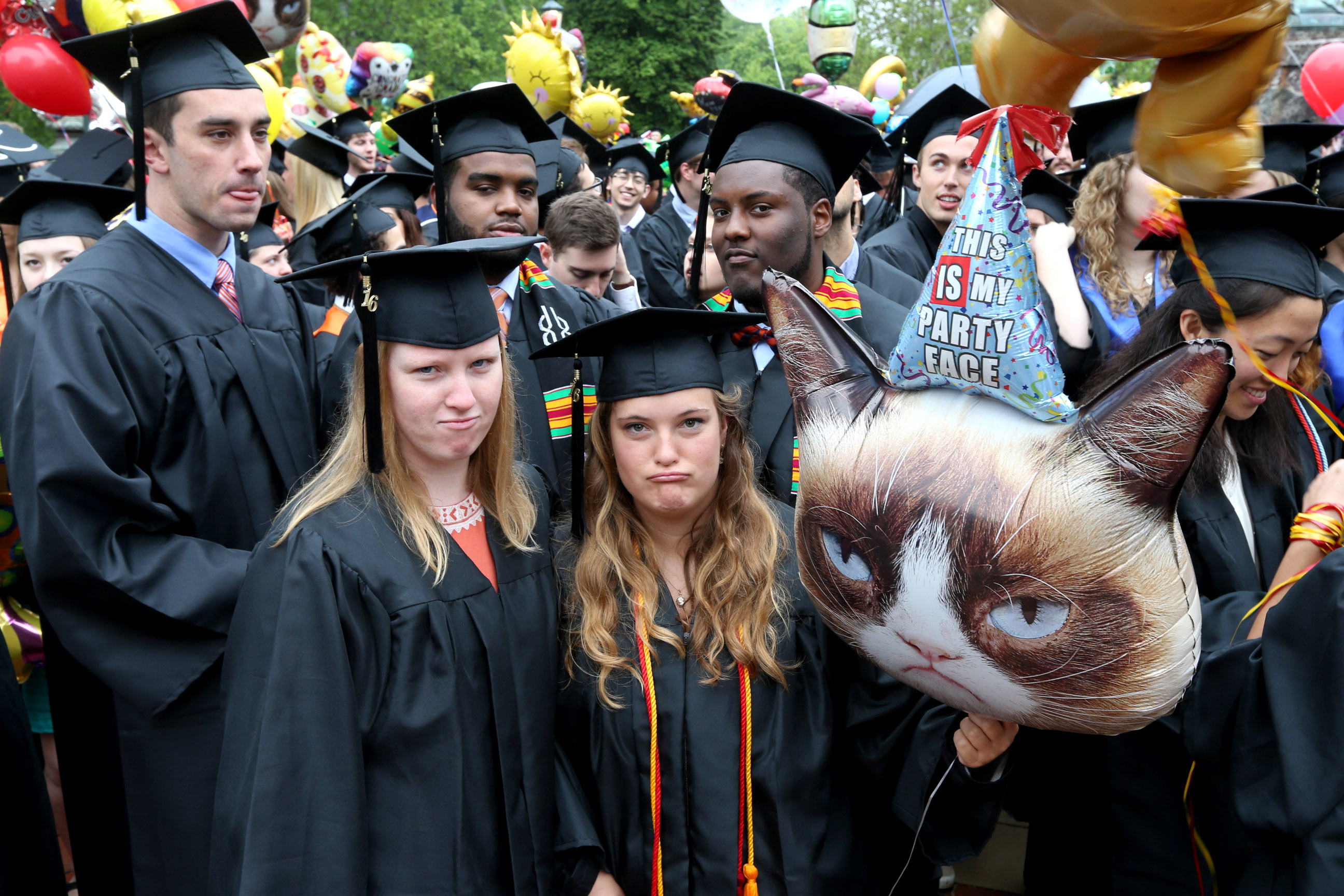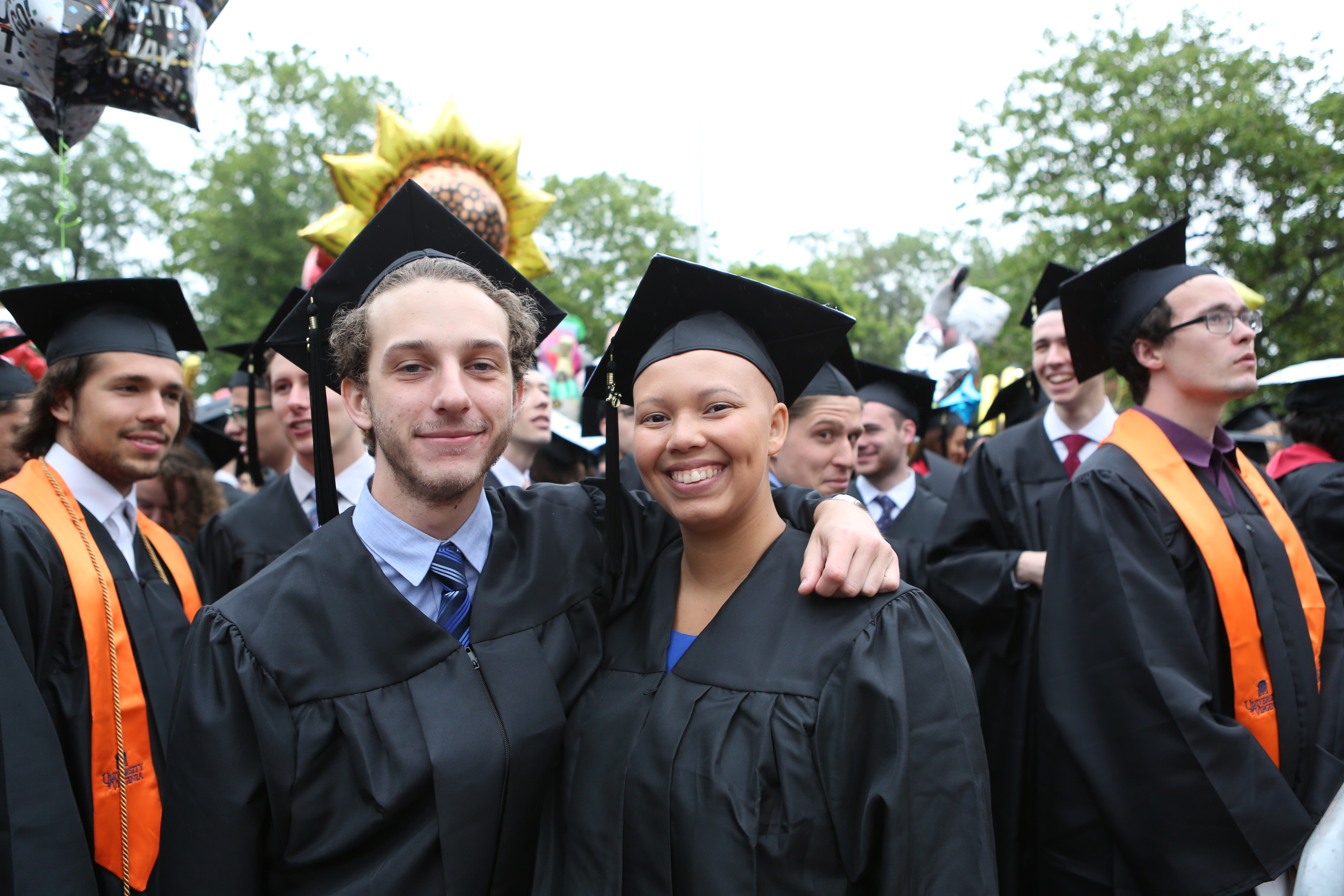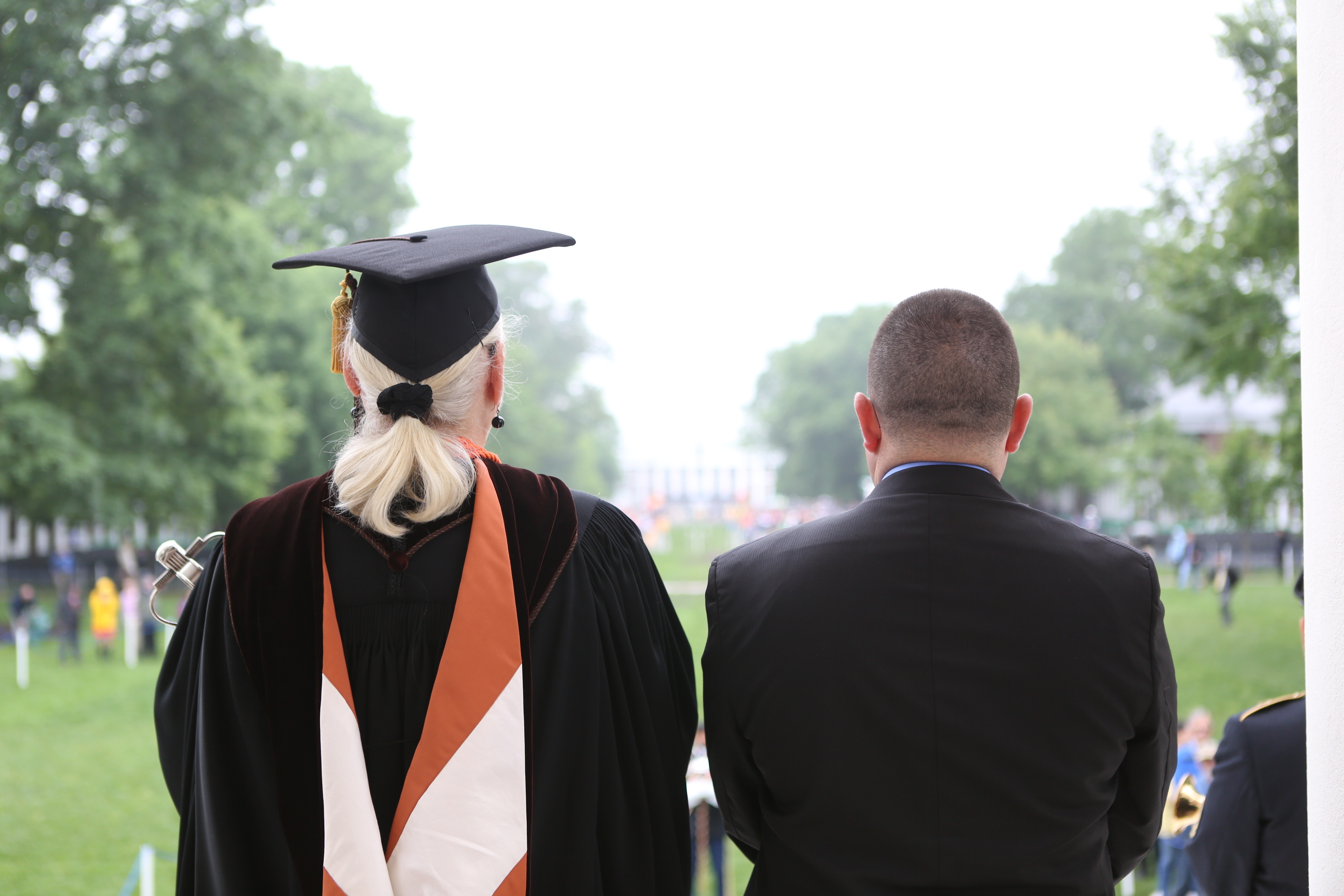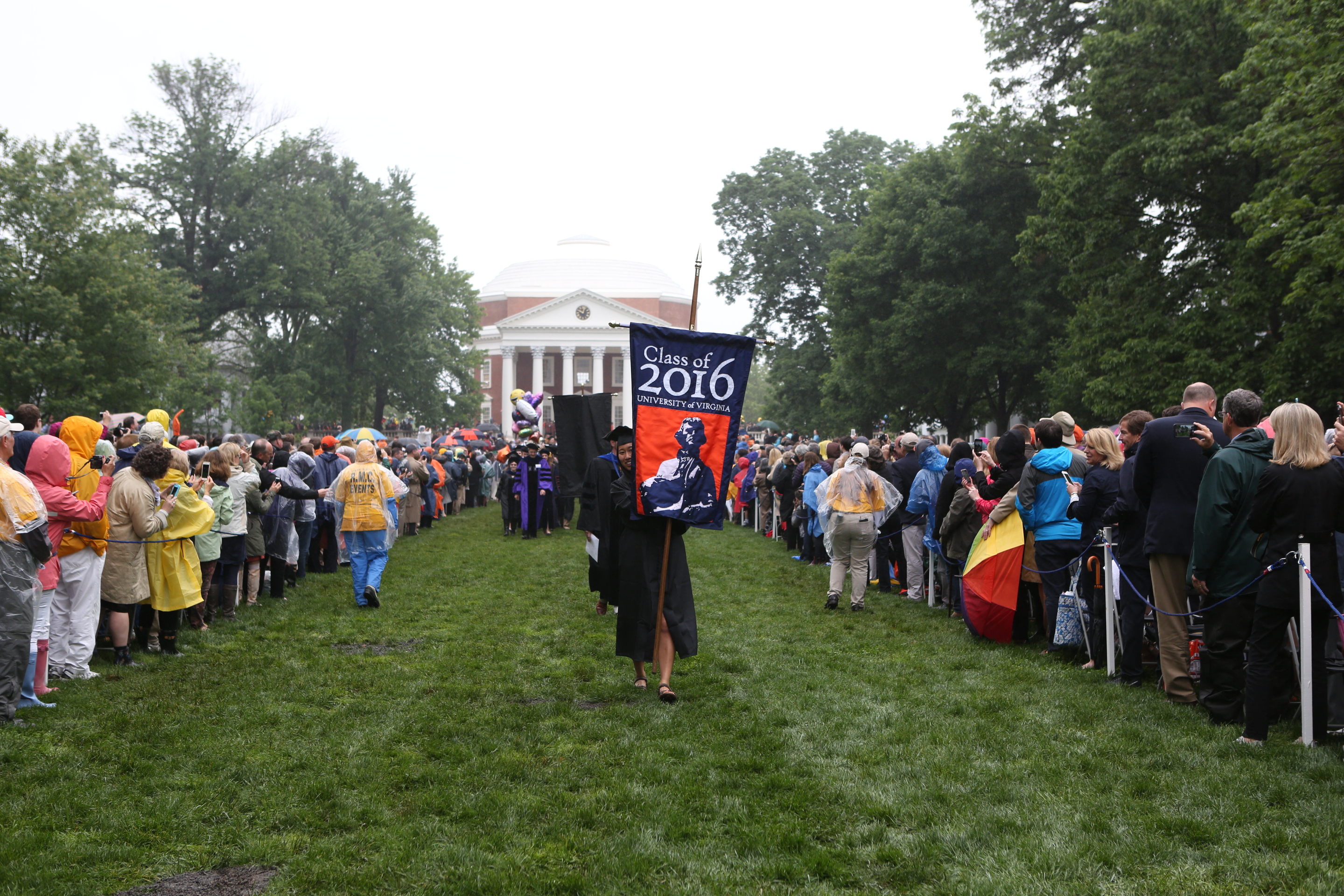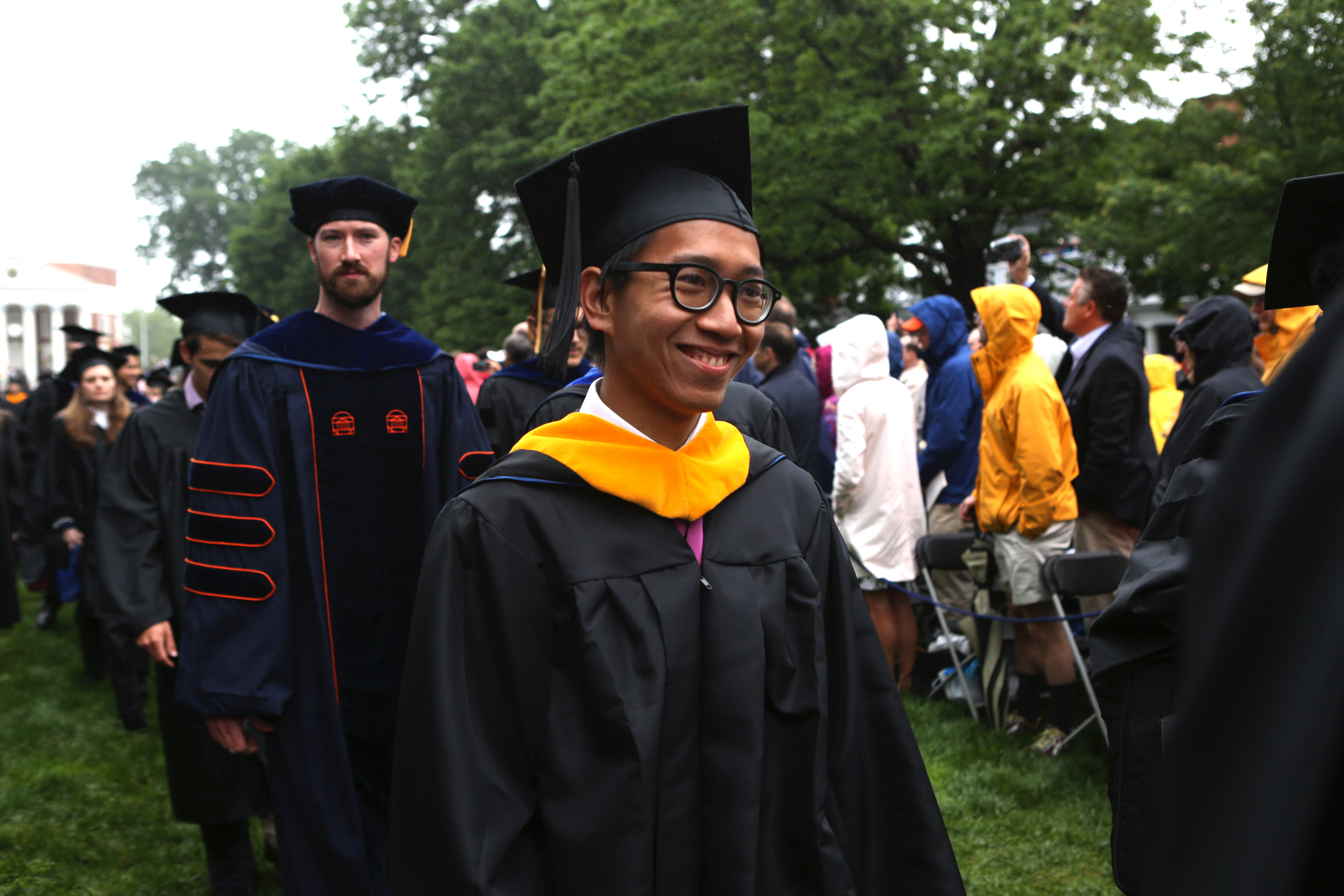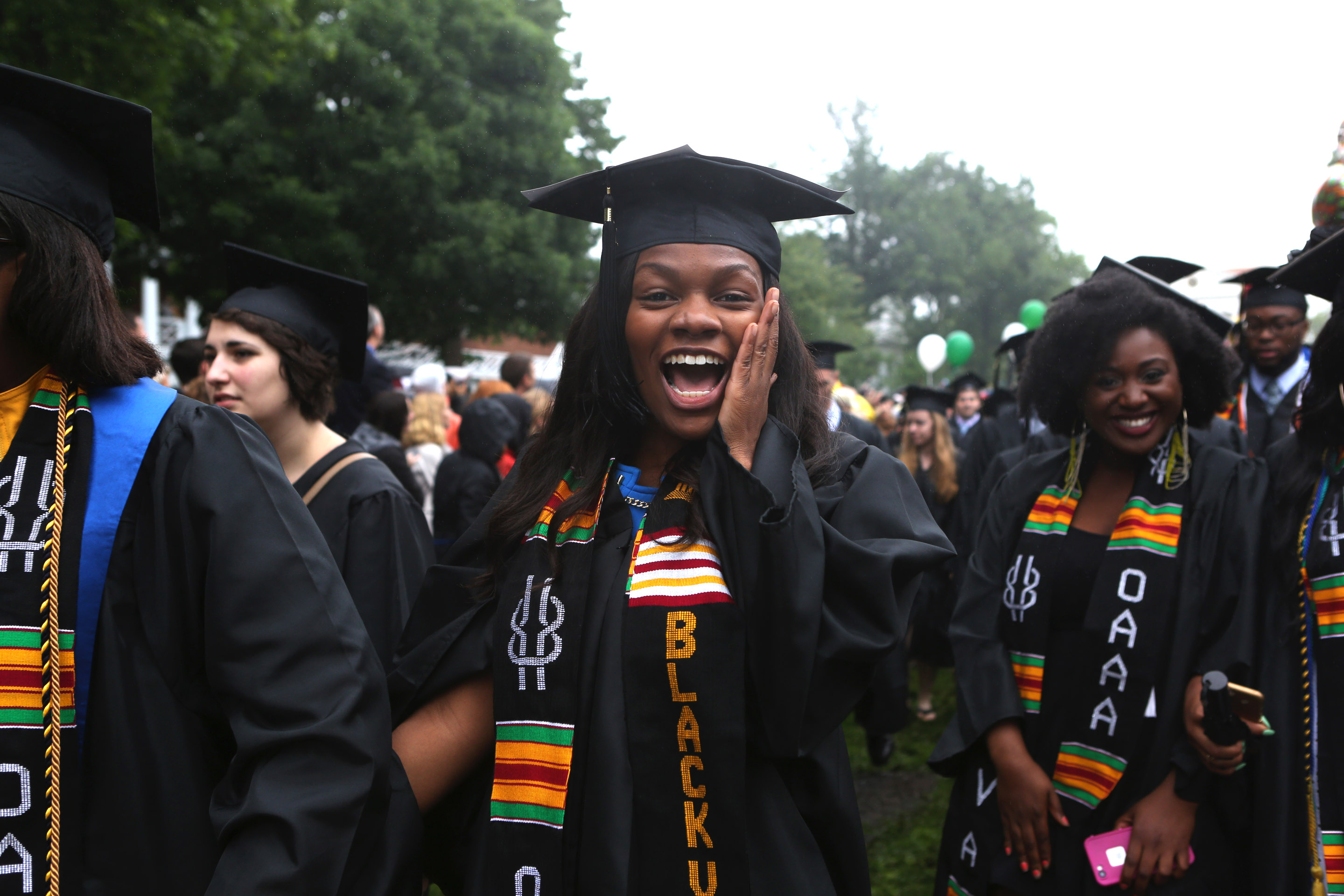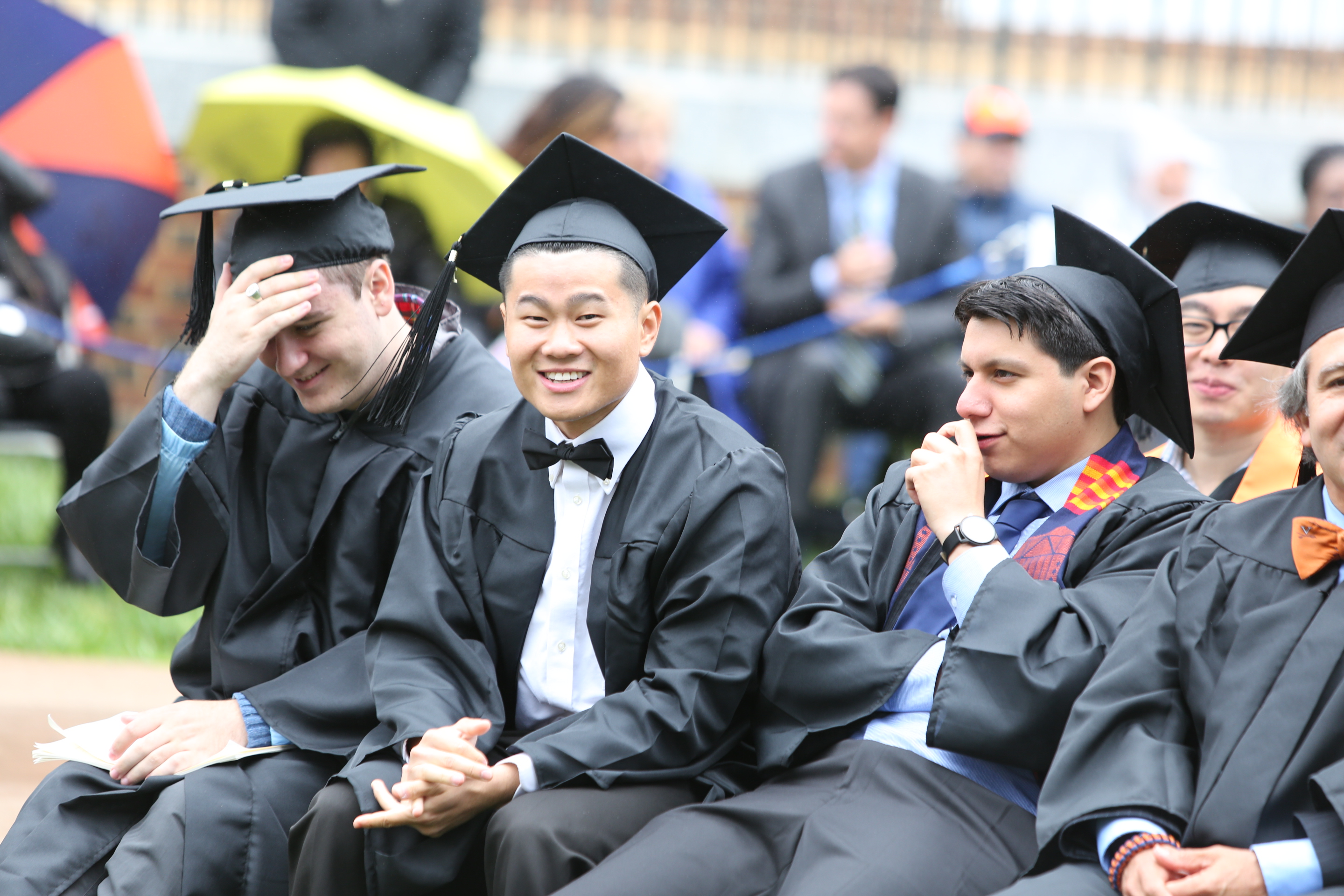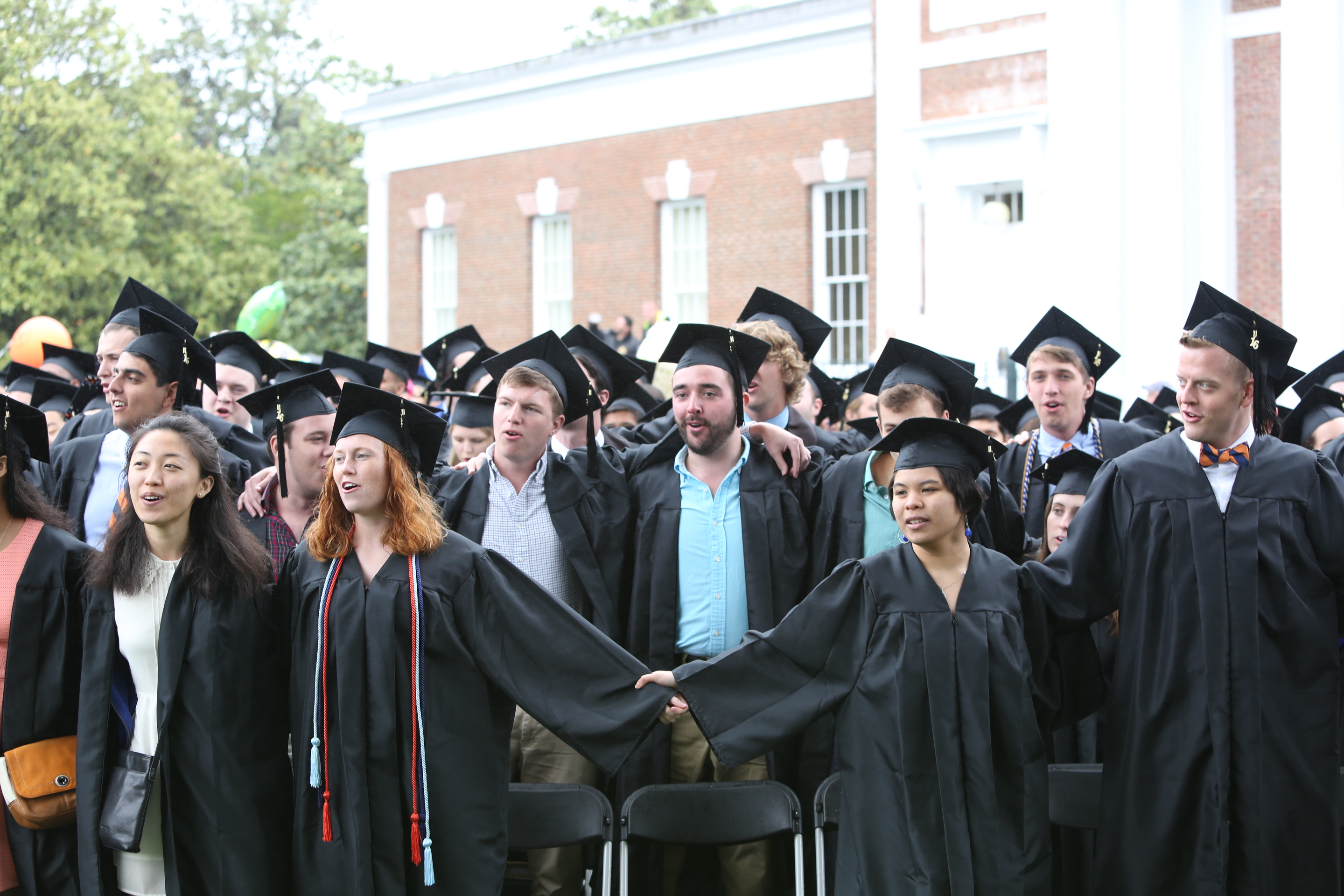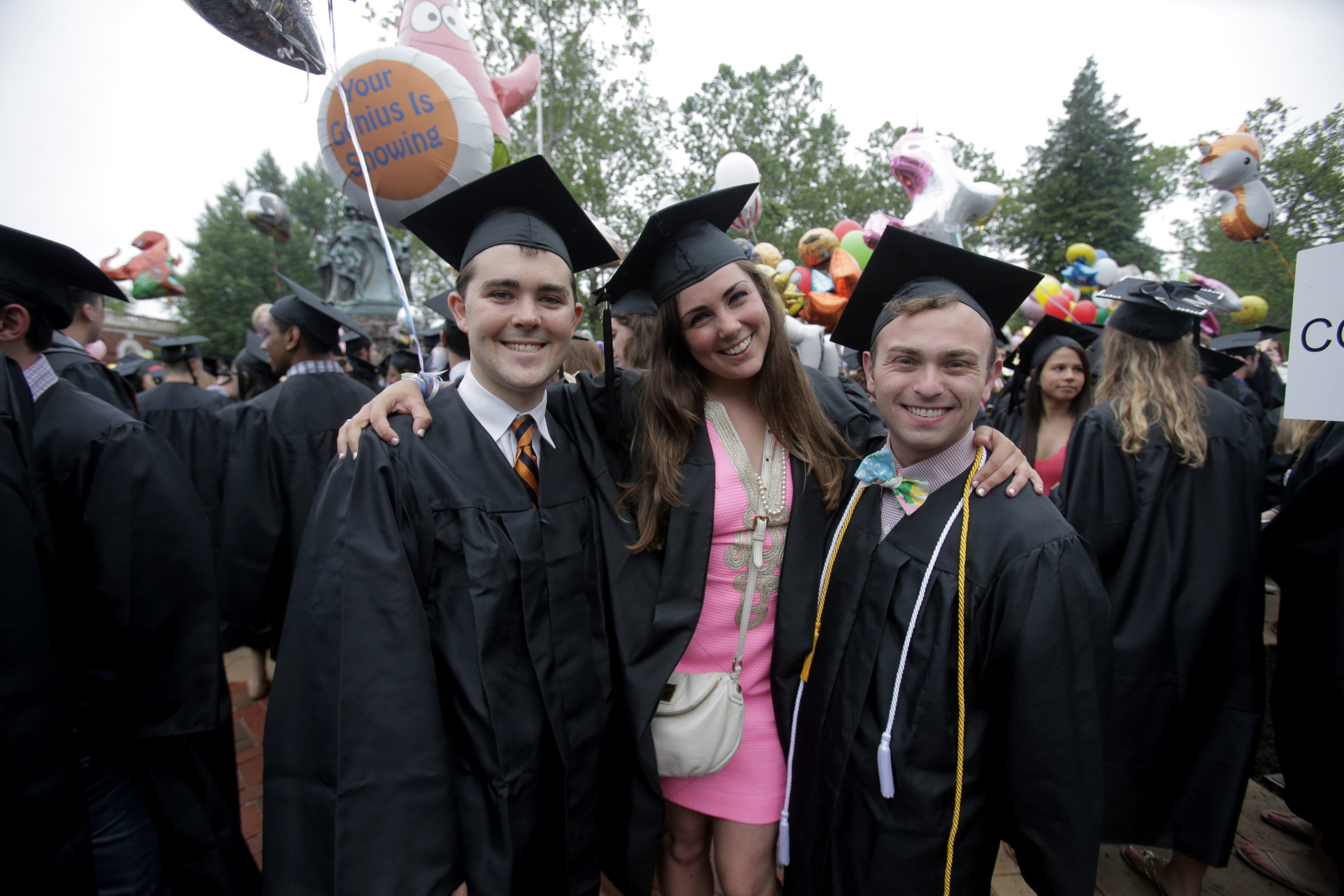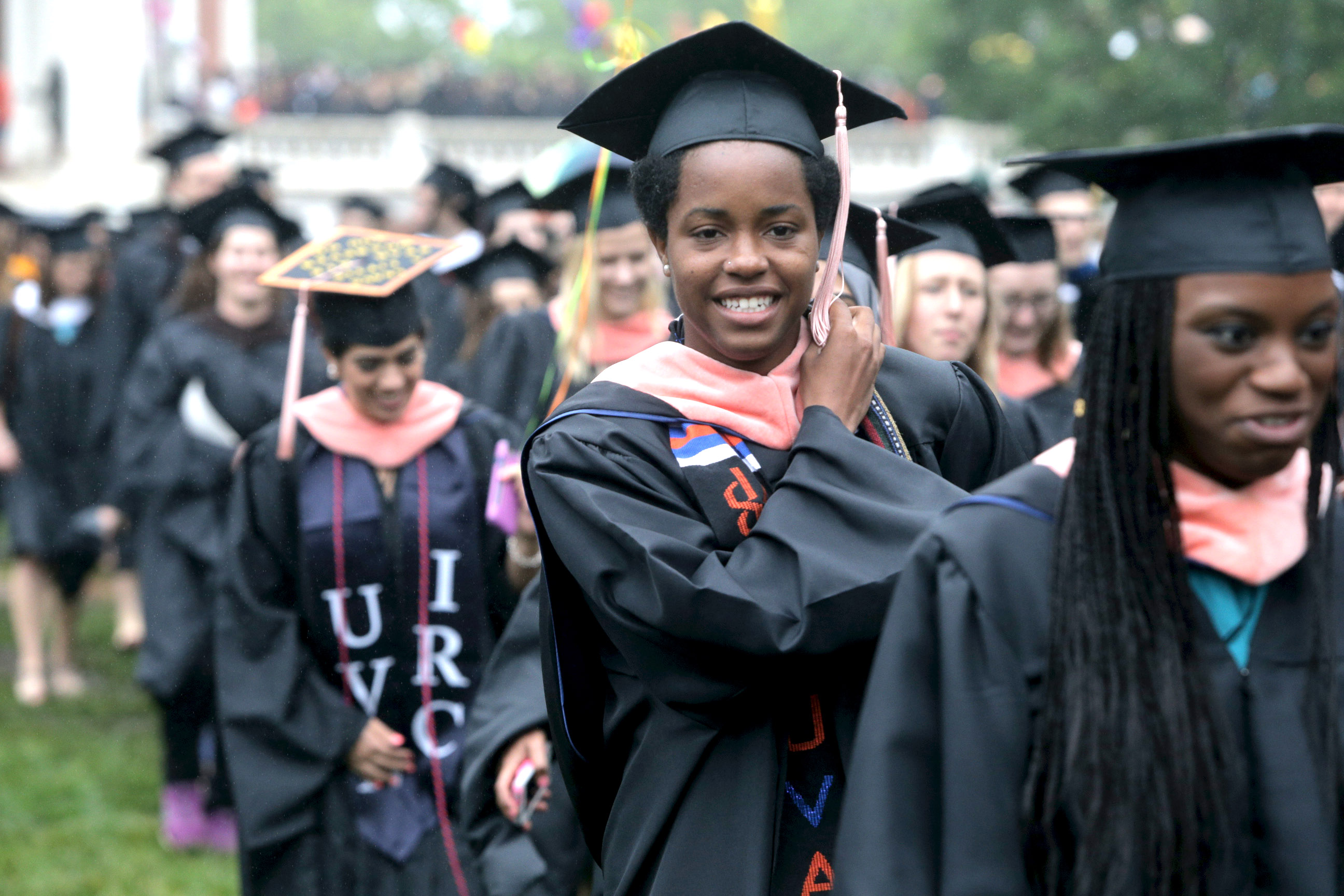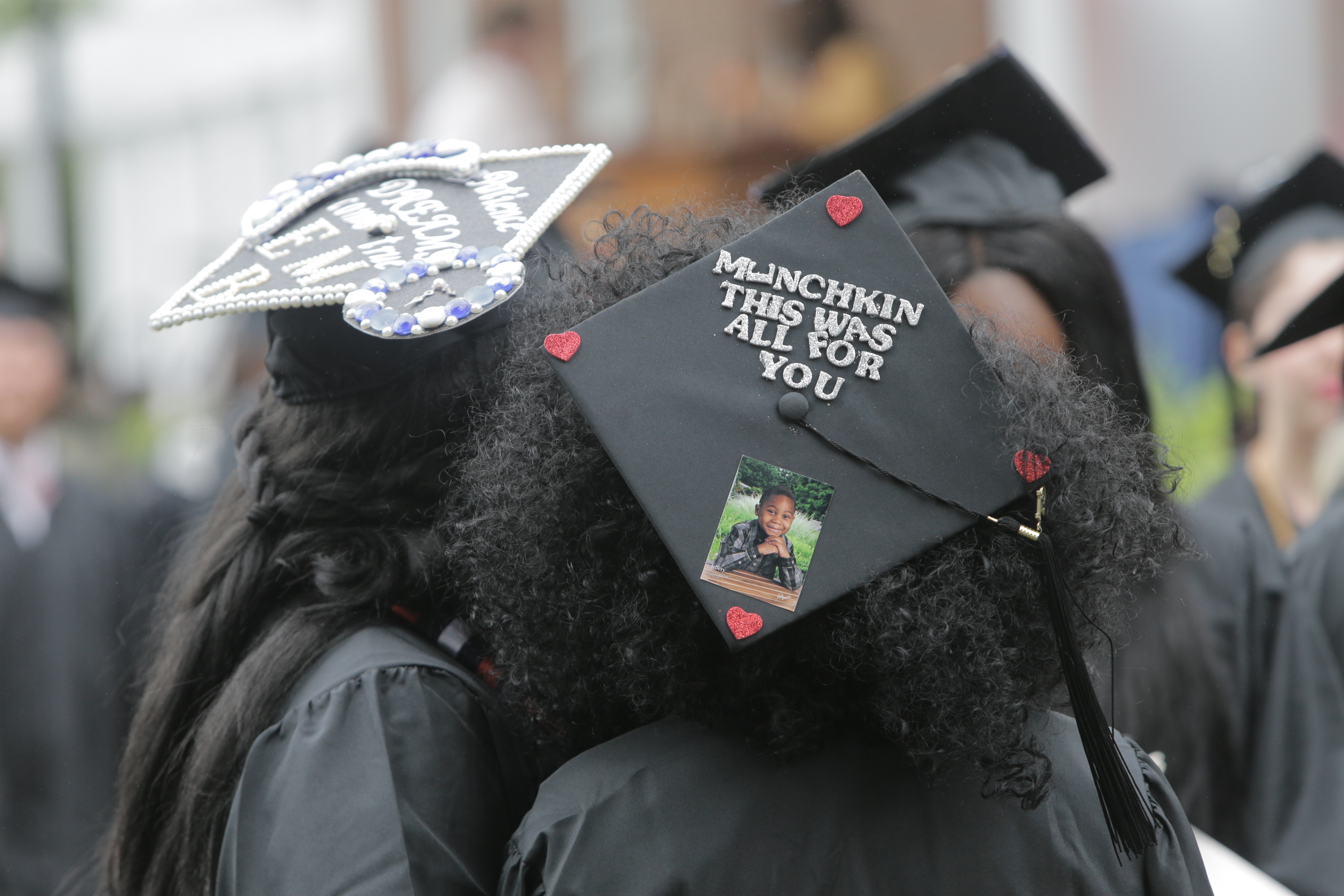 On Sunday, which has a milder forecast, the graduates of the University's other 10 schools and the Data Science Institute will receive their degrees.
Former U.S. Poet Laureate Rita Dove, Commonwealth Professor of English at UVA, gave the commencement address to the Arts & Sciences graduates, eliciting loud applause when she said, "Despite the weather, this is a glorious morning. Congratulations!"
Before Dove spoke, UVA President Teresa A. Sullivan addressed the crowd of proud graduates and family members.
"All of today's graduates can claim a special distinction. By choosing to study the arts and sciences, whether in the College or in the Graduate School, you have affirmed the truth that education in the liberal arts remains vital in the 21st century. A broad education in the arts, sciences, social sciences and humanities teaches us to be critical thinkers; to be perceptive of the world around us; to write clearly and persuasively; and to integrate multiple perspectives before arriving at decisions.
"These broad skills – as much as any specialized, technical skill – are fundamental to the work of solving the complex global problems of the 21st century," said Sullivan, who is also the George M. Kaufman Presidential Professor of Sociology.
She recognized 105 College students for earning their baccalaureate degrees in three years, and three more students who accomplished that in only two years. More than 250 were the first members of their families to graduate from college.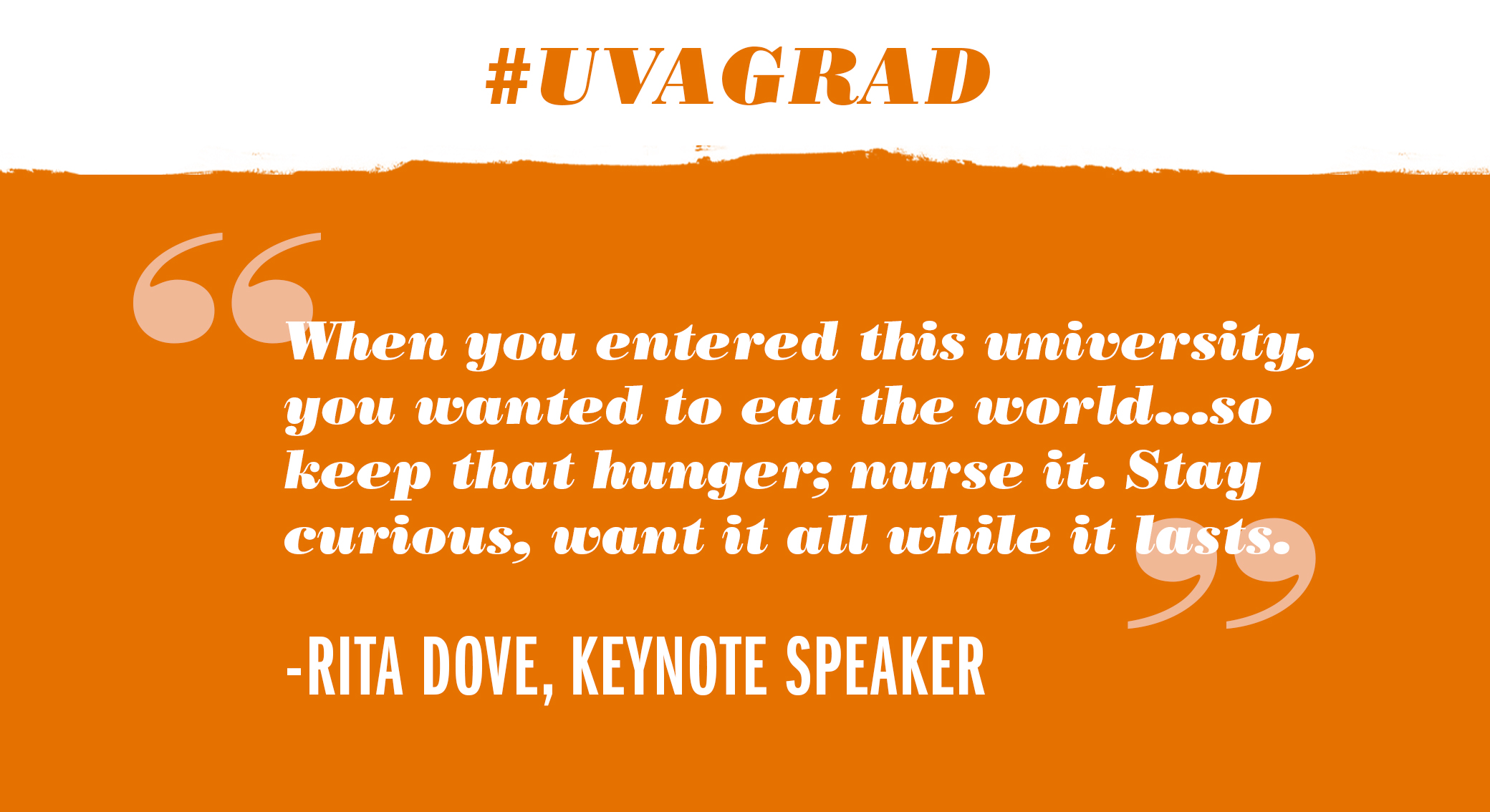 Nearly 1,000 international students from all schools are graduating from UVA this weekend, and about 30 percent of the American students graduating have participated in some form of education or research abroad. About 70 percent of those earning undergraduate degrees are Virginians.
Dove, who recently published her 10th book of poetry, "Collected Poems: 1974-2004," has garnered numerous literary and academic honors, among them the 1987 Pulitzer Prize for Poetry for her book, "Thomas and Beulah"; the 2011 National Medal of Arts, awarded by President Obama; and the 1996 National Humanities Medal, awarded by President Clinton. She is the only poet to have received both presidential medals.
The practice of giving public speeches, however, did not come naturally to this poet who likes to write and conjure her verses in the middle of the night. She credited her father's wisdom to hold oneself to high standards, saying that has helped her take on challenges.
"When I stepped onto the Lawn as the English department's first female African-American full professor 27 years ago, I did not know that I would be speaking to you today," she said. "And yet, even at that time I had already progressed, through luck and circumstance and a bit of hard work, beyond the wildest dreams of my childhood. When I was a child, if someone would have told me that one day I would dine with U.S. presidents and joke with Big Bird, I would have probably hidden myself in a thicket."
Instead of dispensing advice, she decided to bestow the gift of wishes, she said, spelling out five. "Just think of me as a crafty fairy godmother or a wily genie." Those wishes spanned "hunger" – being hungry for life, to know more and feel more; "hard work" – being 150 percent prepared for whatever happens by honing skills and practices; "uncertainty" – facing fear of the unknown and going for it anyway, to break new ground, make discoveries and cultivate passions; and "the future" – being aware every day "that this life is yours to fill."
"Only you will know if you've done your best, so focus on that rather than what others think your best is – because if you allow others to tell you your worth, you will have given up on yourself," said Dove, who has received the Fulbright Lifetime Achievement Medal, the Heinz Award and 25 honorary doctorates.
She ended with her poem, "Testimonial," that will soon be visible as a public work of art painted on the side of the Graduate Hotel located on "The Corner," part of the Charlottesville Mural Project. The last stanza:
Back when everything was still to come,
luck leaked out everywhere.
I gave my promise to the world,
and the world followed me here.
Calling the graduation experience "a moment that sings," she bestowed her final wish to the new graduates about to head into their bright futures: "May you have many, many more moments that sing."
Article Information
May 21, 2016
/content/sunny-smiles-overcome-misty-skies-uvas-saturday-graduation