In November 2006, University of Virginia basketball player Mamadi Diane scored the first points in the brand-new John Paul Jones Arena, hitting a three-point jumper that would send the Cavaliers on their way to beating the No. 10 team in the country, the University of Arizona.
More than 4,000 miles away in Conakry, Guinea's sprawling capital city in West Africa, 9-year-old Mamadi Diakite was more focused on the soccer ball, weaving and dribbling among his friends as they played in city streets and parks. The future UVA forward – not yet grown to his full 6 feet, 9 inches – had barely picked up a basketball, and had no idea that he would one day electrify the same arena Diane had just christened.
In a basketball season full of extraordinary storylines and results – the No. 1 'Hoos celebrated the Atlantic Coast Conference regular-season title on Saturday and are hoping for a deep NCAA Tournament run in March – the story of these two Mamadis and the bond they share is as heartwarming as any.
From Strangers to Brothers
Almost 12 years after he hit that first shot in JPJ, Diane again sits in the arena. After a successful basketball career in Europe, he's back on Grounds as a first-year student at UVA's Darden School of Business, honing the business skills he needs to develop his family's Guinea-based enterprise, Consolidated Mining Corporation.
Beside him in the arena's blue bucket seats is Diakite, now 21 and catching his breath after practice with the rest of this year's Cavaliers.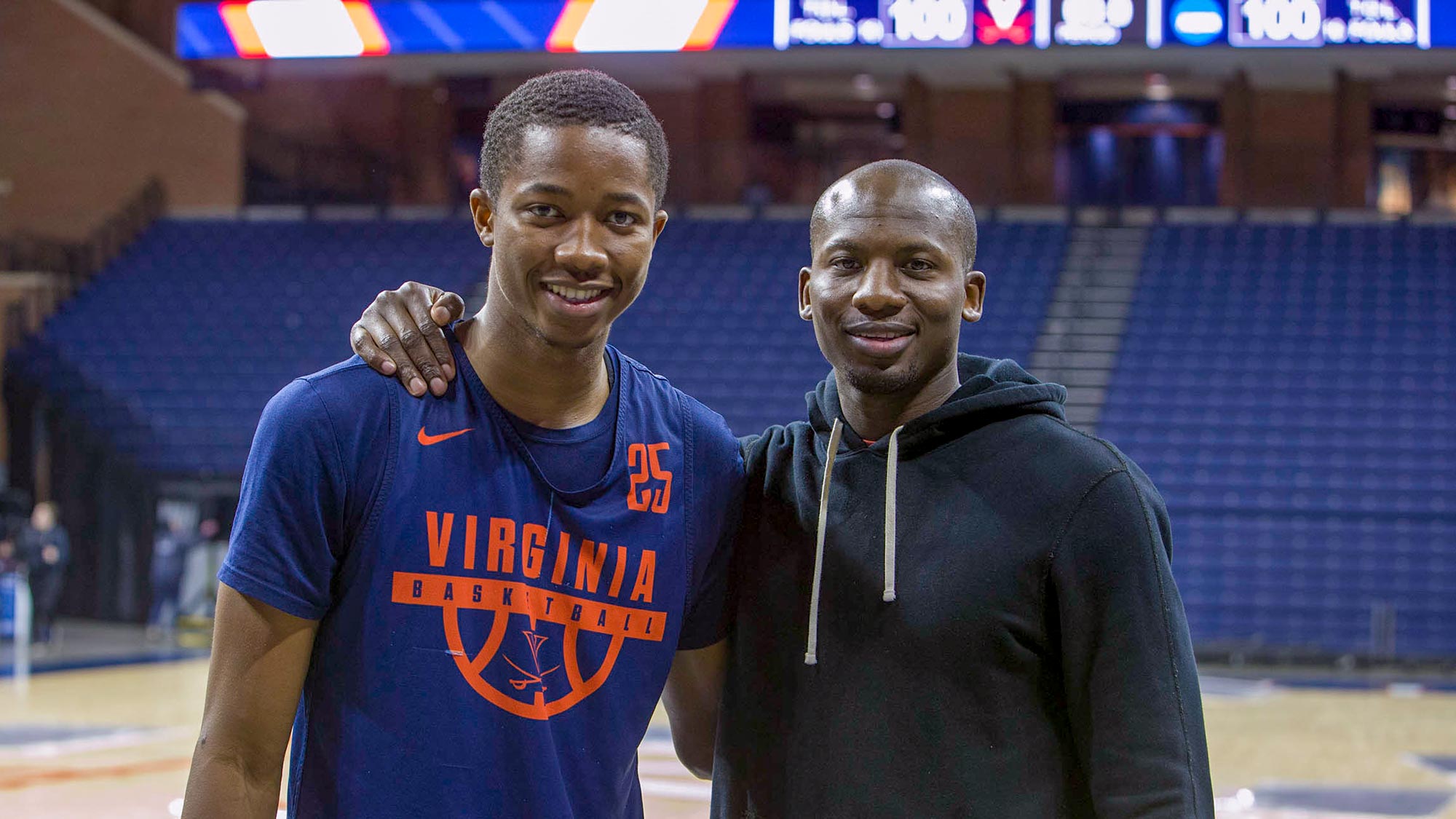 Diakite, left, and Diane share a name, a country, a sport and a school. (Photo by Richard Dizon, University Communications)
Even sitting with them for just a few minutes, their rapport is evident. Asked to describe his relationship with the elder Mamadi, Diakite looked over at him and grinned.
"That's a brother, right there," he said. "We have this younger and older brother thing going on."
The brotherhood began in earnest a few years after after Diakite, who displayed extraordinary raw talent once he finally picked up a basketball, made the move to the United States. He came to the Blue Ridge School, a private all-male boarding school outside of Charlottesville, in 2013 and signed with UVA in 2015 after a competitive recruitment process.
It was an exciting, but tough transition for the young player, who is the youngest of four siblings. His parents and most of his family still live in Guinea. Though he was thrilled with the opportunities the U.S. offered – including the chance to play for a program like UVA – he missed home.
"Guinea is very different from here. It's a Third World country, as they say," Diakite said. "To me, it is a great country. That is where I am from, where I grew up. People are very social, even if there is a lot of poverty."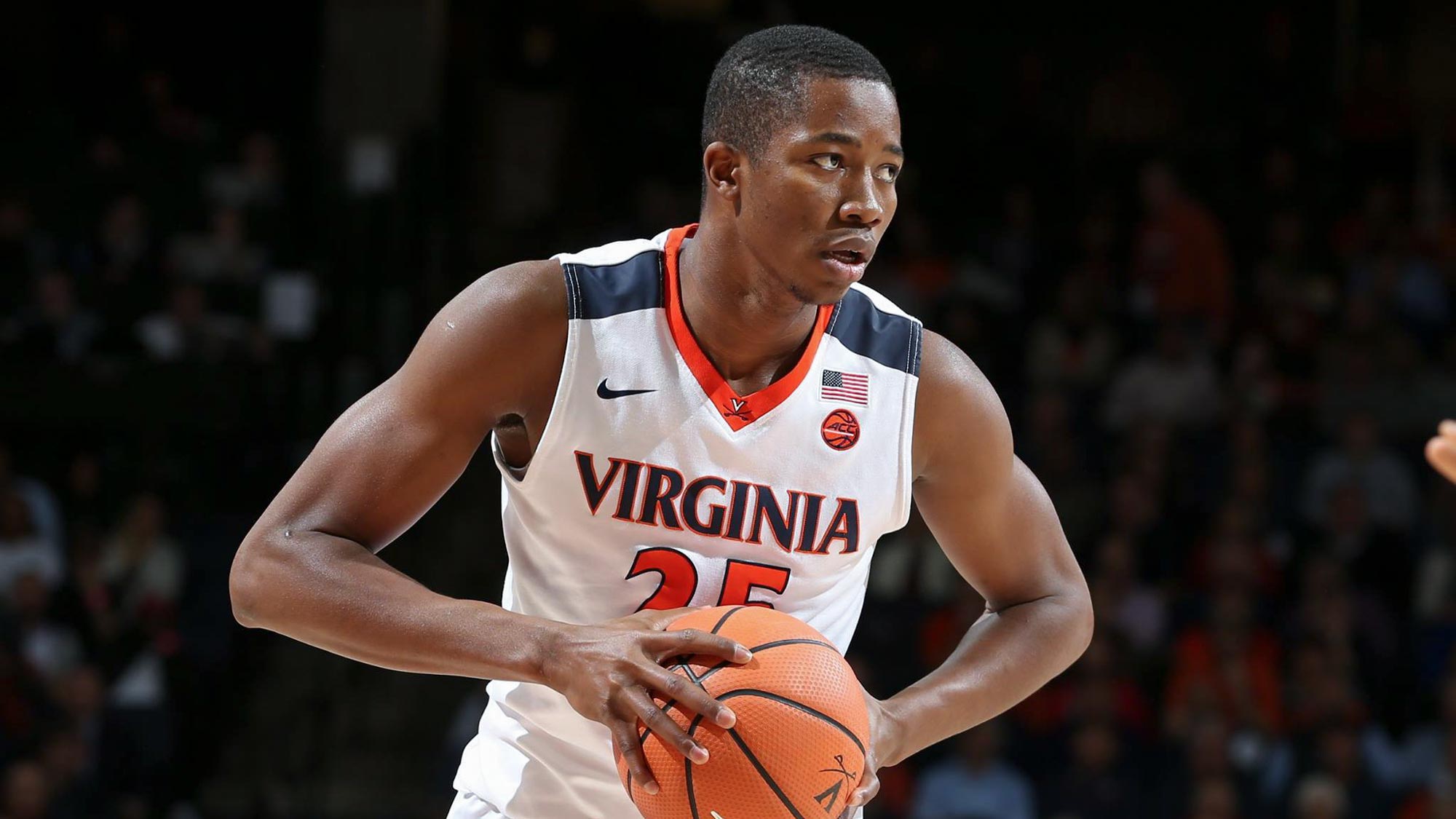 Diakite has made a big impact coming off the bench for the Cavaliers this year. (Photo by Matt Riley, UVA Athletics)
Because he arrived in the U.S. speaking only French, it took Diakite some time to find in Virginia even a fraction of the social support and sense of community he loved in Guinea.
"At first it was really hard. … I only spoke basic English. I could tell people I was hungry," Diakite said, chuckling. "I'm hungry" was a pretty important phrase for a high school athlete.
"But I found my way, and hung around some good people who really eased the process for me," he said.
Among them was Diane, who, like Diakite, had close ties to Guinea. Though he grew up in Washington, D.C., his father, Mori Diane, is from Guinea and based his business there. Now, the basketball-player-turned-businessman plans to use his Darden education to help his father and brothers grow Consolidated Mining Corporation.
"Guinea is a developing country that has a lot of potential, but they need more people with the expertise to develop the resources that are there," Diane said. "That is something we are trying to bring."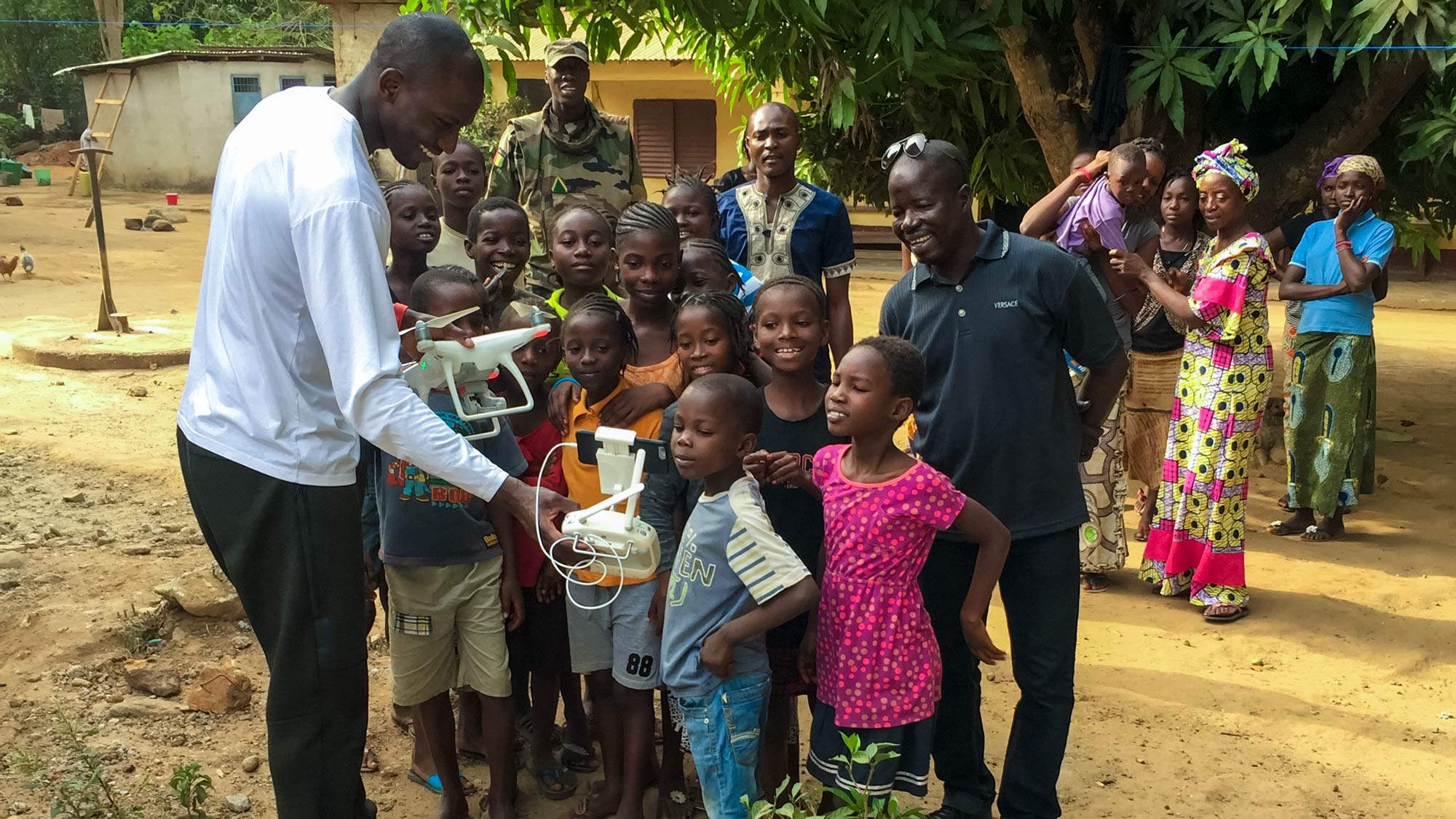 Diane calls Guinea his second home and returns frequently. Here, he shows children a drone he brought along while building a dormitory at an orphanage outside Conakry. (Photo courtesy of Mamadi Diane)
As Diane prepared for his return to Darden and Diakite came to UVA, coaches put the two in touch.
"Mamadi [Diakite] was going through so many transitions – the transition from Guinea to America, from high school to college, and high school basketball to college basketball," Cavalier head coach Tony Bennett said. "Having mentorship from someone who is not only from his part of the world, but who is attended the same university and plays the same sport … I think that has been really helpful for [Diakite]."
Though Bennett had never coached Diane – he was hired shortly after Diane's last season in 2009 – the coach had no hesitations about asking him to help out the younger athlete.
"Mamadi Diane is one of the nicest, kindest guys I know. I wish I had the chance to coach him," Bennett said. "He has this contagious spirit about him, and he has been so helpful to our program."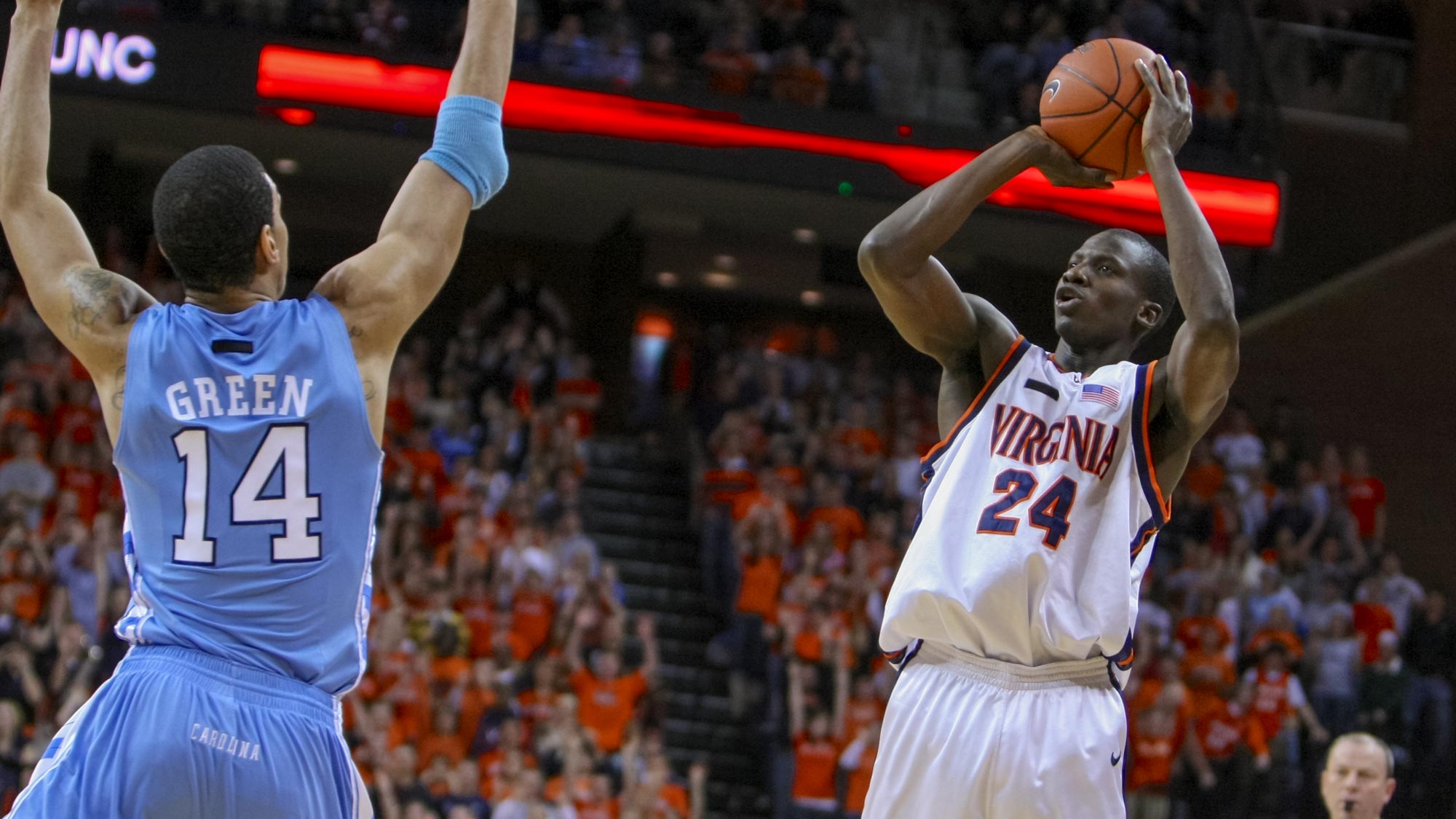 Bennett said he wished he had an opportunity to coach Diane, who finished his last season shortly before Bennett was hired in 2009. (Photo by Matt Riley, UVA Athletics)
The connection between the two Mamadis was even closer than Bennett and his assistant coaches realized at first. Though they had never met, their fathers – Mori Diane and Aboubacar Sidiki Diakite, who works for Guinea's Health Ministry – knew each other professionally and were re-introduced by their sons.
"Guinea is not as big as the U.S., so they already kind of knew each other, or knew of each other," Diakite said.
For him, that sealed the deal.
"Back home, once your parents know each other, you are like family," Diakite said. "You take care of each other and give advice to each other."
That's exactly what Diane has done for his younger namesake. The two get together whenever they can, text when Diakite is on the road during the season and talk about all sorts of issues on and off the court.
Lessons Learned, and Shared
Like any older brother, Diane has tried to teach Diakite a few things he wished he knew as a player under Bennett's predecessor, Dave Leitao. Though he was something of a breakout star during his first three years at UVA, Diane struggled some during his last year and did not get as much playing time as he hoped. It was tough, but he said the struggle taught him important lessons that have shaped how he approaches his work at Darden and how he advises Diakite.
"We talk about keeping a cool head, not getting frustrated when things don't go well – really all sorts of things," Diane said. "For me, it's a lot of stuff I wish I knew when I was his age – that is what I try to focus on. Some of it is basketball, some of it is off the court."
"Anytime that he can, he comes around to see me and gives me advice," Diakite said.
It's exactly the kind of relationship Bennett hopes to see between current and former players, many of whom frequently return to Charlottesville to talk with the coaches and work out with the team.
"You want to build a program where the former players want to return, and I think we have a really good family feel here that keeps that going," Bennett said.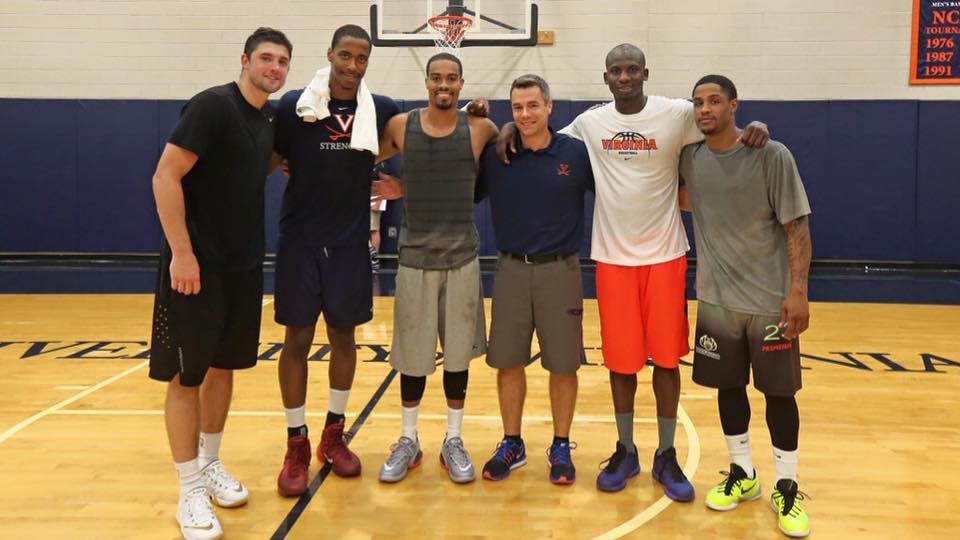 Alumni regularly return to work out with the current Cavaliers. From right, alumni Joe Harris, Jerome Meyinsse, Mustapha Farrakhan, Diane and Jontel Evans with Bennett, center. (UVA Athletics photo)
"There are so many lessons you can learn from guys who are now playing in the NBA or overseas and who have been where you are," he continued. "Our team this year is really teachable – they such a great humbleness about them and they really want to learn from the guys that come back."
Sometimes, the teachable moments go far beyond basketball. In addition to X's and O's, Diane and Diakite talk about Diakite's future after basketball. The French major, who red-shirted his first year at UVA, is considering pursuing a master's degree in business during his fifth year and has watched Diane's career at Darden closely.
"Coming to Darden was a big change, but for me it's the next stage of life," Diane said. "I feel like I almost get to live another life. Basketball was my life for so long, and now I can do something else."
"I am looking at doing another degree in economics or commerce," Diakite said. "I know it can be hard … because of how intense the schedules are, but I like challenges, so we'll see."
Sometimes, the two Mamadis talk about a different sport entirely. Both love soccer, though they disagree about who to cheer for. Diakite is a big fan of Real Madrid, while Diane now lends his support to Madrid's archrival, FC Barcelona.
"I used to like Chelsea, but now, I might go with Barcelona," Diane said, laughing as Diakite groaned and shook his head.
Fortunately, when it comes to basketball, they are in agreement. It's all 'Hoos, all the way, and both men are eager to see what March brings.
Ready for the 'Madness'
Diane made it out to one of the Cavaliers' last home games at JPJ, watching as they beat Georgia Tech, 65-54, two weeks ago. He was impressed with what he saw.
"The difference I saw between UVA and Georgia Tech came down to execution. UVA looked like a team that understood what needed to be done, knew where their spots were and knew how to score," he said. "That is one of the marks of a good team. Before the game, they can tell you where they can get shots on the floor to fall, what will happen during the course of the game and how their offense will run. They can dictate that to the other team before they even step on the court."
Diakite does not start, but has appeared in all 30 games, averaging about 15 minutes of playing time. He has become known for his soaring dunks, swatting shot blocks and – particularly endearing to fans – his excellent facial expressions while cheering on his teammates.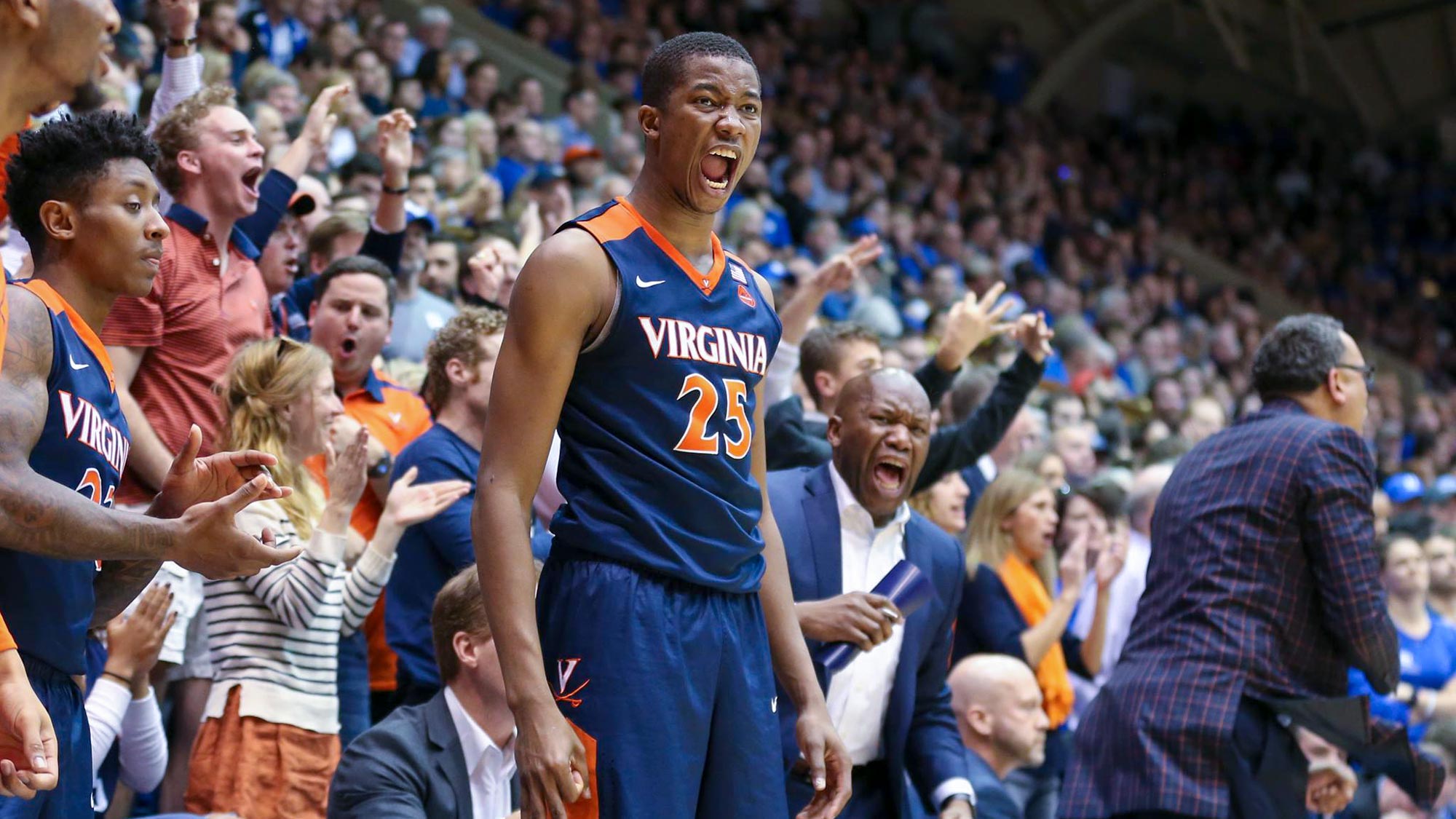 Diakite is not afraid to let his personality shine through as he cheers on his teammates, as seen here in UVA's big win over Duke. (Photo by Matt Riley, UVA Athletics)
"Mamadi has really given us some nice lifts in the last few games," Bennett said. "He is newer to the game, because he did not grow up playing basketball, and the more experience he gets, the better he gets."
Even more importantly, as Bennett, Diane and the rest of the Cavaliers have taught Diakite more about basketball, they have also given him an American version of the family and community he missed in Guinea.
This team, Diakite said, is as close-knit as any he has been a part of.
"We are unified," he said. "We have passion. No matter if you are the best player on the team or not the best player on the team, you give all of your effort, work as hard as you can and try to get the job done. Everyone makes mistakes, but we stay together through the ups and the downs."
He noted that Coach Bennett's famed five pillars – humility, passion, unity, servanthood and thankfulness – remind him of the values he saw lived out in Guinea. It's part of what initially attracted him to UVA.
"I love how nice people are here. … It was kind of similar to my home country; everyone was very nice and really came together," Diakite said. "And they are all about ethics and having a strong work ethic."
Diane agreed and said he was encouraged to find the sense of community at UVA did not change once he took off his basketball uniform.
"As a student at Darden, I still get that sense of attention and familiarity, that welcoming feeling," he said. "I think that speaks a lot to the kind of people that are here."
A Hopeful Sendoff
Before hitting the road for this weekend's ACC Tournament, Diakite and his team got one final – and very voluble – dose of that support on Saturday at JPJ, when Cavalier fans turned out in full force for the team's final home game of the season.
The capacity crowd raised thunderous cheers – especially for fourth-year players Isaiah Wilkins, Devon Hall and Nigel Johnson – as the 'Hoos took down Notre Dame in a tough matchup, winning 62-57.
The victory capped an ACC regular-season championship campaign for the Cavaliers, who finished with a record 17 conference wins – four more than runner-up Duke University, the preseason favorite. Afterward, Bennett and the team took a moment to celebrate at mid-court before turning and waving their thanks to a roaring crowd.
"It was so neat to bring all of the seniors together with the whole team, thank the crowd and walk off the court together," Bennett said of the emotional moment.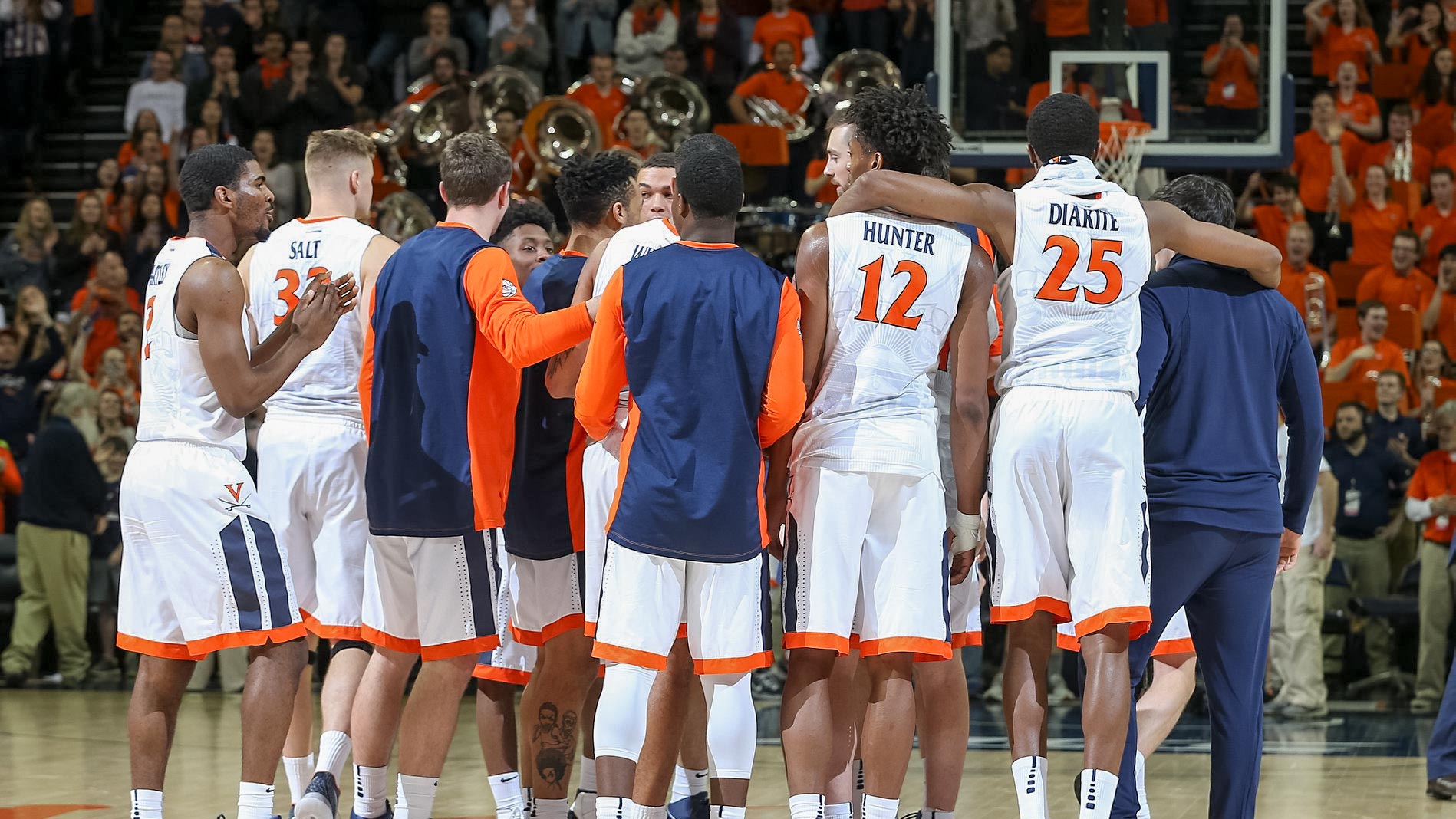 Diakite, right, and his teammates gathered one last time at mid-court Saturday as a roaring crowd sent them into postseason play in style. (Photo by Matt Riley, UVA Athletics)
It was a celebration, of course, but also a send-off. The Cavaliers, ranked No. 1 in the nation, are bound for the ACC and NCAA tournaments, and are hoping to keep their winning streak going as long as they can.
"We have talked about not trying to overcomplicate things, and not getting too concerned about records, rankings and accolades," Bennett said. "We need to have a growth mindset, in terms of trying to improve with each practice, really prepare for the next opponent, and then play to win. That's all you can do – you give your best and then you live with it."
Diakite agreed with his coach.
"It felt really good, but we are still focused," Diakite said of the ACC regular-season championship. "We know there are still a lot of things that need to get done."
For now, all Diane and the rest of the UVA faithful can do is wait, ready to see how much more this year's squad can accomplish and ready to cheer them on, win or lose.
Media Contact
Article Information
March 6, 2018
/content/tale-two-mamadis-how-these-uva-basketball-stars-forged-brotherhood