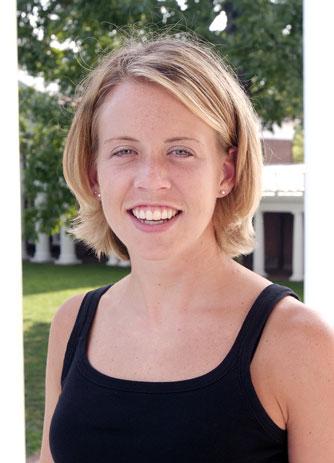 May 11, 2006 — While herding 100 seventh graders on a tour of the Lawn last year, Allison Gillen realized she had to take a different tack to keep the children's interest. After that, she decided to explore further how best to give historical tours to schoolchildren, winning a $5,000 grant from the William R. Kenan Endowment Fund for the Academical Village for the project.
On one of her new tours this year, she had a group of middle-schoolers figure out, among other questions, why Thomas Jefferson used triple-sash windows in the pavilions.*
In the tours Gillen created, she enlists one of Jefferson's horses, a puppet named Alfred, to help kindergartners through second-graders imagine life on the Lawn. She presents a detective story about filling in the blanks in Jefferson's journal to engage third- to sixth-graders. She encourages students in seventh through 10th grades to think like an architect to understand Jefferson's decisions in designing the University.
On May 21, she will trade her tour-guide props for a cap and gown to walk down the Lawn as a graduate of the Curry School of Education's signature five-year degree program, which combines a bachelor's (hers is in French) with a master's of teaching.
Gillen said she has always wanted to be a teacher. The Fairfax native is following in her mother's and grandmother's footsteps, and her father is a business school professor. During her years at U.Va., she has tutored Charlottesville students in Head Start through the Madison House Boosters program and worked as a substitute teacher in area elementary schools, as well as leading the children's tours as a University Guide.
Her adviser, Eleanor V. Wilson, is confident she will be a successful teacher. "Allison's enthusiasm for the field of education has been evident throughout her time here in Curry. Not only has she been an active leader in the student professional organization [the Student Virginia Education Association], she also has pursued many other opportunities to enhance teaching," she said.
To design the student tours, Gillen visited Monticello, Jamestown and historical sites in Washington, D.C., and talked with museum educators and docents. She researched how children learn best, especially when on the move, and decided inquiry-based learning was the key — involving children in the learning process by giving them problems and questions they can figure out to get the content. She also made the information relevant to the Standards of Learning (SOLs), knowing a field trip should enhance the Virginia history curriculum.
Last fall, Gillen gave her detective tour to third-graders from her student-teaching class at Broadus Wood Elementary School, plus their parents and siblings. By all accounts, she passed with flying colors: the parents gave her an average of 9.4 out of 10 for engaging their children and said they were impressed with the tour.
Gillen trained other University Guides and left her tour materials to the organization.
"I know that many guides have used elements and advice from her project when they give children's tours, and they have found it extremely useful," said Allison Murphy, University Guide Service Chair.
This fall, Gillen will take her enthusiasm and creativity to the Chesapeake school system.
* Jefferson designed the triple-sash windows to work as natural air conditioning and also to help keep children inside and professors' and students' horses out.