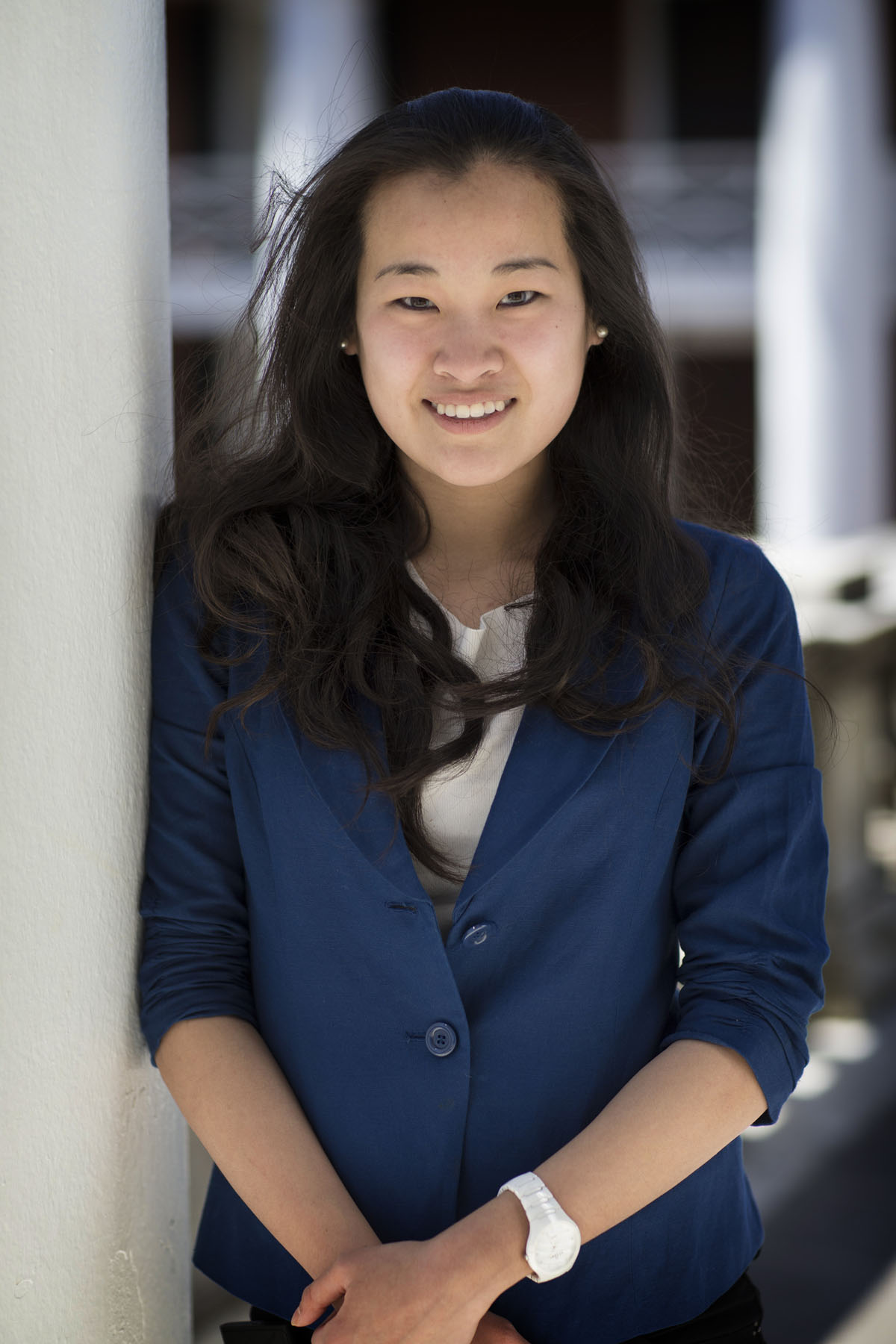 Two students in the University of Virginia's School of Engineering and Applied Science have received research scholarships from the Barry M. Goldwater Scholarship and Excellence in Education Foundation for 2013.
The recipients are Davis Blalock, 21, of Charlottesville, a third-year electrical and computer engineering major, and Ellen D. Zhong, 20, of Vienna, a third-year chemical engineering major. Blalock also has completed the requirements for a cognitive science major in the College of Arts & Sciences.
The two are among 271 students nationwide who received scholarships, given by the Goldwater Foundation to second- and third-year students who intend to pursue careers in mathematics, the natural sciences or engineering. The one- and two-year scholarships cover the cost of tuition, fees, books, and room and board up to a maximum of $7,500 per year.
"It's a huge honor to receive this recognition, but it feels strange to get personal credit when most of it is due to the teaching and encouragement of my parents, professors and coworkers," Blalock said.
"I am extremely honored for being recognized and awarded with this scholarship," Zhong said. "It was especially gratifying after receiving the Goldwater Scholarship honorable mention last year."
Zhong's research involves using computer simulation to probe why proteins can become unstable and lose their characteristic shape and function during chromatography, a fundamental lab? technique used in drug development.
"I am writing my own simulation program especially designed for rapid, efficient simulation of proteins on surfaces, which will hopefully become a useful tool for many researchers," Zhong said. "Hopefully, my work will be able to improve chromatographic processes and the design of chromatographic surfaces, help elucidate some of the fundamental interactions not directly examinable through experiment and aid in the design of stable, pharmaceutically relevant proteins."
Blalock is researching ultrasound imaging.
"I've worked primarily on creating an affordable, hand-held ultrasound device alongside researchers at PocketSonics Inc.," Blalock said, referring to a U.Va. startup company founded by three U.Va. professors, including his father, Travis Blalock, and associate professor of electrical and computer engineering.
"We're using a completely new way of producing ultrasound images that lets us create a visual window right into your skin."
Blalock, a graduate of Western Albemarle High School, is a Rodman Scholar and received Intermediate Honors, an Isabella Merrick Sampson Scholarship and a Jean Holliday Scholarship. He is a member of Chi Alpha Christian Fellowship, the Global Public Health Brigades, Student Game Developers, International Collegiate Programming Competition, the Eta Kappa Nu Honor Society and the Tau Beta Pi Honor Society.
"Davis Blalock is a remarkable young man who exhibits a unique combination of a brilliant mind and a servant's heart," said Jeff Pompeo, president and chief executive officer of PocketSonics Ultrasound. "Wise beyond his years, he has a genuine thirst for knowledge and an uncanny ability to conquer new concepts quickly, all the while showing a sincere desire to gently help others and share openly."
Dana M. Elzey, associate professor of materials science and engineering, director of the Rodman Scholars program and the Engineering School's international programs, has known Blalock for two years, since teaching him in an introduction to engineering course. He described Blalock as "introspective, acutely intelligent, self-aware, driven, and, of all things, compassionate."
"He is possessed of an extraordinarily inquisitive mind, one which easily spans scientific, technological, cultural, humanitarian and moral/religious domains," Elzey said. "He has the love of learning, a fascination with discovery and a certain fearlessness when it comes to novel thinking and innovation that will enable him to go places no one else has. He doesn't stress, he doesn't work for the grade – he does what he wants to do and it just seems to happen. He is not the least bit arrogant about this; it's simply a byproduct of the love he has for learning."
Likewise, John Lach, who chairs the Department of Electrical and Computer Engineering, said Blalock's academic record is the best he had seen in his 12 years as a faculty member.
"I was regularly awed by his intellectual curiosity and his deep commitment to learning," Lach said. "Davis has shown the creativity, curiosity, dedication and tenacity that I love to see in students. To top it off, his interpersonal and communication skills are outstanding, and he seems to have very strong leadership skills."
Lach, who offered Blalock a position working in his laboratory, also got to know him through his "homework-less" office hours, during which they would discuss everything outside of homework, including many advanced topics.
Zhong is a Rodman Scholar, a member of the Raven Society and associate editor-in-chief of Spectra, the Undergraduate Research Journal. She has received an Astronaut Scholarship, a Thomson Scholarship (awarded for academic excellence from the chemical engineering department), a MacAvoy Scholarship for private music lessons and a Harrison Undergraduate Research Award. She won honorable mention in last year's Goldwater Scholarship competition. She is an executive council member of the American Institute of Chemical Engineers and president of the local ChemE Car team. She is also active in the Kinnier Project, a high school outreach program centered around engineering.
Elzey said Zhong is "motivated," with a strong work ethic and is "intellectually curious."
"Her interests are diverse, including computer science, architecture, music, language and environmental sustainability," Elzey said. "She writes her own computer programs, collects arcane facts and trivia regarding the University of Virginia's history and architecture, plays flute with the local symphony orchestra, speaks Chinese and French, and has studied the aquaculture of the Chesapeake Bay. In addition to all of these things, she is friendly, personable, has a great sense of humor and works well with everyone she teams with."
Zhong plans to pursue a Ph.D. in chemical engineering. "I hope to become a leading specialist in my field of expertise and pioneer cutting-edge research at a university or research institute after completing my Ph.D.," she said. "I am particularly interested in molecular simulation of complex biomolecules, which can improve drug design and aid in curing protein-related diseases."
Zhong is a good representative of the University and chemical engineering, said professor Roseanne M. Ford, who chairs the Department of Chemical Engineering.
"She embraces the rigor and challenge of the discipline and wants others to understand how chemical engineers contribute to solving societal problems that range from health care to renewable energy," Ford said. "She's comfortable conveying that message to high school students, parents, alumni and whoever she encounters in the course of her busy day."
Media Contact
University News Associate Office of University Communications
mkelly@virginia.edu (434) 924-7291
Article Information
April 11, 2013
https://news.virginia.edu/content/two-uva-engineering-students-net-prestigious-goldwater-scholarships