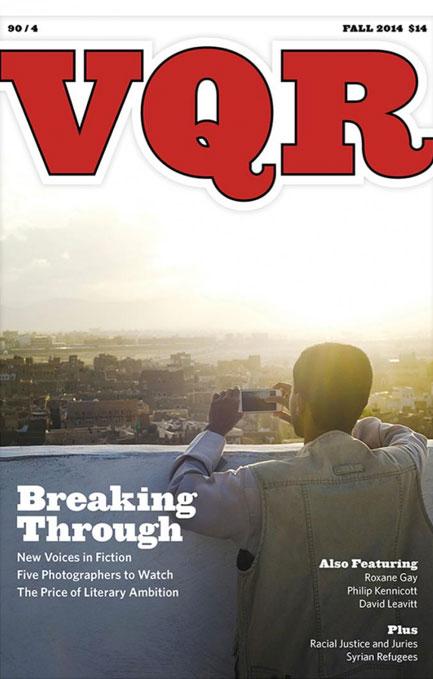 The award-winning Virginia Quarterly Review, published at the University of Virginia since 1925, has in recent years adapted its traditional features of current affairs, literature, history and criticism for the digital age.
Over the past 12 months, the VQR website has attracted almost a million page views from more than 500,000 readers in 206 countries and territories, according to publisher Jon Parrish Peede. In social media, Twitter shows that nearly 13,000 users follow VQR, making it among the most popular accounts on Grounds, he said. 
Recently, journalist Jason Motlagh won the South Asian Journalism Association's Daniel Pearl Award for Outstanding Reporting about South Asia for his multimedia report examining the collapse of the Rana Plaza garment factory, "Ghosts of Rana Plaza," which appeared in Virginia Quarterly Review's spring 2014 issue.
As VQR celebrates its 90th anniversary, its editor, W. Ralph Eubanks, the former director of publishing at the Library of Congress who joined the staff last year, talks about what makes the journal distinctive, as well as a little bit about his own work and interests – including Southern food.
Q: What interested you in taking the job of VQR editor?
A: Coming to VQR presented a great opportunity to work with a magazine that's been around for a long time, as well as to work on the content side of the publishing equation. In my work at the Library of Congress, I toggled between content and business, but the business side had come to keep me more occupied.
My job as editor is to be the person who works to keep the fires stoked that bring in new material for the magazine. That means I need to think several issues out, as well as focus on the next one we've got coming. Here, I get to be a lead editor and actually do a lot of the hands-on editing work rather than delegating it. It's really getting back to the reason I wanted to be in the business, which is to acquire, shape and publish content that matters.  
Q: What does "acquiring content" involve?
A: Finding authors – poetry, fiction and nonfiction – essayists and reviewers who have something unique to say. Recently, I was doing some solicitations of people for a future issue, and the attraction that a lot of people have in working with VQR is knowing, "I'm going to get to say something on the page and work with you editorially in a way that in very few places these days I can actually do that. You're going to be generous in the amount of space you'll give me. You're going to give me a lot of room to explore things without too much constraint." That is what keeps my job interesting.
And the reach we have with our website – all of these things are really important to people who come to us.
Q. What are the challenges in producing a literary journal, maybe the top two or three?
A. We haven't been doing as many themed issues, but very often you've got a sense that "Here are the people who would be the best to write on a particular topic," and I think the real challenge is finding them at the right point where they can actually deliver something to you. I'm at a point where I don't want to take "no" for an answer – someone might say, "I can't do something now," but if it's someone I know that I want to write for us, I always say, "Well, if you can't do it now, in another year? Let me get on your dance card."
Another challenge is making sure you have content that is going to stand out and bring readers to you, and at the same time, stand the test of time. VQR has always been looking for unique voices over the years. There are people that VQR has published that at the time, they weren't really well-known writers, but eventually they became a writer of some stature. I think it's finding those voices – there are a lot of people out there – but it's finding someone who's got the right voice and the level of sophistication in their prose that's something you want to publish. It's getting the top tier – not necessarily the superstars, although I want them, too – but it's also the talent that's rising up, identifying them and finding the right platform for that person.
Q. Can you give an example?
A. I think a great example of someone we brought in is Leslie Jamison, whose essay, "Grand Unified Theory of Female Pain," we published in the spring 2014 issue. Associate editor Allison Wright had been following Leslie's work and brought the essay to me. When I read it, I thought she had one of the most unique voices as an essayist that I'd seen in a long time. Plus, she wrote on a topic that often goes unspoken: how women deal with the dimension of pain in their lives. And then as her book came out, lots of other people saw the piece and connected with her voice and her message, so that attracted a lot of people to our site.
As an editor, you want to find people when they are at the right moment in their career. Leslie Jamison was really just starting to break through in her career. And also someone who over time will have some loyalty. As inevitably or sometimes happens in this business, they might have something that they want to write about that another publication wouldn't want to take on, but we would.
Q. What about the challenges with readership and digital publishing?
A. One of the challenges there is the idea that all content wants to be free. We do have the porous paywall for VQR now, so that after 10 free articles, then you have to pay.
The great thing is our online readership is way up – and not just readership, but the level of reader engagement, so people are spending time on the site reading the pieces. It's not that people are just going through a link and spending 30 seconds there. We have on the site how much time it takes to read each piece. So with Leslie Jamison's, people actually read it.
We designed our website so it works well to read on any device, and not every site works that way. That's one of the things we were thinking about, that's why we've seen the level of engagement is so high – because the way the site works, it's easy to read on any device.
The challenge is getting people to pay for it. It's not in attracting them. Through social media channels we have lots of ways of bringing readers to us. What I hope is that there are going to be people who read so much for free, but then eventually will want to buy the print magazine.
(Note: Anyone with a U.Va. IP Web address can view all of VQR's content for free.)
Q. How does VQR collaborate with the U.Va. community?
A. The conference (VQR's inaugural writers' conference, held in August) was a big thing for us. There were several U.Va. faculty members who were part of our writer's conference, so that's one way of bringing in the U.Va. community.
I think it's important for VQR and our editorial staff to have a presence and a connection with the faculty. Very often what I hear is, "I'm working on a piece, but I don't want to do it for a professional journal – I really want to do this without the layer of academic prose on it." There are limited places to do that, but there are also things that I know about and can actually advise them on. It may be something that would work for another publisher or another journal. Since I know that world, I've met with several faculty members to talk through an idea or to say, "If you were to pitch an idea to me, here's what I would be looking for. I'm looking for this type of voice. If you can give me this type of voice, I would want to publish that."
Q. How about working with students?
A. We always have student interns, so that's another way we're connected with the University. We get people both from undergraduate and M.F.A. programs.
We teach our interns all about how the magazine actually runs. We make sure they can be here on Tuesdays for editorial meetings, so they get to see how the "sausage" is made. They get to do some proofreading, learn the basics of fact checking, do some research in the archives for us. Maybe doing some photo research – we may need a photograph to accompany a piece, or a piece of artwork – trying to find out where we can get that piece of artwork, or what permissions are required for using something. They are actually doing some of the routine tasks that go into putting out a magazine.
Q. Are you able to keep up with your own writing?
A. I'm just starting to get back to my own writing. I was giving myself a year here to do that. I've begun to do some book reviewing, and I'm back working on a book proposal I started about a year ago.
I'm also doing a couple of speaking engagements, both at the Southern Foodways Alliance. It all relates to the topic of food and the South, topics that are close to my heart. One of the outgrowths of that is I'm looking at doing a food issue for VQR, but one that's a little bit different – not about connoisseurship, but more about ideas and food, and the way that ideas about food are changing and evolving in American culture.
Q. Tell me more about that, your upbringing and why you're interested in food.
A. Food's a really big part of Southern culture, and it's a big part of when I go home. Going back to Mississippi, I have my food rituals that are part of that trip. I'm writing about what it is like to come home, thinking about the foods that call me home and why that place in particular calls me back.
What I see as a homecoming – for me, it's not about nostalgia, it's about learning and experiencing something new each time I go home. So it's really not as much a focus on the past as it is on the present; it's really living in the moment. The idea that "you can't go home again" I think is very true, because the place you go back to will never be the way you remembered it. It's always going to change. But if you live in the present, going home is not as painful of an experience as if you're looking for that place to be exactly as it was when you were a child, because it never can be.
Q. You must read a lot. What are you currently reading that you don't necessarily have to read?
A. From one of our contributors – he does a lot of criticism for us – I'm really loving "Hold the Dark" by William Giraldi. He's a fine novelist. I also just finished reading "The Great Glass Sea" by Josh Weil, who contributed a short story to our summer issue.
And I'm also reading this book, "The Americans," a book of poetry by David Roderick. As you can imagine, we get lots of books here, so I'm also going through them, and I started reading these poems and I got completely caught up in them.
I'm reading very often for pleasure but I'm also reading, thinking, "I should go to this person. I'd love to maybe publish some of their work."
I'm reading a book that I started working on before I left the Library of Congress that's just been published, "Mark Twain's America." One of the former curators wanted to do a visual timeline of Mark Twain's life, and I said, "Well, it's really not his life that is important. It's what he read that shaped what he wrote," and we started going into the library's collections and went in and found the first newspaper piece he ever published, and we're thinking, what else was in the paper that day? What else would he have been reading about? What other historical events would've shaped him? Only a couple of chapters were done when I left, and now it's fun sitting down and looking at the whole book and seeing what actually happened in the end.
Media Contact
University News Associate Office of University Communications
anneb@virginia.edu (434) 924-6861