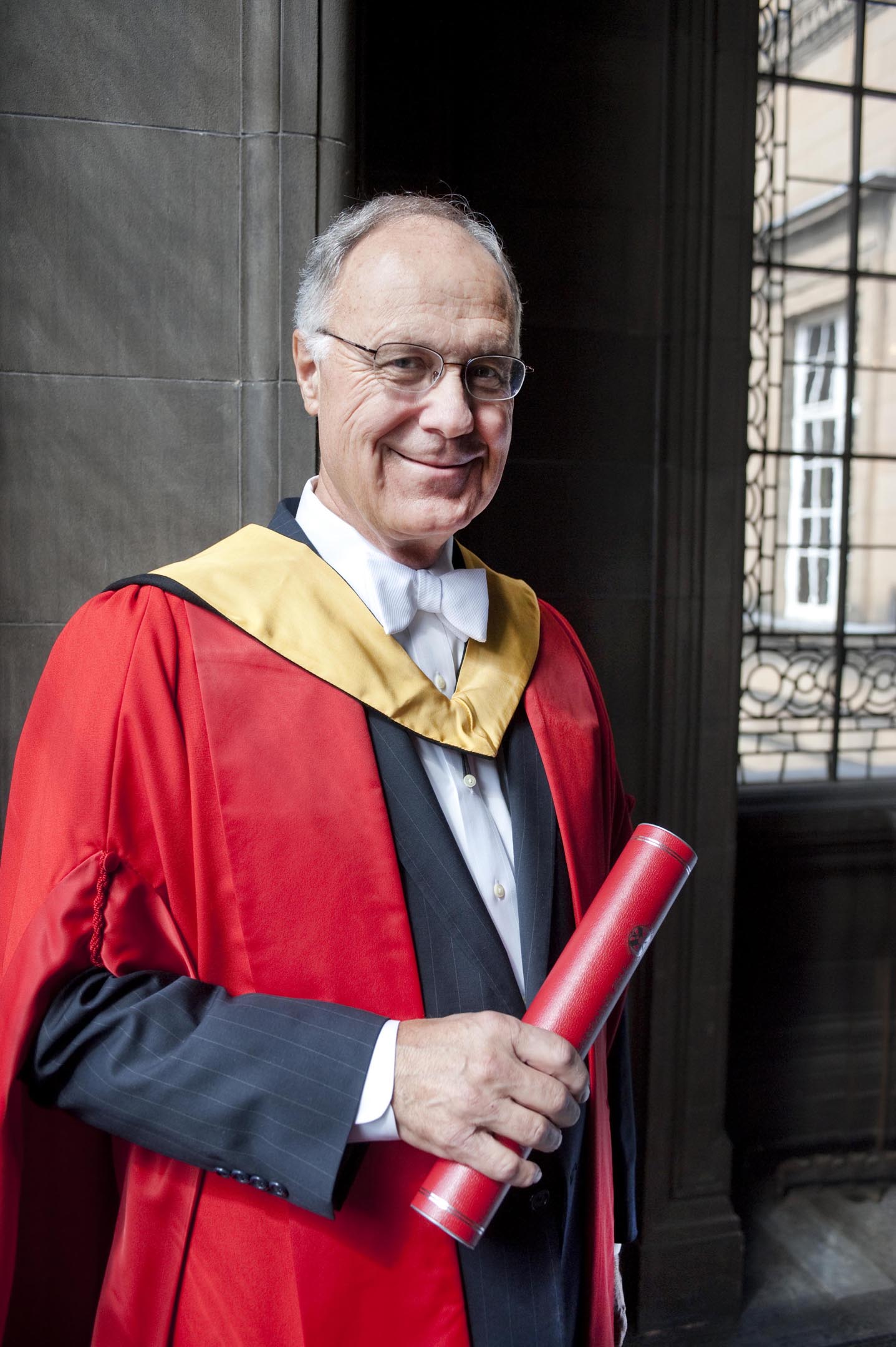 July 5, 2011 — John T. Casteen III, president emeritus of the University of Virginia, received an honorary doctorate on July 1 from the
University of Edinburgh
in Scotland.
The doctor honoris causa ("for the sake of honor") was given during the university's graduation exercises for its School of Languages, Literatures and Culture.
Jeff Haywood, professor of education and technology and vice principal for knowledge management, presented the laureation address, which recounted Casteen's academic and professional careers. Casteen's tenure as U.Va. dean of admission in the 1970s was marked by his efforts to diversify the student body, "visiting potential African-American students in their homes, to allay their concerns about entering the University of Virginia," Haywood said.
As U.Va. president for 20 years, "he led a major restructuring of the University's administrative and governance structures, and brought about significant improvements in both academic programs and physical facilities," Haywood said, noting in particular the development of AccessUVa, the comprehensive financial aid program.
The address also cited his leadership in
Universitas 21
, an international alliance of research-intensive universities. U.Va. and the University of Edinburgh were founding members, and Casteen served as its chairman.
The degree, Casteen said, in part recognizes U.Va.'s ties with Scottish universities. "The Scottish universities educated the largest proportion of U.Va.'s original faculty," he said. "Those ties remain strong in our own time."
He said that the degree not only honors him but also "symbolizes contributions made by many to the success of international collaborations among universities, and also the contributions of U21, which has come to be the most productive of all multi-national consortia of research-intensive universities."
Article Information
July 05, 2011
https://news.virginia.edu/content/university-edinburgh-confers-honorary-degree-casteen