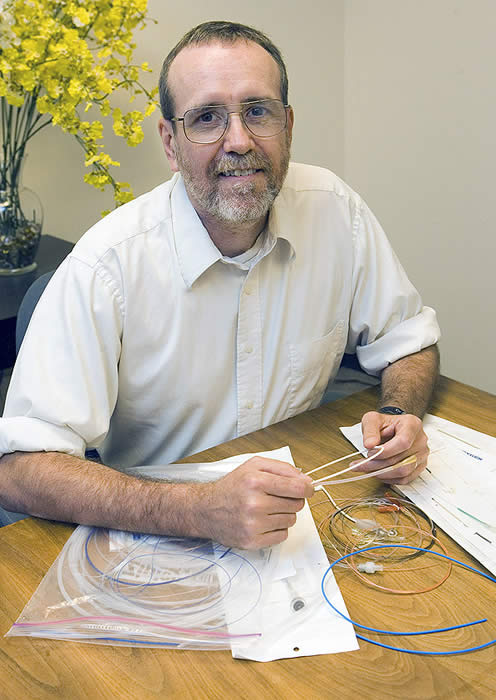 May 9, 2005 — The University of Virginia Patent Foundation has named George T. Gillies, a research professor in mechanical and biomedical engineering at U.Va., as the recipient of its top award, the 2006 Edlich-Henderson Inventor of the Year Award.

Gillies is being recognized for two decades of work in developing innovative catheters for use in brain surgery. He is a co-inventor on nine issued patents, which have been licensed for commercial development or are in the final stages of licensing, and is named as the inventor or co-inventor on another 30 related patent disclosures, provisional patent filings or patent applications.

"Until very recently, George's technology was ahead of its time," said Robert S. MacWright, executive director of the U.Va. Patent Foundation. "It's taken a very long time to see the technology mature. But we're extremely optimistic that it will have a revolutionary impact on how medicine is practiced. It shows particular promise in the treatment of brain cancer and complex brain diseases that today are simply untreatable with existing tools and methods because using them would cause unacceptable damage to the brain."

Brain disease affects millions of people. In the United States alone, the Centers for Disease Control and Prevention estimated that in 2003 there were 359,000 people living with primary cancer of the brain and central nervous system. The same year, the CDC noted that there were 5.1 million adults who had suffered a stroke living in the United States, and it estimated that 1 percent of the U.S. population over 65 had been diagnosed with Parkinson's disease.

To combat these debilitating diseases, the medical research community is actively developing new therapies in laboratories around the world. But there is a parallel challenge: how can the treatments be delivered effectively inside the brain without damaging vital brain tissue in the process?

That's where Gillies' work comes in.

In the 20 years that Gillies, his colleagues and their students have been seeking better ways to help doctors treat brain disease, his efforts have taken two different tracks. The first track involved working with a team of physician-researchers to develop a catheter that could be magnetically guided through the blood vessels of the brain to reach the precise spot where treatment was needed. A surgeon using this technology would direct the magnetic tip of the catheter into the brain using a computer that controlled the magnetic guidance system.

This system was originally conceived by Dr. Matthew A. Howard III, a medical student at U.Va. in the mid-1980s, Dr. Sean Grady, then a neurosurgery resident here, and Rogers C. Ritter, then a U.Va. professor of physics. Gillies and others joined them in developing the magnetic guidance system that is currently licensed by a publicly held company, Stereotaxis Inc., of St. Louis. Dozens of Stereotaxis systems are now in use in hospitals in Europe and the United States and others may soon be installed in Asia. The company continues to develop new applications for the technology, particularly in cardiology.

Gillies' second track involves a series of inventions that stem from U.S. Patent No. 6,599,274, "Cell Delivery Catheter and Method," which names Gillies as co-inventor, along with collaborators at the University of Minnesota and Virginia Commonwealth University, where Gillies is an adjunct clinical professor of neurosurgery. The University of Minnesota and VCU co-own the patent with U.Va.

The second series of inventions solves a number of problems that can accompany medical treatments delivered into the brain by catheter. The problems include: how to prevent air from being trapped inside the catheter during insertion; how to prevent the uneven distribution of fluids pumped into the brain during infusion therapies; how to prevent damage to blood vessels and brain tissue from multiple insertions of the catheter; how to make sure an adequate amount of drugs, cells or other therapeutic agents are delivered; how to make sure that therapy cells are alive when they are released.

Gillies and his collaborators — Dr. William Broaddus and Helen Fillmore, both on the neurosurgery faculty at VCU, and John Kucharczyk, professor of radiology at the University of Minnesota — came up with a tube-within-a-tube design that solves several of these problems. By inserting a smaller tube inside a larger tube (both with diameters of approximately 1-2 millimeters), and leaving a bit of space between the two, excess air can be forced out through the space between the tubes, rather than being forced deeper into the brain tissue. If multiple insertions are required, the outer tube can be left in place and the inner tube can be withdrawn and reinserted without causing additional trauma to the surrounding tissue. And, by attaching optical fibers to the tubes, researchers can visually monitor the viability of cells in fluids being pumped through the catheters.

The U.S. Food and Drug Administration has approved the "Cell Delivery Catheter and Method" for use and the U.Va. Patent Foundation and its partners have licensed the invention to NexGen Medical Systems, Inc., a privately held company in Sacramento, Calif. Discussions regarding the licensing and commercialization of several derivative technologies are currently underway with the same company.

U.Va. Patent Foundation officials have been impressed with the simple genius of Gillies' work.

"George has incorporated his understanding of fluid dynamics into the design of a catheter that offers a simple and elegant way to deliver drugs into the brain," said Veena Rao, a Patent Foundation licensing associate handling the licensing of Gillies' inventions.

"It is a tour de force of technological advancement and one of the most impressive innovations resulting from University research that I've seen," added Alan Bentley, Patent Foundation associate director.

Gillies enjoys the interdisciplinary nature of his work and freely shares credit with his collaborators. "I'm very grateful to the Patent Foundation for giving me this award, but it really is a reflection of the contributions of all of us," he said.

All of the patents on which Gillies is named as co-inventor involved interdisciplinary work and "required the participation of several highly talented individuals to accomplish the work," said Joseph A. C. Humphrey, U.Va. professor of mechanical and aerospace engineering. "However, in my opinion, Professor Gillies has been the principal intellectual engine driving the collaborations."

Gillies will be honored May 15 at a banquet at the Boar's Head Inn in Charlottesville. He will receive a plaque and a cash award of $10,000. This is the 14th year the Patent Foundation has bestowed the award.

The Edlich-Henderson Inventor of the Year Award

The U.Va. Patent Foundation's annual award recognizes University of Virginia inventors who have developed technology of notable value to society. Financial success is a plus, but not a requirement. Award-winning inventions may treat disease; serve the disadvantaged, the disabled or the elderly; protect the environment; provide tools for research; enhance education; or aid in the development of a field of science or technology. A committee of U.Va. faculty selects the winner.

Award sponsor Christopher J. Henderson is president and chief financial officer of Robbins & Henderson, L.LC., a New York financial services firm. Dr. Richard F. Edlich, professor emeritus of plastic surgery and biomedical engineering at U.Va,, is a longtime supporter of faculty inventors and the U.Va. Patent Foundation.

U.Va. Patent Foundation

Established in 1977, the U.Va. Patent Foundation works with faculty inventors to protect and license inventions with commercial potential. Royalties earned from the sale of products and services based on these inventions fund the operations of the Patent Foundation, support the University's research programs and profit the inventors.

For more information, contact Robert MacWright by phone at (434) 924-2175 or by email at rsm7x@virginia.edu.
Article Information
May 09, 2006
https://news.virginia.edu/content/university-virginia-patent-foundation-names-engineering-professor-george-gillies-2006