Offering rural health care and health information. Tackling early childhood education needs. Improving police-community relations. Addressing the 2008 financial crisis.
University of Virginia faculty members engage in these and other endeavors in their public service work. UVA's Office of the Executive Vice President and Provost created a new awards program to commend faculty for the contributions their public service makes to student learning, the advancement of scholarship and creative activity, and the University's own public mission.
The first recipients were honored at a dinner Wednesday night.
The awards – modeled on the All-University Teaching Awards – recognize faculty members' commitment to service and to sustaining community partnerships. The winning efforts also involve students who've worked on the various projects.
Vice Provost for Academic Outreach Louis Nelson, a professor of architectural history, selected and assisted the award committee, composed of faculty and community members.
"Faculty at the University of Virginia have been doing the hard work of public service for a very long time," Nelson said. "The establishment of this new set of awards appropriately recognizes those faculty whose research and teaching is directed to community and public flourishing.
"We have long been a university that seeks to graduate citizen-leaders, and this series of awards recognizes those faculty who undertake the hard, but transformative work of teaching in real-world contexts through community partnerships. And we have long been a leading research university with a commitment to public well-being, and these awards recognize those faculty who do that work collaboratively across disciplines and with the eye to addressing real challenges that confront communities."
The awards cover three areas: excellence in public interest research, excellence in public service and collaborative excellence in public service.
Provost Award for Excellence in Public Interest Research
• Brian N. Williams, associate professor of public policy, Frank Batten School of Leadership and Public Policy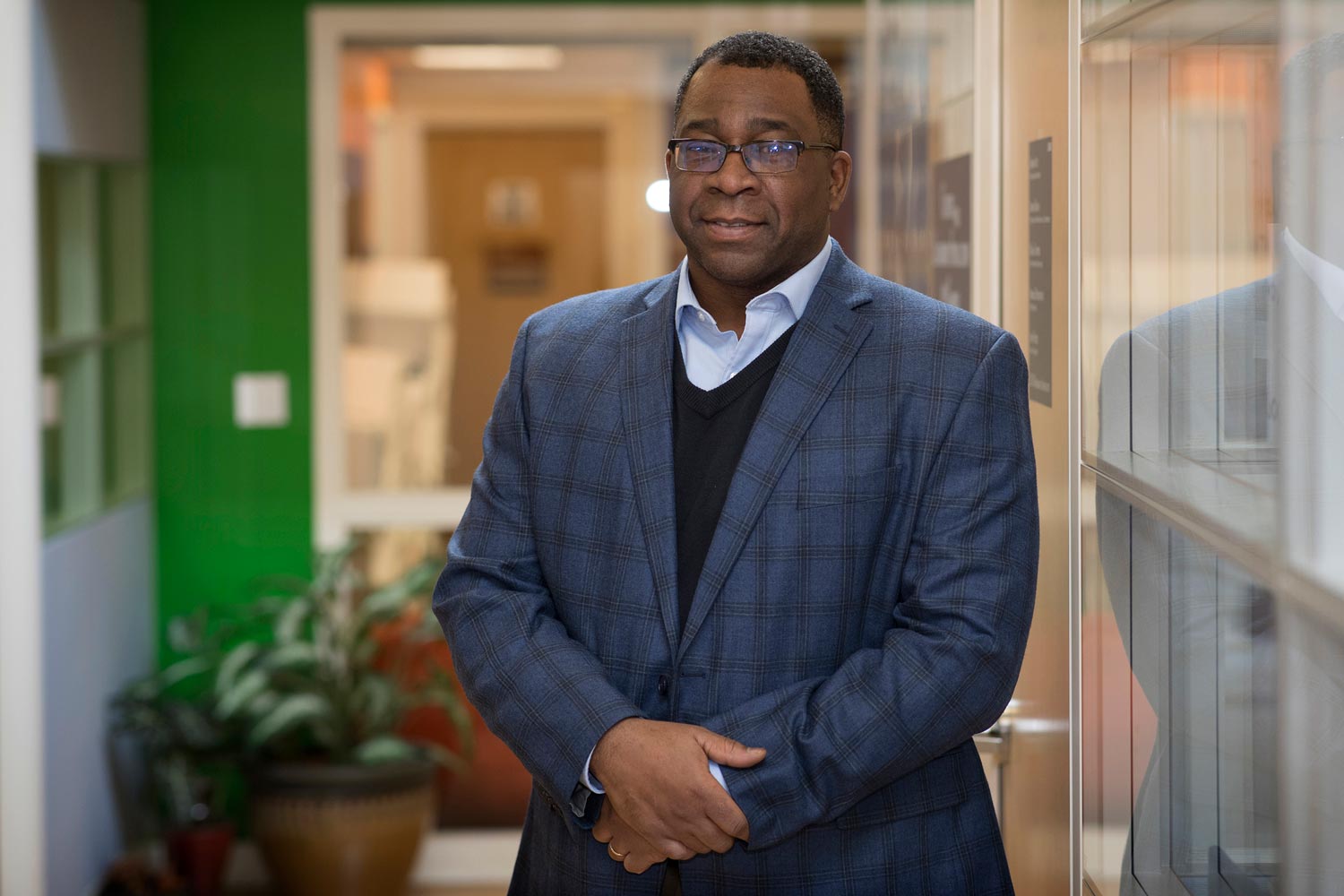 (Photo by Dan Addison, University Communications)
Partner organizations: Charlottesville and Albemarle County law enforcement, local elected officials and residents of the Charlottesville and Albemarle area
Summary: Williams has dedicated two decades of scholarship to addressing the often-contentious state of police-community relations in the U.S. That research has drawn significant attention to racial profiling, to the value of community policing and to the need for what he calls the "co-production" of public safety by both police and those they seek to serve.
Although Williams only joined the Batten School just over a year ago, he has already demonstrated the value of bringing his research approach and public service engagement to the community-police relations found in Charlottesville, especially in light of the events of August 2017.
His public policy class hosted the initial Central Virginia Learning Exchange, a forum that drew Charlottesville and Albemarle County community members and law enforcement. Participants identified obstacles that negatively impact community policing efforts and began exploring ways to formulate and implement a series of activities to improve police-community relations.
Provost Awards for Excellence in Public Service
• David Edmunds, associate professor of global development studies, College of Arts & Sciences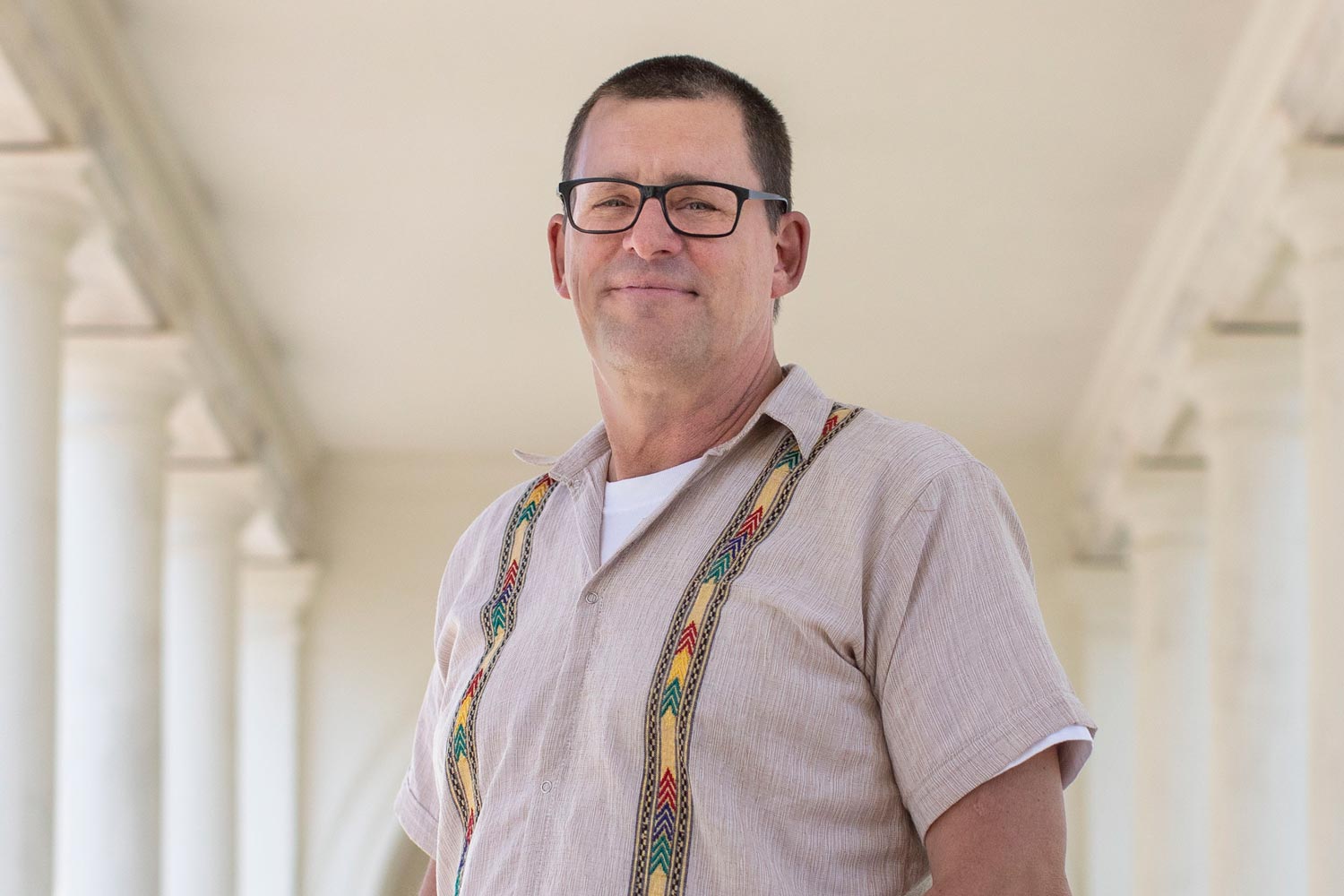 (Photo by Sanjay Suchak, University Communications)
Partner organization: Iliso Lamakhosikazi, a women's group dedicated to providing mutual support for the care of those with chronic illnesses within the community of Khayelitsha Township, South Africa
Summary: Edmunds has been involved with Iliso Lamakhosikazi for four years and has mentored more than a dozen undergraduate students who have undertaken projects with the group. They are working to improve communication about the prevention and treatment of diseases the township residents face, and to build relationships with local and international health care professionals. Edmunds emphasizes the collaborative nature of this kind of work, the importance of understanding and respecting community partners and listening to them to establish real relationships and understand their needs from their perspectives before any work begins.
He first heard about the group with UVA colleagues Chris Colvin and Rupa Valdez in the School of Medicine's Department of Public Health Sciences, and was able to build on the network that Colvin had already started.
"These overseas projects work best when they can draw on a variety of UVA resources like Colvin and Valdez' work," said Edmunds, who added this project has paved the way for other projects, such as one with Native Americans in South Dakota.
• Kelsey Johnson, professor of astronomy and director of "Dark Skies, Bright Kids," College of Arts & Sciences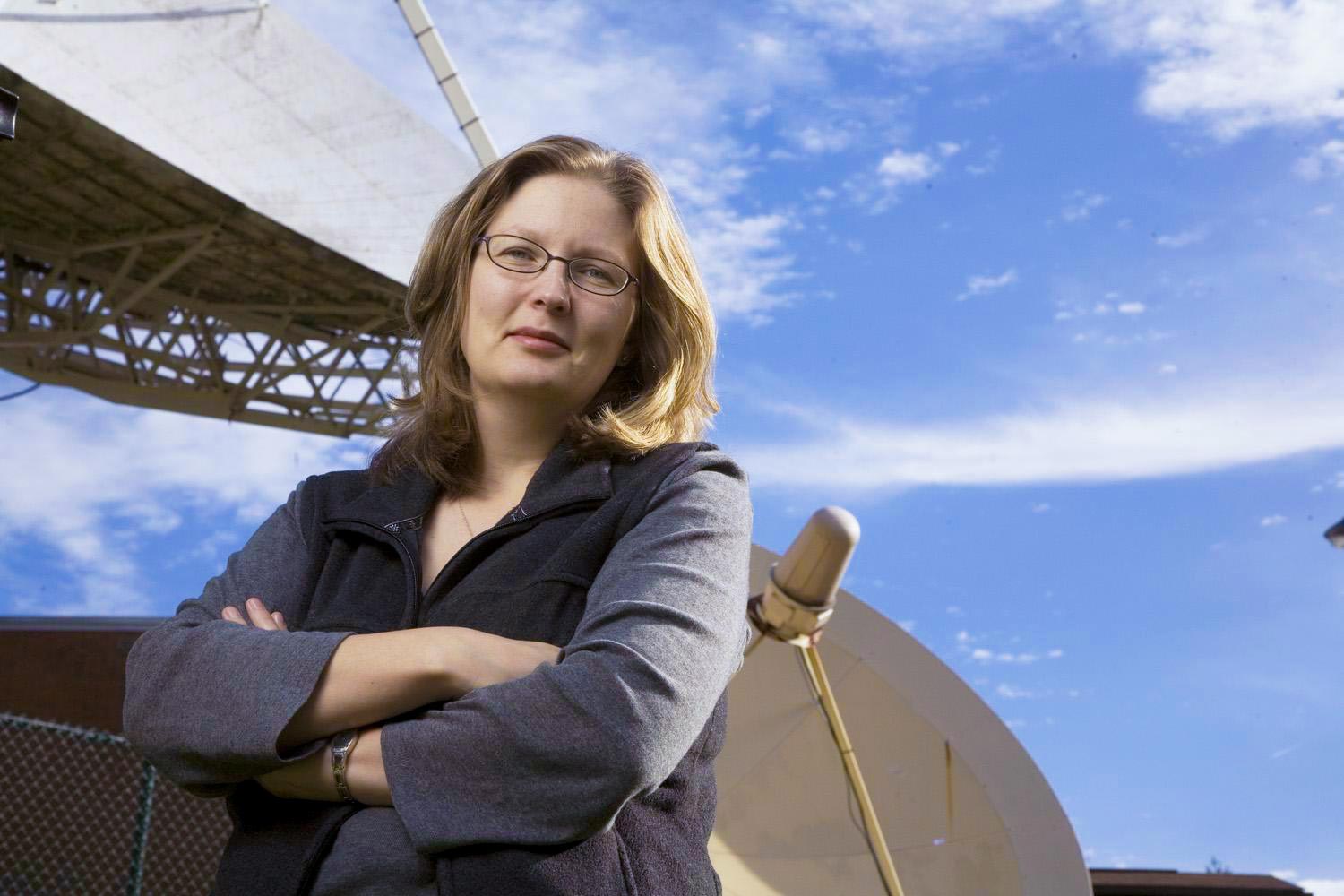 (Photo by Tom Cogill)
Partner organizations: Schools districts across Virginia, including Albemarle County Public Schools; Boys and Girls Clubs
Summary: The Dark Skies, Bright Kids program improves the scientific education and literacy of elementary school children in Virginia. By providing fun and engaging astronomy-themed activities during after-school clubs at different schools each semester, during summer camps and at annual "star parties," the program provides a gateway to the sciences for young learners.
Johnson and a team of graduate volunteers have extended their outreach to school systems as far away as Wise County, as well as going to Charlottesville and Albemarle schools. Dark Skies, Bright Kids tries to target rural and lower socio-economic areas where after-school programs and facilities are often lacking, but where the nighttime skies are the darkest – which makes for the best astronomical observation.
• Vickie Southall, assistant professor of Department of Family, Community & Mental Health Systems, School of Nursing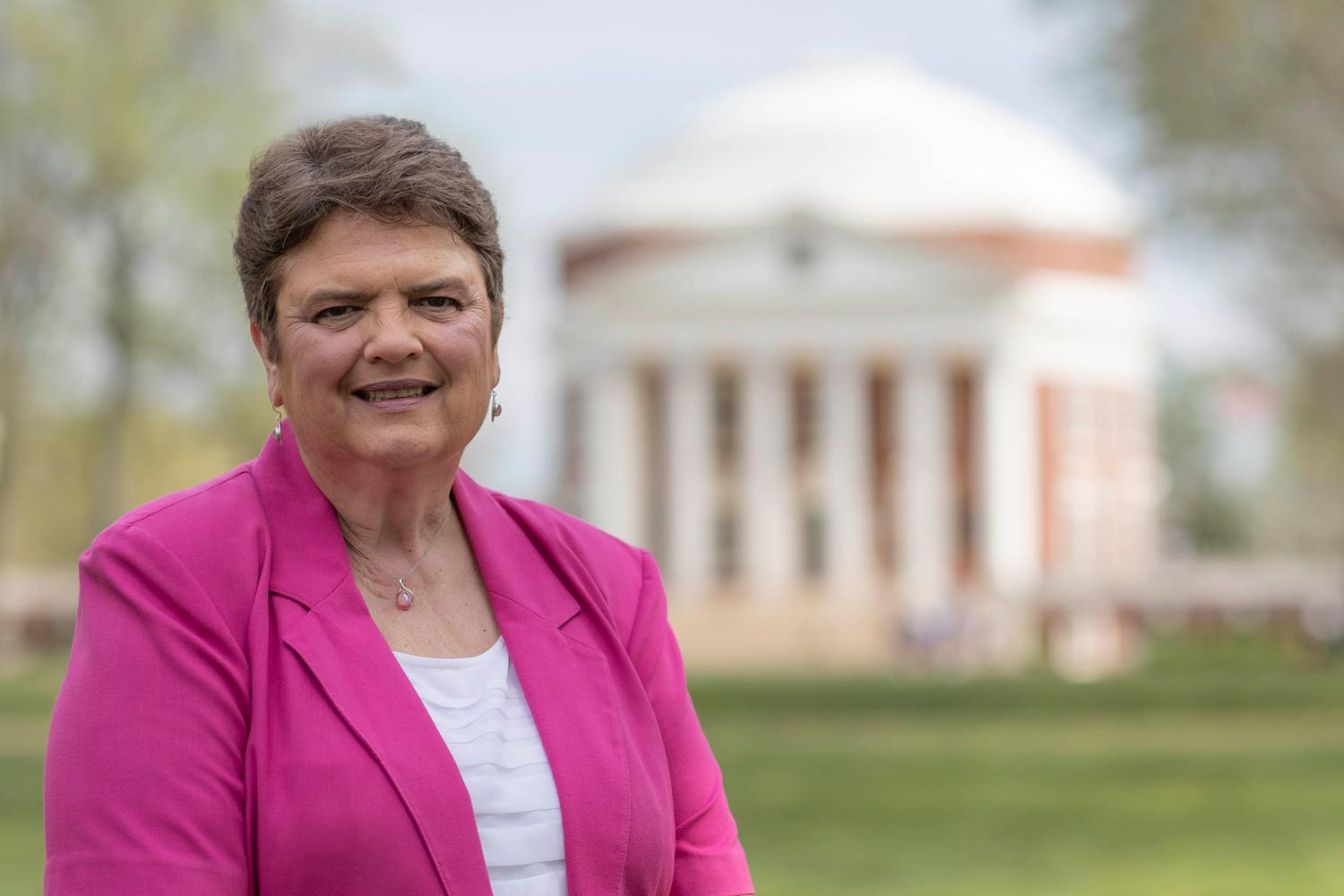 (Photo by Sanjay Suchak, University Communications)
Partner organizations: Louisa County Resource Council, Louisa County Public Schools, Louisa County Head Start program and Thomas Jefferson Health District
Summary: Southall, who hails from Louisa County, has dedicated her career to outreach work in Louisa. She has taught nursing students during their clinical rotations in Louisa County, giving them a wide range of hands-on experiences, from teaching first aid to Louisa County middle and high school students to assisting Louisa residents with adding unusual ingredients to their community's food bank. Their efforts run the gamut from conducting free blood pressure and blood sugar screenings at local factories, churches and grocery stores to offering programs on heart attack, stroke and diabetes at a local, largely African American church. Over the years, these and many other worthy projects have kept UVA nursing students visible and connected to the Louisa County community.
Provost Awards for Collaborative Excellence in Public Service
• Policy Partnerships: Daphna Bassok and Ben Castleman, Leadership, Foundations and Policy Department, Curry School of Education and Human Development; Luke Miller and Jim Wyckoff, Educational Policy program and EdPolicyWorks Research Center
EdPolicyWorks is a collaboration between the Curry School of Education and Human Development and the Frank Batten School of Leadership and Public Policy that seeks to convene researchers from across the University and the state to focus on questions of educational policy and the competitiveness of the labor force in an era of globalization.
Community partner organizations: Virginia Community College System; Gov. Northam's Workforce Development Office; Virginia Department of Education; D.C. Public Schools; Louisiana Department of Education; several Virginia school divisions, including Richmond City Public Schools
Summary: Faculty from the Curry and Batten schools are working to address socio-economic and racial achievement gaps among early childhood, K-12 and college-aged students. They collaborate with policymakers and state agencies in Virginia, the District of Columbia and Louisiana, providing guidance on where and how to make evidence-informed investments toward improving student learning outcomes. Researchers, with the assistance of students from undergraduate to doctoral levels, work on several different policy topics, including the quality of early learning environments, teacher retention, school quality and community college success.
• Improving Early Childhood Education in Virginia: Jason Downer, professor in the Department of Human Services, director of the Center for Advanced Study of Teaching and Learning, Curry School of Education and Human Development; Anita McGinty, professor of curriculum, instruction and special education, director of PALS, Curry School; Kathy Neesen, research scientist in the Department of Human Services, Curry School; Jessica Whittaker, research assistant professor in the Department of Leadership, Foundations and Policy, Curry School; Amanda Williford, research associate professor in the Department of Human Services, Curry School
Community partner organizations: Virginia Department of Education; Virginia school divisions, including Amherst County; Elevate Early Education; Virginia Early Childhood Foundation; Smart Beginnings network
Summary: In the field of early childhood education, the data is clear: an investment in the early years of life is one of the best investments we can make for our children and society. The return is life-long; children who experience effective early childhood programs are more likely to finish college, secure high-paying jobs and be healthier and happier later in life. And yet far too few children experience high-quality early childhood education from birth to age 8.
This team of Curry School faculty members reflects the collaboration of the Center for Advanced Study of Teaching and Learning and the PALS initiative in Curry's Department of Curriculum, Instruction and Special Education. The center is "an interdisciplinary research and development center whose core mission is to bring the best of developmental and education science together to inform application of best practices at scale." The PALS program is a 20-year state and academic partnership which focuses on supporting young children's literacy success through early screening and detection.
These researchers work with community partners at all levels to translate "what we know" from developmental and education science into the policy and practice of "what to do" within the field of early childhood education. 
Five key initiatives emphasize how collaborative engagement is improving the quality of early education through a coordinated focus on assessment, high-quality curriculum, educator supports and training in the Virginia early childhood education community and setting a path of improved educational experiences for Virginia's youngest citizens. 
• Financial Crisis: Robert Bruner and Pedro Matos, Darden School of Business; David Leblang, professor of politics, Arts & Sciences; Batten School of Leadership and Public Policy and Miller Center; Julia D. Mahoney, School of Law; David C. Smith, McIntire School of Commerce
Partners: Senior officials from the administrations of George W. Bush and Barack Obama; former financial executives who had experience in the 2008-09 financial crisis.
Summary: With an evolving trade war, shaky global financial markets and speculation about the potential for another recession, there is a pressing need to teach future generations of leaders how to mitigate the next financial crisis. To do so requires understanding the historical, social, political and economic context of past financial crises, which wreak havoc with high unemployment, bankruptcies, social instability, regime change and geopolitical tension. Understanding the causes and consequences of these crises is the only way to evade and/or mitigate them in the future.
Some 25 colleagues from around the University, including this core interdisciplinary team, formed a "pop-up interest group" in 2018 on the project, "A Ten-Year Retrospective on the Financial Crisis of 2008." Their work has motivated a range of efforts, including courses, conferences, speakers, oral histories and publications. Smith and Matos led a conference of business practitioners last fall, and Leblang and Mahoney led a January conference at the Brookings Institution in Washington, D.C.
In addition, Bruner, Leblang and Smith team-taught a course, "The Financial Crisis of 2008 Ten Years Later: Politics, Markets, and Institutions," in fall 2018 for undergraduate and graduate students. The course was unique not just in content, but also because it is the only class offered across four different academic schools. Students found the substance of the material engaging and also commented on the benefits of interacting with students and faculty from across Grounds.
In addition, Bruner teaches the history of financial crises, and Mahoney and Law School colleague Edmund Kitch taught a course on constitutional aspects of fiscal and monetary policy, including actions taken to address the financial crisis of 2008.
The public writing by team members already has received positive media coverage. Leading business publications such as Fortune magazine and political news organizations such as Politico and The Hill now regularly reach out to the faculty from the UVA collaboration for insight and analysis.
Article Information
April 24, 2019
/content/universitys-new-public-service-awards-highlight-faculty-outreach