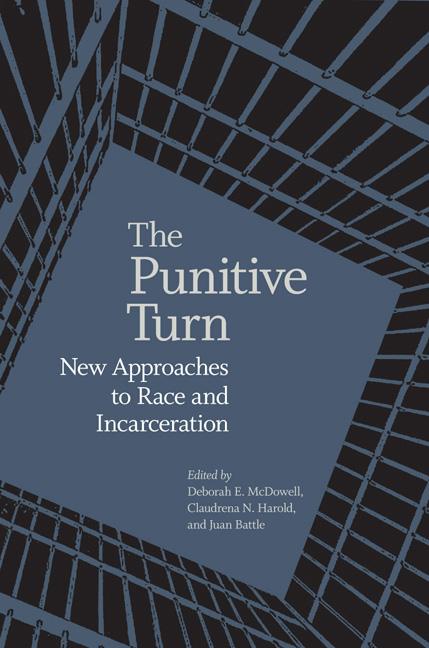 What some describe as an "incarceration crisis" has garnered increasing attention in recent years from academics and politicians alike. The new book, "The Punitive Turn," based on the University of Virginia's 2009 conference on incarceration and race, coincides with a Senate Judiciary Committee hearing on reducing recidivism held last week.
U.Va.'s Carter G. Woodson Institute of African-American and African Studies organized the conference, "The Problem of Punishment: Race, Inequality and Justice," which featured about 30 scholars, political activists, policymakers and former inmates. Last month, the University of Virginia Press published the book, which includes a dozen participants' talks expanded into longer essays, plus interviews with three former prisoners.
Woodson Institute director Deborah McDowell, U.Va. history professor Claudrena Harold and City University of New York sociologist Juan Battle edited the volume, which explores the impact of key prison-related statistics, including: 
The prison industry's role as one of the most rapidly growing industries in the United States, employing more people than Wal-Mart, General Motors and Ford combined.
African-Americans constituting 13.6 percent of the U.S. population in 2010, while comprising 37.4 percent of the nation's prison inmates.
The additional 30 percent of African-American males on probation or parole.
"The Punitive Turn" explores the historical, political, economic and sociocultural roots of mass incarceration, as well as its collateral costs and consequences. Giving significant attention to the exacting toll that incarceration takes on inmates, their families, their communities and society at large, the volume's contributors investigate the causes of an unbridled expansion of incarceration in the U.S. that is not matched by an increase in violent crime.
Experts from multiple scholarly disciplines offer fresh research on race and inequality in the criminal justice system and on the effects of mass incarceration on minority groups' economic situation and political inclusion.
Indiana University historian Alex Lichtenstein wrote in a review of "The Punitive Turn" that the collection brings together "some of the best new work in four different areas of 'carceral studies' – history, sociology, politics and culture. McDowell, Harold and Battle integrate the emerging historiography of prisons with the new sociology of punishment. ... A comprehensive and highly original summation of the state of the field of carceral studies today."
Media Contact
University News Associate Office of University Communications
anneb@virginia.edu (434) 924-6861